Best Time to Visit Dubai
Dubai is the mother of fun, it is very rare to get bored in this magical city given its beauty and the number of events that are held in it and attract thousands of tourists. But knowing when to go is just as important as traveling. So, read on...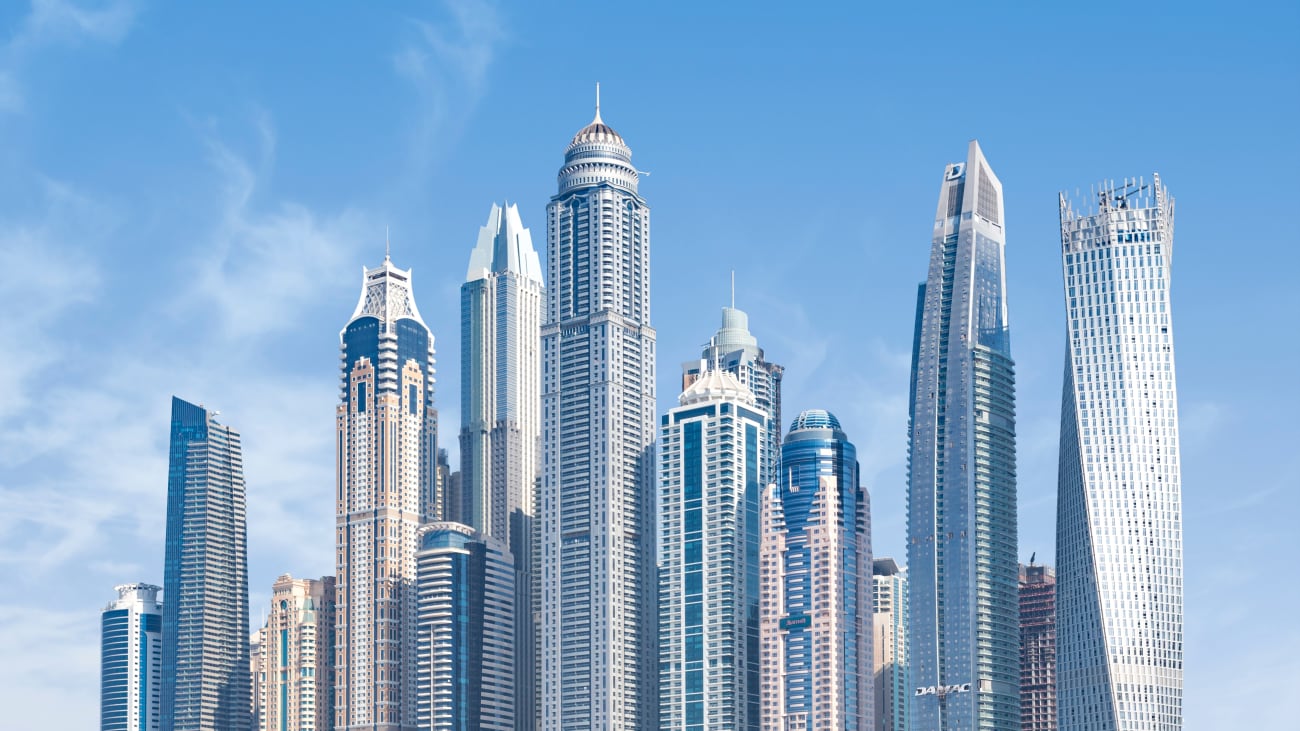 The grace of Dubai is that every month it surprises us with different events, fairs, festivals that, together with the weather variations, simply leaves us perplexed. No wonder that many claim that the only way to know the city of Dubai very well is to stay a full year, but as that is difficult, let's try to make the most of our trip.
Of course, I recommend that you not only look at when it is high season and when the weather is better, but also what you would like to see, even before planning the trip. I tell you this because, although it is difficult to get bored in this pearl of the United Arab Emirates. It is always better to follow a plan and leave room for improvisation when you want to, and not when it is imposed on you.
When is the best time to visit Dubai?
Undoubtedly the best time is between the months of November in Dubai and March in Dubai. Why? Quite simply, Dubai experiences primarily two seasons: spring and summer; but, beware, Dubai's summer, what a mess! We're talking about temperatures of around 50 degrees Celsius and suffocating humidity. Of course, sightseeing in summer is no nonsense, since all shopping malls, hotels and restaurants in Dubai are air-conditioned, and in some cases, with the latest in technology, without forgetting that the tourist influx is usually lower.
However, the best time to enjoy this city as if it were a delicacy is in December and January. This is due to the fact that during these dates the city has great weather, even for sunbathing on the beach or soaking in the sea water or pool.
However, as our ancestors told us, not all that glitters is gold, as prices are usually higher, accommodation is scarce and the crowds can interfere with your experience; so: Expect lots of company at Jumeirah Beach and at almost all major events! After all, enjoying the warmth of the UAE's desert climate while avoiding the temperature spikes comes at a cost.
But don't worry, in this article we will be detailing by dates depending on what you might be interested in; since, for example, it doesn't make much sense to assume the expenses of going to Dubai in January if what you are interested in is to enjoy a very sunny climate, or to attend the Word Art of Dubai.
Best month to visit Dubai if you want to do some shopping
Dubai, on the trendy Persian Gulf, is a shopper's paradise all year round, but shopping reaches an exaggerated level with the annual Dubai Shopping Festival in January. It's something akin to an upscale version of Christmas sales, and where you can pick up greatbargains on just about everything. We're talking designer gear, electronics, jewelry and more.
The discounts even extend to the Outlet Mall, where last season's clothing and accessories are sold at reduced prices.
And best of all, you can get exaggerated discounts of up to 70%.Without a doubt, January is the best month to buy quality clothing or luxury items, since, given the high competition, you will see discounts applied in almost all brands.
What to consider if you decide to visit Dubai in January?
While January is a month where any plan makes sense, from partying or attending a music concert to enjoying a quiet morning at the beach, don't forget that it is also one of the months where the cost of living tends to go up due to the high number of tourists who decide to take advantage of Dubai's peak. So, if you want to really take advantage of the January deals, try to act early and book accommodation well in advance.
Best time to visit Dubai with children
In the case of Dubai, almost any time of the year, any month is perfect to visit this magical city with children. Moreover, being Dubai a city with a notorious Arab culture, family plans are quite well seen and, therefore, very numerous.
In addition, most of the entertainment reserved for children takes place in closed and airy places. However, if you want to do something outdoors, it would be best to look for a month where the average temperature is not a problem.
In short, if your idea is to visit Dubai with children, don't worry too much about the season, as most of the attractions are usually open all year round. If I were you, I would find out more about the influx of tourists, the weather, the cost of living....
Best time to visit Dubai and save money
Dubai's peak travel season is between October and March, when the weather is at its best and the city is bustling with activity. But the summer months are the ideal time to visit if you're on a budget. You'll find great deals on hotels, lower airfares and discounts at the best malls and attractions.
While the weather warms up, you'll still be able to make the most of your trip, as many of Dubai's top attractions are indoors and air-conditioned.
In addition, you can also enjoy year-round sunshine at one of the **emirate'**s many luxury beach resorts at bargain prices during the off-season months. Summer is also the time for the second largest shopping festival of the year, Dubai Summer Surprises, which is usually held during July and August Expect discounts of up to 90%!
Best time to visit Dubai if you want to sunbathe on the beach
This portion of the Middle East doesn't seem to feel cold; in fact, in Dubai, winter almost doesn't exist, as temperatures rarely drop below 14 degrees. This means that sunbathing is as much a daily activity as taking the dog out. However, if you want to enjoy the best time in the sun, try to go in the spring.
So, if swimming and getting a tan are your main priority when visiting Dubai, then it would make the most sense to go in the months of March and April. This is because the tourist influx is less than in the more touristy months allowing you the luxury of not feeling imprisoned on the beach. To this we add the low cost of traveling to Dubai on those dates. And best of all, the radiation in spring is comparable to that of a normal summer in the Mediterranean area.
Of course, Dubai is an expert in giving surprises to tourists, as if it had a conscience and enjoyed the fact of making life impossible for those who love spontaneity. That's why you should always go to the beach with sunscreen, sunglasses, flip-flops and plenty of water!
As for places to eat in the spring, you don't have to worry, Dubai's beaches are full of places to satisfy your hunger; however, if you want to eat somewhere exquisite, it's best to call and book in advance.
Why is summer not the best time to sunbathe in Dubai?
While Dubai boasts an impressive selection of beaches, its coastline is lined with platinum-colored sand and lapped by the crystal-clear waters of the Persian Gulf; it is not recommended to go in summer, as the scorching sun is too intense for a pleasant sunbathing session.
Best month to visit Dubai if you want to visit museums
Museum-hopping in Dubai is as famous an activity as visiting the Burj Khalifa or the Jumeirah Mosque given the large number of museums of all kinds and for all tastes. However, the best month to make the most of this experience is in November.
November is a month well known for the numerous discounts on cultural events and that are offered to the public to encourage both local and international art in this great city.
Such is the artistic prominence in this month that there is even an annual art exhibition inside the ** Burj Khalifa**. Of course, the museum that you should visit almost by force in November is the Dubai Frame, since you can enter for free! Besides, November is not only perfect to go to museums, but also to go out and enjoy a weather quite suitable for walking.
Best month to visit Dubai if you want to get to know the Dubai culture
Although the temperatures in May are not the best for walking around the Deira neighborhood, we must remember that this is a very cultural month in Dubai and where you can feel like a Dubaiti.
We are talking about the month of the Ripe Market where articles with a cultural and religious weight are exposed for sale, and one of the months where the local gastronomy enjoys its maximum splendor with delicacies such as kabsa or chebab.
If it were not for the high temperatures at noon and in the afternoon, it would be an incredible month. But you don't have to worry so much, because in May there are also several nighttime cultural events in the desert.
Best month to visit Dubai if you want to go with your partner
You're probably already thinking about February, and yes! However, you may lose your illusion when I tell you that it is not precisely for Valentine's Day, but for other events that do not exactly happen on February 14.
In order to go in parts and not leave anything on the way, we must remember that February is a perfect month in terms of weather in Dubai, not so cold and not so hot, although, well, it is already a law that it is not so cold in Dubai.
The events that take place in the second month of the year in Dubai are diverse and attack mainly three areas: music, gastronomy and entertainment(the three commandments to enhance the pleasure of going to Dubai as a couple). Among the events, the following stand out:
Madinat Souk Wine Tasting Tour
Events related to the Chinese Year in Dubai
In addition, and as if that were not enough, you have the chance to take a hot air balloon ride recorded and with music included . What more do you want! And let's not even mention it if you accompany it with anight walk inthe desert of Dubai.
Of course, for more information, and so you don't miss anything along the way, I heartily recommend you to visit the guide of what to do in February in Dubai; there I will inform you more in depth about the events that take place in this romantic month of the year in Dubai. Also, if the desert is something that appeals to you, I advise you to take a look at the tours in the desert.
Best time to visit Dubai if you want to enjoy the best views from the Burj Khalifa
The best time to enjoy the incredible Burj Khalifain Dubai is in spring, and precisely in the months of April in Dubai and May in Dubai. Perhaps the fact that these are low season months comes as a shock; however, you will see that there is an explanation.
Although the Burj Khalifa is the tallest building in the world, its peak pierces the clouds of a cloudy sky and has 163 floors; do not forget that a building, after all, is a building. This means that when there are many tourists your experience will be affected, especially if you are one of those people who appreciate tranquility and comfort, believe me! Enjoying a 360-degree panoramic view from the observatory has a very special flavor when there is less hustle and bustle inside the building.
With more freedom inside the building, you can appreciate the famous Dubai Fountain, see the planes taking off and landing at Dubai International Airport, and all from the Burj Khalifa observatory. Besides, since it is spring time, you won't have much to do outside either, given the high temperatures that can appear when you least expect it.