Best things to do in Miami
It's always summer in Florida, which makes Miami one of the best getaways for those looking for sun, beach, partying and outdoor sports.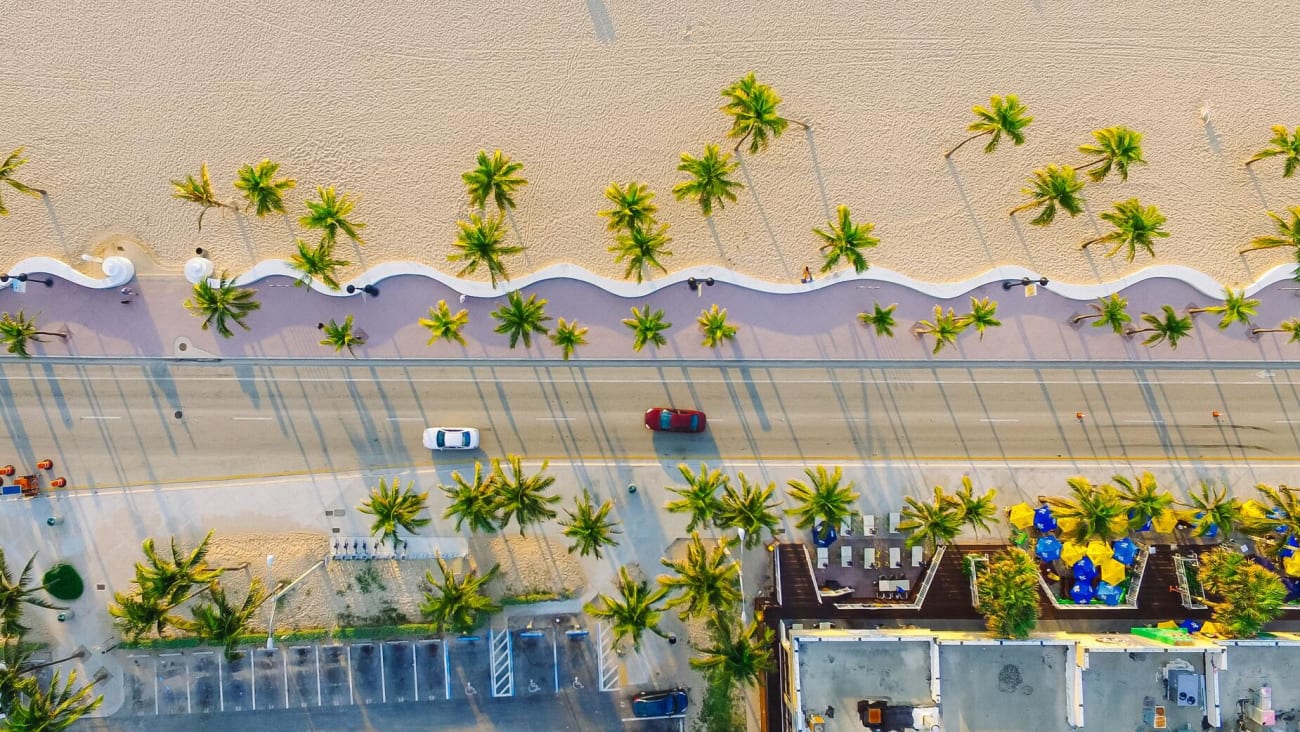 Miami is a city full of charm and a perfect tourist destination to visit in winter and spring, for its pleasant weather and lively atmosphere. Don't miss the 12 best things Miami has to offer!
1. Marvel at Miami's Art Deco buildings
:
Miami's Historic District has a very peculiar architecture and walking through its streets will make you feel as if you were inside a movie or a video game. Its colorful neon-lit facades are one of Miami's main attractions.
Taking a tour of Art Deco Miami will allow you to discover the wonderful architecture of the city and how it marked a "before and after" in the perception that the whole country and the rest of the world had of the city. If you are left wanting more, you can always take another guided tour to continue touring the most emblematic streets of the city. Here is an article about Best Tours and Day Trips from Miami.
2. Immerse yourself in the Cuban atmosphere of Calle Ocho
The Cuban community in Miami is the largest in the United States and you can check this with your own eyes by just strolling by its neighborhoods. The famous Calle Ocho is a tourist destination in itself, and although visiting it is what almost every tourist does in Miami, this does not mean that it has lost any of its charms.
I recommend you to take a tour of Little Havana, in which you will walk along Calle Ocho and explore the most authentic Cuban community of the city.
3. Take a stroll along Ocean Drive
Ocean Drive is the main street of downtown Miami, where its most famous stores and bars are located. When you think of Miami and you picture hot models skating along the boardwalk, Latin music, colorful cocktails, and neon, you're thinking of Ocean Drive.
Don't hesitate and take a tour of this iconic Miami street: which you definitely have to visit before catching your flight home.
4. Discover the Everglades
The Everglades National Park is a wetland whose ecosystem is unique in the world: in it, you can see alligators, flamingos, eagles, otters, manatees, and a myriad of other fauna and flora. Taking a trip to the Everglades from Miami is one of the most popular activities among tourists and locals alike for its natural importance.
My recommendation is to book a organized tour to the Everglades: as you will have an all-in-one experience without having to worry about how to get there and how to get around the park.
5. Tan in the sun at South Beach
:
Miami has some incredible beaches and I'm sure you can take some time between visits to relax in the sun and get a precious tan on your skin. South Beach is one of the most popular and closest options to the city, but if you feel like something offbeat I also recommend the crystal clear beaches of Crandon Park.
6. Explore Villa Vizcaya and its gardens
:
The Villa Vizcaya is an Italian Renaissance style mansion next to the beach, which today houses the Vizcaya Museum. It is my favorite place in Miami and one I definitely recommend, as I am sure that walking around inside will be a jaw-dropping experience.
The hand-painted wallpaper on the walls, the beautiful music room filled with instruments, the stone barge anchored outside, and the statues in its gardens will transport you directly to a Venetian setting.
7. Go out partying
At night, Miami turns into a massive party in its clubs and nightclubs. Lose yourself in its neon-lit streets and go out to enjoy yourself: Club Space is an affordable option but equally popular with the locals, and if you're in for the elite clubs of the city I recommend stopping by LIV (on Sunday nights), Mynt Lounge or E11even for a night out.
8. Go shopping at Lincoln Road Mall
Actually, this is a street, but it serves purpose as a shopping center in downtown Miami and there you will find plenty of stores and cafes where you can spend an afternoon of shopping.
9. Stroll through David T. Kennedy Park
:
David T. Kennedy Park, located on the waterfront in the Coconut Grove area, offers walking paths, bike trails, and benches overlooking the ocean to take a break from the hustle and bustle of the city. A visit is a perfect balance to a day of tours or excursions.
10. Take a trip to Key West
Known in Spanish as Cayo Hueso, this is a city on an island in southern Florida. You can explore the city on your own, famous for its pastel-colored houses, for being the home of writer Ernest Hemingway, and its warm atmosphere and its amazing beaches.
You will also see the southernmost point in the United States, marked with a small monument and plaque, Duval Street, a popular shopping street, and the Key West Lighthouse. The best way to visit this city is to book an excursion to Key West and enjoy a change of scenery while on vacation in Miami.
11. Tour Miami by tour bus
:
Miami's weather is truly wonderful, and one of the best ways to enjoy it while touring the city is sitting on the tour bus with the Miami Beach breeze blowing in your face.
For a quick look around the city with all the comfort possible, the Hop On Hop Off bus tours: are a very interesting option, which can also be used as a means of transportation around the city. In this article, I tell you all about Hop on Hop off Bus Tours.
12. Take a cruise along the coast of Miami
You've come to Miami to enjoy not only the city but also its crystal clear waters and sunshine. And the best way to do it is to sail its waters with a cruise that will take you either to the bay or to one of the islands of the well-known Bahamas. Sounds good, doesn't it? Best of all, there are options for all tastes and budgets, so you can choose the one that best suits your trip. I explain it all here: Cruise Tickets.