Cruise Tickets in Miami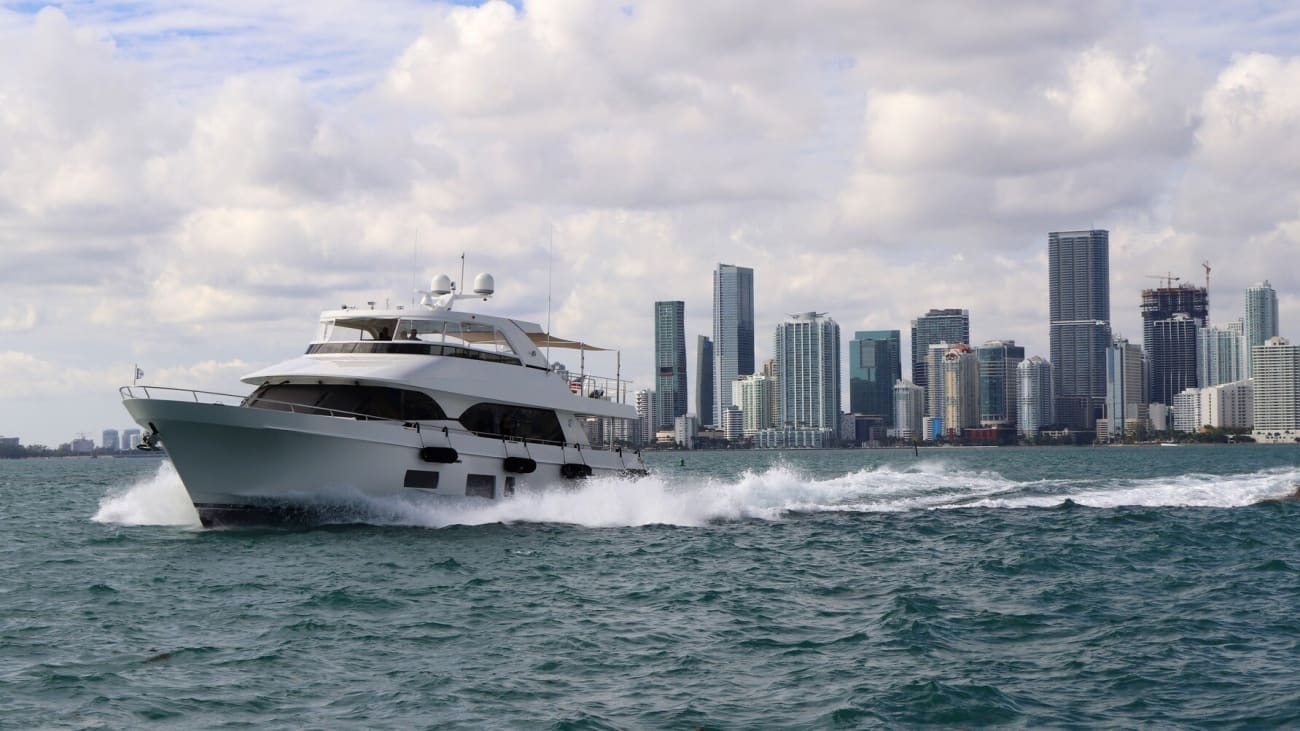 Few cities in the United States have a coastline as beautiful to explore as Miami. Here's a guide with the best options to take a boat tour of Biscayne Bay or even the Bahamas, and enjoy Florida's perfect weather in a boat ride!
1. Biscayne Bay Cruise
You'll be in awe with the Miami skyline views in this Biscayne Bay cruise, that takes you for a ride around the city's coastline to catch sights of the impressive coastal mansions, the skyscrapers of the financial center, Miami Beach, and with a little bit of luck, have the chance to see all kinds of marine species such as turtles, dolphins or manta rays.
Duration: 1 hour 20 minutes
Recommended: If you feel like taking a boat ride around Miami and enjoy its skyline views, in a short-duration experience.
Price: $ 25
2. Millionaire's Row Cruise
Millionaire's Row is a name typically given to residential neighborhoods where, as the name suggests, millionaires living in the city have built their opulent (and often extravagant) mansions.
On this boat tour of Millionaire's Row you'll cruise along Biscayne Bay, taking in Miami's skyline, and approach Millionaire's Row to catch sight of the impressive houses of this area of the city. Provided by your local guide, you will hear stories and anecdotes about the houses and their famous owners.
Duration: 1 hour 30 minutes
Recommended: If you like the idea of seeing the mansions of celebrities such as Enrique Iglesias, Anna Kournikova, or Shaquille O'Neal while enjoying a boat ride.
Price: $ 28
3. Bahamas Cruise
If a regular boat ride doesn't quite make it, this full day experience in the Bahamas will simply make you feel like a celebrity: you will cruise to the island of Bimini, and have a full pass to enjoy all the facilities of the Hilton Beach Club.
After enjoying the breathtaking views of Miami disappearing into the distance, you can relax on the beach of Bimini, in the infinity-edge pool, at the spa, or partake in any of the optional water activities.
Duration: 11 hours
Recommended: If you have a day to spare in Miami or simply want to visit the paradisiacal Bahamas and relax on one of its most famous beaches.
Price: $ 197
4. Tour of Miami, boat ride on Biscayne Bay, and a trip to the Everglades
This full-day experience in Miami and the Everglades combines two of Florida's most popular places: the vibrant city of Miami and the Everglades, a wetlands preserve home to alligators, turtles, panthers, and many other animal species.
At the beginning of the tour, you will take a tour of South Beach by bus, from where you will see Ocean Drive and its surroundings. Later on, you will ride a boat around Biscayne Bay, with a chance of catching sight of the marine wildlife of Florida's coastline. And in the afternoon, you'll head to the Everglades and ride a motorboat to explore its marshy waters in search of native wildlife.
What you will see
Ocean Drive
Casuarina House
Art Deco Historic District
Little Havana
Biscayne Bay
Everglades
Duration: 9 hours
Recommended: If you want to combine a tour of Miami's main points of interest and the most popular excursion from the city in just one-day experience.
Price: $ 78
Alex's Traveller Tip

If I could only recommend one cruise experience, it would be the Miami tour with boat ride and a trip to the Everglades for its perfect value for money.
5. About cruises from Miami
About the reservation
When you book your experience, you will receive a confirmation email that you will need to show to the cruise captain or guide at the indicated meeting point.
Point of departure
The cruises depart from either Biscayne Boulevard or Lincoln Road, both located in Miami Beach. I recommend that you check the meeting point on the experience confirmation email after booking the experience. All experiences drop you off at the same meeting point at the end of the trip.
Try to arrive a little bit early to the meeting point and keep in mind that some experiences include transportation from your hotel, but it is not usually included and it is a separate expense that in my opinion is not really worth it. All the experiences I have recommended have their meeting point somewhere in Miami Beach, and you can check the exact address in the confirmation email you will receive after booking.
About the cruises
All cruises have WiFi on board and you can order both alcoholic beverages and soft drinks throughout the experience (unless otherwise specified). They do not usually include food, so plan ahead and grab a bite somewhere close to the pick-up point.
What to bring
Wear comfortable shoes, something warm (preferably a windbreaker), a hat, sunglasses, and sunscreen. Some experiences, such as the Bahamas, include the possibility of taking a dip, so don't forget your swimsuit!
You'll probably want to take some pics of this experience, especially on the Everglades or Bahamas excursion — take your mobile phone or camera and thank me later!
6. Other experiences you may be interested in
Taking a cruise in Miami is something you don't want to skip, as long as you don't leave the city unexplored. That's why you should take a tour of Miami and discover its most iconic neighborhoods, such as the Art Deco Historic District or Little Havana. If you are interested in doing this tour, here you will find useful tips and info: Best Tours and Day Trips from Miami.
A different option is to take a Hop-on Hop-off sightseeing bus tour, a comfortable and quick way to see Miami in one day, perfect if you are short on time or just arrived in the city and don't know where to start your trip. Find out more in this article about Hop on Hop off Bus Tours.