10 Things to Do in Miami in October
If you want to get to know and celebrate cultural diversity, you will be interested in visiting Miami in October, as the city has an extensive agenda of activities.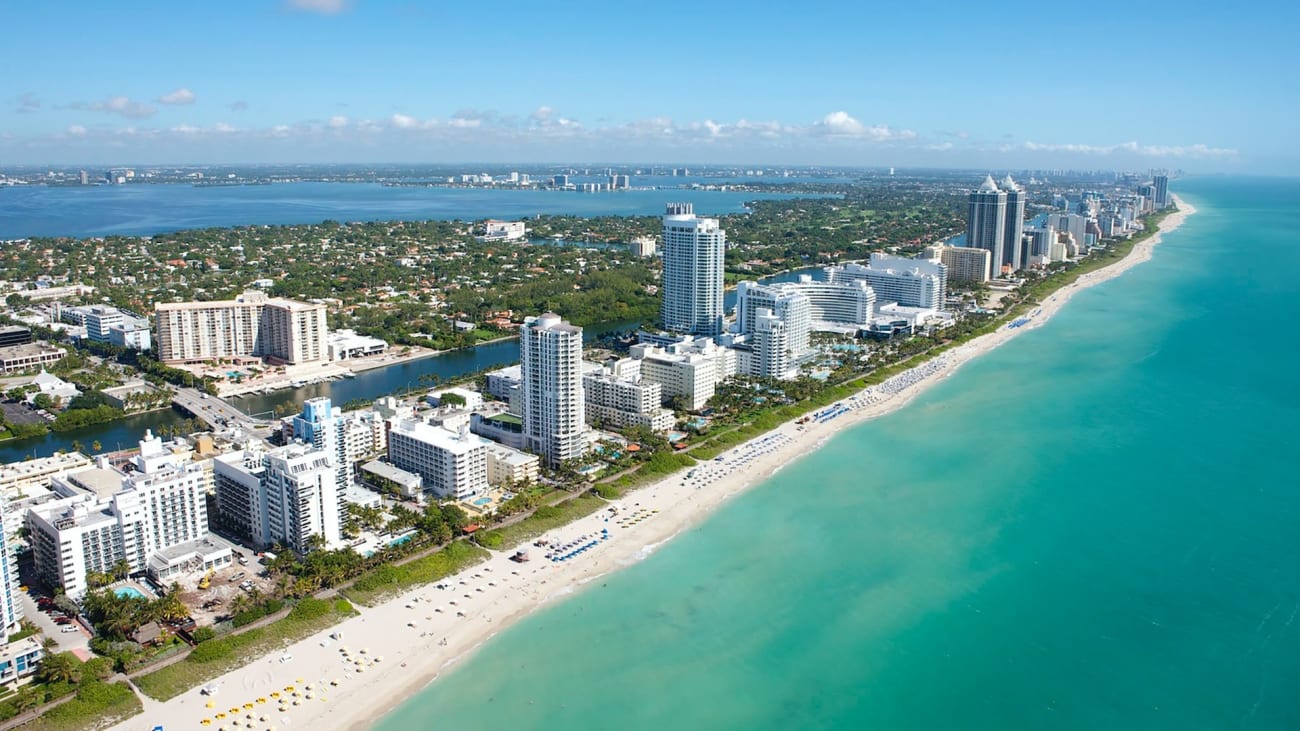 Miami is a city with a great tourist attraction, which invites to be discovered by vacationers. Not only will you find dazzling beaches with crystal-clear waters and modern shopping malls to explore. You will also enjoy amazing natural scenery and historical sites.
Also, during your visit you will taste a varied gastronomy while you experience the multicultural celebrations of the city and take advantage of the low prices characteristic of October.
1. Enjoy the mild weather and beauty of October in Key West
A must for your trip is to book an excursion to Key West from Miami. And its attractions have made these excursions one of the most valued by all travelers. There, you can enjoy a series of outdoor tourist activities: stroll through the streets, taste delicious dishes, have a drink or relax in a cafe. In addition, during the transfer to this key you will enjoy an amazing natural scenery.
You will start the tour inside a bus that will take you to Key West. On the way along the coast you will see the Gulf of Mexico, the Atlantic Ocean and the 31 Caribbean islands that make up the Florida Keys. In addition, you will cross approximately 43 bridges.
Upon arrival in Key West you will have the opportunity to book a snorkeling excursion and ride on a catamaran, two of the best water activities in Miami. You will be able to take a two-hour cruise to marvel at the living coral reefs, considered the only ones in North America. You will also enjoy a panoramic view of the key while parasailing.
2. Tour the city of Miami in comfort on the Big Bus Tour
Miami is a city that deserves to be explored in detail, as it has a number of buildings and monuments of great architectural beauty. Therefore, booking a Big Bus tour bus in Miami is a good option to comfortably stroll through the main streets.
Get on this double-decker bus with open roof and take advantage of the coolness of the October days to start this tour. There are two routes and more than 30 stops, so you can hop on and off the Big Bus as many times as you want. This way, you can explore Miami at your own pace.
Among the stops you can make when you get on any of Miami's best tour buses are Lincoln Road, Little Havana, Ocean Drive, Versace Mansion, Art Deco District, Freedom Tower, Wynwood, etc. And if you want to discover the illuminated city, you can book the night tour bus
3. Fly over the clear skies of Miami by helicopter in October.
Flying over the city of Miami in a helicopter is considered by many tourists as a unique adventure, since they can contemplate different aerial angles of the city.
Do not miss this opportunity and, even more, if your visit is in October, since in this month the sky is clearer than the rest of the year.
Miami helicopter rides can last a maximum of one hour, during which you will be able to observe several places of interest:
You will see from the heights the impressive skyscrapers of the Brickell district.
Flying over South Beach you will quickly identify the Art Deco district hotel complex, Ocean Drive and the Lincoln Road sector.
You will fly over Key Biscayne and, if you are attentive enough, you will be able to spot marine wildlife in their habitat.
Finally, in Coral Gables you can book a cruise around Miami's celebrity homes and private yachts.
5. Experience the atmosphere of an NBA game
Attending an NBA game is an experience you will never forget. That's why, on your trip to Miami in October, you should not overlook buying your ticket for a Miami Hea game in advance. The season starts in mid-October and ends in early April, so this is an ideal time to go and enjoy the great atmosphere of the stadium.
Keep in mind, however, that it is very important to choose the right seat to fully enjoy the game. And, on the other hand, do not arrive just in time to experience the atmosphere to the fullest: buy some snacks or souvenirs, feel the music, watch the dances of the cheerleaders and how the players enter the court. In short: enjoy the experience to the fullest.
The duration of an NBA game is officially 48 minutes (4 quarters of 12 minutes each), but between timeouts and halftime, most games usually extend to two hours. After the first two quarters, there is a 15-minute break where you can use the restroom or buy a drink.
6. Take advantage of the pleasant October weather to visit Everglades National Park.
The month of October is characterized by stable weather conditions, that is, its days are neither too cold nor too hot. Therefore, it is a perfect time to take a tour of the Everglades Park. Consider this option to enjoy an amazing natural landscape and some endangered animals.
And to get there, you can book an airboat ride through the Everglades from Miami, which lasts almost 5 hours. Arriving at the natural enclosure you will have the opportunity to appreciate the wildlife from a more realistic perspective. This is because you will be in contact with the natural environment of a number of birds, snakes, fish, manatees, otters, crocodiles, alligators among other animals.
On the other hand, among the activities to do in the Everglades excursions from Miami, highlights a fun airboat ride and an amazing show with alligators. You will also learn about the main historical aspects of the Everglades, its flora and fauna.
7. Hispanic Heritage Festival: Commemorate the legacy of Hispanic Americans in Miami
If you don't know what to do in Miami in a week, you should know that this city has a lot of activities. Therefore, you will be short of days to enjoy. For example, during the month of October you can get close to the Hispanic Heritage Festival, which commemorates the Hispanic roots. It is a series of events that aim to transmit the Hispanic heritage. You will have the opportunity to learn about and taste a wide variety of dishes at the food festival held in Little Havana. And if that's not enough, don't hesitate to book a gastronomic tour of Little Havana.
Also, at the Tower Theater on Calle Ocho, you'll see a Hispanic film show, while at Domino Park, you'll watch musical shows and outdoor dance performances.
On the other hand, the little ones can also participate in this great celebration and learn about Hispanic musical rhythms, architecture and literature. This is because the museum of the city of Miami prepares special activities for them.
8. Take advantage of October's low prices and go on a shopping excursion
October is the month of sales in Miami, so you should not miss out on shopping for clothes, shoes, accessories and appliances. In addition, you can buy beautiful Christmas items, which stores begin to display in their windows. For this, an ideal plan if you want to make the most of it is to book a shopping trip to Sawgrass Mills Mall, which is one of the most impressive malls in the U.S. and you will be able to buy several popular brands.
You will get at a good price collections of past seasons, which have not yet been sold. Similarly, this happens with smartphones, tablets and other devices, whose top range is usually released in a couple of months.
But, if you prefer pre-Christmas shopping, then your visit to Miami in October is the best opportunity. The variety of products is amazing, so you'll have more options to choose from.
9. Experience three days of Caribbean rhythms and flavors at the Miami Carnival
If you plan to be in Miami between October 8 and 10, you can live a unique cultural experience, where Caribbean rhythms and flavors are the main protagonists. Attend the Miami Carnival, which for more than three decades has been reviving the carnival traditions of the island of Trinidad and the Brazilian nation.
For three days you can taste island food and delight in the exotic flavors of Haitian and Jamaican cuisine. You will vibrate to the beat of the steel pans of the comparsas and be amazed by the elaborate and colorful costumes of those who move in the streets.
Finally, if you attend the third day of the Miami Carnival, you will enjoy a great parade of bands that compete to be awarded in an annual competition. You will also witness some costume contests, in which you can participate if you wish.
10. Take advantage of your visit to Miami and be part of the traditional Pride celebration
For 11 consecutive years the city of Miami has commemorated Pride with a memorable party, where you will meet the LGBTQ+ community. Be part of all the events offered by this traditional celebration. The agenda of activities extends over two weeks, starting on October 1 with an interesting free lecture by spokespersons from around the world, who expose the challenges of the LGBTQ+ community and the civil rights that protect it.
So, from October 2 the fun begins, you can go by bus to the Drag Gallery, where a drag host will guide you through the entire exhibition. Four days later, that is, on October 6, you will have to get a ticket for the long-awaited William Dorsey Swann Party. This is a well-known gay liberation figure, to whom the popular expression "Queen of Drag" is due .
On October 8 at Dezerland Park, you will experience the Dragalympics with varied tests and on October 9, you will have the opportunity to take a behind-the-scenes tour at the Art Diva. And finally, on October 15 at Dezerland Park you will experience a night of music and drive-in movies with the screening of the iconic queer film "The Birdcage."
11. Live a multicultural experience in Coral Gables and celebrate the Day of the Dead
The Coral Gables neighborhood of Miami dresses up every October 30 to celebrate the Day of the Dead. Be part of this multicultural experience during your trip and relive a colorful Mexican tradition.
Walk the streets of Coral Gables, visit the city's cafes and shopping malls. You will observe beautiful decorations of the iconic garbanzo skull and you will be able to taste some gastronomic delights characteristic of the date. All this wrapped in an atmosphere of joyful celebration.
And if you are traveling with your children, but do not know what to do in Miami with kids, you have the option of taking them to Giralda Plaza Mall and Merrick Way. There, the Consulate General of Mexico, in conjunction with the Coral Gables governmental entities, is preparing a series of children's activities, catrinas contests, plays, among others.
12. Join the popular Halloween celebration at Lincoln Road
If you are in the city of Miami on October 31, you should join the Halloween celebration at Lincoln Road. You'll be able to wear everything from scary makeup to an ingenious costume. Also, if you are with your children, you will have the opportunity to take them with you from 5:00 pm until 8:00 pm. This way, the little ones can play Trick or Treat, while they show off their costumes.
You will encounter ghosts, zombies and catrinas. There will also be classic characters from Tim Burton's movies: Beetlejuice, Jack Skellington, Edward Scissorhands, Emily, Victor Frankenstein, Sally, Vincent, among others.
You will experience the scariest and funniest night of all, along with hundreds of people who take the opportunity to have a great time. What are you waiting for? Put this activity on your list of what to see and do in Miami at night and enjoy Halloween in Miami.
What to bring in your suitcase to visit Miami in October?
If you plan to travel to Miami in October you should not overload your suitcase with unnecessary items. Make sure you pack clothes made of light fabrics, so you will always stay cool during your travels. You should also pack a bathing suit, at least one change of shoes, sunglasses and sunscreen.
Don't forget your camera or video camera with its respective charging cables and a universal connector. Also, take with you a toiletry bag with some personal products that you consider essential and, if you wish, add a couple of painkillers to combat an unexpected headache.
Average temperatures in Miami in October
Miami has many things to see and do and you should know that the month of October is considered the summer season. Therefore, when you arrive you will find the weather to be quite warm, with temperatures usually ranging between 30 ºC and 28 ºC. In addition, during this period there is a high level of humidity in the environment, due to the proximity to the Atlantic Ocean.
The temperature in the last days of October usually begins to drop a little. You will notice a minimum temperature of 26 ºC, that is, 2 ºC below the temperature recorded at the beginning of the month.
Likewise, the humidity will decrease slightly, but this is actually imperceptible to tourists. In any case, it never hurts to check the weather forecast a little before traveling.