Hop on Hop off Bus Tours in Miami
See the whole city from your seat: here's a guide on how Miami bus tours work and some of the travel hacks they offer you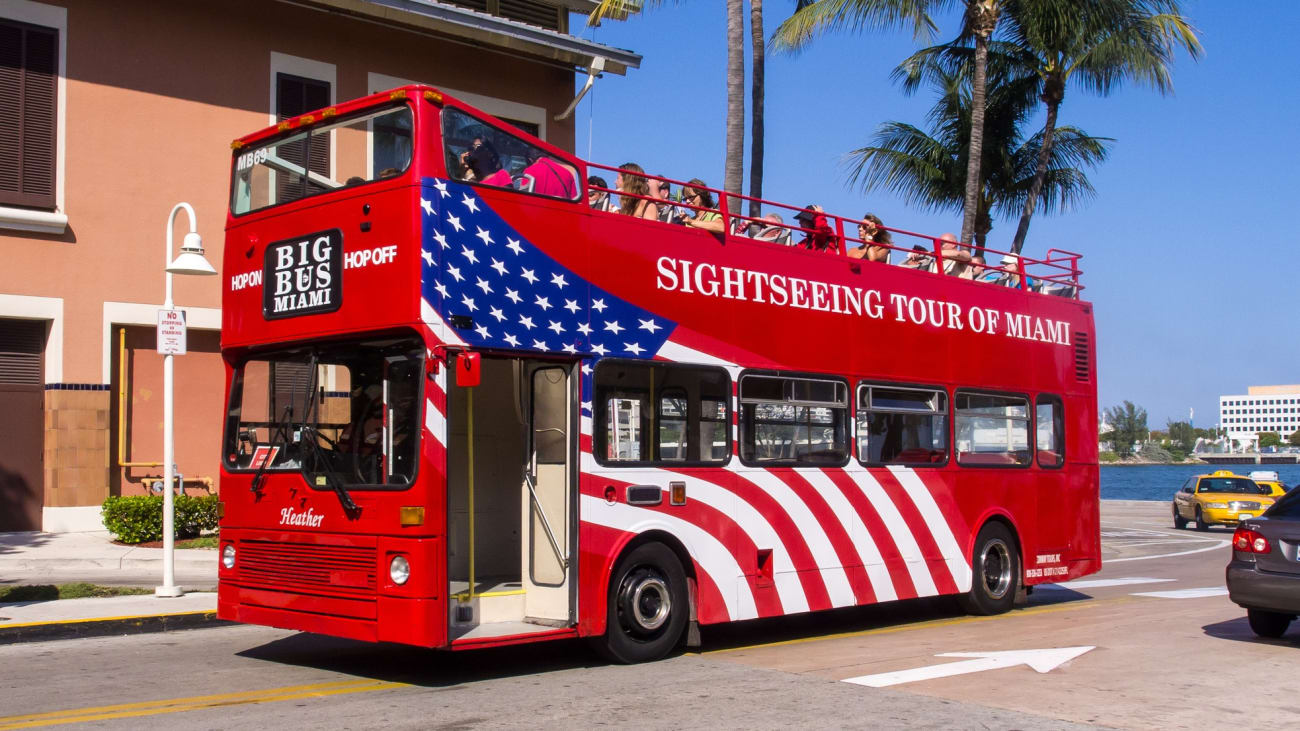 Miami's weather is so wonderful that one of the best things I remember from my last visit was sitting on the top deck of the bus on a warm afternoon feeling the fresh breeze from Miami Beach.
1. Miami Tour Bus Options
For a quick look at the city in full comfort, Hop On Hop Off bus tours are a very nice option, which can also be used as a means of transportation around the city. Here are the best Miami bus tours:
2. Miami Hop On Hop Off Sightseeing Bus
With these Big Bus sightseeing bus tickets, you can comfortably tour the city and see its main points of interest. In addition, you have the option to include some extras such as a boat ride around Biscayne Bay, or a bus tour at night.
The complete tour of this bus tour consists of 40 stops throughout the main areas of Miami, and the entire tour takes about one hour and a half. During the ride, you can listen to an audio guide that will give you information on the places you see.
Why the tour bus is worthwhile
If you want to see Miami in a comfortable and relaxed way, or if you have just arrived in the city and don't know where to start your itinerary, the bus tour is perfect to get to know the main areas and later on visit them on your own.
What you will see
Bayside Marketplace
South Beach
Lincoln Road
Miami Beach Boardwalk
Collins Avenue
Wynwood Walls
Miami Beach Botanical Garden
Port of Miami
Lummus Park Beach
Bayfront Park
American Airlines Arena
Freedom Tower at Miami Dade College
Ocean Drive
Little Havana
Brickell City Center
Night tour itinerary (if you choose this option)
Bayfront Park
Bayside Marketplace
Port of Miami
Holocaust Memorial Miami Beach
Miami Beach Botanical Garden
South Beach
Lincoln Road
Brickell City Center
3. Go Miami Pass with tour bus included
The Go Miami Pass is a tourist pass valid for a set amount of days: you can choose a duration of 1, 2, 3, or 5 days during which you can use the pass to access several places in the city and enjoy a list of experiences, including tickets for the Hop On Hop Off bus.
Some activities included in this tourist pass (but not limited to) are a day trip toKey West, an Art Deco Historic District tour, Zoo Miami admission tickets, a Miami speedboat ride, a paddle surfing or kayaking experience, bike rental, and an Everglades trip, plus the aforementioned city sightseeing bus.
It is especially worth it to get this pass if you will be in Miami for three days or up to a week, as you will be able to enjoy most of the city without having to worry about planning your trip or getting admission tickets.
Alex's Traveller Tip

Seeing Miami by tour bus is the perfect option if you are traveling to the city with your family, if you don't have time to explore the city, or if you are not really into regular walking tours.
4. About the Miami Tourist Bus
Once you book your Miami sightseeing bus tickets you will receive a confirmation email. Just show it to the driver when you get on the bus.
If you have booked any of the additional experiences, you will also be able to show your proof of purchase as admission (unless otherwise indicated, in which case you will usually be asked to print a voucher).
The bus is from the Big Bus company, and you will recognize it by its maroon color with gold lettering. You will probably see other tour buses around the city such as the ones from CitySightseeing, whose routes are very similar to those of Big Bus.
Tourist bus schedules
The first bus departs at 8:55 am from the Lincoln Rd. stop and the last departure is at 5:00 pm from the Bayfront Park stop. You can get on the bus and get off at any stop you want, just keep in mind that these times are approximate in case you are waiting for the bus at any other stop of the itinerary.
As you know, once you get off the bus you can get on it again at any of the other stops on the itinerary on the day you have chosen for the experience.
5. A few useful tips
The most useful tip that no one will tell you, is that you can use the tour bus as a method of transportation to explore the city, which is especially valuable when you have just arrived in Miami and don't have your bearings quite right yet.
Since the tour bus experience is quite dependent on weather being suitable (which is almost always going to be the case in Miami anyway), I recommend that you book your tour tickets and use them when you are sure the weather is going to be perfect.
Try to get off at all the stops that catch your eye but remember you are paying for a full itinerary! My advice is to save the exhaustive sightseeing for another day and take the tour bus experience as a little taste of every point of interest in Miami rather than a long and tiresome tour.
6. Other experiences to keep an eye on
If you prefer to discover the city of Miami on foot, you should read this article about Best Tours and Day Trips from Miami. Here, you will find one of the most complete tours of the city.
Finally, Miami has excellent connections to the Caribbean Sea. Would you like to take a day trip to the Bahamas and enjoy one of the best beaches in the world? It is a super easy day trip from Miami that you'll never forget. Go ahead and take a look at this article related to Cruise Tickets.