Best Tours and Day Trips from Miami
If you would like to complete your stay on the beaches of Miami with a visit to the city's surroundings, here are some of the best excursions to do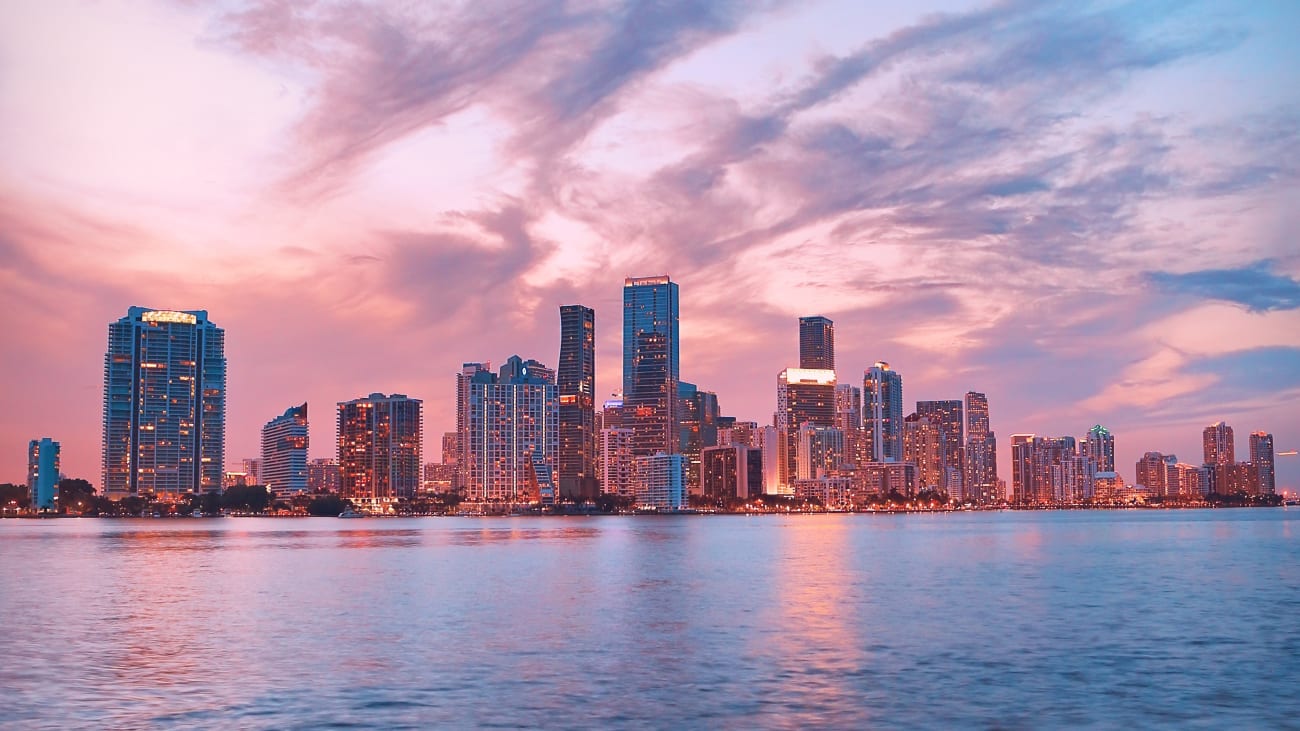 Exploring Miami is synonymous with enjoyment: it's sunny and the weather is great, the food is delicious, and its Art Deco neighborhoods and Cuban influence make this city one of the dream destinations for travelers. Miami is much more than its nightclubs and Miami Beach VIP reservations: let's discover the city and its surroundings!
Ocean Drive Segway Tour
When you think of Miami, do you think of a promenade with runway models on roller skates, in an Art Deco setting, with terraces and bars serving cocktails and playing loud music?
Then you are thinking of Ocean Drive, one of the most popular areas of Miami that you can tour by Segway on this tour of Ocean Drive. You'll see all the neighborhood's points of interest, as well as soak up its unmistakable atmosphere.
Duration: 30 minutes
Why I like it: It's a good way to get to know Miami Beach, being quick and accompanied by a guide who will give you an introduction to the area so you can explore it on your own later.
Miami Art Deco Tour
This tour takes you around Miami Beach to discover the Art Deco jewels of the city, specifically, located in the Art Deco Historic District.
Chic and timeless in equal parts, the aesthetics of the buildings in this area of Miami is a fantasy spiced with a touch of tackiness that, without mincing words, is a delight for the eyes. Especially at night, a stroll through this district is like being magically transported to the Miami of Scarface or the fictional Vice City.
You can also visit the Art Deco museum, dedicated to exploring the history of these picturesque buildings and how their aesthetic was born out of an attempt to overcome the Great Depression of the 1920s.
Duration: 1 hour 30 minutes
Why I like this tour: Because it allows you to get to know in depth the history behind this unique area of Miami, which would otherwise be reduced to a stroll or a cocktail on its terraces.
What you will see
Park Central Hotel
Colony Hotel
Waldorf Towers Hotel
Breakwater Hotel
Edison Hotel
Art Deco District Welcome Center
Victor Hotel
Leslie Hotel
Mc Alpin Hotel
Carlyle
Crescent Hotel
Museum of Art Deco
Miami Beach Bike Tour
If you do not want to stay only on the most iconic street of Miami, this tour will take you all over Miami Beach. Accompanied by a local guide, you will bike through the south of Miami Beach and discover, besides Ocean Drive, other points of interest such as Lummus Park Beach, Collins Avenue and Washington Avenue, two of the most important shopping streets in Miami, or the Casuarina House, Versace's mansion.
Duration: 1 hour 45 minutes
Why I like this tour: Because it allows you to cover longer distances in less time thanks to the bike. In addition, Miami is the perfect city to tour by bike because of its climate and its areas adapted to skates and bicycles.
What you will see
Ocean Drive
Lummus Park Beach
South Beach
Collins Avenue
Washington Avenue
Casa Casuarina
Española Way
Holocaust Memorial
Lincoln Road Mall
Historic Art Deco District
Miami tour and boat ride
Miami Beach is just one part of the city and on this tour you will discover all that Miami has to offer. On a full day tour of Miami and boat ride, you will see the points of interest that every person who travels to this Florida city has to explore, and you will get to know the most charming neighborhoods of Miami.
In addition, this experience includes a boat ride on Biscayne Bay, south of Miami Beach, which you can enjoy with a Cuban coffee and WiFi on board.
Duration: 8 hours
Why I like this tour: Because it is undoubtedly the most complete and includes the boat ride, which allows you to enjoy both experiences for a lower price.
What you will see
South Beach
Wynwood
Downtown
Coconut Grove
Coral Gables
Little Havana
Bayside
Tour of Miami, Biscayne Bay boat tour and excursion to the Everglades
This full-day experience combines two of Florida's most popular places, the vibrant city of Miami and the Everglades, a wetlands preserve home to alligators, turtles, panthers, and many other animal species.
At the beginning of the tour, you'll take a tour of South Beach by bus, from where you'll see Ocean Drive and its surroundings. Then you will board a boat with WiFi on board and take a stroll along Biscayne Beach, seeing the marine wildlife of Florida's coastline. And in the afternoon, you will head to the Everglades and explore the swampy waters of the Everglades in search of native wildlife.
Duration: 9 hours
Why I like this tour: Because it is the best option if you want to visit the Everglades natural park without having to rent a car or worry about how to get there.
What you will see
Ocean Drive
Casuarina House
Art Deco Historic District
Little Havana
Biscayne Bay
Everglades
Alex's Traveller Tip

Whatever tour you take, take a stroll through Little Havana. It's one of the neighborhoods with the most personality in Miami and you'll hardly find its atmosphere in other U.S. cities.
Tour of Miami by seaplane
Bicycling is too boring for you? Riding a Segway doesn't make you happy? Bus tours make you sleepy? Well, then you are a restless ass and there is only one tour that will completely satisfy your hunger for adrenaline, and that is the seaplane tour of Miami.
The flight lasts half an hour and from the seaplane you will see Miami from the heights and its impressive Art Deco, which can be quite an experience to do when you arrive in the city, or to say goodbye to it just before going back home.
Duration: 30 minutes
Why I like this tour: Because it allows you to enjoy the best views of Miami and its beaches with the most VIP experience in Miami.
What you will see
Biscayne Bay
Coconut Grove
Star Island
South Beach
Little Havana Tour
Little Havana is the Cuban neighborhood of Miami, whose epicenter is Calle Ocho, where you will find restaurants of authentic Cuban gastronomy, artisan cigar workshops, and coffee shops, where you can taste the best coffee in the city.
In short, it is a very picturesque neighborhood that you should not miss, and better if it is on this tour of Little Havana in which you will discover the most charming streets in the company of a guide who will give you all the historical context to better appreciate this Cuban community in the heart of Miami.
What you will see
Calle Ocho
Domino Park
Miami Tower
Bay of Pigs Museum
Ball & Chain
Key West Excursion from Miami
On this tour, a bus picks you up in Miami Beach and takes you on a guided tour of Key West and back from Miami. You will be able to explore on your own the town of this small island, famous for its pastel houses, the house of writer Ernest Hemingway, its warm atmosphere and its amazing beaches.
In total, you will have 6 hours to explore the town at your leisure, or if you prefer you can do activities such as a snorkeling tour, or a Key West streetcar tour. Just so you have it in mind, it takes about 3.5 hours to get to Key West by road from Miami. Be sure to research what activities you can do in Key West if you don't feel like exploring the city on your own.
Duration: 18 hours
Why I like this tour: Because it allows you to visit a beautiful beach town and spend a day away from the hustle and bustle of Miami.
About Miami tours and excursions
The guides
In all tours you will have a local guide who will narrate the tour in Spanish, to make the most of your trip with stories, anecdotes and traveler tips of everything you see.
What to bring
Unless otherwise specified, the tours are on foot and therefore I recommend that you wear comfortable shoes to enjoy the activity to the fullest.
How does the reservation work?
Once you book the activity, you will receive a confirmation email. In most cases, just show this email to your guide at the meeting point on the day and time of the tour, but just in case, read the details in the email carefully as in some cases you may need to print a voucher or similar.
About food
One last thing to keep in mind is that most tours will end around lunch or dinner time. To avoid falling into tourist traps or to avoid not finding where to eat, my recommendation is to check out the restaurants in the area in advance and even reserve a table.
Other activities that may interest you
If you prefer to visit the city in a more comfortable way, I recommend you to take a look at the Miami Hop On Hop Off bus tours. They will allow you to sit back and relax while you see the sights of the city and you will keep the places that catch your attention to visit them on your own later. Find out more about Miami's tour buses in this post on Miami Hop on Hop off Bus Tours.
And if the city is not enough for you, how about a cruise to the Bahamas or Biscayne Bay? It's the perfect experience to take a break from the hustle and bustle of the city and spend some time enjoying the coolness of the sea. If the idea of a cruise seduces you, take a look at this article on Cruise Tickets in Miami.
Frequently asked questions
What is the best option to enjoy the best beaches in Miami?

Key West has without a doubt the most spectacular beaches you will find on the coast of Miami.

Is it worth taking a guided tour of Miami?

The city is very large and has a lot to know: taking a guided tour is the safest way to see every corner and understand its history and context. The good thing is that there are many options. For example, you can take a bike tour of South Beach or a specialized Art Deco tour to discover the best kept jewels of the city.

Is it worth taking a boat trip in Miami?

Of course! The turquoise waters that bathe Miami are best enjoyed aboard a boat.

What are the main points of interest in and around Miami?

Not to be missed: South Beach, Ocean Drive and the Casuarina House, Coconut Grove, Coral Gables, the Art Deco Historic District, Collins Avenue and Washington Avenue, Little Havana, Biscayne Bay and the Everglades.