81 Fun Things To Do in Miami
Miami is a dynamic, bustling and lively city. But it's not all beaches and parties. I'll tell you everything that awaits you there, you'll be surprised!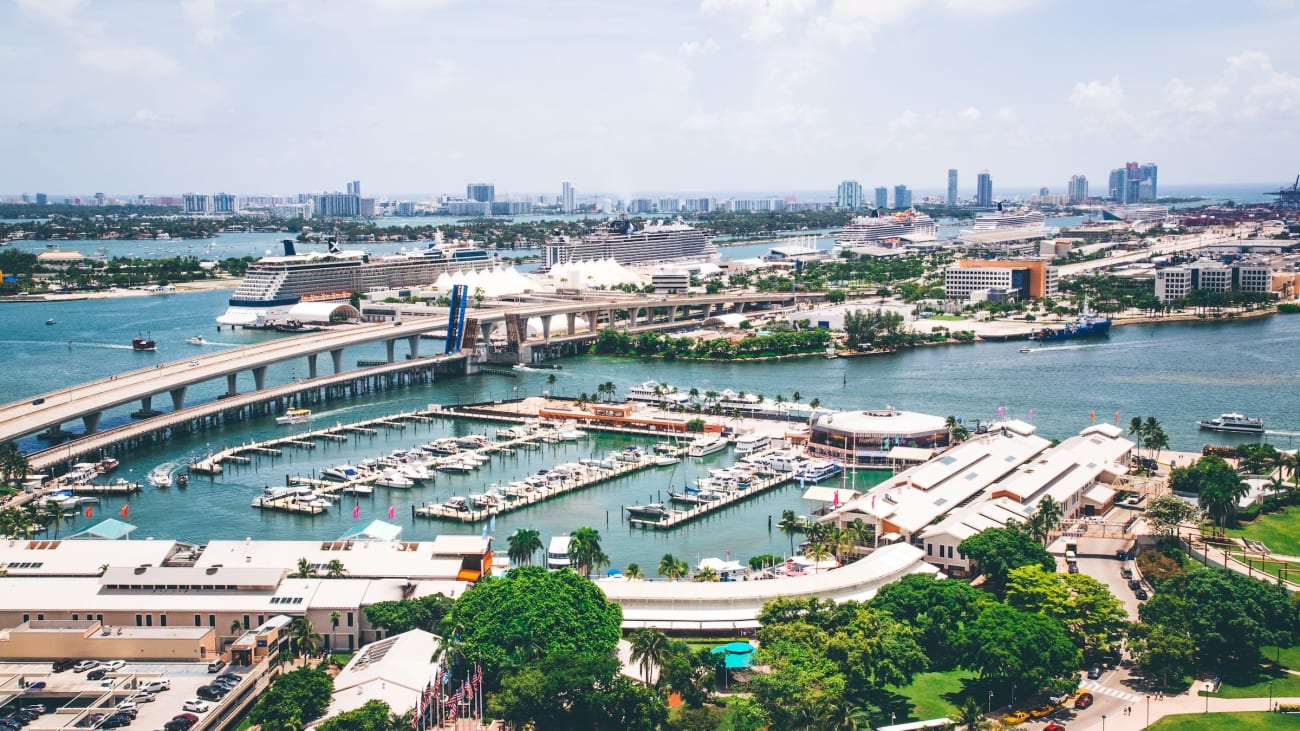 Endless beaches, a warm climate and lively day and night life have made Miami one of the great tourist destinations in the United States. Here you will enjoy endless plans to have a great time: a lively nightlife, magnificent shows or the possibility of practicing water sports, among others.
But did you know that many other surprises await you in the city? Surprises in the form of unique buildings, museums and galleries, wild nature and the best gastronomy. I'll tell you about all this and much more below.
1. Get to know the city on a guided tour
Miami is an exciting city, it is full of contrasts and hides an endless number of interesting places to discover: South Beach, Little Havana, Coral Gables .... Where to start?
Deciding is sometimes complicated. Therefore, I recommend a first contact through a guided tour. If you combine a land tour with a boat tour, you will have the most complete vision of this wonderful city. You can then better plan the rest of your visit or choose the thematic tours that interest you.
2. Enjoy a bird's eye view of Miami
If from land or from the sea is incredible, Miami from the heights is spectacular. A helicopter ride gives you the opportunity to admire its endless beaches and be amazed by the intense blue of the waters that bathe them.
In addition, you will seem to touch the skyscrapers of Downtown and enjoy the view of the luxurious mansions of Palm Island. Flying over Miami is one of those adventures that you enjoy every second. If you are not afraid of flying, don't miss it.
You can also book a private airplane tour of Miami, an experience that will let you get to know the city in a unique way.
3. Let yourself be seduced by Little Havana
Everything in this neighborhood is special. Strolling through it is like traveling to another land without leaving Miami. Here you will discover authentic Cuban traditions, listen to Latin music, smell the aroma of tobacco and taste the best Caribbean food.
This is not the only thing that will surprise you in Little Havana. On Calle Ocho you'll find interesting art galleries. Meanwhile, in Domino Park you will see the elderly playing chess or dominoes away from the hustle and bustle of the neighborhood. And if your visit coincides with Cultural Fridays, held once a month, a lively festival of art, music and street culture awaits you.
4. Discover the artistic side of Miami
If you are passionate about art and culture, Miami is a great destination for you. The city is home to countless museums, art galleries, unique buildings and magnificent examples of urban art. All artistic disciplines, in one way or another, are represented here.
I especially recommend two areas. On the one hand, the Design District, elegant and sophisticated. On the other, Wynwood, the alternative neighborhood par excellence, where creativity and urban art reach their maximum expression.
5. Live a wild adventure in the Everglades
Imagine seeing alligators, pelicans, manatees or ospreys in their habitat? You can do it in one of the largest and most incredible wilderness areas in the United States. The Everglades is an immense swampy area that is home to unique fauna and flora.
But the experience of spending a whole day in this national park is unforgettable not only because of its ecosystem. The way to do it is also special. On the one hand, you will walk its trails on foot and, on the other hand, you can admire it from the water, aboard small boats or hydrofoils, an adventure for an unforgettable day!
6. Take a Segway tour of Ocean Drive
Ocean Drive is the most fun and lively area of Miami Beach. It is also one of the most famous. On one side is one of the most visited beaches in the city. On the other, a whole row of shops, stores, bars and restaurants.
On this promenade you will always see people running, cycling or rollerblading. And you can enjoy it in a different way. The segway will give you complete freedom to move around and immerse yourself in the lively atmosphere and the essence of Ocean Drive, but without getting tired!
7. Snorkel among coral reefs
Near Miami there are wonderful places for you to dive and enjoy the beauty of the seabed. One of the most beautiful is Key West. Here you can dive in one of the largest coral reefs in the world and discover a fascinating ecosystem.
If you have never dived before, do not worry, it is a good place to learn. In its crystal-clear waters you'll see unique marine species and, if you're lucky, you can even swim with dolphins- unforgettable!
8. Visit the Vizcaya Museum and gardens
Villa Vizcaya is one of the most amazing places in Miami. Can you imagine a Renaissance-style villa in Florida? This spectacular mansion is inspired by the Italian palaces of the 16th century and lacks no detail. Its interior is now a museum that exhibits furniture, paintings, decorative objects and musical instruments.
And if the mansion is wonderful, don't miss its gardens, dotted with sculptures, fountains and waterfalls. Strolling through them you will forget the hustle and bustle of the city. And all with the added bonus of fabulous views of Biscayne Bay. A real pleasure.
9. Take a cruise on Biscayne Bay
From a cruise you will enjoy one of the most attractive tours in Miami. Biscayne Bay is an immense tropical lagoon whose shores overlook some of the most emblematic places of the city, from the skyscrapers of Downtown to Miami Beach or Fisher Island.
But if there is something that will surprise you are the artificial islands that were created in the bay. On the one hand, because of the engineering work they represent. On the other hand, because they are home to the mansions of celebrities such as Julio Iglesias, Gloria Estefan and Ricky Martin, among many others.
10. Have fun watching the animals at the zoo
If you are traveling with children, don't hesitate to include the Miami Zoo in your plans. More than 3,000 animals live here. It is also the only subtropical park in the country. Only Florida's unique climatic conditions have made it possible to reproduce to perfection the habitats of species from other continents.
The zoo, on the other hand, organizes a wide range of activities to bring wildlife closer to young and old: meetings with the animals, talks with the keepers or bird exhibits. Everything to spend a very entertaining and educational day!
11. Take a classic tour of Miami
If you haven't ridden in one of those wonderful convertibles that appear in old movies, Miami is the perfect place for you to do it. You'll feel like a real movie star cruising down Ocean Drive, down Millionaire's Row or among the skyscrapers in the heart of the city.
In a 1950's Buick Electra or Edsel Corsair you'll enjoy the charm of the city that much more. For classic car lovers, it's a must-do experience. For those who are not, it is one of the most charming tours you can enjoy in Miami.
12. Go shopping at Sawgrass Mills
Do you love to lose yourself in the stores on the hunt for the best bargains? Then set aside some time to visit Sawgrass Mills. It is one of the largest outlet malls in the world. More than 350 stores await you here, many of them from renowned fashion and sports brands.
If you need to renew your closet or treat yourself, this is your chance. In this huge shopping mall you will find discounts of up to 70%. It will be one of your best shopping experiences. A tip: take advantage and also buy a suitcase, you will surely need it to return home with your purchases.
13. Discover the architecture of South Beach
South Beach is not just about beaches and fun. It is home to many of the city's most representative buildings. Did you know that there are more than 800 examples of Art Deco architecture in Miami? Many are in this neighborhood, where you can go back to the time of the Mafia and Prohibition.
But there are other gems not to be missed, such as Casa Casuarina, the mansion that belonged to Gianni Versace and in whose doors he was murdered. And if by day the architecture of South Beach is incredible, at night, with its colorful lighting, it is spectacular.
14. Learn to dance salsa
Caribbean rhythms will always be with you in Miami. And the best thing is that you can learn to dance with great teachers. Do you dare? Leave your embarrassment aside and take the first steps of a lively salsa or a sensual bachata. Once you start, you won't be able to stop!
In the city there are plenty of clubs where you can listen to good Latin music and dance. If you change partners, you are sure to make new friends. It's one of the most fun experiences you'll have in Miami, especially if you accompany it with a good mojito.
15. Feel the thrill of a speed boat ride
Miami is a great movie set. If you want to feel like the protagonist of one of your favorite series, get on board a speedboat. You will live a thrilling experience while you contemplate wonderful views of the city and its most iconic places.
If yours is a visit with friends or family, this is a good plan to spend a different time. There is nothing like enjoying a motorboat all to yourselves while you let yourself be caressed by the breeze and the Miami sun.
16. Taste the Cuban gastronomy and culture
If there is one thing the inhabitants of Little Havana are proud of, it is their culture and traditions. They are also proud of their gastronomy. Let yourself be seduced by the best Caribbean cuisine and try the empanada, the Cuban sandwich, the yucca or the guava sweets. You will love them, as well as its coffee, if you are a fan of this drink.
In the neighborhood there are a good number of restaurants where you can enjoy a good feast. But don't forget to stroll through its streets to savor the atmosphere of Little Havana and enjoy its music and galleries.
17. Go on an excursion to the Bahamas
Have you ever dreamed of lying on the virgin beaches of the Bahamas and bathing in its warm waters? Take advantage of the fact that you are in Miami to spend an unforgettable day in one of them. I recommend Bimini, one of the most charming islands of this archipelago. You will feel almost like in paradise.
You can simply enjoy a few hours sunbathing by the sea. However, the ideal is that you take advantage of every minute on the island to discover its infinite charms, including wonderful seabed or a spectacular cuisine with seafood as the protagonist.
18. Dream on Millionaire's Row
Maybe you can't afford to live in a big mansion, but in Miami you can get close to some spectacular ones. If you are curious, don't resist taking a boat ride on Millionaire's Row, the most exclusive area of the city.
This is where members of high society and celebrities such as Shakira, Alicia Keys or Will Smith have their homes. They are magnificent buildings, surrounded by spectacular gardens. Inevitably they tend to arouse, more than admiration, real envy among mere mortals.
19. Take a Segway tour of Star Island
Star Island is one of the artificial islands built in Biscayne Bay. But it is not just another one. Walking around it you will realize why it was baptized with that name. I'll tell you in advance: there are some thirty magnificent mansions belonging to music and movie stars.
The island can be traveled in a short time, so by segway you will reach South Beach in no time. This will allow you to complete the ride and visit some of the most iconic corners of Miami's most famous neighborhood: Ocean Drive, Lincoln Road, the Art Deco District, etc.
20. Live an immersive art experience
Art is to be contemplated and admired. But in Miami, you can also immerse yourself in it. And I mean that in the most literal sense of the word. Superblue is a unique space that gives you the opportunity to explore absolutely fantastic worlds created by the city's artists.
This form of experimental art will allow you to feel part of the works exhibited in this unique museum. Digital montages, light games or water clouds will make you live an experience that will change any concept you had of artistic expressions forever.
21. Watch the landscape of the Florida Keys from the air
The Keys shape one of the most incredible places on the East Coast. But only from the air is it possible to observe all its beauty. That is why it is worth contemplating this succession of 1,700 islands and islets from the air.
You will be able to see how they act as a natural barrier between the Atlantic and the Gulf of Mexico. Look at the beaches and the most famous keys, especially Key Largo and Key West. But, above all, look at the highway that connects the islands. The US1 Overseas Highway is no less than 200 kilometers long, many of them over water.
22. Relax on a sailboat tour of Biscayne Bay
I propose an activity to enjoy the quieter side of Miami. Biscayne Bay is one of the treasures of the city. It overlooks Downtown on one side and Miami Beach on the other. Its calm waters are ideal for sailing away from the traffic and bustle. If you have never been on a sailboat before, the experience will be unforgettable.
And you can customize your tour according to what you want to see or do: contemplate Millionaire's Row, admire the Vizcaya mansion, stroll along Key Biscayne or let the skipper choose the best route. It's up to you.
23. Spend a day in Key West
If your visit to Miami allows it, spend a day discovering the wonders of Key West. It is the southernmost point of the country. But above all, it is a small paradise where you can enjoy wonderful beaches, water sports and immerse yourself in a cheerful and colorful Caribbean atmosphere.
In the city you can visit the homes of Ernest Hemingway or former President Truman, now converted into museums. And, if you have time, go to Mallory Square at sunset. The views are incredible and you can have a great time participating in its lively street festival.
24. Enjoy the best street art
To talk about Wynwood Walls is to talk about creativity in its purest form. This corner of Miami is a magnificent graffiti museum. Here you will see 50 fabulous murals by internationally renowned artists. If you like alternative art, don't miss it. And, so you don't get tired, there's nothing like riding in a golf cart.
Contemplating the graffiti is an experience in itself. But if you visit this neighborhood on the second Saturday of every month, you'll find something even more special. That day is Wynwood Art Walk, a street event with live music, food, drink, and art, lots of art.
25. Don't miss a day of fishing
Blue marlin, sailfish, swordfish, tuna, tarpon and even sharks. The richness of the waters in this area is incredible. You will spend a very entertaining day trying to catch a fish. And you will surely succeed if you are accompanied by an experienced fisherman.
Just a few miles from the coast and with the city as a witness, you can try your luck with the hook. And no matter the time of year, Miami's privileged location and wonderful weather make fishing possible at any time of the calendar. There are excursions that include fishing in Biscayne Bay, an adventure for both experts and those who want to try fishing for the first time.
26. Visit a tobacco factory
For decades tobacco was one of Florida's great industries. The best of the Cuban tobacco tradition came to these lands and settled there. Rolling a cigar is an art form and in Miami you can still see how it is done by hand.
And you can get a much broader view of what this industry was all about if you visit a cigar factory. In addition to seeing how they are made, they will explain the complex process of growing, harvesting and preparing the tobacco leaves. Undoubtedly, an interesting visit.
27. Live a pirate adventure
Florida's coasts were once the hideout of corsairs and the scene of boardings and shipwrecks. You too can become a buccaneer and live your own adventure as you sail Biscayne Bay aboard a pirate ship perfectly set and with a crew very into their role.
If you are looking to see Miami as a family from the waters of the bay, this is undoubtedly the most fun way for the kids. They will become brave cabin boys and feel like the protagonists of an adventure movie.
28. Enjoy a bike bar tour
When traveling with friends, it's always nice to go for a ride around Miami's bars and entertainment venues. I propose you something different: do it aboard a pedal-powered vehicle where you will be able to organize your own party. This way the whole tour will be pure fun.
You will be able to go from one place to another while listening to good music, stop at some of the best entertainment venues in Miami and take away unforgettable memories. And no, you don't need to be in good shape to ride.
29. Drive a supercar
Do you dream of driving a Lamborghini? Do you want to know what it feels like to drive an exclusive Rolls Royce? Maybe they are vehicles that are not within your reach, but driving one in Miami is one of those experiences that you will never forget. And the best thing is that it is within your reach.
Renting one of these fabulous vehicles gives you the opportunity to stroll among the exclusive mansions of Miami and feel like one of its owners. Or, if you prefer something more relaxed, enjoy the wonderful surroundings of the city. Whatever your itinerary, the city will always surprise you.
30. Discover the mangroves aboard a kayak
North Miami hides a wonderful natural treasure. Its mangroves are a unique ecosystem, with an enormous environmental value. Kayaking is the best way to appreciate all its beauty up close.
Paddling quietly through its waters you will see all kinds of birds, amphibians and reptiles. But if there is something that will surely catch your attention, it is the mangrove tunnels that you will pass through along the way. You will find it hard to believe that you are just a stone's throw away from the city. It is also a very fun activity to do with children.
31. Have a fun time parasailing
If you don't have vertigo or fear of heights, how about soaring over the ocean in a paraglider? Parasailing is one of the most fun plans you can organize in Miami. From the air you will see the city in all its splendor. And maybe even a dolphin or two will accompany you on your adventure from the water.
Parasailing is an activity that can be enjoyed by almost anyone. A specialist drives the boat that directs and controls the paraglider. And if it is an adventure shared with a partner or a friend, it will be even more entertaining!
32. Visit a coral castle
It is, without a doubt, one of the most unique constructions in Miami. It is a structure carved out of coral rock. Its author, Edward Leedskalnin, took no less than 28 years to sculpt it. With his own hands and simple tools, he molded more than a thousand tons of rock to give shape to this fantasy.
Coral Castle has its own legend. Just a hint that it's a love story, but not with a happy ending. If you want a hint, listen to Billy Idol's Sweet Sixteen. Or, much better, visit this peculiar castle.
33. Admire the city from Miami Skyviews
If you want to see Miami from the heights, but you are a bit dizzy to go up in a helicopter or light aircraft, you have an alternative: Miami Skyviewst It is a 60-meter high Ferris wheel with 42 enclosed and air-conditioned gondolas.
From it you can admire beautiful views of downtown and Biscayne Bay. A tip: go up at sunset, the image you will keep in your retina will be spectacular. And no matter the time, for the kids it will be a little adventure.
34. Learn at the Phillip and Patricia Frost Museum of Science
This museum is one of the best educational spaces to visit with children. Here you will spend some very entertaining hours. The museum has an aquarium, a planetarium and exhibition spaces dedicated to popular science.
Everything about it is amazing. The incredible 3D projections in the auditorium will take you to distant galaxies. Meanwhile, its interactive exhibits help you understand phenomena such as gravity or the speed of light. Leave some time to go up to its terrace, from where the panorama of the city is incredible.
35. Experience an unforgettable immersion
If you are a scuba diving enthusiast, Miami is a destination you will enjoy like no other. The Florida Keys are considered a National Marine Sanctuary. In addition, there is the only barrier reef in the United States and the third largest in the world.
As you can imagine, there are a thousand places to scuba dive here. In Key Largo, for example, you can get a close-up view of the underwater statue of Christ of the Abyss. And south of Key West is the USNS General Hoyt S. Vandenberg, sunk on purpose to create an artificial reef.
36. Take a fun ride aboard an inflatable tube
There are a thousand ways to enjoy the fantastic waters that bathe Miami. But this one will leave you wanting more. Can you imagine "flying" across the bay in a huge floating tube? When the boat that pulls it gains speed, you will unload tons of adrenaline.
You just have to hold on tight, pay attention to the captain's indications, let yourself go and try not to fall. It is a very exciting experience, also for the little ones, but at a slower speed.
37. Browse in the Design District
This unique neighborhood deserves a leisurely visit if you want to discover the most creative and sophisticated side of Miami. Fashion, design, architecture and different artistic expressions come together in the Design District. In its streets you will find from clothing stores of luxury brands to art galleries or establishments dedicated to decoration.
If you get hungry, do not worry, there are also great restaurants, some even with Michelin stars. But if what you want is a moment of relaxation, my recommendation is the Enea Garden Lounge, a former parking lot now transformed into a truly wonderful public garden.
38. Visit the Miami Aquarium
The Miami Seaquarium is one of the largest marine parks in the United States. For this reason alone, it is worth a visit, especially if you are traveling with children. Hundreds of animals await you here, from friendly clown fish to turtles, imposing orcas or huge sharks.
But if there is something that will amaze young and old alike, it is the dolphin and sea lion exhibits. Although not everything will be fun, there will also be learning, since a great work of protection and conservation of marine species is carried out here.
39. Test your aim with an axe!
If in addition to visiting the city you want to eliminate tension and release stress, try throwing an axe. This peculiar sport is as strange as it is fun. You just have to concentrate, aim at the target and check if you have good aim.
You don't have to fear for your safety. You will do it in an enclosed environment and in the hands of experts so that you only have to worry about having a great time. If you dare, you can even participate in competitions. Will you be able to win?
40. Let yourself be surprised by the Museum of Contemporary Art
The Museum of Contemporary Art (MoCA) has a small but interesting collection of works of art. It is also a space open to new talents. If you are attracted by the latest artistic trends or you feel like discovering emerging artists, do not hesitate to dedicate a few hours to it.
But this unique museum offers much more. Do you like jazz? On the last Friday of the month you have an appointment here. Wednesday is the day of conferences or meetings with artists and on Sunday there are workshops for children. As you can see, the museum offers activities for everyone.
41. Stimulate your ingenuity in a scape room
There is a hidden Miami, surrounded by mysteries. If you want to have a good time playing detective, you can try to unravel what is hidden in the well-known Biltmore Hotel or what forces are hiding in Coral Castle. But nothing like being the protagonist in a more fun way, in a scape room.
Get ready to overcome tests, to look for clues and to take nothing for granted. It depends on your perspicacity if you can escape from your particular panic room. Will you be able to do it? Maybe, maybe not, but what is certain is that you will have a great time with your friends.
42. Immerse yourself in Miami's nightlife atmosphere
When it gets dark, Miami doesn't turn off. If you don't have to get up early, take the opportunity to soak up the nightlife. Of course, it is mandatory to walk along Ocean Drive, be seduced by the neon lights that adorn it and make a stop at one of its bars.
But Miami nightlife is much more than this famous promenade. A perfect plan to enjoy with friends is to visit one of its magnificent nightclubs, such as Nikki Beach Club, Story Nightclub or Club Space. If you prefer something more relaxed, you can always have a drink on a rooftop, such as Area 31, E11even or Azúcar.
43. Have a great time on a catamaran
If Biscayne Bay is one of Miami's great treasures, imagine everything you can do in its waters. Don't you want to miss anything? Don't hesitate to embark on a catamaran adventure. You will contemplate the most idyllic view of the city while the breeze caresses you and you have a quiet drink on deck.
But the experience can be much more complete if the ride is combined with a ride on a jet ski or on a giant mattress. After all, Miami is also excitement and adventure. If you want to experience them firsthand, this is your chance.
44. Take an Indian cooking class
Do you like to be in the kitchen and try new things? Miami is a melting pot of cultures and you can learn a lot from them. What's more, you have the chance to take home a great souvenir in the form of a recipe book. Not only will you taste the culinary delights of other countries, but you will also learn how to prepare them.
One idea is to immerse yourself in Indian cuisine. You will learn simple recipes of typical dishes, desserts or even fast food that is nothing like the one you know. Surely when you have guests you will surprise them with those culinary skills learned in Miami.
45. Take an airboat ride through a unique natural area
The wild beauty of the Everglades is something you can't miss if you travel to Miami. It is a chance to discover a national park unlike any other in the United States. If you're only in town for a short time, enjoy a little snack in the form of an airboat safari.
From the boat you'll discover why it's unique. You are sure to see the occasional alligator, as well as a multitude of birds and other animals that make their home here. After the ride, you'll want to come back in the future to discover all the treasures that the Everglades holds.
46. Stop at the Hard Rock Cafe
You may have already savored the food and incredible atmosphere at Hard Rock Cafe. But there's something special about doing it in Miami. Their burgers, ribs or sandwiches have a special flavor here, as special as the city is.
The Hard Rock Cafe is also in a unique location: Bayside Marketplace. This is one of the most interesting shopping centers in Miami. If after lunch you feel like taking a stroll around it, you will not only be able to shop, but also enjoy outdoor entertainment.
47. Take a dip in a very special pool
Not everything in Miami is magnificent beaches. If you feel like taking a dip in a unique place, you'll love Venetian Pool. Everything about it is special: it is the largest freshwater pool in the United States, it is inspired by Italian landscapes and architecture and it is the only pool that is part of the Register of Historic Places.
Its always clean and crystal clear waters invite you to take a very long swim. And not only swimming, you can also explore some caves with which it communicates or contemplate it from a bridge of Venetian airs.
48. Touring the city on the Metromover
There are many ways to tour and admire the unique beauty of Miami. The Metromover is one of the most curious. It is an elevated train that runs through the center of the city. From it you will have a magnificent view of downtown, from the financial district to Bayfront Park or Park West.
Metromover has three lines and seven kilometers of route that will allow you to reach some of the great attractions of the city. The best part? You won't have to pay to ride it, it's free!
49. Live a culinary experience at Time Out Market Miami
For those with a gourmet spirit, Time Out Market Miami is a must-see. What awaits you here? Some of the best restaurants in the city and the culinary delights of internationally renowned chefs. In this gastronomic space you will not be able to give your palate a rest.
Typical American dishes, sushi, pasta, Mexican recipes, hamburgers, Thai food, sweets... In this space you will eat like a true king. But there is more, because it is also a good place to taste fabulous cocktails or listen to live music.
50. Have a great time flyboarding
Flyboarding is all the rage. Therefore, in a young and sporty city like Miami, there is no lack of possibilities to practice this unique sport. Do you dare to soar over the ocean on a platform propelled by pressurized water? No water activity you have tried so far will be like this one.
You don't need to be in great physical shape. If you have never practiced it before, with a little training you will be able to fly over the ocean and admire Miami from one of the best possible points of view.
51. Renew your closet at Bayside Marketplace
Attention shopping lovers. At Bayside Marketplace it will be very difficult not to be tempted. This is a colorful and always lively outdoor shopping and entertainment center. It brings together more than 150 stores of all kinds, as well as cafes and restaurants where you can recharge your batteries.
But you will not only enjoy shopping. Here you can also be entertained by a host of street performers, listen to concerts or watch lively visual spectacles. And all of this is accompanied by wonderful views of Biscayne Bay. What more could you ask for?
52. Meet the Monkey Jungle Primates
Monkey Jungle is a unique place. Here live in semi-freedom orangutans, gibbons, crab monkeys and other endangered primate species. For the little ones it is a super fun experience to see up close how they behave.
The most curious thing is that, while the animals run around freely, humans are "caged". The tour is done through tunnels in the form of cages and that is what makes this space different. A perfect place for an afternoon with the family.
53. Enjoy modern art at the Pérez Art Museum Miami
Miami is an avant-garde city and its museum offer proves it. At the Pérez Art Museum Miami (PAMM) a wide collection of Western art from the 20th and 21st centuries awaits you. Its holdings include works by artists such as Diego Rivera, John Baldessari and Kenny Rivero.
But this museum is not only a must-see if you are interested in art. If you are attracted to architecture, you will love the building that houses it. Its design imitates the structure raised on pillars of a group of houses located in the middle of Biscayne Bay. By the way, don't miss the views from its terrace.
54. Take an urban Jeep safari
Unleash your adventurous spirit without leaving the city. In Miami you can go on a different kind of safari. You won 't see wildlife, but unique buildings like Freedom Tower, alternative neighborhoods like Wynwood, neon lights in Ocean Drive or luxury in the Venetian Islands.
You will enjoy while you discover from a Jeep all the corners of Miami, the ones you knew and some others that will surprise you. Ah! And get your camera or cell phone ready, you won't be able to stop taking pictures.
55. Relax at the Fairchild Tropical Botanic Garden
When you need a little respite, you'll find it in this magnificent botanic garden. Here you can stroll among palms, vines, orchids and all kinds of exotic plants and trees. You can even lose yourself in a jungle with an artificial fog system that allows you to recreate the ecosystem of the tropics.
The garden was designed for everyone to enjoy, so it is fully accessible. And, if you don't feel like making much effort, there is a small free streetcar that runs through it. Does your visit to Miami coincide with Christmas? Then don't miss the light show, it's wonderful.
56. Feel like a star at the Olympia Theater
It opened its doors back in 1926, but it hasn't lost an ounce of glamour. When you visit the Olympia Theater, you may not step on the red carpet, but you will feel trapped by the magic of this place, today included in the U.S. Register of Historic Places.
Great musicians such as Elvis Presley or Luciano Pavarotti have performed on its stage. And the best films of all times have been projected on its screen. You too can enjoy a concert or the best of the seventh century in its magnificent hall.
57. Tour Miami Beach by bicycle
The bike is perfect for getting lost in Miami Beach. You have, in addition, a good number of routes to discover the neighborhood. All of them are well paved and undemanding, so anyone can do them.
Need some ideas? I suggest a circular route or a walk along the coast, first along Ocean Drive and then along the Miami Beach Boardwalk. Another option is to pedal through the Art Deco district or even take a leisurely stroll through one of South Beach's urban parks.
58. Take a ride on a private yacht
Maybe you've taken a stroll around the Miami Marina. And maybe you've imagined how you would feel aboard one of the yachts that moor there. Why dream it when you can make it come true? In Miami you will have no problem chartering an exclusive yacht for a private cruise on the bay.
It's a great plan when you want to relax after a day of strenuous sightseeing. With the Miami skyline in the background, tiredness or stress will disappear.
59. Visit the Miami History Museum
If in addition to walking the streets, soaking up the atmosphere or enjoying the beaches, you want to learn much more about this vibrant city, visit the Museum of History. Here you will discover that Miami's origins go back many centuries.
You will be able to see how the city has changed, grown and evolved through a magnificent archive. Thousands of historical images, letters, objects of all kinds, gold and silver from shipwrecks and even an old streetcar will take you back in time. If you like history, be sure to visit.
60. Play sports at Matheson Hammock Park
To say that Matheson Hammock Park is an urban park is an understatement. It occupies a small peninsula and in the calm waters that surround it you can kitesurf or kayak tours. It even has a small marina.
And on land? Its network of trails is ideal for walking, running or cycling. If you feel like a swim, you can take a dip in its artificial pool, or you can have a picnic in its table areas. As you can see, it is a perfect place to enjoy a relaxing day with family or friends.
61. Visit an ancient monastery
Can you imagine a Spanish Cistercian monastery in the heart of Miami? Don't imagine it, visit it. But don't do it thinking that it is part of the footprint that the Spanish left in this area because it has nothing to do with ancient missions.
A century ago, William Randolph Hearst bought this monastery. It was dismantled stone by stone (more than 35,000 blocks) and reassembled thousands of miles from its original site, a small village in Segovia. Today, the Old Spanish Monastery is one of the most charming places in Miami.
62. Stroll among skyscrapers in Downtown
The heart of Miami may not be as spectacular as other major cities in the country. But that doesn't mean it doesn't have its charm and its dose of ostentatiousness. Beyond visiting attractions such as Bayfront Park or the Bayside Marketplace shopping complex, it is worth strolling along Brickell Avenue, flanked by magnificent glass buildings.
Among all those buildings with an avant-garde air, one that stands out is much more classic: the Freedom Tower. Another interesting place is the American Airlines Arena, if you like basketball, here you can watch a game of the Miami Heat in the NBA.
63. Take a tour bus
It may be the most typical thing to do in tourist cities, but it is still interesting. Especially if you don't have much time to enjoy Miami, an open top bus tour is a great way to see the city and get to know the most interesting things about it from the hand of expert guides.
Besides, the weather is always nice, so you will enjoy the ride a lot. If you can, combine it with a night tour to admire the colorful lighting of South Beach or a cruise to see Biscayne Bay. You will take home the best souvenir of Miami.
64. Let yourself be seduced by the magic of the sunset in Bayfront Park
Nestled among the skyscrapers in the heart of Miami, Bayfront Park is a small oasis. It is more than an ideal place to relax, it is a place to quietly enjoy the sunset. You'll take away a very different image from any other you've seen of Miami.
But any time is the perfect time to tour the park. It is a space that has a sandy beach and where all kinds of activities are organized. It is also dotted with fountains and monuments. One of the most moving is the one that remembers the crew of the Challenger shuttle, which disintegrated in a tragic accident.
65. Dream in Coral Gables
Coral Gables is one of the most exclusive and unique neighborhoods in Miami. Touring it is one of those experiences that will make your imagination fly. Large mansions with a Mediterranean flair, beautiful tree-lined boulevards and fantasy gardens make it a place like a movie.
In the so-called "beautiful city" you can also enjoy the Venetian Pool, the Matheson Hammock urban park, the Fairchild Tropical Botanic Garden or the exclusive stores of Merrick Park. And, if you like places surrounded by mystery, make a stop at the Biltmore Hotel.
66. See Miami from South Pointe Park
South Pointe Park is at the southern end of Miami and is one of the most charming corners of the city. From here you will have a wonderful panoramic view of Biscayne Bay, Miami Beach and Fisher Island, as well as the skyscrapers of Downtown.
But in this park you can do much more. Its pier, in addition to being a place to contemplate the city, is a space for fishing. There is access to the beach, playgrounds, picnic areas and even a small water park. For all these reasons, it is perfect to enjoy with the little ones of the house.
67. Attend a concert
The Adrienne Arsht Perform ing Arts Center is one of the largest concert venues in the country. If you're in the mood for the best music, check out their lineup when you're in Miami. You are sure to find something interesting. From jazz evenings to dance shows, opera or concerts of artists and fashionable groups are held here.
Even if you are not going to attend any musical evening, it is worth a visit to this scenic space. Its halls and rooms are spectacular. In addition, there are guided tours so you won't miss a thing.
68. Shoot unique weapons on a shooting range
Shooting exotic firearms, which are not available to everyone, is a different experience. It is even for those who practice shooting on a regular basis. It's not just about releasing adrenaline or testing your aim, but about having a very special weapon in your hand.
It's one of the many experiences Miami has to offer. You will enjoy shooting machine guns and other unusual weapons. Always in a controlled environment and under the supervision of real experts. Do you dare?
69. Discover the most original Miami in Coconut Grove
In Coconut Groove you will discover one of the neighborhoods with the most personality in Miami. It is also the oldest. Quiet, colorful and with a bohemian touch, The Grove hides an endless number of treasures such as the Vizcaya Gardens or the Phillip and Patrica Frost Science Museum.
But here you will be able to enjoy much more. Dare to immerse yourself in the lively CocoWalk, full of stores, restaurants and entertainment spaces. Do you prefer something different? Discover its interesting art galleries or take a stroll through its marina. You'll see a very different Miami from other areas of the city.
70. Spend a day at the beach
Miami is synonymous with wonderful beaches. They are perfect for a quiet swim, for water sports, for fun with friends or just for sunbathing. The best known and liveliest are those of South Beach, especially in the Lummus Park area.
If you prefer something quieter, the northern part of Miami Beach is a good option. A special alternative are the beaches of some urban parks: Crandon Park, Matheson Hammock Park or Homestead Bayfront Park. Any of them is ideal to enjoy with the family.
71. Learn and enjoy Jungle Island
Miami has many perfect places to enjoy with children and, in the process, learn about nature. Jungle Island is not just another one, it is special. Here you can not only observe, but also interact with the animals.
Feeding lemurs, kangaroos or giant tortoises is an unforgettable and enriching experience for the little ones. They will also be able to see (from afar) all kinds of birds, orangutans or tigers, among many other animals. And all in an environment that perfectly reproduces the natural habitat of these species.
72. Visit Deering State
Deering State is one of Miami's lesser-known gems. On this estate you will discover two magnificent historic homes. On the one hand, Richmond Cottage, considered the first hotel in the southern United States. On the other, Stone House, a mansion inspired by the traditional architecture of Catalonia.
Not only the houses, the surrounding environment is spectacular for its tropical vegetation. And there is even more, since interesting fossil remains have been found in these grounds. To garnish this magnificent cocktail, events of all kinds are organized here, from exhibitions to concerts or conferences.
73. Tour the Miami Beach Boardwalk
On foot, running, biking or rollerblading. It doesn't matter how you do it. Walking the six kilometers of the Miami Beach Boardwalk is an experience not to be missed. There are many reasons: you will see magnificent views of Miami Beach, you will follow the line of the best beaches in Miami and you will admire many unique buildings.
With a part of wooden walkways and another paved, it is always a lively walk. And, if you get tired, you can stop at one of the bars and restaurants along the way. As you will see, this promenade is one of the most authentic places in the city.
74. Practice yoga on the beach
Miami has fabulous beaches and in any of them you will spend a great day sunbathing or practicing water sports. But you can do much more. Yoga is a discipline that works with the body and mind, and nothing like a natural space to get started or practice it with a teacher.
It is an activity that you can do alone or with friends or family. When you return to the hustle and bustle of the city you will be much more relaxed and with your batteries recharged to continue enjoying it.
75. Stroll along Lincoln Road
This shopping street is very close to Ocean Drive and you'll find a great atmosphere both day and night. Not only will you find a good number of stores for all budgets, but also entertainment and restaurants that are open late into the night.
And, if that's not enough, on Sundays Lincoln Road hosts a market of fruits, vegetables and handmade products. And also on Sundays, but from October to May and every 15 days, you can enjoy a lively antiques market.
76. Travel back to the 1920s in the Art Deco District
Elegant and sophisticated, Art Deco triumphed in the 1920s and 1930s. In few places will you find a concentration of buildings in this style as magnificent as in Miami. And most of them are concentrated in this district. Do not miss the Park Central Hotel, the Cavalier Hotel, Essex House or the Post Office, they are real gems.
My recommendation is to visit the Art Deco District during the day, but also at night. When the sun goes down, these buildings are illuminated with colored lights that create an incredible visual spectacle. It will not leave you indifferent, for sure.
77. Visit Freedom Tower
It is not the tallest building in Miami, but it is one of the most curious, so it is a must-see. This century-old tower rises just 80 meters (17 floors), but it surprises for its peculiar architecture, inspired by the Giralda of Seville.
Its history is also unique. It was the headquarters of the Miami News, the city's first newspaper. Later it was transformed into an assistance center for Cuban refugees. Today it houses the Miami Dade College Museum of Art and Design and the Cuban Emigration Museum.
78. Take a trip back in time aboard a train
If you're in a nostalgic mood, make time in your schedule to visit the Gold Coast Railroad. You can take a trip back in time while viewing a magnificent collection of historic train cars. Don't miss the Ferdinand Magellan, armored in steel and with bullet-resistant windows. The reason? It was the first presidential car, inaugurated by President Roosevelt.
The museum also has a model railroad equipment room and exhibits that promise to keep you entertained for a while, and you can visit for free. And you can visit for free. When? The first Saturday of the month.
79. Discover Española Way
Española Way is one of the most picturesque streets in Miami. If you wonder the reason for its name, just take a look at its houses with pink and white facades and red roofs. Surely they remind you of typical Mediterranean architecture.
First commercial development of South Beach, this street is perfect for a little break in one of its bars and restaurants. And not only that, here you can also shop in its stores, enjoy the live shows that are organized or even participate in yoga classes.
80. Enjoy like a child at the Children's Museum
The Miami Children's Museum is a place to learn, to play and to have a great time. In fact, it's a must-see if you're traveling with children. Here, attractions and activities await them to stimulate their creativity and curiosity. It also has exhibitions and interactive experiences.
And it's not just for the little ones. For the older ones, visiting this space is like taking a trip back to childhood. You may not be able to participate in the games and activities, but it will bring back nostalgic childhood memories.
81. Take advantage of all the benefits of the Miami All-Inclusive Pass
If you want to enjoy Miami to the fullest, my advice is to buy the Miami All-Inclusive Pass. It includes more than 25 attractions and excursions: bus or boat rides, museum or zoo tickets, night tours and many more activities, all at a considerable discount. All of them at a considerable discount.
The best thing is that there are passes for 1, 2, 3 or 5 days. So you can choose the one that best suits your trip.