10 Things to Do in Miami in Winter
Miami in winter offers pleasant warm weather and many tourist activities. Sunbathe on the beach, visit a museum, attend music festivals, food festivals, art festivals and much more.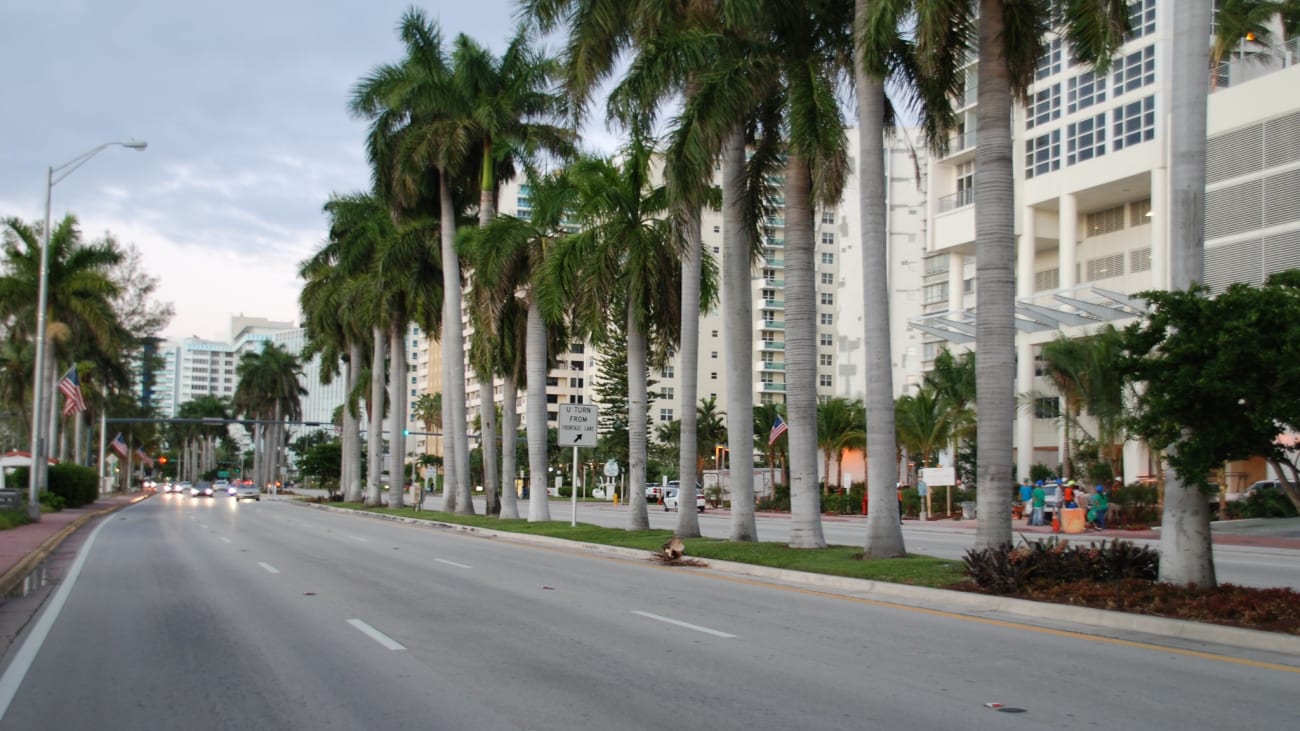 If you are one of those people who prefer to exchange snow for sand and cold temperatures for warm weather, then the best tourist destination for you is Miami in winter. You will be able to enjoy the beach, zoos, parks and any outdoor space. In addition, you will have the opportunity to participate in cultural activities, shopping and partying in the style of the great Miami.
Stop wondering what to see and do in Miami. Start walking the streets at your own pace, hop on a tour bus, surf Miami's beaches, attend music or food festivals, celebrate Art Deco week, take advantage of seasonal sales and much more.
1. Take a visit to the Vizcaya Museum in Miami
If you are in Miami during the first month of winter, a must-see destination is the historic Vizcaya Village. In this garden area you will enjoy beautiful lights, music and Christmas decorations.
Certainly, this is a visit you should incorporate in your list of the top 10 things to see and do in Miami at Christmas, especially if you are traveling with the little ones, as they will enjoy the magical atmosphere of this place.
Activities you can do
You will walk through the Vizcaya garden of approximately four hectares to enjoy an amazing natural landscape, covered by a shower of lights.
You will contemplate the Christmas tree installed in the middle of the garden.
Listen to a traditional pipe organ, whose sounds are generated live.
You will taste sweet and savorysnacks during the visit.
In the museum, you will see numerous antiques and ornaments, displayed in the 34 rooms of the mansion.
2. Surf under the best waves of the winter season in Miami beaches
The winter season comprising the months of December, January and February are considered a good quarter for catching waves on Miami's beaches. Therefore, visiting these natural spaces during your visit is usually a good idea for surf lovers.
You can take advantage of Miami' s warm winter weather and head to Lummus Park Beach, South Beach, Mid-Beach, Haulover Beach (nude beach), among other beaches. In any of them, you will enjoy many waves to practice on your surfboard.
In addition to doing one of the best water activities in Miami, you will also have the opportunity to enjoy a breathtaking view of the ocean and, if you are with the little ones, they will be able to mold some castles and dolls in the sand.
3. Take the opportunity to go shopping in Miami
The last and the first month of each year are two months of great deals in Miami, so if you are in town during this season you should not think twice before buying.
Take advantage of all the sales that the malls have for you in clothing, accessories, shoes, makeup, among other products. Incorporate this activity among the things to see and do in Miami in December and January.
When you visit the mall stores in the first days of December, you will find a great variety of Christmas items and toys for the little ones. All of them at very good prices, especially the week after Christmas Eve.
You can take a shopping trip to the well-known Sawgrass Mills mall, where you will find the best prices in its more than 350 stores and outlets of the best brands. Take some bargains as souvenirs of your trip to Miami!
4. South Beach Wine & Food Festival: attend the most anticipated gourmet gathering of the year
The month of February in the coastal city is one of the most awaited by lovers of gourmet food and fine wines. This is due to the celebration of a great culinary festival that gathers international chefs, great liquor producers and renowned winemakers.
When attending the South Beach Food and Wine Festival you will be able to choose from several events:
Culinary workshops where you will discover a variety of flavors: Mediterranean, Cuban, Haitian, Mexican, among others.
Wine tasting. You will learn to distinguish the body and personality of each vintage.
Conversation about the production of liquors.
Asian Market. You will be able to taste from the mystical flavor of Japanese sushi to the traditional Korean egg rolls. You will enjoy the best of Asian street food.
The festival lasts four days and usually takes place the last week of February. In fact, days before the event you can check all the information regarding the schedules and places where each activity will take place in the official website of the festival.
If your trip does not coincide with the dates of this event, you can book a gastronomic tour around the South Beach area so that a culinary expert will show you the best places to eat while you taste its delicacies.
5. Join the annual celebration in honor of Martin Luther King Jr. in Miami
The third Monday of January is the date designated for more than 40 years in Miami to honor Martin Luther King Jr. It is a commemorative parade in which you will enjoy carnival dancers, music, bands from different institutes of the city and antique cars, among other things.
This traditional activity is ideal if you do not know what to see and do in Miami in 3 days of your stay during the month of January. You will live a fun day from 11:00 am to 6:00 pm.
You should go to 54th Street in northwest Miami, as this is the starting point of the parade. You can also stop to watch the spectacle along 10th Avenue and up to 32nd Avenue, where the two-hour parade ends.
Afterwards, you can attend a family festival at Martin Luther King Jr. Park. There, until 6:00 p.m. you will enjoy:
Live musical performances.
Street theater.
Craft market for you to buy a souvenir of your visit.
Children's activities.
Street food.
Practical Info
Address: The parade starts at 54th Street in Northwest Miami and ends at 32nd Avenue, specifically at Martin Luther King Jr. Park.
Time: The parade lasts two hours starting at 11:00 am. Afterwards, activities continue at Martin Luther King Jr. Park until 6:00 pm.
6. Celebrate culture and support people with disabilities by attending the South Beach Jazz Festival
Every year, the North Beach Bandshell becomes the meeting place for hundreds of people who enjoy music. Celebrate with them the South Beach Jazz Festival and, at the same time, support people with disabilities, which is the main objective of this event.
The festival lasts three days and usually starts the first weekend of January, right after the Three Kings celebration. During these days you will find several free jazz performances and others for which you will have to pay an entrance fee.
In each recital you will listen to a wide repertoire of jazz groups that will take you through the progressive Brazilian jazz style , Afro-Cuban, among others. In addition, during the presentations, you will notice that the musicians are people with some disability, thus promoting their integration into society.
Practical Information
Address: Most of the activities of this festival take place at the North Beach Bandshell Theater. Other performances are held at the Faena Theater, North Beach Acoustic Shell, Power Access Main Stage and Jazz for Tomorrow's Stage.
Price: Ticket prices start at $35. However, some of the activities are free.
Hours: Performances run from 4:00 pm to 9:00 pm.
7. Enjoy different cultural expressions in Miami's Art Deco Weekend
Every year Miami celebrates the Art Deco Weekend, considered the biggest cultural event in the city. Starting on the third Friday of January you can enjoy free of charge a series of art exhibitions, architecture shows, music and much more.
So, if you do not know what to see and do in Miami in 1 day, this traditional celebration with more than 40 years of history could be a good option. You will have the opportunity to attend a lecture in which you will learn about the history and evolution of the peculiar Art Deco architectural style.
You will be able to observe some sketches and models that show the formation of the Art Deco district in Miami, take a guided walk through the streets of this neighborhood and see the buildings up close.
Also, in this festival you will find a craft market, special activities for children and a daily musical show. All of them activities that you will be able to know in detail on the official site of the event.
Practical information
Address: Miami Art Deco Week is held on Ocean Drive in Miami Beach.
Price: All activities are free.
Schedule: Activities start at 10:00 a.m. and go until 8:00 or 10:00 p.m., depending on the day.
8. Miami Half Marathon: A traditional sporting event of the city
The traditional Miami Half Marathon is held annually during the month of February.
It is a sporting event that brings together hundreds of U.S. marathoners and other athletes from approximately 80 countries around the world.
In addition, the 13.1 mile (just over 21 kilometers) route on which athletes will test their endurance is selected by the USA Track & Field organization, also known by the acronym USATF. Therefore, this is a track that offers you the best conditions for getting around.
During the marathon you will be able to line up along the street next to other people who, like you, want to experience this exciting race up close and cheer on the athletes.
In addition, it is possible to enjoy a beautiful natural landscape surrounded by palm trees and have a panoramic view of the sea.
9. Be part of the Coconut Grove Arts Festival and explore different art exhibitions
In the bohemian Coconut Grove neighborhood, for more than 50 years there has been a busy art festival, which bears the same name of the district. In this celebration you will find photographic and painting exhibitions, jewelry shows, sculptures, among others.
To attend the Coconut Grove Arts Festival you must be in Miami in mid-February. Generally, the selected date is from the 19th to the 21st, but this can change depending on the year. Therefore, during your visit to the city you should check the programming calendar.
At the festival you will enjoy the work of more than 300 artists, an entertaining atmosphere thanks to live music and the best culinary demonstrations. And if you don't know what to do in Miami with kids, this festival is a good option for the little ones of the house to have fun in the family activities area.
Practical Info
Address: This outdoor event takes place on South Bayshore Drive in the Coconut Grove neighborhood.
Price: Admission to the festival starts at $20 per person per day.
Hours: The festival is open to the public Monday through Friday from 10:00 am to 5:00 pm. Meanwhile, on weekends the hours are extended until 7:00 pm.
10. Celebrate Christmas and New Year's Eve in unique Miami style
If you have decided to visit Miami during the Christmas season or on New Year's Eve, it is because you want to celebrate these dates in the unique style that only this coastal city can offer you. Here you will find massive parties, family plans and much more.
You can wait for the arrival of Santa Claus with your children in one of the city's recreational parks, which offer special activities for children to have fun. Also, if you walk the streets of Miami, you will find a lively atmosphere, lights to admire and stalls with delicious street food.
For New Year's Eve, you have several options:
Take oneof the best cruise ships in Miami for dinner and an unforgettable evening until approximately 3:00 am.
Head to Seventh and Ninth Streets in Miami Beach, where you will vibrate to the rhythm of the best local and international DJs. The celebration usually ends at 6:00 am.
Weather in Miami in winter
The winter season in Miami covers the months of December, January and February. During this period the weather in the city drops but continues to be warm.
Therefore, you will notice that during the day the thermometer marks a maximum of 25 ºC, that is, 5 ºC lower than in summer. At nightfall, on the other hand, the minimum temperature can drop to 13 ºC.
In addition, winter in Miami marks the end of the hurricane season, but winds remain strong, which could be annoying for some people. On the other hand, humidity in the city is high due to the proximity to the sea.
Alternative plans to avoid the tourist crowds in Miami
No matter what time of the year you visit Miami, the city will always have a large influx of tourists in its streets, beaches, bars, restaurants and virtually all tourist attractions.
Therefore, it is ideal that you plan your trip in advance and have several options when it comes to tours. This way, you will avoid unpleasant surprises.
For example:
Do not make improvised decisions and, instead, make an itinerary of activities for each of the days of your visit to Miami.
Make sure that the places you want to visit are open during the days you will be in the city and check if you need to reserve your place. This especially if it is a cruise, guided tour, visit to a museum, among others.
Remember to make hotel reservations.