Abu Dhabi Day Trips from Dubai
Taking advantage of your trip to Dubai, do not hesitate to go to Abu Dhabi to visit one of the most spectacular mosques in the world.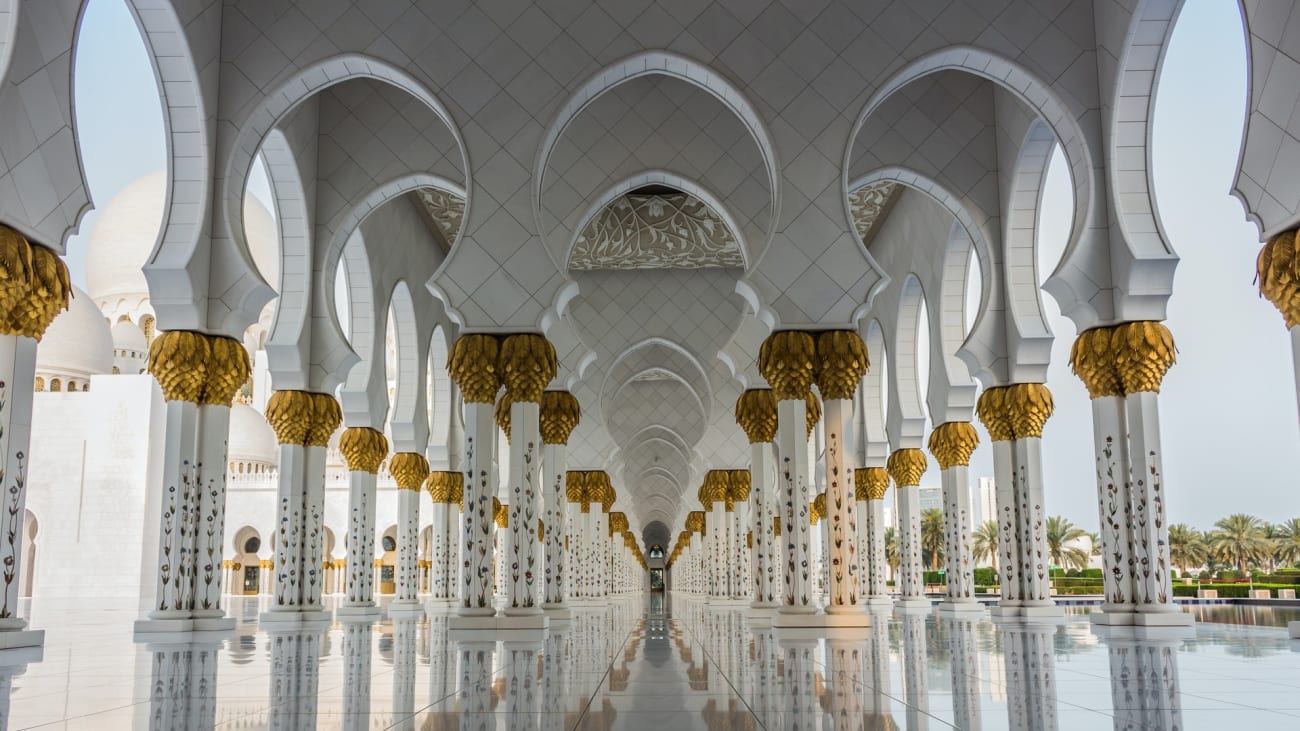 Forget the Burj Khalifa, skyscrapers, shopping malls and luxury. To discover the Arab Emirates in depth, the Abu Dhabi tour from Dubai will show you the most impressive thing in the whole country: the Sheikh Zayed Grand Mosque.
Best Abu Dhabi tours from Dubai
Taking advantage of your visit to the capital of the United Arab Emirates you can discover what life was like in the Arab country before the discovery of oil modernized life in the desert. Read on and I will tell you the best excursions and proposals to go to Abu Dhabi from Dubai:
Excursion to Abu Dhabi with lunch included
The general tour to Abu Dhabi from Dubai is very good, but in case you want to customize your experience a little more, don't worry, here you have other options to enjoy the day at your own pace:
In case you like to travel with everything organized, I recommend you to choose the all-inclusive tour to Abu Dhabi from Dubai, which is this one: Abu Dhabi excursion with lunch included This way, you will save looking for a restaurant and most likely the day will be cheaper because, to tell the truth, most restaurants in Abu Dhabi are very expensive.
Abu Dhabi tour with entrance tickets to Sheik Zayed Mosque
If you decide to go to Abu Dhabi, you can't miss the Sheikh Zayed Mosque, one of the largest and most prominent mosques in the world. With this approximately 6-hour tour, you will travel by air-conditioned vehicle to the capital of the United Arab Emirates. Together with a professional guide, you will learn about the history of the city and the temple.
If you are short on time, but want to make the most of your day trip to Abu Dhabi, don't hesitate to take this excursion with entrance tickets to the mosque. You will be able to admire one of the most important architectural jewels of the Arab world both inside and outside. You will take away amazing photos and a valuable experience for any western tourist.
Abu Dhabi tour with tickets to Sheik Zayed Mosque and Louvre Museum
and the Louvre Museum.
For a visit focused only on the cultural aspect of Abu Dhabi and escape from the more touristy attractions like the Heritage Village or Ferrari World, I recommend this tour to the Sheikh Zhayed Mosque and visit to the Louvre Abu Dhabi with lunch included. You will have plenty of time to tour the mosque and the Louvre museum and lunch is included in the tour so you don't have to worry about anything.
Abu Dhabi tour with entrance tickets to Sheikh Zayed Mosque, Qasr Al Watan Palace and Etihad Tower
Starting early, you will be picked up from your hotel and depart for Abu Dhabi, a 1 .5 hour drive away. The tour includes round-trip transfers, driver and several entrance fees to monuments such as the Qasr al Watan Palace and its gardens, the Etihad Towers and the Sheikh Zayed Grand Mosque.
To tell the truth, just visiting the Sheikh Zayed Mosque alone makes this day trip to Abu Dhabi from Dubai worthwhile. The great advantage of taking a day tour to Abu Dhabi over visiting it on your own is that you will have an English-speaking guide who will put you in context to better understand what you are seeing, and will properly inform you of the rules to follow on your visit to make sure you don't have any problems.
Sheikh Zayed Mosque and Ferrari World Tour
And if, on the other hand, your main attraction in Abu Dhabi is Ferrari World, this excursion to the Sheikh Zayed Mosque and Ferrari World will give you about 5 hours to explore the theme park at your own pace and ride as many attractions as you can. You will also take advantage of the visit to discover the unmissable mosque, which as you know is one of the most spectacular things you will see on your trip to the UAE.
What to see in Abu Dhabi in one day
Sheikh Zayed Mosque: the dazzling Sheikh mosque can be described as an architectural dream straight out of One Thousand and One Nights, or the union of all Islamic cultures in one place in the world. Built in marble and gold, the mosque is a pretext for displaying inscriptions from the Koran engraved on its walls, which incorporate Turkish, Moroccan, Pakistani and Egyptian inspiration, among others, to form a structure that extends in galleries of columns that seem to multiply to infinity, in the style of Arabian decorations whose intricate geometry overlaps endlessly.
From its inner courtyard tiled with floral motifs you will be able to make what is probably your best photo, since tourists are not allowed to step on it and outside prayer hours you will find it completely empty. Visiting the mosque inside is also a delight thanks to its air-conditioned rooms and of course, its exquisite decoration that will leave you open-mouthed.
Heritage Village: in the oldest village in Dubai, restored in 2001, you will find watchtowers, forts and houses showing the way of life in the UAE in ancient times. You will be able to see tools, weapons and handicrafts, in fact, there are artisan workshops that make these pieces on the spot and show you the process of their creation.
Ferrari World: no matter how much you have traveled, I am sure you have never seen an amusement park like this one. A 45-minute drive from Dubai, it is located on Yas Island, dedicated to hosting tourist attractions and the Formula 1 Yas Marina Circuit.
Louvre Abu Dhabi: located in the museum complex on Saadiyat Island, this is a museum associated with the Louvre in Paris, with a permanent collection to which works have been added since 2009. Its most notable acquisitions are **Picasso'**s 'Portrait of a Lady', **Manet'**s 'La Bohémien', or Piet Mondrian's 'Composition in Red, Yellow, Blue and Black'.
Don't expect to find the iconic pyramid at the entrance of the Parisian museum, but you will find a spectacular dome covering the museum and filtering the light through its Arabian-style latticework before entering the more than twenty galleries where the works are displayed resembling a European museum.
Plan your trip to Abu Dhabi from Dubai
One thing to keep in mind is that Friday is the day of rest in the UAE, so you will find some things closed. Ferrari World is open every day of the year, unlike the Louvre Abu Dhabi which closes every Monday just like the eponymous museum in Paris.
Best day of the week for a trip to Abu Dhabi from Dubai
In general, since Friday is the day of rest in the UAE, this is usually a day to avoid. My recommendation would be to go to Abu Dhabi on a Wednesday or Thursday if you can. You will find less crowds of tourists and it will be easier to find a table in a restaurant, for example, and you are sure to get some spectacular photos at the Sheikh Zayed Mosque by not having to dodge other visitors.
Best time of the year to take a trip to Abu Dhabi from Dubai
The best time of year to visit Abu Dhabi is between April and May or September and October. In spring and autumn the weather is more pleasant, and there are fewer crowds of tourists, plus hotels tend to lower prices. However, from December to March Abu Dhabi has a climate that is neither too hot nor too humid, so this time of year is the preferred time for most visitors and therefore the high season.
Where to eat on your tour to Abu Dhabi from Dubai
Most tours do not include lunch, but make a stop at a shopping mall, either Marina Mall or Emirates Palace giving you time for lunch. If you stop at Dubai Marina, these are the best places to eat:
Azkadenya: traditional Arabic food, with specialties such as fish curry or avocado salad and Halloumi. This is the place to come to enjoy a spectacular meal, but it is somewhat demanding on the pocket.
Maison Beirut: this restaurant serves Lebanese food, and is known for its spectacular views of the Sheikh Zayed Mosque. In case you are passionate about Turkish cuisine, you will find very similar food here with the added bonus of being able to take some nice photos of the mosque from a distance.
Operation Falafel: a place where you will find almost exclusively falafel-based dishes, such as dürums and salads. It is a cheaper option than the other two, so if you are traveling on a tight budget, look for a table here.
Other tours stop at Emirates Palace. If this is the case for your excursion, these are the places to find the best food:
Cascades: perfect for outdoor dining, at this restaurant you'll enjoy the sound of lapping water from the pools and man-made waterfalls next to the terrace, where Greek-inspired food is served.
Le Café: in case you are on a tight budget or don't like large meals, this café is your option at Emirates Palace where you can have a tea or coffee accompanied by some real pastry delights.
What should I take with me to Abu Dhabi
If your excursion does not include food, I recommend that you take something to eat in your backpack in case you are traveling on a tight budget. As you know, prices in Abu Dhabi are not exactly cheap and eating in a restaurant will cost you between 150 and 200€ for two people.

To enter the Sheikh Zayed Mosque, shoulders and knees are required to be covered, and in the case of women, also the head. You are also not allowed to wear clothes that are too tight, so keep this in mind when planning your outfit, and take along a headscarf that can also be useful to cover you from the sun throughout your excursion.

It goes without saying, but make sure you have a camera or a cell phone with a good camera in your backpack! Without a doubt, the mosque is quite a sight for people who love photography, but in case you're not I'm sure you'll want to go home with souvenirs of this excursion.

It's also a good idea to include sunscreen in your backpack, some sandals to rest your feet in case you get tired of walking and a refillable water bottle.
Final tips
Please note that smoking is prohibited in public areas in Abu Dhabi, as it is in many other cities in the UAE. Look for designated areas if you don't want to get a fine.
Be careful when taking a selfie at the Sheikh Zayed Mosque with your partner, as physical contact between men and women inside the temple is prohibited. For this same reason, remember not to hold hands or hug.
Other interesting activities in Dubai
If you prefer to squeeze the most out of the city of Dubai before jumping into sightseeing, there are a couple of unmissable activities. My first recommendation would be to take a guided tour that tells you everything you need to know about Dubai. And secondly, you should not return from Dubai without having climbed the Burj Khalifa, one of the most popular skyscrapers in the world and, at least so far, the tallest. I leave you here a couple of articles I have written about it so you can organize your visits: Dubai Tours y Burj Khalifa Tickets: how to buy, prices and schedules.