Abu Dhabi Day Trips from Dubai
Taking advantage of your trip to Dubai, do not hesitate to go to Abu Dhabi to visit one of the most spectacular mosques in the world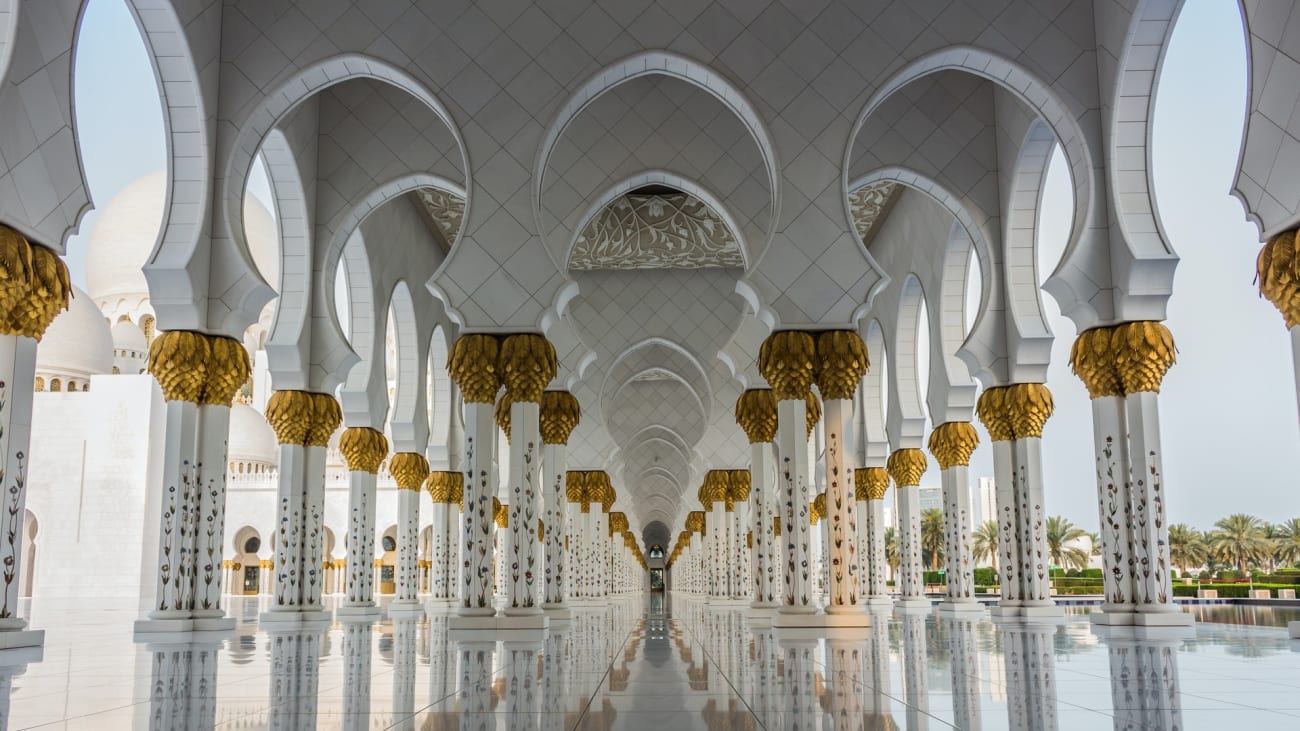 Forget the Burj Khalifa, skyscrapers, shopping malls, and luxury. To discover the UAE in depth, the excursion to Abu Dhabi from Dubai will show you the most impressive thing in the whole country: the Sheikh Zayed Grand Mosque.
1. Best Abu Dhabi tours from Dubai
Taking advantage of your visit to the capital of the United Arab Emirates you can discover what life was like in the Arab country before the discovery of oil modernized life in the desert. Read on and I'll tell you about the best excursions to Abu Dhabi from Dubai.
2. Full-day trip to Abu Dhabi
Starting early, you will be picked up at your hotel and embark on the journey to Abu Dhabi, an hour and a half drive away. The tour starts with a visit to the famous Sheikh Zayed Mosque, followed by a tour of the museum dedicated to the Sheikh and the Heritage Village, where the lifestyle in Abu Dhabi more than half a century ago is shown. You will also have the opportunity to pass through the Saadiyat Island before returning to Dubai, where Ferrari World and the Louvre Abu Dhabi are located.
To tell the truth, just visiting the Sheikh Zayed Mosque alone makes this day trip to Abu Dhabi from Dubai worthwhile. The great advantage of taking a tour to Abu Dhabi over visiting it on your own is that you will have an English speaking guide who will put you in context to better understand what you are seeing, and will properly inform you of the rules to follow on your visit to make sure you don't have any problems.
3. Excursion to Abu Dhabi with lunch included
The general Abu Dhabi excursion from Dubai is fine, but in case you want to customize your experience a bit more, don't worry, here are some other options to enjoy the day at your leisure:
In case you like to travel with everything organized, I recommend you to choose the tour to Abu Dhabi from Dubai with all inclusive, which is this: excursion to Abu Dhabi with lunch included. This way, you will save looking for a restaurant and most likely the day will be cheaper because, to tell the truth, most restaurants in Abu Dhabi are very expensive.
4. Excursion to Sheikh Zhayed Mosque and Louvre Abu Dhabi with lunch included
For a visit focused solely on the cultural aspect of Abu Dhabi and to avoid the more touristy attractions such as the Heritage Village or Ferrari World, I recommend this excursion to Sheikh Zhayed Mosque and visit to the Louvre Abu Dhabi with lunch included. You will have plenty of time to tour the Mosque and the Louvre museum and lunch is included in the tour so you don't have to worry about anything.
5. Sheikh Zayed Mosque and Ferrari World Excursion
And if, on the contrary, what strikes you most about Abu Dhabi is Ferrari World, on this excursion to Sheikh Zayed Mosque and Ferrari World you'll have about 5 hours to explore the theme park at your own pace and ride as many of the attractions as you can. You will also take advantage of the visit to discover the unmissable Mezquita, which as you know is one of the most spectacular things you will see on your trip to the UAE.
6. What to see in Abu Dhabi in one day
Sheikh Zayed Mosque
The dazzling Sheikh mosque can be described in many ways, as a pearl on the shores of the Persian Gulf, an architectural dream straight out of One Thousand and One Nights, or the union of all Islamic cultures in one place in the world. But the truth is that words fall short when talking about this unique mosque in the world, being a marvel for all the senses.
Built in marble and gold, the mosque is a pretext for displaying inscriptions from the Koran engraved on its walls, which incorporate Turkish, Moroccan, Pakistani and Egyptian inspiration, among others, to form a structure that extends in galleries of columns that seem to multiply to infinity, in the style of Arab decorations whose intricate geometry overlaps endlessly.
After all, the Sheikh Zayed Mosque is the product of a profound religious faith, and these motifs that give the sensation of infinite multiplicity are the way to artistically display the Islamic vision of God. To a Western visitor, the result is a spectacle of latticework designs with a multitude of inspirations.
From its interior courtyard tiled with floral motifs you will be able to take what is probably your best photo, as tourists are not allowed to step inside and outside of prayer hours you will find it completely empty. Visiting the mosque inside is also a delight thanks to its air-conditioned rooms and of course, its exquisite decoration that will leave you open-mouthed.
Normally, visits to the Sheikh Zayed Mosque last about an hour and a half to two hours.
Heritage Village
In Dubai's oldest village, restored in 2001, you will find watchtowers, forts, and houses showing the way of life in the Arab Emirates in ancient times. You will be able to see tools, weapons, and handicrafts, in fact, there are artisan workshops that make these pieces on the spot and show you the process of their creation.
In fact, although the Heritage Village has a commercial aspect, it is interesting to visit because, instead of being full of souvenir stores, you can admire the process of creating them with respect to traditional techniques, which is an experience in itself.
Ferrari World
No matter how much you've traveled, I'm sure you've never seen an amusement park like this one. A 45-minute drive from Dubai, it is located on Yas Island, dedicated to hosting tourist attractions and the Formula 1 Yas Marina Circuit.
Ferrari World is entirely dedicated to the Ferrari team, with rides inspired by their most legendary cars (including Formula Rossa, the world's fastest roller coaster), a recreation of an Italian village, and family-friendly shows.
Louvre Abu Dhabi
Located in the museum complex on Saadiyat Island, this is a museum associated with the Louvre in Paris, with a permanent collection to which works have been added since 2009. Its most notable acquisitions are 'Portrait of a Lady' by Picasso, 'La Bohémien' by Manet, or 'Composition in Red, Yellow, Blue and Black' by Piet Mondrian.
Do not expect to find the iconic pyramid at the entrance of the Parisian museum, but you will find a spectacular dome covering the museum and filtering the light through its Arabic-style lattices before entering the more than twenty galleries where the works are exhibited resembling a European museum. In short, a very interesting place in your visit to Abu Dhabi where you will find a perfect union between the Arab and Western worlds, without losing the spirituality that integrates the buildings of Islamic culture.
7. Plan your excursion to Abu Dhabi from Dubai
Fridays in Abu Dhabi
One thing you should keep in mind is that Friday is rest day in the UAE, so you'll find some things closed. Ferrari World is open every day of the year, unlike the Louvre Abu Dhabi which is closed every Monday just like the eponymous museum in Paris.
Abu Dhabi is a perfect excursion to do from Dubai in a day, being less than an hour's drive away and having few (but very interesting) sites to visit, it is a destination that many people include in their UAE trip.
Best day of the week to take a trip to Abu Dhabi from Dubai
In general, since Friday is the day of rest in the UAE and tourists take advantage of it to do excursions from Dubai, this is usually a day to avoid. My recommendation would be to go to Abu Dhabi on Wednesday or Thursday if you can. You will find fewer crowds of tourists and it will be easier to find a table in a restaurant, for example, and you will surely get some spectacular photos at the Sheikh Zayed Mosque by not having to dodge other visitors.
Best time of the year to take a trip to Abu Dhabi from Dubai
The best time of year to visit Abu Dhabi is between April and May or between September and October. In spring and autumn the weather is more pleasant, and there are fewer crowds of tourists, plus hotels tend to lower prices. However, from December to March Abu Dhabi has a climate that is neither too hot nor too humid, and so this is the peak season for most visitors.
8. Where to eat on your tour to Abu Dhabi from Dubai
Most tours do not include lunch, but make a stop at a shopping mall, either Marina Mall or Emirates Palace giving you time for lunch. If you stop at The Dubai Marina, these are the best places to eat:
Azkadenya
Traditional Arabic food, with specialties such as fish curry or avocado salad and Halloumi. This is the place to come for spectacular food, but it's a little demanding on the pocket.
Maison Beirut
This restaurant serves Lebanese food, and is known for its spectacular views of the Sheikh Zayed Mosque. In case you're passionate about Turkish cuisine, you'll find very similar food here with the added bonus of being able to take some nice photos of the mosque from a distance.
Operation: Falafel
A place where you will find almost exclusively falafel-based dishes, such as dürums and salads. It is a cheaper option than the other two, so if you are traveling on a tight budget, look for a table here.
Other tours stop at Emirates Palace. If this is the case for your excursion, these are the places to find the best food:
Martabaan
Indian cuisine taken to the maximum exponent in a restaurant where quality and elegance are the main elements. In addition to having very good reviews, a good number of critics choose this restaurant as their favorite among all the offerings of Emirates Palace.
Cascades
Perfect for al fresco dining, this restaurant enjoys the sound of lapping water from the artificial pools and waterfalls next to the terrace, where Greek-inspired food is served.
Le Café
In case you're on a tight budget or don't like big meals, this café is your option at Emirates Palace where you can have a cup of tea or coffee accompanied by some real pastry delights.
9. What should I take with me to Abu Dhabi?
If your tour does not include food, I recommend that you take something to eat in your backpack in case you are traveling on a somewhat tight budget. As you may already know, prices in Abu Dhabi are not exactly cheap, and eating in a restaurant will cost you between $ 170 and $ 250 for two people.

To enter the Sheikh Zayed Mosque, it is required to wear the shoulders and knees covered, and in the case of women, also the head. You are also not allowed to wear clothes that are too tight, so keep this in mind when planning your outfit, and take along a headscarf that can also be useful to cover you from the sun throughout your excursion.

It goes without saying, but make sure you have a camera or a cell phone with a good camera in your backpack! Without a doubt, the mosque is quite a sight for people who love photography, but in case you're not I'm sure you'll want to go home with souvenirs of this excursion.

It's also a good idea to include sun cream in your backpack, some sandals to rest your feet in case you get tired of walking, and a refillable water bottle.
10. Last tips
Please note that smoking is prohibited in public areas in Abu Dhabi, as it is in many other cities in the United Arab Emirates. Look for designated smoking areas if you don't want to get a fine.
Be careful when taking a selfie at the Sheikh Zayed Mosque with your partner, as physical contact between men and women inside the temple is prohibited. For this same reason, remember not to hold hands, kiss, or hug.
11. Other interesting activities in Dubai
If you prefer to squeeze the most out of the city of Dubai before jumping into sightseeing, there are a couple of must-do activities. My first recommendation would be to take a guided tour that tells you everything you need to know about Dubai. And secondly, you should not return from Dubai without having climbed the Burj Khalifa, one of the most popular skyscrapers in the world and, at least so far, the tallest. Here are a couple of articles I've written about it so you can organize your visits: Dubai Tours and Burj Khalifa Tickets.
Frequently asked questions
What is there to see in Abu Dhabi?

Abu Dhabi, capital city of the UAE, has landmarks such as Jebel Ali Port, the world famous Sheikh Zayed Grand Mosque, Heritage Village where you will discover the old days of the Emirates, and Yas Island where you can visit the Ferrari World Theme Park.

What kind of food can I try in Abu Dhabi?

Some authentic dishes that you can try in Abu Dhabi are kabsa, a dish of mixed rices, maqluba, a pot of meat, rice and vegetables, camel meat, and a wide variety of sweets and pastries.

What else can I do in Abu Dhabi?

You can check out the observation deck on the Jumeirah at Etihad Towers, Qasr Al-Hosn, the oldest building in Dubai, Warner Bros World in Yas Island, the Abu Dhabi Falcon Hospital where you can get up close with the birds, and visit the Emirates Park Zoo.