Al Maha Desert Resort Day Trips
This resort is a true oasis in the middle of the desert: undoubtedly one of the best getaways from the city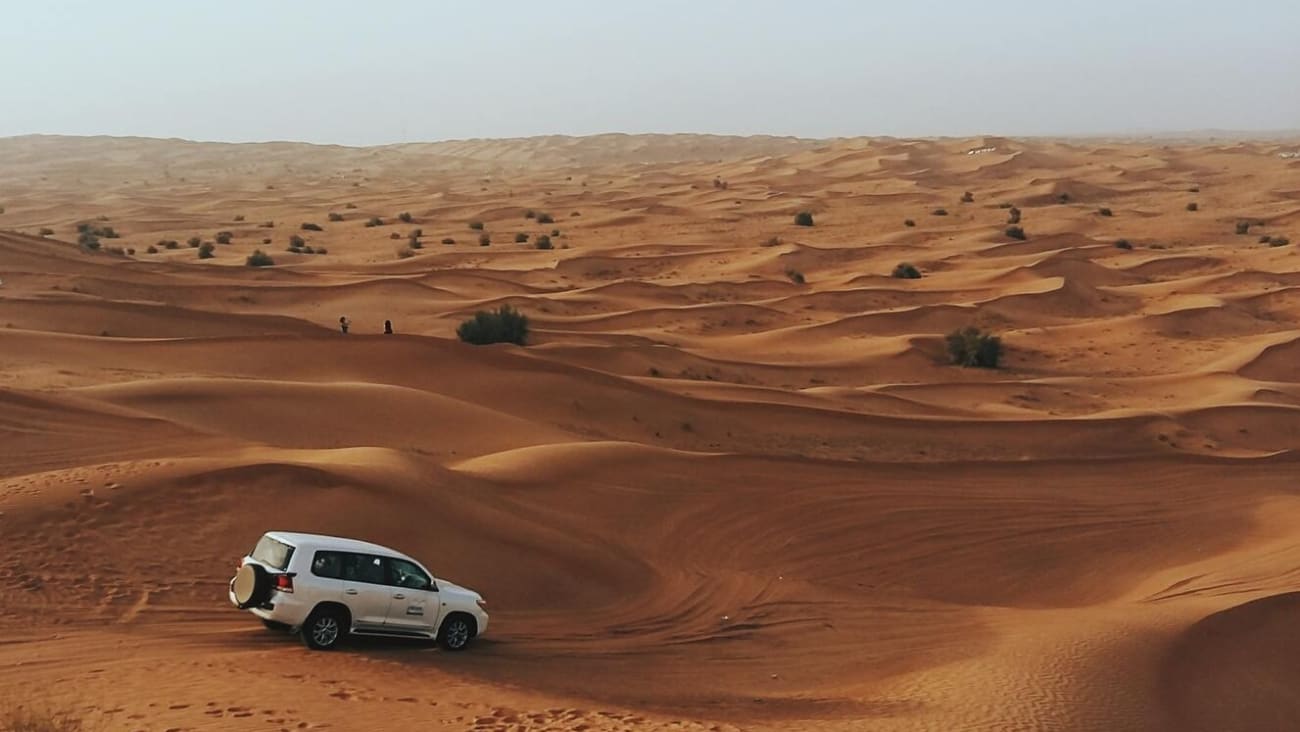 How many chances do you get in a lifetime to go on a desert excursion and experience an adventure with camels, quad bikes, ATVs, and falconry shows?
1. The best desert tours from Dubai
There are tons of companies offering desert tours and not all of them are what they seem, so I'm going to help you choose the best one to make sure you enjoy an experience you'll remember forever.
2. 4x4 desert excursion with camel ride and other activities
This excursion to the desert of Dubai with camel ride I like it because besides including a basic activity in the visits to the desert, which is the camel ride (I'll tell you a little more later), it offers the possibility of doing a series of extra experiences: you can choose between sandboarding (similar to snowboarding but on the desert sand), dune bashing, which consists of sliding over the dunes aboard an SUV.
In addition, it also includes the possibility of enjoying some falconry or belly dancing shows, henna workshops, etc., and all accompanied by a traditional barbecue dinner.
What does this excursion consist of?
The tour starts with a pick up from any of the major hotels in Dubai in a 4x4 Jeep, vehicle in which you will leave the skyscrapers behind and head to the heart of the desert where you can enjoy a variety of activities. This is the only way to enjoy this activity, as doing it on your own without an organized excursion is prohibited. And rightly so: driving over the shifting dunes is quite dangerous for an inexperienced driver.
Upon arrival in the desert, you will spend the afternoon doing a series of activities of your choice from all those available, while resting for tea or coffee and traditional snacks. Afterward, you will enjoy a barbecue dinner at a camp in the middle of the desert, followed by mint tea and typical sweets while watching the dance and fire show.
Camel rides
Camel riding is one of the most typical activities you will find in Dubai and you will have a thousand opportunities to do it. For desert experiences, it's still a fun activity but you might want to make better use of the time and take a camel ride through an oasis or an alternative route.
As a word of warning, camel trekking tends to be one of the most popular activities, and depending on the size of the group on your excursion you will sometimes have to wait in a bit of a queue.
Alex's Traveller Tip

The camel ride is the most popular activity on the Dubai desert tour, so if you want to save the queue, try to take the ride after dinner.
3. Red Dunes Safari in Dubai desert with barbecue and sandboarding
For me, the big draw of doing a desert excursion like Red Dunes is the experience of watching the sunset on the horizon from the top of a dune after having experienced the adrenaline rush of some unique experiences like Sandboarding or Dune bashing. It will give a beautiful contrast to your trip to Dubai by being able to see what life is like both among opulent skyscrapers and shopping malls and in the simplicity of the desert.
I'll tell you a little more about the types of Sandboarding or Dune Bashing you can do on this excursion so you know what each one consists of and you can decide if this is the plan you want to do when you are there.
Sandboarding
If you like snowboarding, you have to try sandboarding. Although there are some differences between the two sports, such as the lightness of the sandboard and the texture of the sand that will be softer when you fall off the board, both activities are very similar. In my opinion, it is one of the most fun things you can do in the desert, even though you might get a couple of bruises!
If it's a little scary but you still want to try it, don't worry because you'll see a lot of people using the board as a sled and just gliding across the sand, which is also a very fun option.
Dune bashing
In this activity, the dunes of the Dubai desert become a roller coaster. A priori it may seem that this is going to be much ado about nothing, but when you are inside the 4x4 descending at full speed down a dune the vertigo imposes quite a bit. If you get dizzy easily, this may not be the best activity for you, but it is certainly worth a try. To give you an idea, it usually lasts around 45 minutes.
4. Excursion to the desert with barbecue and live show
This excursion combines the best of the previous excursions: the barbecue dinner and live show in the Dubai desert, so that your desert experience is much more complete. Besides, you don't have to give up the more typical desert activities: once there you will be offered the chance to go sandboarding or take a camel ride while making time for dinner.
5. Half-day desert safari in Dubai with quads
This activity is only included in some Dubai desert quad tours and consists of doing a race with other travelers who are part of your tour group in one of these all-terrain vehicles. Don't worry, because you will be given a driving lesson and advice on how to handle yourself in the dunes as well as all the equipment. If driving a quad is on your bucket list, what could be better than doing it on the desert dunes!
6. Organize your Dubai desert tour
Unless you choose a morning tour, Dubai desert tours usually leave the city in the early afternoon around 3 pm to take advantage of the afternoon in the desert, enjoy the sunset and dine outdoors as the duration of the activity is usually around 6 hours.
You will return to Dubai at night on a very silent and quiet route, to relax after the desert excursion.
Best day of the week to go to the desert
During your visit to Dubai, you will notice that Friday is usually the day of rest and many of the stores close on this day. Therefore, that may be the day of choice for tourists to escape from the city to the desert. Even so, the excursions are well organized so that you will not find crowds or huge groups. Overall, it's a pretty relaxing excursion.
Best time of the year to make the excursion to the desert
When preparing for a trip to Dubai, you've probably noticed that when it comes to weather and temperatures the city is invariable: it's always going to be hot. However, it is from June to September when the desert temperatures and aridity become really unbearable, so it is no surprise that Dubai's peak season is between October and April.
So my recommendation is that if you have a choice, visit Dubai and take a trip to the desert in the "cooler" season, from November to February. Although you will find a greater influx of tourists than at other times of the year, the weather will be moderately bearable and therefore your trip will be more pleasant.
Eating on your Dubai desert excursion
After an afternoon of desert activities, the tour concludes at a camp where you will be served a buffet of typical food such as potato salad, hummus, tabbouleh, baba ghanoush, and fruit salad, and all kinds of grilled meats such as chicken, lamb, and fish. Whatever you do, don't miss khuboos, the bread they give you to dip the hummus in. It's soooo good.
For dessert, they'll give you a taste of typical Arabic sweets (eat as many luqaimat as you can!) and you'll have an open bar of coffee, tea, and drinks. Alcohol is not included, but you can pay extra if you feel like a cold beer in the desert after an afternoon of climbing up and down dunes.
After dinner, you will also be given a traditional water pipe or shisha, which usually comes with only one flavor. If you want to try other flavors, you have to pay extra.
What to take with you on the Dubai desert tour
You are going to spend a full day in the desert on this experience: take your own water bottle, comfortable and as cool as possible clothes, sunscreen, sunglasses, and a cap or hat. I also advise you to bring sandals in your backpack, as it is very uncomfortable to get sand in your shoes all the time, especially while sandboarding!
I recommend you to bring a camera as you will surely come back from your trip with several anecdotes and some postcard pictures at sunset among the dunes, but remember to bring a bag for electronic devices to store your camera and your cell phone and protect them from the sand.
If you get dizzy easily, sandboarding and dune bashing activities can be a bit of an ordeal for you, so I recommend taking some medication for dizziness before doing this experience. For the same reason, avoid trying to take pictures of the desert during the dune bashing experience.
7. Practical tips for visiting the desert of Dubai
Book in advance
Once you are clear about the dates you are going to travel to Dubai, book this experience as soon as possible, especially if you are going during peak season (December and January). It tends to be quite popular and you run the risk of having to look for another similar activity with a tour operator that does not meet expectations.
About the pictures
Be aware that there is hardly any signal or coverage in this activity, since you will be in the middle of the desert. And since the fine desert sand is not the best for electronic devices you might want to leave your cell phone at the hotel, although my advice is to take it with you to take some pictures when you are back in Dubai.
If you have an account or are an Instagram user, you should know that there is a hashtag that most locals use in Dubai: #mydubai. Why use it? If you've taken an awesome photo, you might get reposted on the official My Dubai Instagram and appear on some of the screens of the Burj Khalifa.
To keep in mind
Finally, remember that an excursion to the Dubai desert is not without some risks, especially if you do not drink enough water, but you do not have to worry about anything, as the guides are very professional and will remind you at all times what are the most common recommendations if it is very hot or if you are going to participate in any quad biking or sandboarding activities.
8. Other interesting activities in Dubai
If you are exploring the option of doing some other excursion, visiting Abu Dhabi is easy and can be done with a round trip on the same day. I have written a handy guide on Abu Dhabi Day Trips from Dubai for you to read all the details if you want to organize the visit.
And finally, you can't leave Dubai without climbing the Burj Khalifa. Whether you are a fan of heights or not, the view from up here is breathtaking, the feeling of going up in the elevator is unique, and to be honest, it's not as daunting as it sounds, as the viewpoint is quite protected. I leave you here the details so you can prepare your ascent: Burj Khalifa Tickets.
Frequently asked questions
Will I get to experience the Al Maha Desert Resort in this visit?

No, none of the day trips will actually let you experience the resort and spa, you will only have a light appetizer at its restaurant.

How can I customize my experience at Al Maha Desert Resort?

You can choose between two different experiences that offer either an adventure in the desert complete with camel riding, sandboarding, a henna tattoo and a shisha water pipe, or go for a conservation expedition in which you will see rare Arabian oryx, gazelles and native plants.

What is included in a day trip to the Al Maha Desert Resort?

Some experiences include water pipe (shisha), arabic coffe, henna tattoos, bottled water, and a hotel pickup and drop-off, but make sure to read the details of each experience for a complete information.