7 Best Things to Do in Al Fahidi Quartier in Dubai
Dubai is not only skyscrapers, modernity and avant-garde. It is also history and tradition. And the best place to experience it is a small neighborhood straight out of the tales of a thousand and one nights called Al Fahidi.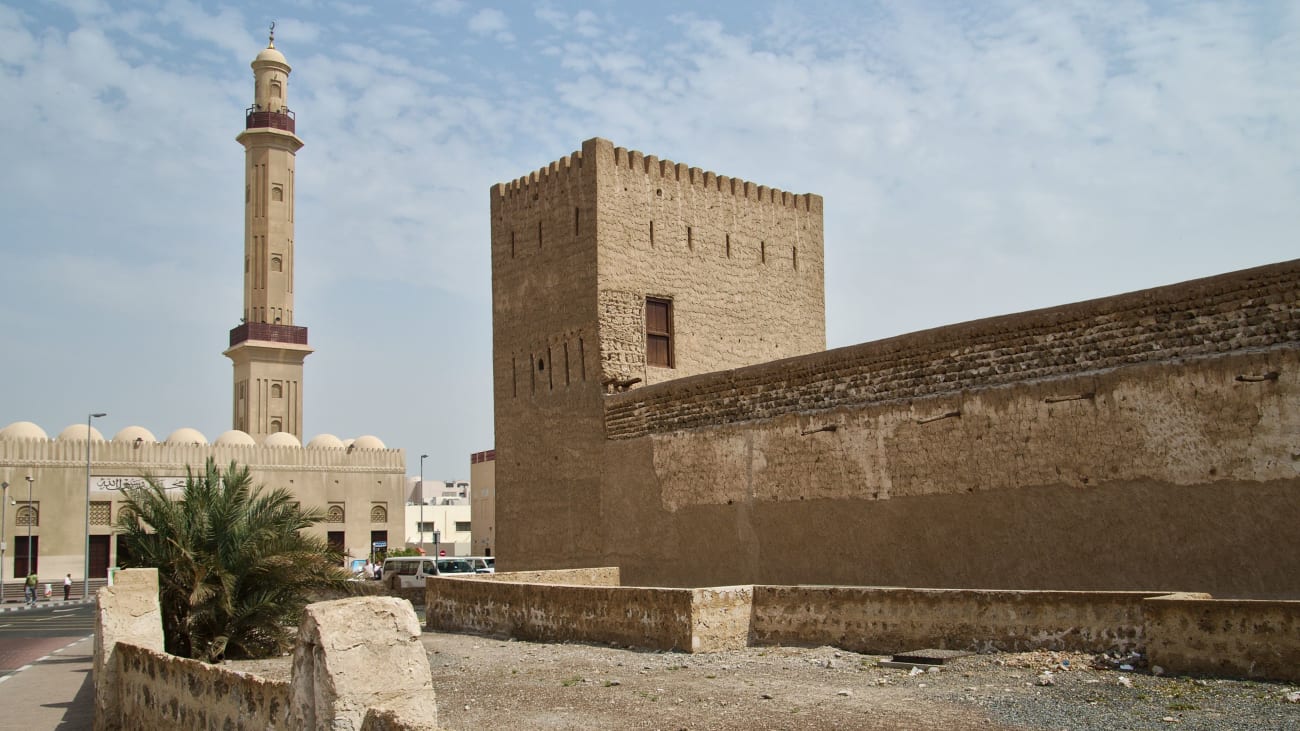 Al Fahidi or Al Bastakiya is a journey into Dubai's past. It is a small district of historic buildings and streets, one of the oldest in the city, located within the Bur Dubai neighborhood. It is the perfect place to enjoy local cuisine, art and exhibitions of all kinds.
The neighborhood of Al Fahidi, also known as Al Bastakiya, was established in the 19th century in the area of the mouth of the Dubai estuary. Its buildings were built with stone, teak, plaster, sandalwood and other materials common at that time, and its excellent conservation has made that today we can contemplate them in a perfect state, even, has been declared a World Heritage Site. Continue discovering it!
1. Dubai Museum
The first thing I recommend you to visit is undoubtedly the Dubai Museum. Before you dive into the streets of Al Fahidi, it would be good to soak up the history of the place and see everything from a different perspective. Don't worry if you think museums are not your thing. The exhibition is very well organized and the visit is very enjoyable. It is structured chronologically with historical pieces that go from when the city was a fishing village to the megacity it has become today.
Its exhibits range from Dhows, typical boats of the area that are over 1000 years old, to a room dedicated to ancient and modern architecture, and all kinds of antiques. It is in this museum where you will really learn the origin and essence of Dubai.
The museum is located inside the Dubai Fort and is definitely a must on your visit to Al Fahidi.
Price and opening hours of the Dubai museum: The entrance to access the museum has a symbolic price. At the exchange rate does not reach 0.30 euros but you can also make a donation freely. You can see that the price is not an excuse not to visit. Saturday to Thursday from 8:30 am to 8:30 pm. Friday from 2:30 in the afternoon to 8:30 at night. Fridays is the day of rest in Dubai so it is closed in the mornings and in the afternoons is usually a little more crowded.
How to get to the Dubai Museum: The museum is in the Dubai Fort, on the east side of Al Fahidi on 62A Street. It is very easy to get there, but I recommend that you do it in two ways: either on foot if you are already in Bur Dubai, as the museum is in a central area of the neighborhood and will not take long to get there, or by car.
2. Dubai Fort
Technically, the fort and the Dubai museum are one and the same, as the museum is located inside the fort. However, I have preferred to separate them to tell you some interesting things about this building. It is the oldest building in the city that is still standing.
Its construction dates back to 1787 and was made using stone, adobe bricks and palm leaves. It is surprising that it is still in place, since throughout history it has suffered several damages and repairs. However, it was built to defend against the pirates who besieged the coast. In the early 20th century three large towers were added and since then the fort has served as a barracks, prison, palace and today as a museum.
3. Al Farooq Mosque
In the heart of Al Fahidi is the Al Farooq Mosque. The only mosque in Dubai, along with the Jumeraih Mosque, which opens its doors to tourists. Both the mosque and the surrounding environment look like something out of a fairy tale. When you book your tour to visit Al Farooq, you will see that it is inspired by the legendary Blue Mosque in Istanbul and shares many architectural similarities, but not in size; it is one of the best mosques in Dubai.
Visiting hours and tickets: Although the mosque is open to the non-Muslim public the visit can not be free. You have to book so the best option is to see it as part of the Dubai tours that organize visits. If you want to go for free you will have to contact those responsible for the mosque through its website. The schedule is as follows: Sunday to Thursday from 10:00 to 11:00 and from 16:15 to 18:00.
How to get there: The mosque is located in the northern part of the neighborhood next to the Dubai Creek and very close to the Dubai Museum. It has parking areas nearby, but the cab is still the best option and you also have a bus stop very close, specifically the F70 line. Nearby is also the Al Fahidi Marine Abras station if you want to move along the estuary.
Dress codes:
For women: loose-fitting pants and long skirts. No tight-fitting clothes are allowed. Long sleeves and a headscarf. No see-through clothing is allowed.
For men: Shorts below the knees are not permitted. Shirts and T-shirts must be at least shoulder length.
In any case take a look at this post on how to dress in Dubai which might clarify things a bit.
4. Sheikh Mohammed Center for Cultural Understanding
For us Westerners, the customs of the United Arab Emirates can be difficult to understand. That's why the Sheikh Mohammed Center for Cultural Understanding, or SMCCU for short, was opened in 1998. Its aim is to help visitors understand the culture and customs of the country.
To this end, they have numerous activities, including traditional breakfasts, lunches and dinners. In the center itself they offer these typical meals seated around a Bedouin-style carpet while the guide answers all kinds of questions about their culture. An activity that I recommend 100%.
Hours and visit: The doors of the center are open to everyone although the activities offered do have a cost. You can get information and book them there or you can book them in advance and do it from their website. If you are interested I recommend that you book in advance on their website. From Sunday to Thursday from 8:00 to 15:00 and Saturdays from 9:00 to 13:00. Fridays are closed, as it is the day of rest in the Islamic culture.
How to get there: The center is located in the heart of Al Fahidi, in a carefully restored typical wind tower. To get there you can do it on foot, as its adjoining streets offer a very pleasant walk. If you opt for the car you will not have much difficulty finding parking, as there are several parking lots in the vicinity. The cab is always the most comfortable and cheapest and by bus the nearest stop is HV1 of the F70 line.
5. Stroll through the streets of Al Fahidi Historical Neighbourhood
It's not all about visiting museums, monuments and more. Al Fahidi is also a spectacular area for those who just want to take a relaxing stroll. Its winding, narrow streets look like something out of the Arabian Nights and are the perfect place to get your camera out.
The area is home to several cafes where you can enjoy a good coffee and typical teas as well as nice restaurants at good prices ideal for tasting the local cuisine. If you want to take a souvenir of Dubai Al Fahidi also has craft stores, clothing and all kinds of options to take a souvenir or to give as a gift.
6. Al Fahidi and culture
Al Fahidi is also the place to be for those who like to immerse themselves in local culture. Among the more than 50 historic houses that make up the heart of the neighborhood are endless art galleries, museums and historic buildings. Some of the best options to visit are:
Coin Museum: where more than 500 historic pre-independence Emirati and post-independence coins are on display.
Symposium House: They offer cultural talks also for tourists, as many of them are in English.
Events House: Offers events and activities such as craft demonstrations or small music concerts.
House of Calligraphy: Related to Arabic writing and its creative art form.
7. Al Fahidi by night
I have already told you about the walks through the streets of Al Fahidi. But these change, and for the better in my opinion, when it gets dark in Dubai. The lighting of its emblematic buildings is very successful and completely transform its streets. You can start at dusk, dine quietly in one of its restaurants and later admire the lights. Especially beautiful are the Al Farooq Mosque and the Dubai Fort.
Where to eat in Al Fahidi
Dubai' s dining options are varied. Traditional Dubai food is what you will find most in its cafes and restaurants. You can taste dishes such as mezze, a snack dish based on meat and vegetables, Tabbouleh, a salad based on semolina, parsley, lettuce and aromatic herbs, or the typical hummus. If you want a recommendation, in Al Fahidi there is a small restaurant called Local House which, in addition to dishes such as those mentioned above, is one of the few that serves camel meat.
If you've read this far you already know that. Whether you want to soak up the customs and history of Dubai, or you prefer to enjoy Arabian cuisine and culture, Al Fahidi is the place for you.