Dubai Tours
Dubai has a lot to offer the traveler, but don't miss out on its surroundings: do you fancy a visit to the desert or a stroll through Abu Dhabi?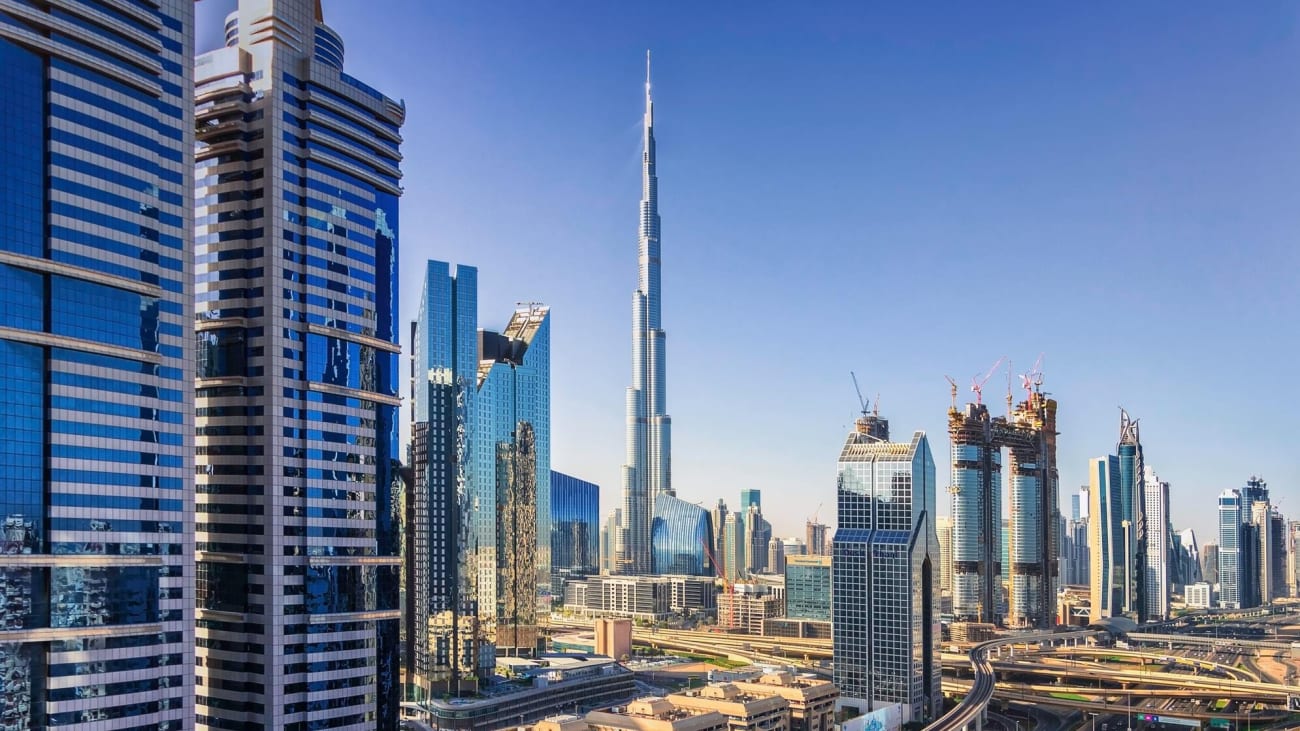 What is now a futuristic skyline was a desert fifty years ago. From the aridity of past times, souks and mosques of a nomadic culture remain. The best way to get to know them is with a guided tour.
1. What are the best tours in Dubai?
There are many ways to see Dubai and many tours available in the city, so I have selected those that include all or most of the city's points of interest.
2. Dubai Express Tour
This Tour of Dubai is intended as a photographic tour of Dubai, where you get to know the most iconic places of the city camera in hand while a guide gives you the perfect context in English to understand the history behind each building and some curiosities about life in Dubai.
In my opinion, the great advantage of this tour is that it has a short duration (two and a half hours) which makes it a perfect introduction to Dubai as soon as you land on the plane. And what's more, it includes pick-up from your hotel. I recommend it to those who have little time in Dubai because they are passing through or making a stopover or for the first contact with the city if you have just arrived and do not know where to start.
What you will see in the express tour
Burj Khalifa
Palm Jumeirah
Burj Al Arab
Jumeirah Mosque
Dubai Museum
Al Fahidi Fortress
3. Dubai Night Tour
Dubai nights are what make visiting this city worthwhile. Skyscrapers light up, temperatures cool off, and the city magically transports you into the neon future. This Dubai night tour will take you on a tour of the entire city in a minivan visiting all the city's points of interest with a tour guide and in a small group, with pick-up and drop-off at your hotel. A must in my opinion!
This tour lasts about four hours and I recommend it if you want to see the city calmly while you also skip the heat of the day, especially if you visit Dubai during the hottest times of the year.
What you will see on the night tour
Madinat Jumeirah
Jumeirah Beach
Dubai Water Canal
Dubai Frame
Dubai Garden Glow
Downtown Dubai
Burj Khalifa
4. Dubai tour with monorail tickets
No visit to Dubai is complete without riding the monorail, which connects the city to the artificial islands of Palm Jumeirah. This four-hour guided tour of Dubai with monorail access combines a visit to Dubai's most famous buildings with a monorail ride from Dubai to the Atlantis hotel, with spectacular views along the way.
I recommend it if you were planning to take the monorail on your visit to Dubai, as you can combine it with a city tour for a good price.
What you will see on the Dubai tour with monorail tickets
Dubai Mall
City Walk
Souk Madinat Jumeirah
Palm Jumeirah
The Marina
5. Dubai historical center tour with a boat ride
Dubai's mosques and ancient souks are worth a visit to marvel at the contrast of near-impossible skyscrapers and humbler places. This tour of the historic center of Dubai with included boat ride, of four hours, will show you an area of Dubai unknown to many. Moreover, as the name suggests, part of the trip is done in a traditional boat, so it combines three of the most interesting aspects of Dubai.
I recommend it if you are interested in exploring the oldest part of Dubai and experiencing a boat ride among the skyscrapers.
What you will see on the historic center tour
Jumeirah Beach
Jumeirah Mosque
Dubai Museum
Al Fahidi Fortress
Gold Souk
Dubai Mall
6. Complete tour of Dubai
To go big in Dubai you have the option of taking this full-day tour of the city in which you'll visit everything the city has to offer, both new and old, with a tour guide. Going sightseeing by bus tour that will pick you up at your hotel, you will have an in-depth view of the city without missing absolutely anything.
What you will see
Jumeirah Beach
Jumeirah Mosque
Dubai Museum
Al Fahidi Fortress
Gold Souk
Dubai Mall
Madinat Souq
Palm Jumeirah
Dubai Marina
7. What to see in Dubai
You already know which major sites in Dubai each tour includes, but you probably want to know a little more about each specific site. Don't worry! Read on and I'll tell you in detail what makes each of the city's must-see sights a must-see.
Burj Khalifa
Burj Khalifa hardly needs any introduction: it is the tallest building in the world and an architectural marvel inspired by the white Hymenocallis, Dubai's signature flower. From its observatory, you can see all of Dubai and the desert beyond the city, as well as the spectacle of lights and water that takes place in the artificial lake at the foot of the skyscraper. If you're interested in visiting it from the inside or going up to its observation deck, you can find out how in my article on Burj Khalifa Tickets.
Jumeirah Beach
Jumeirah Beach is Dubai's flagship beach, a playground for the rich with parks, outdoor bars, and of course dreamy sand and dreamy waters. Everything you can imagine about Dubai as a tourist destination is on Jumeirah Beach, where you will surely spend a good part of your visit to the city.
Jumeirah Mosque
As the only mosque in Dubai that allows access to non-Muslims, it is one of the most visited buildings by tourists traveling to the city. And no wonder, since its white stone exterior is a fantasy only comparable to the decoration of its diaphanous interior.
Al Fahidi Fortress
The Al Fahidi Fortress is the oldest building in the city and represents a past in which it was necessary to defend Dubai from invaders. Within its walls, you will find the boats that were used in the past for fishing and warfare. It also houses the Dubai Museum, one of the most visited museums in the city.
Dubai Museum
This museum is dedicated to telling the history of Dubai's evolution from a small community in the desert to the city of the future that it is today. In its galleries, you will see how the ancient Bedouin lived, the tools they used, their craftsmanship, and their ways of subsistence.
Visiting the Dubai Museum is a highly recommended activity as it gives a historical context to your visit beyond the skyscrapers and luxury.
Gold Souk
The name doesn't disappoint, as within minutes of entering the Gold Souk you'll be surrounded by bazaars and storefronts filled with gold jewelry such as baubles, bracelets, necklaces, and rings. Here, you can find the largest gold ring in the world (Dubaitans love being the best in the world at something, as you may have already noticed). Even if you don't buy anything, this place of opulence is worth a visit, almost intoxicating.
City Walk
City Walk is an open-air mall in Dubai with all kinds of stores, restaurants, and entertainment venues for kids. Visiting the City Walk at night is quite an experience, as just seeing the lights and colors installations alone is worth it.
Dubai Mall
Dubai Mall is the great shopping mall of Dubai and the shopping reference for most tourists visiting the city. It is also one of the places where you can find restaurants of all kinds of food and the most affordable in the city, so you will surely visit this mall more than once on your trip.
Madinat Souk
Within the Jumeirah complex, the Souq Madinat is a modern reimagining of a traditional souk with galleries filled with perfume, spice, and food stalls. Visiting Souq Madinat at night is a unique experience thanks to its warm atmosphere of lanterns whose lights reflect off the water.
Palm Jumeirah
Palm Jumeirah is the artificial island in the shape of a palm tree where the most luxurious residences in Dubai are located, as well as the city's top hotels and restaurants. It is crossed by the city's famous monorail track, making it a popular spot for tourists who are also looking for water activities such as a boat, yacht, or jet ski rides.
Dubai Marina
Dubai's Grand Canal, known as the Marina, is the perfect place to take a boat ride around the city surrounded by skyscrapers. Of course, there is no shortage of distractions in this district in the form of restaurants and bars in shopping malls. It even has the world's largest urban zip line, one of the most unique and spectacular activities you can do in Dubai.
8. Get ready for your Dubai sightseeing tour
The vast majority of Dubai tours pick you up at your hotel and take you through the itinerary in an air-conditioned vehicle, given the city's weather conditions. For the same reason, they usually drop you back at your hotel, but my advice is that before booking a tour, make sure that the pick-up and drop-off include your hotel or drops you off at a nearby hotel or some other point in the city.
Keep in mind that Friday is the religious rest day in Dubai, so if you have to choose a day to do a city tour I would recommend you to avoid this day in order not to find most places closed or reductions in the itineraries. As you have seen, there are tours of different lengths but generally half-day tours last 4 hours and full-day tours last 9 hours.
Practical information for taking a tour of Dubai
Many tours do not include food, but do stop at some of the city's shopping malls, so I recommend you look ahead of time where to eat and even make a reservation if you can to save yourself from having to find a table next to a throng of tourists.
Islamic religious holidays are not as important in Dubai as in other states in the UAE, but even so during Eid and Ramadan celebrations can affect transportation and the times at which food and drink are served (during Ramadan, for example, food is only served after the sun goes down).
Speaking of how religious practices can affect eating and drinking in Dubai, note that you can't drink in public (least alone being completely hammered in the middle of the street), nor can you smoke, not even e-cigarettes which are confiscated at the airport.
What to bring
Although obvious: take a bottle of water with you! In Dubai, it is difficult to find a place where it is cool and even if you are going to do most of the tour by car you will miss a drink of water when you get off the bus and walk around the desert city.
9. Other activities that may interest you
:
If you are already in love with Dubai but do not want to give up an authentic desert experience, I leave you here my article about Al Maha Desert Resort Day Trips. Here you will find the best excursions with all the details you need before booking yours.
Another good option from Dubai is to visit Abu Dhabi. They are close enough to get there and back in a day and there are also several organized tours so you don't have to worry about anything. Here are the best ones: Abu Dhabi Day Trips from Dubai.
Frequently asked questions
What can I see on a Dubai city tour?

The modernisation of Dubai mixed in with its fusion of cultures, makes it one of the most beautiful cities in the world, and unsurprisingly there are a number of tours highlighting this fact. Most tours will take you to see some of city's famous sights including the Burj Al Arab and Burj Khalifa, while others will take you through the city's cultural highlights.

How long does a Dubai city tour last?

Depending on the kind of tour you take. As a general rule, full-day tours last between 8-9 hrs, while half-day last between 3-5 hrs, so it's important to read your tour carefully before purchasing.

Are there any rules I should know about Dubai?

Dubai, while beautiful can also be very strick in some areas, so it's important to know these things before visiting, for example both kissing and holding hands is considered inappropriate and you'll need to dress conservatively and appropriately (women should have their arms and legs fully covered), as the city is very strict when it comes to dress code.