Best things to do in Porto
Porto is perfect to visit for a long weekend; its facades, its tiles and its views of the river do not need more to captivate the traveler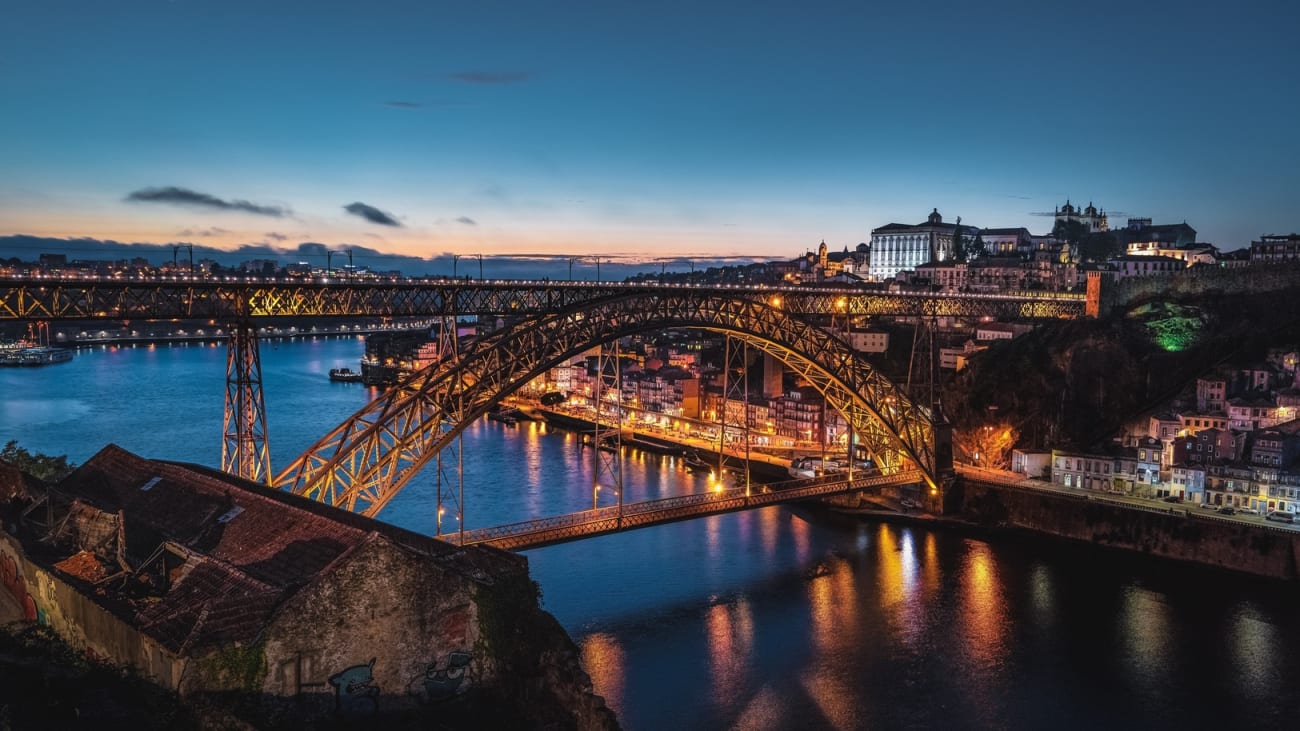 You must keep in mind that Porto is a city to live it: a meal by the river or some wines in any of its terraces are a must. These are the 10 things you should not miss to see and do during your visit to Porto.
1. Discover the center of Oporto on a guided tour
A stroll alone through the city will undoubtedly be one of the experiences you will enjoy the most during your visit, but leave time to do the same Oporto sightseeing tour in the company of a local guide.
The dimensions of the city may make it easier for you to discover its corners on your own, but it will be someone who knows the city who will be able to reveal its secrets, its history and its way of life. If I could only recommend one activity to do during your trip, it would be a guided tour of the city center.
2. Visit the surroundings of Oporto
Another good thing about the city of Porto is its location. From there you can get to know other corners of Portugal in comfortable day trips and thus return from your trip with a more complete view of the country.
You can do this by renting a car, but a more comfortable way is to hire organized tours from Porto in which you will be accompanied by an expert guide. Many of them will also include experiences such as a cruise, a typical Portuguese lunch, a wine tasting, etc. You can book any of these options online. Here is my list of favorites: Best Tours and Day Trips from Porto.
3. Take a cruise on the Douro River
Navigating along the river that runs through a city is always a different way to approach it; a way to escape from the stress and crowds and simply dedicate yourself to contemplate the city in a relaxed and unhurried way. If you want to navigate along the Douro during your trip to Oporto you have two options: do it along the part of the river that runs through the city or take an excursion to the surroundings of Oporto and travel along the river from there.
4. Enjoy a sightseeing bus tour
Although the tourist bus seems to be an option that many travelers overlook as "too touristy", I personally find it a comfortable way to take a stroll through the city while escaping from the hikes and high temperatures.
If you dare to try it I recommend the option of booking your ticket for the tourist bus, which also includes a river cruise and an optional wine tasting. With a 24 or 48 hour pass you can take the bus as many times and from as many stops as you like.
5. Taste the Portuguese gastronomy
Personally, I have never (as far as I can remember) visited a place where I have not been interested in its gastronomy and its typical dishes. Porto has not only not been an exception, but this time I didn't need to look too hard because in a gastronomic tour I was able to try all the typical dishes. Some of the most familiar dishes that you will be able to try in many of the restaurants in Oporto are:
Francesinha: a sandwich with bechamel sauce that I recommend you share with someone if you want to leave room for the rest of the day's meals.
Cod: in Portugal you will be able to taste it in all its forms.
Natas: the famous Belem pastries from Lisbon, in the Porto version.
Bifanas: a characteristic sandwich with marinated pork meat.
Soups: order the house soup and let yourself be surprised.
6. Taste the local wine
If gastronomy is important in Portugal, even more so is its wine tradition. Port wine in particular is famous throughout the world, so it would be a sin to visit the city and not try it in one of its many bars. I recommend that you let yourself be recommended by the waiters and try the different varieties, but beware of the green wine, which can be treacherous.
If you are not only attracted by the idea of sitting on a terrace overlooking the river and drinking a glass of wine, but also want to know more about this tradition, I recommend a wine tasting in the cellars of Porto and surroundings.
7. Visit the Lello Bookstore
If you are a fan of the Harry Potter books, you don't need to read any further because you will already know this bookstore where the author was inspired.
Whether or not you like the stories of the most famous wizard of all time, J.K. Rowling's story is exciting; if you visit the bookstore during a guided tour ask your guide about it.
A visit to the Lello bookstore is a must for all book lovers in the city of Porto.
8. Climb the Clerics' Tower
In all cities there is a privileged point to contemplate them from above, try to locate its main monuments and take one and a thousand photos to realize that none equals the live view of the landscape. In Oporto the best place for this is the Clérigos tower.
It may take you a while to climb its 200 steps, but I assure you that you will not easily forget the mosaic of Porto's rooftops that you will see from the top. The 5 euro entrance fee is well worth it.
9. Experience local life at the Bolhao Market
If you are looking for a market for tourists, discard this visit. The Bolhao market is a authentic Portuguese market and what you will get is a close look at the daily life of the city. Its appearance may seem decadent at first glance, but you will find authentic local products and beautiful flowers along its streets. Don't be in a hurry to finish the tour and stop to observe the details.
10. Walk around the Ribeira neighborhood
Finally, my recommendation is to walk around that place that remains etched in your mind several months after finishing your trip to Porto: the Ribeira neighborhood. Possibly you will pass by there at some point during your trip, but my advice is, once again, to reserve at least a couple of hours for a leisurely stroll along the riverbank admiring its colorful houses and, of course, for a drink in one of its outdoor terraces.
Of all the places in Porto, I'll take this one and, although the preferences of each traveler are different, I doubt that, regardless of your tastes, it will leave you indifferent.