10 Things to Do in Porto in Winter
From tasting traditional wines, celebrating Christmas and New Year's Eve, to cruising the Douro on a Valentine's Day cruise.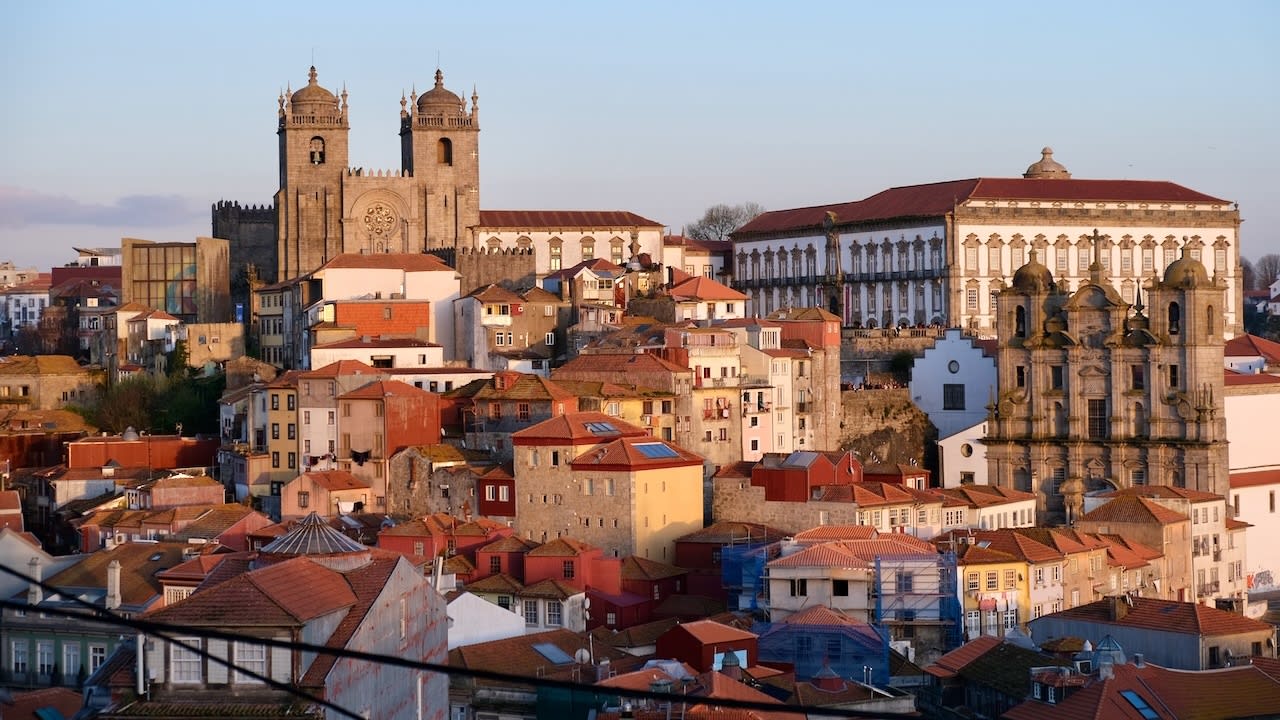 Being one of the most important cities in Portugal, Porto has many activities to do throughout the year. But thanks to the events of the end of the year festivities and from the celebrations of a new return to the sun, winter is a great option to visit the city Tripeira.
Whether for a getaway for the Christmas and New Year holidays, or because it is winter vacations, Porto offers many activities for the whole family. So here are the best things to do in the most important city in northern Portugal.
1. Taste the famous Port wine
With the arrival of cooler temperatures, you will have the perfect opportunity to taste the world famous Port wine.
This typical wine was born during the 16th and 17th centuries in this city, and is known as fortified wine, since it includes a measure of brandy at the time of fermentation. This technique was born in this region so that the wine could withstand long boat trips without spoiling.
This wine has many varieties and Porto has many wineries where you can taste it. It is a wine with a higher alcohol content than normal, but quite sweet so I recommend you to have moderation, as the sweetness can be misleading.
The Riberhina area is one of the best places to taste this variety of wine and any other wine produced in the Douro Valley. If you are interested you can tour the best sites in the Douro Valley by booking a tour of this beautiful wine region.
You can also visit one of the most modern wineries: Porto Cruz, which has a beautiful terrace where you can relax and sip a wine if the weather is nice. This area is not only known for its good wines, but also for being one of the areas to taste the most delicious traditional dishes in Portugal. I recommend that if you are interested in discovering this profile of the city book a gastronomic tour of Porto.
2. Take a picture next to the Christmas tree at Praça da Liberdade
This square is one of the characteristic central points of Porto and in winter, with the arrival of the holidays, it becomes a beautiful place thanks to its incredible Christmas decoration.
The square is the starting point of the Avenida dos Aliados, which always serves as a place to organize the most important events in Porto. If you are in the Portuguese city in December from the 1st you will be able to see the emblematic Christmas Tree, as well as all the classic holiday decorations.
This tree is almost 35 meters high and 15 meters wide and is imposing. I recommend that to enjoy this tourist attraction to the fullest, you approach when the sun goes down, as it has spectacular lighting. With more than 50,000 LED lights, it is a true work of art. Also. The lights of the tree and the screens are synchronized with music and images and manage to create a real show.
It is an ideal place if you travel to Oporto with your family and enjoy the classic Christmas carols, Christmas lights and all the excitement that this time of the year generates.
Useful information
When: From December 1 to January 6. The light shows start at 8 pm until midnight.
Where: Plaza de la Libertad and Avenida de los Aliados.
3. Celebrate Valentine's Day on a cruise on the Douro River
If February is coming and you plan to spend Valentine's Day in Porto, I recommend you to book a romantic cruise on the waters of the Douro River.
This option of cruises in Porto on Valentine's Day will not only allow you to walk along the 6 famous bridges that connect the city, but also to spend a beautiful evening with your partner.
The available cruises embark from the port of Ribeira. Once the tour begins you can enjoy a delicious dinner, which usually has aphrodisiac options, as well as the best wines of the region.
The tour usually lasts about 3 hours, where you will tour the city of Porto while sailing through the waters of the Douro River. If you are traveling at another time please note that there are many cruise options for cruises along the Douro and other rivers in the region.
4. Try the famous Francesinha to fight the cold weather
Although it doesn't snow and sub-zero temperatures are rare, winter in Porto catches many people by surprise. This is because its humidity and proximity to the Douro River makes it feel cooler than what the thermometer indicates. Therefore, I recommend you to try hot and powerful meals to continue with your walk.
One of the specialties for this time of the year is the famous Francesinha: This typical Portuguese dish is a sandwich filled with Portuguese sausages, ham, meat, melted cheese and tomato sauce. In addition, it is usually served with French fries and a fried egg on top. It is really a calorie bomb, ideal to gather energy after a cold and windy day.
There are many unique places to try this dish and keep in mind that each place gives it its personal touch or style. For example you can try the francesihna at Yuko, a typical Portuguese restaurant located at Rua de Costa Cabral, 2331.
You can also try it at Francesinha Café, which has no other item on the menu, as it is dedicated only to Francesihna. Definitely, it is a perfect place to taste this food.
5. Welcome the New Year in Ribeira
One of the most common postcards in Porto is its Ribeira, which is a characteristic symbol of the city. Located on the banks of the Douro River, the Ribeira has many bars, restaurants, cafes and terraces to taste the Portuguese gastronomy.
In case you find yourself in Porto on New Year's Eve, I recommend you to head to any of the bars or restaurants for an unforgettable dinner. This is because for this special date many restaurants plan a full menu, with shows and special events to wait for 12 o'clock.
Not all bars and restaurants open their doors for this date, so I recommend that you consult in advance and book a table. In addition, New Year's menus are usually fixed, so it is also advisable to check what the menu includes before booking.
The most famous restaurants are not the most sumptuous, but those that serve hearty and typical Portuguese cuisine. Among them are Adega São Nicolau and Restaurante Ora Viva, a bit more traditional and economical but with abundant amounts of food.
6. Watch the New Year's fireworks from the Ponte Dom Luís I
If you are near the Ribeira area on New Year's Eve, I recommend you go to the Dom Luís I Bridge to welcome the New Year enjoying an unforgettable fireworks show.
This bridge is an emblematic place in Oporto and is the perfect place to watch the fireworks show on New Year's Eve. This is due not only to its height but also to the width offered by the wide Douro River.
The bridge has two levels. The upper one where the metro passes and the lower level where vehicles pass. Both levels have pedestrian lanes and I assure you won't be the only one waiting for the 12 o'clock. I recommend you try to go to the upper level, as you will have a better perspective of the city and the fireworks.
7. Taste a Bolo Rei to celebrate Epiphany
One of the typical foods of this holiday season is the classic Bolo Rei. The Portuguese version of the roscón or rosca de reyes is an ideal treat to celebrate both Christmas and the arrival of the Three Wise Men.
The city of Porto has some exceptional bakeries to try all kinds of delicacies, but you should definitely not miss the Bolos de Rei.
The shape of the Bolo is similar to a crown, and it is covered with dried and candied fruits. Some places sell it with these fruits rested in port wine.
One of the best pastry shops in town is Padeirinha Doce. It is located near Praça de Batalha and has fairly inexpensive prices.
Another well-known pastry shop near the city center is Confeitaria dos Clérigos. Here I also recommend you try the savory pastries, which are known as 'coixinhas' or 'bolinhos de bacalhau'.
8. Attend the New Year's Eve shows at Avenida dos Aliados
The most crowded place to welcome the New Year is undoubtedly the Avenida dos Aliados. Throughout the 31st festivals and shows are organized, which culminate shortly before 12 o'clock to count down to a new year.
At 12 o'clock you can see the spectacular fireworks show that lasts several minutes. It is recommended that you go a little earlier to have a good location, since this party is attended by many people. Then you can continue the festivities in the bars located in Galerias Paris and Rua Candido dos Reis, where the party continues until dawn.
If you are not a fan of crowds I recommend you head to Ponte Don Luis I or from the Ribeira, where you will have a perfect view of the fireworks without having to worry about the crowds.
9. Visit the F.C. Porto museum
Founded in 1893, it is one of the most important and historical clubs in Portugal. The club's museum is a perfect activity if the weather is not suitable for an outing or if the cold forced you to change a walk. Also remember that the city has a wide variety of museums to choose from.
This museum is very modern, has interactive exhibits, photos and videos of its most glorious moments, as well as historical jerseys and all the trophies won by the club.
The visit also includes a walk through the facilities of the modern Estádio do Dragão, where in 2019 the final of the UEFA Nations League was played, which Portugal won 1-0 against the Netherlands.
If you find yourself with the possibility of watching a match, I recommend you attend, as Porto is always fighting for the title in the Portuguese League and you can enjoy an exciting game of the most popular sport on the planet.
Useful data
Location: Via Futebol Clube do Porto - Estádio do Dragão
Hours: Every day from 10 a.m. to 7 p.m.
Ticket price: Adults 15 € / Children (5 to 12 years old) and over 65 12 € / Children 0-4 years old are free.
10. Ice skating at Batalha Square
Due to its location, snow is not common in the city of Porto. However, you can experience ice skating in some of its beautiful parks. If you are near Praça da Liberdade or Avenida dos Aliados you can walk to Praça da Batalha where you will find an ice rink ideal for skating.
These rinks are available from December 1st until the beginning of January, specifically January 6th. They are perfect for learning to skate with the little ones and, why not, for adults to try it too.
Please note that due to its location, the ice rink in Batalha Square can be quite crowded. Therefore, you can also go to the other rinks located at Praça de D. Joao I or Praça de Mouzinho Albuquerque. You can also find one located at the Boavista traffic circle in Praça da Fantasia, where you will not only have an ice skating rink, but also games and activities for the little ones.
Useful data
:
Prices: 6 euros per hour approx.
Hours: Every day, from December 1st to January 6th from 10 am to 8 pm
The weather in Porto in winter
The temperatures in Oporto are quite mild in winter, since if you compare it with other cities in Europe, it has temperatures that reach an average of 16ºC. This means that as temperatures are not hostile, you can enjoy outdoor walks without any problem. December and January, the coldest months, do not have snowfalls or temperatures below zero, so with a simple coat you will be able to enjoy
If it is possible that you get some rain, since December and January are the months with more precipitation. That said, their average is not so high either, since between them it does not exceed the average of 16 mm. With a simple umbrella you will be more than fine to do any outdoor activity.
Winter prices in Porto
The high season in Porto is summer, so if you decide to visit between December and March you will find quite affordable prices. The only exception may be the holiday season, when hotels, tours and activities tend to increase their prices. But outside this season, winter is the best time to visit if you want to watch your wallet.
Another advantage is that in winter there are usually fewer tourists, so you will not have to wait in line or make reservations in the busiest places.