10 things to do in Dubai in May
May is one of the months when Dubai's traditional cuisine flourishes. It is also a great time to soak up the sun and enjoy the intense summer weather, but without being stifling. Let's see what's in store for us this month!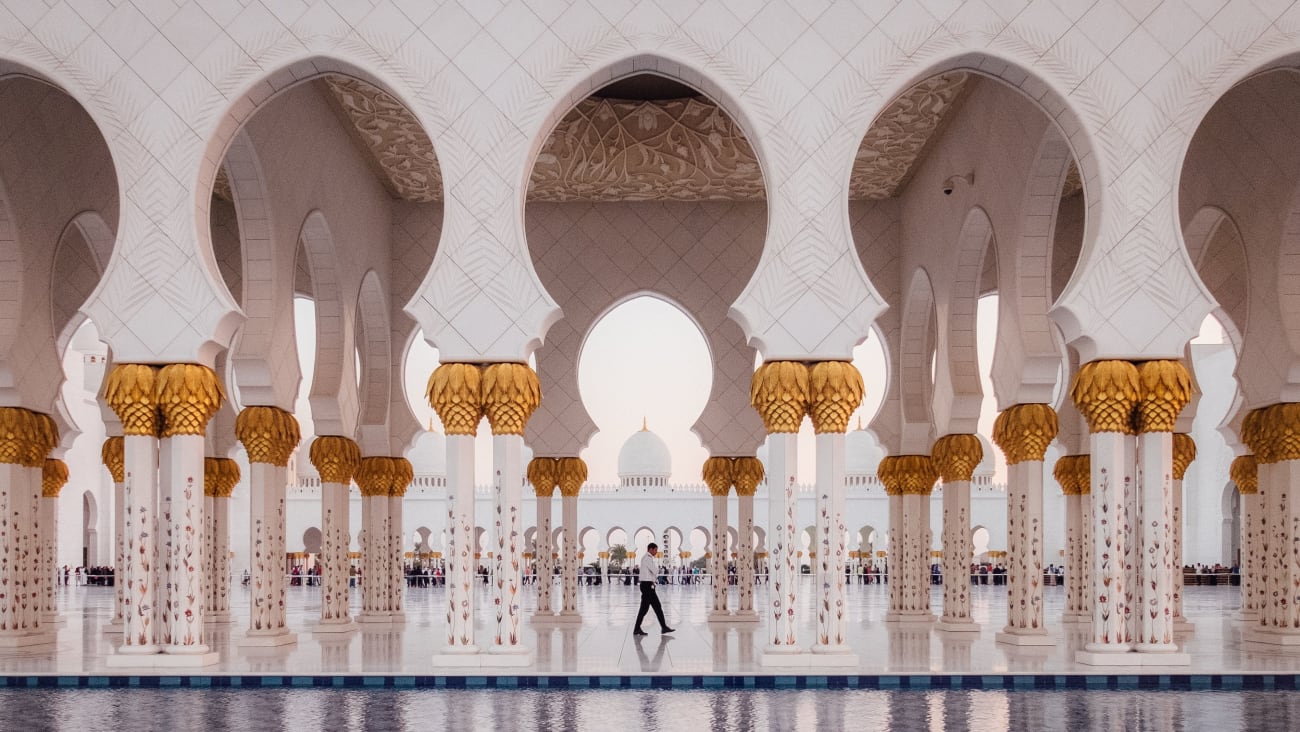 In May several events are quieter, it is noticeable that everything is in harmony with the weather in Dubai. Among the highlights are the Dubai Omega Moonlight Classic, a night golf competition, and the Nad Al Sheba Sports Tournament.
May also holds a few surprises related to the gastronomic world, such as Asparagus Day, a special day on which multiple dishes are served with this main ingredient. The popularity of kabsa, one of the most sought-after delicacies in this month, is also growing.
Nor should we forget the Dubai Garden Glow Show, a space where art and technology are mixed to the point of giving us a show that seems to have life. Or the Dubai Comedy Festival for those who love to have a good time and decorate the day with a touch of good humor.
1. Indulge yourself at night at the Dubai Omega Moonlight Classic
The Dubai Omega Moonlight Classic is an organized golf event attended by the best female golfers in the world and takes place at the Emirates Golf Dubai. This event usually lasts three days and starts at the beginning of May. In order to see it up close it is important to book a ticket online through the official website ofthis important sporting event.
The event is held between afternoon and evening, taking advantage of the lower temperatures and the light show on the golf course. However, in order to be able to attend, you should know how to get around Dubai, since it is located very far north of the city.
The tournament is annual and the prizes awarded are very attractive.
2. Don't forget your ticket for Nad Al Sheba Sports Tournament
Another of the most popular sporting events this May is the Nad Al Sheba Sports Tournament, a competition reserved for elite athletes and including sports such as fencing, wheelchair basketball and paddle tennis. Undoubtedly, an excellent way to appreciate the great team spirit, the talent of these athletes and the greatness of the competition.
This annual event lasts approximately two weeks and is held at the NAS Sports Complex located between the Jumeirah Mosque and Dubai Airport. Tickets are usually free of charge.
Also, I recommend that you go prepared as this is an area very close to the Dubai desert. By the latter I mean bring your water bottle, hat or cap, as you may be caught by surprise by the high temperatures.
3. A visual treat at the Dubai Garden Glow Show
This is a very particular event in the month of May, as it features an open-air exhibition of a garden in total darkness. Now you may be wondering: How does that work? Well, simply by combining the latest lighting technology with designs steeped in creativity. The result is a jaw-dropping 3D living spectacle.
This exhibition is simply magical and you will be able to see firsthand how, sometimes, our sense of sight can deceive us. To attend this particular event it is necessary to buy a ticket on the official website of theevent.
In addition, and only in May, this theme park will be open every day.
4. The best month to attend the dolphin show
While the event lasts throughout Dubai's summer, May is the best month to attend this event, a month that many christen as Dubai Dolphin Month, because it coincides with the opening of this artistic show in which dolphins are the protagonists.
The shows take place at the Dubai Dolphinarium Building and usually last about 45 minutes. Plus, you get to witness dolphins and seals move in sync to entertain the crowds with incredible shows. You will be spellbound as you watch these creatures perform acrobatics and interact with the audience.
To attend this show it is important to purchase a ticket at the dolphinarium's official website.
5. Time for a stroll through the Ripe Market
After the April night market in Dubai comes the mature market in May, which presents itself as a huge room set up to showcase the best of Dubai for both Dubai residents and tourists.
TheRipeMarket is stocked with products from over 100 local companies, 100% Dubai products of the highest quality and originality. From handmade jewelry, traditional clothing, home furnishings, to cosmetics and skin care products.
It is located in the Times Square Center and is undoubtedly one of the biggest and most impactful novelties in the month of May.
6. Don't miss out on your plate of Kabsa in May
May is a month more suited for locals than tourists; however, if we look at it from another perspective it is also an excellent month for tourists looking to immerse themselves in the original Dubai culture and learn more about its lifestyle.
Speaking of traditions, one of the dishes you should try is kabsa, one of the richest delicacies made in Dubai and only offered during this month of May. This dish has rice, a variety of vegetables and meat. Given the popularity of this dish during this fifth month of the year, you can try it both in some food places in the Market Mall and in the heart of Dubai; that is, in the Deira neighborhood.
7. A night of laughter at the Dubai Comedy Festival
Don't worry! The Dubai Comedy Festival is not only in Arabic and attracts thousands of tourists from all over the world; it is an international event featuring some of the most praised comedians from around the world. This week-long event is held at the Street Diversions at Souk Madinat Jumeirah.
In case you are familiar with any of the comedians or understand their language, I would recommend you to go as the laughter can always be heard from outside. If you are interested I advise you to visit the official website of theevent to get updated about the festival and to buy tickets.
8. The perfect month for a night safari in the desert
One of the best months to enjoy a night safari in the desert is during the month of May as the sky is almost always clear and night temperatures are usually quite bearable. In addition, May is a quiet month in terms of tourist influx so that you can enjoy very peaceful evenings at night. To be able to be in the desert of Dubai and glimpse the sky full of stars is an image to remember.
In addition, dinners in the Dubai desert and nights in the desert havebeen some of the most famous activities in the Arabian culture for hundreds of years. So, not only will you be enjoying the environment, but also experiencing Arabian history at its roots.
9. Celebrate Asparagus Day in Dubai
Celebrate Asparagus Day in Dubai on May 24 at Time Out Dubai, the best restaurant for this occasion, as it offers for this particular day of May a variety of exquisite dishes that include asparagus as the main ingredient. Remember that asparagus is a vegetable widely consumed in Dubai; moreover, there is no doubt that it is one of the plants that are most used in gastronomy.
If you've never been to a restaurant that spends all day designing dishes with a single star ingredient, then you know what to do. You will be amazed at the number of dishes and desserts that can be created with this plant.
In case the capacity is very limited, and you can not celebrate this day in the most suitable place for the occasion, then do not worry because it is a day that is celebrated in most restaurants in the city.
10. Friday Yoga in Dubai
Night Yoga is an event held every Friday in May at Topgolf Dubai. Although it seems that the event is related to golf, the truth is that the latter sport has very little; since on Fridays in May this space is reserved exclusively to enjoy a night of Yoga while contemplating spectacular night views.
To give you an idea, the location of the place makes it possible to see the skyscrapers of Dubai andthe bright lights coming from every corner of the city at a glance.
If you are interested in attending this event, don't hesitate to purchase your ticket from the official Topgolf Dubai website.
Find out about Dubai's weather in May
Dubai in May is characterized by minimum temperatures that do not fall below 23 degrees at best. At times of intense heat, temperatures can reach up to 40 degrees Celsius.
Is May a good time to visit Dubai? The best time to visit Dubai is in high season; however, if you like summer heat, long daylight hours and a moderate tourist influx, then, yes, it is a recommended month for you. It is also a very gastronomic month and perfect to get to know the heart of Dubai.
Is Dubai busy in May?
Curiously, and in spite of the fact that Dubai has crystal clear beaches and incredible aquatic events such as those at the Atlantis Aquaventure water park, the months with the highest number of tourists are December in Dubai and January in Dubai. Most tourists do not visit Dubai for its summer charms, as it is well known that in summer, temperatures in Dubai are very high.
Therefore, if you go in May, you may be able to enjoy multiple water events and beach distractions without feeling overwhelmed by excessive tourism.
Prices in Dubai in May
With May being the start of the low season, it is very likely that you will be able to enjoy some reductions on hotel accommodation, airfare and sightseeing activities. You will also be able to enjoy some tempting offers on entrance tickets to the city's main attractions, theme parks, safaris, Dubai Marina cruises... So, if you want to enjoy the best of Dubai without spending so much money, May is a very good option.
What to pack for Dubai in May?
Lots of sunscreen and, above all, go with your mind prepared to withstand possible heat waves. The good news is that almost everything in Dubai is air-conditioned, so it's easy to protect yourself from the sweltering heat waves coming from the city's hot desert.
Also, if your idea is to spend a lot of time outdoors, either on beaches, open pools or strolling around the city and aimlessly, it is highly recommended to go in flip-flops, wear a hat or cap, and not expose yourself to long hours of radiation in an uncontrolled manner. And even more, if you plan to stay there all summer.