10 things to do in Dubai in February
February is a very peculiar month where events such as Valentine's Day, Chinese New Year and Car Free Day make this month famous. I tell you everything you should know so you don't miss anything.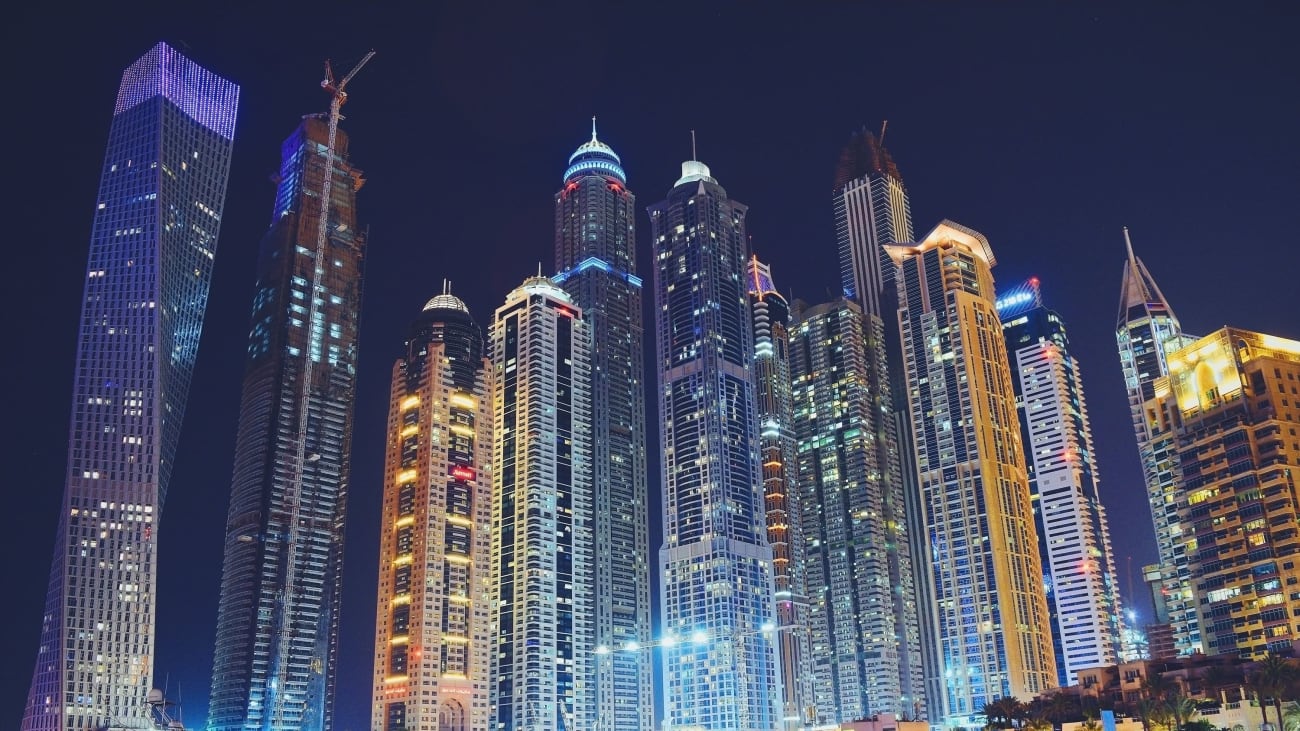 February is very famous for events such as the Car Free Day in which the noise and air pollution miraculously disappear for a day, or the special Valentine's Day from a hot air balloon in which recordings will be made and rides at sunset accompanied by sweet music. And without leaving aside the Chinese New Year, one of the most atmospheric days in Dubai.
It is also a month in which gastronomy in the city reaches its peak thanks to fairs such as : The Tasting Tour in the Souk Madinat for wine lovers, or the Dubai Restaurant Festival for those who want to enjoy exotic and globally praised dishes , and without having to pay so much.
1. Celebrate car-free day
Car Free Day is a one-day event where cars for personal use are banned, all in order to raise awareness of the environmental impact of our actions and to make people think about the issue. This annual event held in Dubai usually coincides with the last Sunday of the month of February.
At first glance it seems like a peculiar day and little more; however, in Dubai it is not so. This is because it welcomes the participation of government and private associations that will organize multiple events in the most visited places in Dubai such as the Burj Khalifa skyscraper, the Dubai Mall and other important areas of the city; and where there will be talks, exhibitions, outdoor entertainment activities and other shows taking advantage of the fact that it is a holiday in which noise and environmental pollution are minimal.
2. Wine tasting tour of the Madinat Souk
February is a very special month in the Madinat souk, as only in this month special food and wine tasting services are offered. Not only that, but also fairs related to food and wine pairing are opened (although many also take advantage of the time and space to showcase their products).
This monthly event is also known as The Tasting Class, as tips and tricks are also given to enhance the experience of combining wine and food.
So, if you want to learn more about wine and food pairing, you know where to go in this month of February, one of the months in Dubai that is most related to gastronomy.
3. Don't ignore the Dubai Duty Free Tennis Championships
The Tennis Dubai Duty Free Championship starts in mid-February and usually lasts about 15 days. In order to enjoy this show, it is important to book a ticket on the official website of the event; however, these tickets will only be available when this event is approaching.
It is worth mentioning that it is a very well known championship among the fans of this sport; in fact, Dubai along with Abu Dhabi, a city located near Dubai, are two of the places where this attractive sport is most practiced. To name names, Rafa Nadal, Roger Federer and Novak Djokovic have already participated and lifted the championship trophy, so if you're in Dubai in mid-February, I'd recommend keeping an eye out for the latest updates on the event.
4. Enjoy the Dubai Food Festival
This is every food lover's dream! From the third week of February you will be able to enjoy this incredible gastronomic event, the best thing about the Dubai Food Festival is that it takes place all over the city. It is a fair in which several restaurants change their traditional menus to provide excellence to customers at affordable prices.
Delight yourself with succulent delicacies belonging to various international cuisines: events derived from the fair are the Beach Canteen (a family event that usually takes place on one of the beaches of Jumeirah) and Taste of Dubai (an elegant event marked by the presence of several famous chefs and preparations of the best restaurants in the city). Enjoy street food, luxury and tradition: this event has it all!
5. Don't miss the annual Literature Festival
The Dubai Literature Festival promises to bring people together regardless of their age and only based on the love of reading. The event is held annually between the last two weeks of February and early March, so you can't miss it.
In addition, you can take the opportunity to buy a book that interests you, there are books for all tastes, languages and subjects. Also, who knows, maybe your favorite writer will be there.
The festival features eminent authors, musicians, filmmakers, artists, from all over the world. The event is packed with debates, competitions, performances and talks. If you are artistically inclined, you simply can't miss this.
6. A lot of atmosphere in Dubai for the Chinese Year in Dubai
While it is true that Chinese New Year can fall in either late January or February, most occasions usually land in the second month of the year. In Dubai, it is celebrated at the Burj Khalifa at sunset on the same day.
If you happen to be in Dubai on Chinese New Year, one of the most important days in all of Asia, you are likely to notice the holiday. For one thing, the Burj Khalifa offers laser shows. Dubai's parks and resorts join the big day by offering entertainment and an atmosphere full of decoration. However, the most peculiar is the Great Temple Fair organized at Dubai Parks and Resorts, an excellent way to learn about Chinese traditions and enjoy a unique annual event.
7. Welcome to Dubai Gulfood
Gulfood is an annual trade show held in mid-February at the Dubai World Trade Center. While it is an event that attracts mostly food and beverage industry veterans, you can attend the event for free as long as you register on the official site.
It is considered one of the largest food and beverage trade fairs in the Persian Gulf, Middle East, Africa, Southeast Asia and Oceania. The number and diversity of beverages, food and dishes on display will not leave you indifferent; however, you should keep an eye on the event 's officialwebsite for updates in case there are any changes.
8. Dubai Yacht Show opens in style
TheDubai Yacht Show is an annual event held in February, particularly for boat and yachting enthusiasts. It is a very special day where you can go on yacht excursions together with the owners for free.
The idea is to showcase these boats and yachts before they are auctioned or sold on the market; hence you may see the presence of high government officials, and big names from Dubai and around the world. In addition, the beach often hosts food stalls for a comfortable observation.
9. Three days of madness at the Dubai Jazz Festival
Dubai Jazz Festival is a 3-day event held in mid-February, this event hosts both local and international jazz and blues artists. The Dubai Jazz Festival is held at the Dubai Media City Amphitheater, a venue worthy of the quality of this annual festival. Both to make reservations and to find out more about the event do not hesitate to visit the official site of this festival.
Just by telling you that names like Tom Jones, Kool & The Gang or Mariah Carey have been on stage you can already imagine the kind of event we are talking about. So, if you like jazz or blues music, it wouldn't hurt to include it among your plans to do in Dubai at night in February.
10. Enjoy the Dubai Festival City Mall
As we have mentioned, February is a month closely linked to gastronomy; therefore, you could not miss the Dubai Festival City Mall, a massive event focused on Middle Eastern cuisine and where you can taste a myriad of dishes from gourmet custom-made dishes to intimate cooking exhibitions with world-famous chefs.
What is interesting about the event is that fixed prices are placed on dishes regardless of their nature, making this event a clear opportunity for delight.
While this event tends to have greater participation from the most luxurious restaurants in the city, many mid-range restaurants also join this event.
It is worth noting that not all restaurants join this movement, while others only offer this service for one or a few days, as, while it is a way to make themselves known, it is unsustainable in the medium and long term.
The influx of tourism in Dubai in February
February, with the exception of Chinese New Year, Valentine's Day and Car Free Day where the tourist presence is very noticeable, is a month with a moderate tourist influx.
Therefore, if you plan to do a routine activity or go shopping, better avoid doing it on those two days, as they are very special days in Dubai. Instead, take advantage of those days to get to know the city, and enjoy the shows and activities taking place.
What to pack for your visit to Dubai in February
Dubai in the month of February tends to be a bit erratic, although the average temperature during the month is quite bearable, the temperature peaks can be a bit annoying. To give you an idea, it is very normal for the temperature to go from 15 degrees to 33 degreesat the hottest point of the day.
Therefore, I recommend that you take both winter and summer clothes, as temperature fluctuations in February are usually very noticeable, especially if you have never visited the city or come from a more stable climate. Of course, forget about umbrellas and raincoats as it rarely rains during this month of the year.
I also recommend you to learn more about how to dress in Dubai, in case you want to visit some specific places and do not know how to present yourself.
Is visiting Dubai in February a good idea?
It depends. If your idea is to attend one-off events and enjoy a month when the tourist influx is not as exaggerated as the peaks of December in Dubai or January in Dubai, then yes, it would be a good idea. In my opinion, February is the ideal month to enjoy the city at a softer and more relaxed pace.
Also, if you are passionate about gastronomy and luxury events, February could meet your expectations.
Prices in Dubai in February
I am sorry to tell you that February is high season along with the months from November in Dubai to March in Dubai. This means that it is not the cheapest month, but it is a month where you can enjoy yourself without spending so much money compared to other months.
Of course, as with almost everything, the best way to save money on your trips is to plan them in advance and make reservations at the right time. After all, Dubai is still a very touristy city whose cost of living is governed by the supply and demand of the moment.