Best Things To Do in Tenerife
Tenerife is the maximum exponent of the beauty of the Canary Islands. There are many ways to discover its breathtaking landscapes, but only a few will leave you with unforgettable memories, discover them here!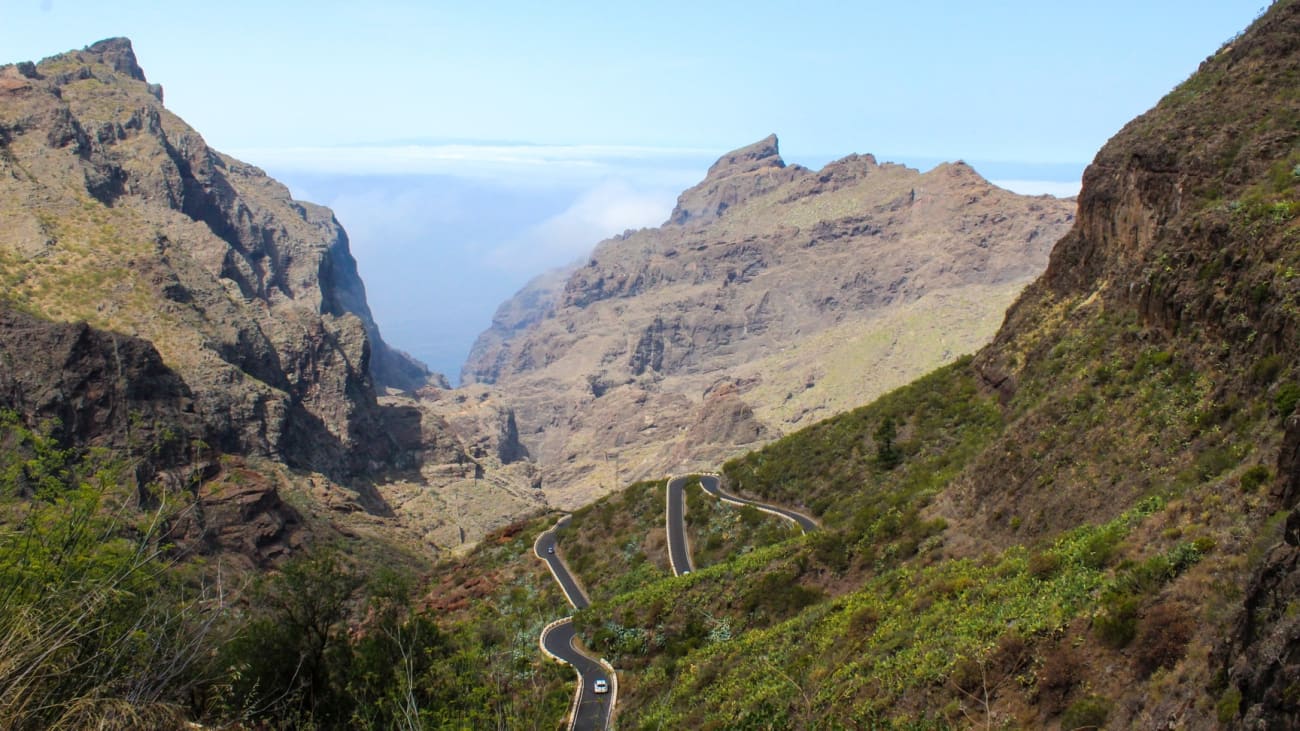 Tenerife, land of volcanoes: a place full of beauty in every corner you look at, be it its black sand beaches, its emerald forests, its rock formations sculpted by lava and the majestic Teide, and its small villages lost at the top of ravines.
For the diversity of its landscapes but a constant temperate climate, this jewel of the Canary Islands is an idyllic place to travel to and get lost in. Here are the top 10 experiences to always remember your trip to Tenerife:
1. Join a whale and dolphin watching boat trip in Tenerife
Tenerife's waters are home to more than 27 different species of marine mammals, including sperm whales, fin whales, turtles, dolphins, jellyfish and seabirds.
The island is a protected natural area, but luckily there are several options to discover the amazing natural habitat of these cetaceans on an organized excursion, where you will spend the day aboard a boat in the middle of the sea watching whales and dolphins playing and jumping around you.
You will also be able to snorkel and peek into a natural aquarium of fish and sea turtles. This is a must-do experience that you can enjoy at any time of the year thanks to the perfect temperature of the Canary Islands. Find out how to take an excursion to the sea and see dolphins and whales in our complete guide: Whale and Dolphin Watching in Tenerife.
2. Take a trip to La Gomera
La Gomera is the kind of island you picture in your head when you think of an island paradise at the ends of the earth. Although it is inhabited, its endless laurel forests, a type of vegetation unique to the Canary Islands, will offer you routes to get lost and forget about the rest of the planet for a few hours.
Its ravines will leave you breathless and, if you manage to overcome the vertigo, with an indelible memory of wild nature. Walking along its paths you will put yourself, for a while, in the skin of an inhabitant of the island, living among banana and aloe vera plantations. You can tour the island by bus or Jeep, spending an incredible day from Tenerife.
Preparing a visit to La Gomera from Tenerife can take a lot of time and effort, so here you have more information about all the options to discover this amazing island with a local guide: Best Day Trips to La Gomera from Tenerife.
2. Climb the Teide
The Teide National Park is a national treasurevisited by nearly four million visitors every year (the most visited in Europe). Its volcanic landscapes protected by UNESCO are an attraction for hikers and nature lovers, and a magical setting that you will never forget.
There are several routes to climb to the top of Teide, and all of them are through wonderful paths that can only be done on foot. You can prepare an excursion on your own, but the advantages of doing an organized excursion to Teide are several: you will not have to ask for the necessary permit to access the Teide National Park, you will make sure you do not miss any of the incredible corners of this place and you will be assured of transportation to and from your hotel.
To learn about the different options you have to explore Teide on an organized tour, I have written a complete guide in which I give you all the tips you need to know before visiting this amazing place: Excursions to El Teide.
4. Kayak along the cliffs of the Atlantic Ocean
Starting from the beach of Los Cristianos, you can kayak to the cliff of Los Gigantes, one of the most spectacular environments for snorkeling in Europe. Logically, this makes it a must on any trip to Tenerife, as you will be able to see the island's marine life in all its splendor, especially the different species of fish and turtles that live under the aquatic surface.
Since the waters of Tenerife are a protected environment, swimming with dolphins is strictly forbidden and that is why these kayak excursions are the only way to get close to the animals in a respectful way. You will have the chance to see whales and dolphins up close, something that makes a kayaking experience unforgettable.
Read more about the options for kayaking in Tenerife and get a glimpse of the impressive marine world of the island: Kayaking and Snorkeling With Turtles in Tenerife.
5. Explore the spectacular island of El Hierro
A trip to El Hierro from Tenerife is a perfect day trip if you are going to spend at least a week in the Canary Islands: you will visit viewpoints with breathtaking views, ravines, cliffs, remote hermitages and pristine beaches.
Since to prepare on your own an excursion to El Hierro from Tenerife requires getting ferry tickets, organizing the route, and renting a car and driving it, visiting it in an organized experience is the easiest and most comfortable way.
Don't forget to pack your binoculars for this excursion! Everything you need to know about El Hierro in this guide full of tips: Best Day Trips to El Hierro from Tenerife.
6. Paragliding
The island of Tenerife is a unique place for many reasons, but it is thanks to its perfect temperature and gentle wind currents that it is one of the best destinations for paragliding.
Throughout the island there are about 30 different points from which to take off, and especially in summer the conditions are so good that there are daily flights in which to enjoy an experience as beautiful as it is exciting. It's not just the adrenaline rush: it's the views and the feeling of freedom that make paragliding in Tenerife such a popular experience.
Whether it's a flight from Teide to the coast or a tour of Costa Adeje, you'll descend through the clouds to find yourself face to face with the island's mountains and forests and the sea stretching out into infinity.
If you want to know more about paragliding flights, here I tell you about the best value for money and safest experiences and give you a few tips before you launch yourself (literally) into the void: Paragliding flights in Tenerife.
7. Relax on a catamaran ride
If you go to Tenerife to disconnect and enjoy the sun and the sea, taking a catamaran ride is surely one of the experiences you want to include in your plans. You will sail out to sea to feel the breeze on your face and see dolphins and whales playing around the boat. Swimming in the waves, snorkeling or lying on a sofa on the deck with a drink will be your only worries.
This is the perfect option if you want to take a boat ride without crowds, with a closer and more personal treatment. As in other experiences, you will have the opportunity to see some of the cetaceans that inhabit the waters of the island.
There are several operators on the island for a catamaran ride, but if you want to play it safe, here are the experiences we have tried and why we recommend them: Sailing in Tenerife.
8. Observe the stars from Teide
Visiting Teide during the day is an essential experience, but at night the peak becomes one of the best observatories on the planet to see the stars, being able to see no less than 83 different constellations from the Park.
You can go on your own and you don't need a permit, since the controls end at 5 pm, but in my opinion the best thing to do is to take one of the organized night tours to Teide with an astronomer.
What impressed me most about this experience was the total absence of light pollution, something that the island takes very seriously with specific rules such as preventing air traffic between sunset and sunrise.
To learn more about this unforgettable excursion, which I especially recommend you to do if you are going to Tenerife as a couple, you can read about the different ascents of Teide where you will find more information about the night route: Excursions to El Teide.
9. Climb the Anaga Peak
Pico Anaga is one of the most special places on the island and is particularly visited by locals: its many trails, its humid laurel forest, its virgin black sand beaches, and its impressive viewpoints.
The Anaga Rural Park is accessed from La Laguna, as the people of Tenerife know the town of San Cristóbal de La Laguna. From there, a route begins that takes you to the Jardina viewpoint, from where you can see the entire valley in which the municipality is located.
From there, you can go up to the viewpoint of Cruz del Carmen, with stunning views of Teide, and walk the road to the viewpoint of Pico del Inglés, cut almost perfectly between the rock and the laurel forest making it one of the most beautiful places to take a picture of the island.
If you want to discover the charms of the Anaga massif and much more, I recommend you to read my guide about the best excursions in Tenerife, in which I talk about this and other experiences: Best day trips in Tenerife.
10. Walk through the urban oasis of Santa Cruz de Tenerife
To take a break from so much hiking through forests and mountains, I recommend a walk through Santa Cruz de Tenerife and discover its historic center, with points of interest such as Calle la Noria, Plaza de España, Castillo de San Cristóbal, Plaza de la Candelaria and Plaza de Weyler.
If you want to feel the atmosphere of the city in its most authentic state, stroll through the market of La Recova, where you will see samples of the product that is used as the basis of Canarian cuisine and where you can stop for a snack and taste some typical dishes of the highest quality.
And to add some contrast to your visit, stop by the avant-garde Auditorio de Tenerife, with certain similarities to the Sydney Opera House, and the Espacio de las Artes de Tenerife.