Whale and Dolphin Watching in Tenerife
Tenerife is one of the few places in the world where you can see whales and dolphins throughout the year. I tell you how to enjoy this beautiful experience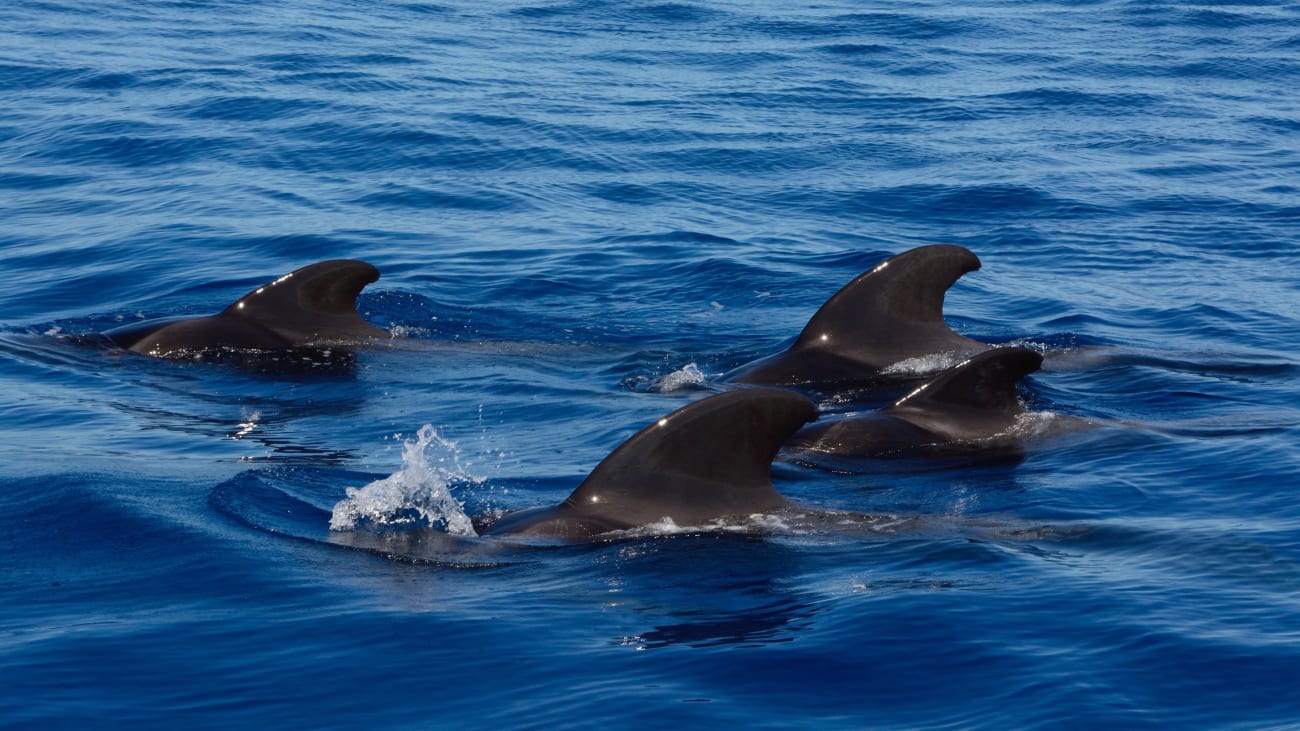 Did you know that the south coast of Tenerife is one of the best places in Europe to see marine life with your own eyes? There you can see wild dolphins and whales swimming in the sea, a unique and exciting experience in equal parts.
Having traveled to Tenerife on several occasions and being lucky enough to have been able to enjoy this spectacular experience live, I have written this guide in which I tell you everything you need to know about whale and dolphin watching in Tenerife. Will you join me?
My favorite
Small group on a sailboat at unbeatable prices
Perfect if you feel like enjoying a full day at sea with everything included: luxury boat with a maximum of 11 people on board, food and refreshments, whale watching and a snorkeling stop.
Duration: 3 hours
Spending the day on a sailboat at sea, dropping anchor next to the cliffs to enjoy lunch in the sea breeze and listen and watch whales and dolphins around you: a great plan that deserves an automatic inclusion in your trip to Tenerife. Sailing for 3 hours on a sailboat, you will enjoy the views of the south coast of Tenerife from the sea while you go in search of whales and dolphins.
On this whale and dolphin watching sailboat cruise you will reach some of the best places for snorkeling and scuba diving because of the amount of marine species you can observe even from the surface of the water. The captain of the boat, an expert in the marine mammals that inhabit the area, will always be attentive to warn you of any sighting.
You will stop for lunch, and you will be able to taste the flavor of the Canary Islands while relaxing on the deck of the sailboat.
Why I like this option: Among all the options for whale and dolphin watching in Tenerife, this option is the most complete. It has an extended duration, lunch included, snorkeling stop. All with a maximum of 11 people on board.
Recommended if... You are looking not only to enjoy whale watching, but also the relaxing experience of sailing on a sailboat in the Atlantic waters.
---
In luxury boat
Enjoy catamaran sailing
Perfect to spend a day aboard an exclusive boat in a relatively small group, with everything included. In addition to whale watching, it includes a snorkeling stop.
Duration: 3 hours
Since you are going to enjoy a good time sailing on the Atlantic, the wide range of boat trips in Tenerife allows you to choose a boat. In this case, you will spend the day aboard a luxury catamaran that will take you along the South Coast of Tenerife, in front of the spectacular cliffs of Los Gigantes.
In this case you will also make a stop for snorkeling and drinks and lunch are also included, so you don't have to worry about anything but enjoying yourself to the fullest and keeping an eye out for dolphins and whales.
Why I like this option: For three hours you will have the opportunity to sail the Atlantic waters in a luxury catamaran with food, drinks and snorkel stop included.
Recommended if... You feel like trying the sensation of sailing on a catamaran with 30 other passengers on board.
---
The most economical
The best cruise for a tight budget
Although it is a large ship that can be quite crowded compared to other cruises, it is a great way to add a wonderful souvenir to your trip for a more affordable price.
Duration: 3 hours
In this option you will sail the waters of Tenerife while enjoying the beautiful views of Mount Teide, and go on the hunt for sightings of a variety of marine animals: sperm whales, fin whales, turtles, different species of dolphins, jellyfish and seabirds. An expert guide will accompany the group at all times to make sure that you miss absolutely nothing, and that you know how to correctly identify what you see.
You will go aboard a schooner, which allows you to maneuver the waters of the Canary Islands with precision to avoid sudden movements that may frighten the marine animals.
Why I like this option: Although it is a bit short compared to other similar options and you will be accompanied by a larger group, it is a great way to add a wonderful souvenir to your trip for a more affordable price.
Recommended if... You are looking for an experience that fits within a tight budget, but you don't want to give up the special and unique experience of seeing whales and dolphins from a boat.
---
Eco-adventure
A real adventure with marine biologists on board
The most premium option offers you the exclusive guidance of a marine biologist and the advantage of having the smallest possible group of participants, 8 people aboard the boat with the captain.
Duration: 3 hours
Get on a motorboat with a marine biologist to discover the marine life of Costa Adeje in a morning ride where you will pay special attention to the sounds of whales and dolphins and have the opportunity to see them in their natural habitat.
On this tour you will go along the coast of the town of Adeje, one of the main places on the island for the sighting of marine animals. You will go aboard a motorboat equipped with a hydrophone to listen to the sounds of whales and dolphins. By going by motorboat, you will be able to quickly approach the groups of cetaceans to see them up close without missing a single detail.
Meanwhile, your guide will show you the beauty of marine life with didactic information so that you will understand in detail the immensity and importance of the island's ecosystems. Once you arrive at the natural habitat of the marine cetaceans, you will approach slowly to observe them up close. The guide will take pictures of the animals that you can then receive for free so that you will always have a great souvenir of the experience.
Why I like this option: This is an exclusive full-fledged marine safari with the most intimate group of participants possible, 8 people on board. This experience is more didactic, as it focuses on the sighting of marine mammals and the marine biologist that accompanies you will introduce you to the vast underwater world of the island.
Recommended if... You go in a small group, the boat will be practically private for you. If you are also interested in the conservation of the environment and marine fauna, this is your option.
---
In short: we compare the four options
If you still have doubts about which option best suits your trip (and your pocket) I have done this exercise for you. I leave you here this comparative table with the prices and the most relevant data of each excursion.
---
Why Tenerife is unique for marine mammal sightings
Thanks to the mild climate of the Canary Islands all year round, and the deep sea beds that offer cetaceans a respite from the strong currents of the Atlantic, Tenerife attracts a great many marine mammals, protected in a nature reserve.
Therefore, it is possible to see bottlenose dolphins and pilot whales between the waters of La Gomera and Tenerife. With some luck, in the experiences I have been telling you about you will be able to see other species such as Bryde's whales, beautiful specimens of elongated whales, blue whales, the largest animal on planet Earth, and several species of dolphins.
Why is it so easy to see whales and dolphins in these experiences? The reason is simple: during the night, these animals hunt for fish and squid, and during the day they rest on the surface, where it is easy to observe them up close, and more importantly, in the wild.
Best time of the year to see whales and dolphins in Tenerife
Although the great advantage of these experiences is that you are guaranteed sightings throughout the year, here is a small reference of how these vary according to the season:
Spring is when there is the most activity and movement of cetaceans.
Summer is the breeding season, so you may be able to see baby whales and dolphins.
In autumn the sightings are less regular, but it is the best time to sail and the sky has a very special light.
In winter the days are shorter and therefore it is possible to see marine animals preparing to hunt, which offers shorter but more intense sightings.
Tips to get the most out of your whale and dolphin watching experience
Book in advance to secure your spot
Book your whale and dolphin watching experience as soon as possible. There are a number of options for enjoying one of these spectacular excursions, but it is also a tremendously popular activity with locals and travelers alike, so it's a good idea to secure a spot early.
Pack your suitcase
Although the weather in the Canary Islands is spectacular all year round, remember to bring a windbreaker or raincoat in winter, as the sea breeze at sea can get quite cold. At any time of the year you will need sunscreen and probably sunglasses, so that the light does not tire your eyes quickly.
Avoid seasickness
If you tend to get seasick easily, keep in mind that the bigger the boat the less noticeable the swell, so perhaps the most economical option is the perfect one for you (you will be on a boat with a capacity for 130 people).
The best time of day for the excursion
These experiences have departures at various times throughout the day. Regardless of what time you take the excursion, you will have the same chances of seeing marine animals. If you are taking a camera and want to take a good photo, you will already know that daylight will help the clarity of the photos.
Other interesting activities in Tenerife
If you are in Tenerife it would be a mortal sin not to climb the Teide. The highest peak in Spain offers not only the best views of the island but also landscapes that seem to be taken from another planet. Whatever your spirit (there are more adventurous options and other more relaxed ones), you can read in my guide about which one suits you best.
If you feel like making the most of your time on the island to visit nearby paradises, La Gomera and El Hierro are two smaller but equally fascinating islands. I'll tell you everything you need to know to organize your visit to El Hierro and La Gomera.
And last but not least, if you feel like getting to know the marine fauna of the islands even more, you can join a kayak excursion near the sea turtles. Unforgettable!
Frequently asked questions
Is it easy to see dolphins or whales in Tenerife?

The waters surrounding the island of Tenerife are a worldwide reference for whale watching and migratory dolphins, so yes, it is relatively easy to see them in their environment, especially at certain times of the year.

What is the best time of the year to see whales or dolphins in Tenerife?

During the winter and spring, migratory whales and dolphins are very common in the waters south of Tenerife, specifically in the area that separates Tenerife from La Gomera.

Are whale watching expeditions respectful of their surroundings and the environment?

Yes, all the companies that operate are local and comply with all the regulations in this regard. In addition, there is an option in which you will be accompanied by marine biologists who will answer all your questions about these species.

Is it possible to do this whale and dolphin watching excursion with children, and is it dangerous?

Yes, it can be done with children and it is not dangerous at all. What's more, they will love to enjoy the sailing experience and they will learn a lot about marine life by watching these wonderful cetaceans.