Excursions to El Teide
The majestic peak of Teide is a must on a trip to Tenerife: with nearly four million visitors a year, I tell you what makes this place so special and how to prepare your excursion.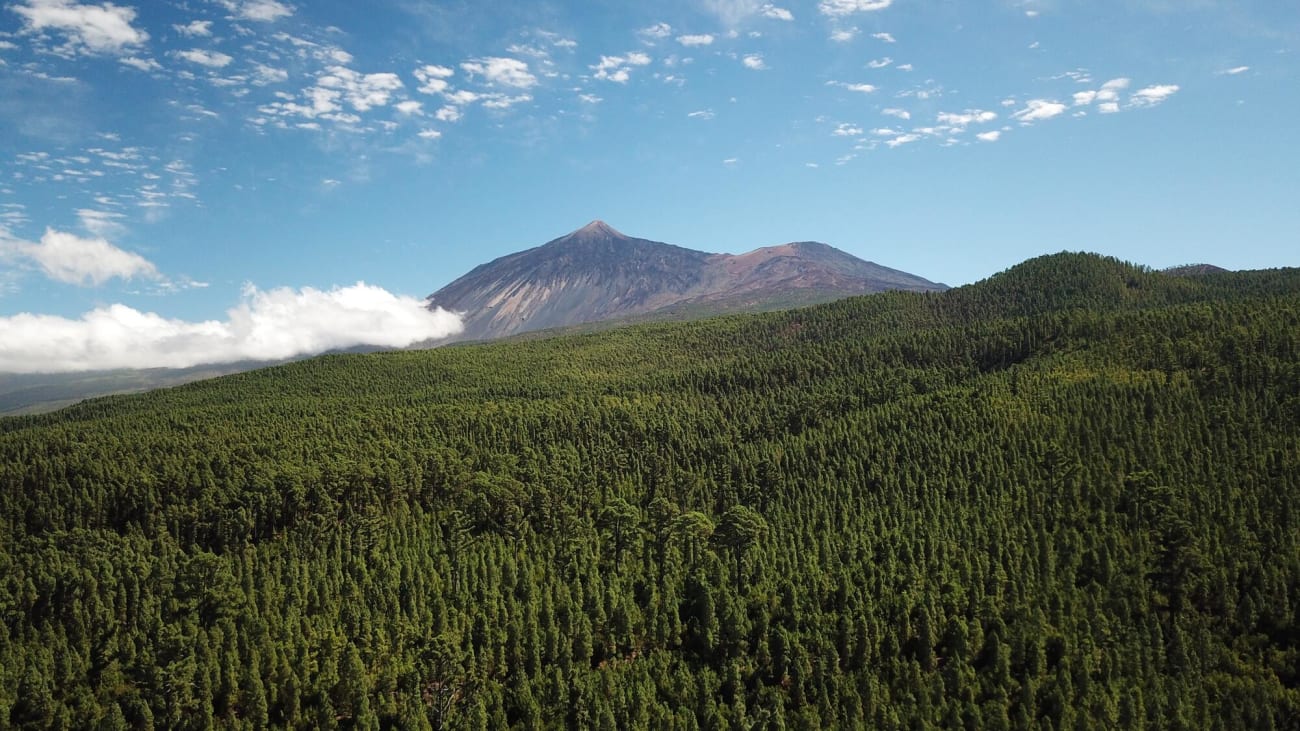 Teide is the crowning jewel of Tenerife and the main reason to visit the Canary Islands, so no trip to this magical place would be complete without an excursion to the imposing volcano that is the highest mountain in Spain.
In this guide I have selected the best excursions to Teide, where you will fall under the spell of the volcanic landscapes and the incredible views with which the journey will reward you.
1. Excursions to Teide
2. Half day excursion to Teide
On this half-day excursion to Teide you will discover with a local guide the extraterrestrial landscapes that surround the volcano and you will ascend to its summit on a route that will not fail to surprise you.
Itinerary
Your guide will pick you up at your hotel in a minivan and you will head to the Teide National Park through a mountain road between majestic pine forests, and as if it were a tunnel, will end abruptly and you will find the Teide in front of you under the infinite open sky.
You will begin the route discovering the impossible landscapes formed by lava and volcanic earth, through one of the most accessible and beautiful trails in the park, the Roques de García. There you will find these rock menhirs formed by the whim of nature that are immutable witnesses of all the beauty that surrounds them.
After seeing up close some of these natural megaliths such as 'La Catedral', 'El Dedo de Dios' or 'La Cascada', you will continue through a landscape of lava frozen in time where all kinds of native insects such as lizards, centipedes, dragonflies and praying mantises live among the broom.
The final ascent to the Teide volcano can be done on foot or by cable car to give you spectacular views above the clouds, among which you will see the horizon of the island extending to the sea.
Why I recommend this excursion
Visiting Teide on an organized excursion has several advantages, among which probably the most important is that you will not have to plan the route on your own. In addition, going with a guide will give you the peace of mind of knowing where you are going and that you won't miss anything interesting.
Another very important thing is that it guarantees you the transfer to and from your hotel, and saves you from having to ask for the necessary permit to climb Teide (which you would have to apply online if you wanted to climb without going on an organized tour).
Useful information
Group size: maximum 15 people
What's included: Round trip transportation from your hotel, professional guide, entrance to Teide National Park.
What NOT included: Cable car ticket to Teide (you will have to buy it in advance online)
Alex's Traveller Tip

There is a small hack to climb Teide without a permit: the access control is from 9am to 5pm, and outside these hours you don't need to present a permit to climb, although doing an excursion to Teide in the afternoon is not the most convenient. It is best to take an organized tour, as it includes the permit to climb to the top.
3. Complete Tour of Tenerife: Teide, Icod, Garachico and Masca
Tenerife is an island full of charming corners, volcanic landscapes, remote towns and villages with traditions that date back to the times of the Guanches, the aboriginal Canary Islanders. In this complete tour of the island of Tenerife you will discover a little of each in a beautiful journey.
Itinerary
After picking you up at your hotel, your guide will take you and the rest of the group to Vilaflor, a village at 2500 meters of altitude from where you will have vantage point views of the island. From there, you will head to Teide National Park, the jewel of the Canary Islands and one of the most important natural areas in Spain. You will climb the volcano and admire the peak of Teide, enjoying the incredible landscapes of the park on the way.
The excursion will continue to Icod de los Vinos, which as you can imagine is famous for its delicious malvasia wines, a sweet wine made from this type of grape. Icod is also known for the Drago Milenario, an ancient tree and cultural symbol of Tenerife.
Next, you will visit Garachico, a village that was destroyed by a volcanic eruption in the early eighteenth century, but was reborn from the ashes to become the charming place it is today. Its beautiful church and the Roque de Garachico, an islet at the entrance of the sea in front of the village, make this a visit to remember.
And then, at the end of the excursion, you will explore the area of Masca, a small and remote village surrounded by ravines and cliffs that used to be a place of refuge, rest and base of operations for pirates. On the way back, you will pass Santiago del Teide and the cliff of Los Gigantes before returning to your hotel.
Why I recommend this tour
This complete experience is perfect if you want to explore the island and get to know it beforehand and then go on your own to the area you liked the most to discover it in depth. It is best to do it in the first days of your trip to Tenerife.
Useful information
Duration: 7 to 8 hours
Price:

$ 58

.
Group size: 15 people
What's included: Private transportation, pick up and drop off at your hotel, professional guide, entrance fee to Teide National Park.
4. Half-day excursion to Teide in a small group
Visiting Teide in a small group, with a stop for lunch with typical dishes of the island and discovering all the secrets of the volcanic landscape as well as its fauna and flora is what this half-day excursion to Teide in a small group promises.
Itinerary
Departing from your hotel, you will set off for the volcanic and extraterrestrial landscapes of Teide. Taking into account the physical level of each member of the group, you will make an adapted route through the Teide National Park in which you will visit some of its most beautiful spots with your guide.
You will pass by the Parador del Teide, an old converted mountain refuge, to have lunch and a "barraquito", a coffee with liquor and condensed milk very typical of the Canary Islands.
In the afternoon, you will visit a botanical garden and information center to learn about the different geological features of the park, as well as the particularities of its fauna, flora and archaeological value. You can visit a volcanic tube inside and watch informative projections to learn about the origin of the places you have walked through on the route.
Why I recommend this excursion
This experience is perfect if you travel to Tenerife with children: the route will be adapted to them and they will be able to enjoy it without problems, and the visit to the visitor center will be quite entertaining, especially if they are interested in biology and geology. In addition, being in a small group, there will be no risk of the little ones getting overwhelmed in a sea of people.
Useful information
Duration: 6 hours
Price:

$ 218

.
Group size: maximum 6 people
What's included: Lunch, transportation to and from your hotel, hiking poles, entrance fee to Teide National Park.
5. Night excursion to Teide
To see the starry sky as you've never seen it before, on this sunset and stargazing excursion to Teide you will take an astronomical route where you will see shooting stars crossing the constellations in total darkness.
Itinerary
You will meet with the group at the entrance of the Teide National Park and accompanied by your professional guide and astronomy expert you will make a route with the last light of day to the observation site.
At nightfall, you will have taken a seat at an elevated point to observe the night sky in a privileged environment without distractions or obstacles, away from any kind of light pollution. With the sunset and in the middle of the mountain it will be quite cold even in summer, so I recommend you to bring, in addition to good shoes, warm clothes. You will also need something to eat and a bottle of water.
Why I recommend this excursion
It does not replace a route through the Teide National Park during the day, as you would miss all the beauty and majesty of its landscapes, but if you have already climbed the volcano it is a very unique experience that you will surely enjoy, especially as a couple.
Useful information
Duration: 6 hours 30 minutes
Price:

$ 83

.
6. Jeep excursion to Teide and Masca
A different experience full of adventure: this Jeep excursion to Teide will take you from your hotel to the summit of the volcano on a route between trails.
Itinerary
You will explore the Teide National Park aboard the 4x4, stopping occasionally to admire the volcanic landscapes and take pictures, while the expert guide in geology explains the origin of the rock formations that you will find.
In the Jeep, always with spectacular views of the majestic Teide, you will cross the park and drive along the winding road until you reach Masca, a mountain village at the top of a ravine where you will stop to eat a typical Canarian menu.
Why I recommend this excursion
If you are looking for comfort, this is not the experience for you as a Jeep trip is a bit rougher and bumpier than a minivan excursion. If on the other hand you are looking for adventure, don't miss this 4x4 route around Teide.
Useful information
Duration: 6 to 7 hours
Price:

$ 65

.
Group size: maximum 6 people
What's included: Pick up at your hotel and return, professional guide, entrance fee to Teide National Park.
What NOT included: Lunch (not included in the price)
Questions and answers about the Teide National Park
Here are a few things I wish I had known before my first trip to Tenerife, where I visited Teide on my own and discovered everything as I went along.
Is a ticket required to access the Teide National Park?
To get to the summit of Teide, the only way to do it is walking and for that you need a permit granted by the National Parks network to a maximum of 200 people per day. It depends on the time of the year, but normally at the time of asking for the permit there is none available for the following two or three months.
For this reason, I recommend organized excursions since, among other advantages, they save you the need to ask for this permit.
On the other hand, the permit is totally free and this is the only entrance you will need to climb Teide.
How does the Teide cable car work?
The most popular option to visit Teide is to go up by cable car from the Base Station. There is free parking there (for about 200 vehicles) and you can take the cable car, which in an amazing 8-minute ride with dizzying views will take you to the Top Station, at 3,555 meters above sea level.
The round-trip ticket for the cable car costs 37 € (round trip) or 21 € (one way) per person, and can only be purchased on the official website well in advance.
How do I walk up to Teide on my own?
There are several routes to climb Teide: route number 10, (called Telesforo Bravo), starts from the Cable Car Top Station and is about 40 minutes one way. It has a fairly steep slope and the difficulty is somewhat high, but it is the fastest way to reach the summit.
If you want to do a day hike, the best known route is number 7 (Montaña Blanca - Pico del Teide). It has an extension of 8.3km and takes about 5 hours to walk it, so not everyone can do it round trip in the same day. Therefore, something that might sound good to you is to sleep at the Altavista Refuge ( for this, you will have to book well in advance) and continue the route at dawn to see the sunrise from the Teide.