Paragliding flights in Tenerife
Become a bird for a day with wings in the form of a paraglider and fly over Tenerife: the ultimate experience to remember this trip forever.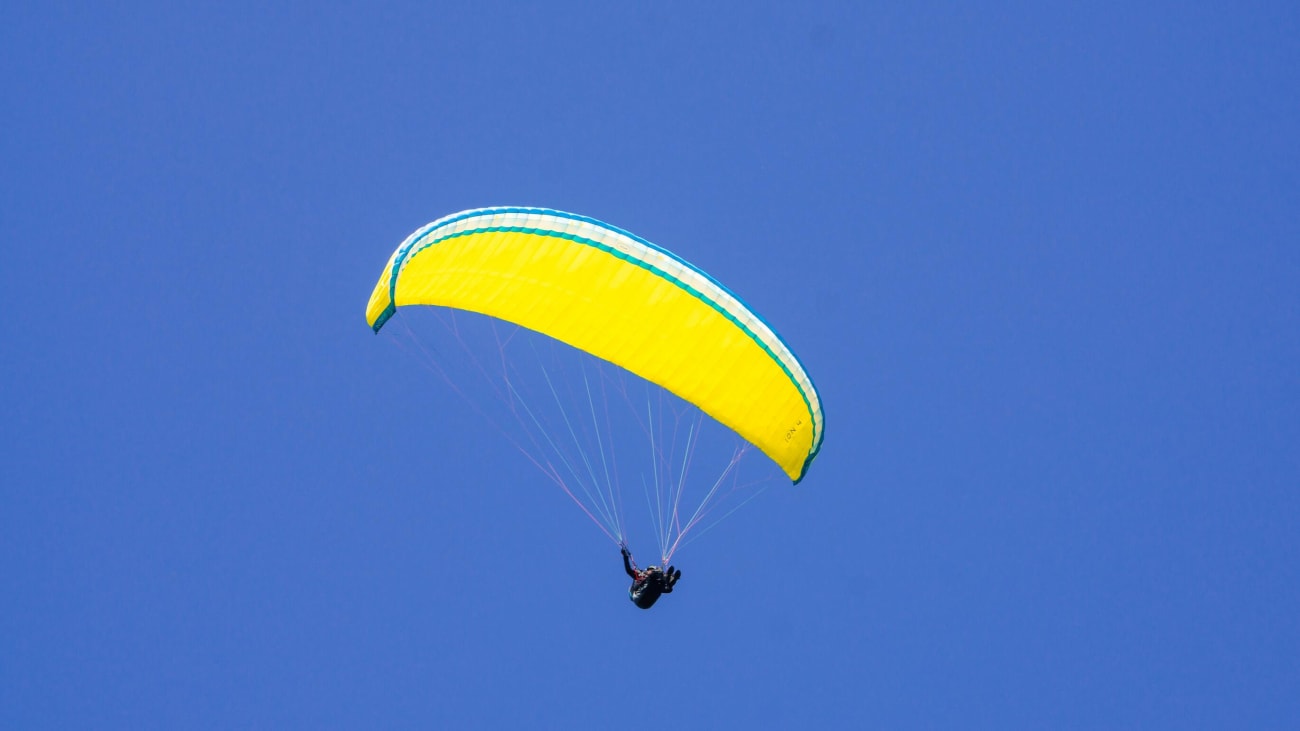 Tame the trade winds and become, for a few minutes, a bird: this is the incredible adventure you can live while flying over Tenerife in paragliding.
It is not only one of the most beautiful destinations to do this activity because of the unforgettable views, it is also one of the safest and most fun. Here you have a complete guide with the best paragliding flights in Tenerife and everything you need to know. It's your turn to jump!
1. The best options for a paragliding flight in Tenerife
2. Paragliding flight over Costa Adeje
See Tenerife from the sky and marvel at its beautiful landscapes, beaches, and cliffs: this is the unique experience offered by this paragliding flight over Costa Adeje.
What it consists of
After being picked up at your hotel, you will be taken to the take-off area and equipped with harness, helmet, and a GoPro camera to film your flight, and you will receive an instruction session on the process of take-off, flight and landing.
Together with your pilot, you will fly up to an altitude of 800 meters, secure your harness and, when you find the air current, you will jump in tandem with your pilot who will be in charge of navigating the winds at all times to prolong the flight as much as possible.
He will also guide you where to look so as not to miss the views, and explain how to handle the paraglider and you can even try to steer it yourself if you feel like it.
You will circle around Costa Adeje and land on the beach of La Caleta, and at that moment you will realize what an incredible experience you have just had.
Why I recommend this experience
This paragliding flight has everything you are looking for in an activity of this type if it is your first time: a very adequate duration, beautiful views of Tenerife, the possibility to record everything in GoPro and take the best possible souvenir of your trip, and above all a great feeling of safety and comfort.
Details about the flight
Duration: 1 hour 30 minutes (15 - 25 minutes flight)
Price: 106
Altitude: 800 m (2650 ft)
What's included: All paragliding equipment, taxes, insurance, hotel pick up and drop off, free cancellation (at least 24 hours in advance).
Alex's Traveller Tip

If this is your first time paragliding or you tend to get dizzy easily or suffer from vertigo, I recommend you to choose the shortest flight to ensure you enjoy this amazing experience.
3. Paragliding flight from Mount Teide to Puerto de la Cruz
This is the premium experience for paragliding in Tenerife. Mind-blowing views of Mount Teide, extended duration and a height of 2,200 meters from which you will be launched to glide through the air currents flying over the island. If that's not enough to convince you?
What it consists of
You will be picked up in Puerto de la Cruz, a town on the north coast of the island, and taken to the top of the Teide National Park on an excursion of about an hour, where you can enjoy the scenery that you will later see with bird's eyes.
Once you arrive at the take-off point, you will receive an instruction on all the steps of the experience and you will be provided with the necessary equipment: helmet, harness and, as in the other option, a GoPro camera to record this incredible adventure and be able to relive it whenever you want.
You will take off and in the company of your pilot you will jump out of the plane to enjoy incredible views of the Teide and the Orotava Valley, with Puerto de la Cruz and the immensity of the sea at your feet. The total duration of the flight is about 30 - 40 minutes, depending on wind and weather conditions. You will land back in Puerto de la Cruz at the end of the flight.
Why I recommend this experience
Compared to the other experience, the advantage of this flight is that the views are much better. The price is somewhat higher, but the extra minutes of flight will make it worth it (as long as you do not get dizzy easily, since in this case it is advisable to make a shorter paragliding flight).
Details about the flight
Duration: 1 hour 30 minutes (30 - 40 minutes flight)
Price:

$ 106

Height: 800 m (2650 ft)
What's included: All paragliding equipment, taxes, insurance, pick up and drop off in Puerto de la Cruz and return, free cancellation (at least 24 hours in advance).
4. Frequently asked questions and everything you need to know before paragliding in Tenerife
Whether it's your first time paragliding or you're a pro at it, here are a few things that are always good to know before a paragliding experience.
What is paragliding like?
When it comes to paragliding flights, there are several categories that are established according to CEN (EN) regulations. The paragliders used in the two experiences I have recommended are class A (bronze), which are the most suitable for the first times as they offer a very low difficulty of navigation at the same time as the highest level of safety.
This means that if you have flown paragliding before, perhaps the navigation experience will not be the most thrilling but, honestly, the views you will have of the landscapes of Tenerife are much more than enough.
And on the other hand, if it is your first time in this type of experience, you have the peace of mind of flying in a paraglider completely safe and adapted to increase control and reduce sudden wind movements.
Will I fly alone or accompanied by a pilot?
The two activities that I recommend are done with a pilot, that is, an expert in paragliding will be attached to your harness handling the wing, and will ensure that you have all the equipment correctly placed before jumping from the plane.
Much of the risk involved in paragliding comes from not knowing the weather and the area, and that is why the company that operates both activities, Airsports Tenerife, specializes in safety both for the experience and the care they devote to studying the weather patterns of the island.
Is it safe to paraglide?
It is necessary to have independent insurance taken out before paragliding, in case you need emergency medical evacuation on landing. The two activities I have recommended above include such insurance in the price.
Is there a risk of vertigo or dizziness?
One thing that can happen in paragliding is vertigo and dizziness, especially on longer flights. If you are prone to either, I recommend choosing the first option as it has a shorter duration and is the safest and most recommended if it is your first time.
On the other hand, the advantage of using class A gliders is that the wind movements will not be very abrupt and it is much more difficult to get dizzy.
What happens if the weather is bad?
Paragliding requires optimal weather conditions. If it rains or storms on the day of the experience, it will be cancelled and you will be refunded or contacted to see if it is possible to postpone it.
Not recommended if
If you have back problems, are pregnant or have a heart or respiratory condition, I recommend choosing another experience. There are plenty of awesome activities to enjoy in Tenerife, and you can read all about them in this guide:
5. What to bring to this experience
Sports shoes (will be very useful when landing)
Sunglasses (will help to reduce possible dizziness and you will enjoy the view on a very sunny day)
Hair ties (if you have long hair)
6. Other activities to make your trip to Tenerife unforgettable
An activity that complements super well to a paragliding flight over Tenerife is a whale, dolphin and other marine animal watching experience. For me, it is practically a must on any trip to the Canary Islands as it is one of the places in Europe where it is easiest to see cetaceans in their natural habitat, whatever the time of year. Keep reading here: Whale and Dolphin Watching in Tenerife.
You can also make an excursion to El Hierro (read my guide here: Best Day Trips to El Hierro from Tenerife) or to La Gomera (all the information here: Best Day Trips to La Gomera from Tenerife). Both islands offer a perfect day trip where you will discover the wild and rural side of the Canary Islands.
And finally, if you like to do activities that include a bit of physical activity, how does a kayak tour around Tenerife with snorkeling sound? You'll combine exploring sea caves by paddle with discovering the immensity of the island's marine fauna. Here's more information about Kayaking and Snorkeling With Turtles in Tenerife's best experiences.