Price of Dolphin and Whale Watching Tours in Tenerife
Planning to take advantage of your trip to Tenerife to see whales and dolphins in the wild and don't know what budget you need? I'll tell you how much the excursions cost and more.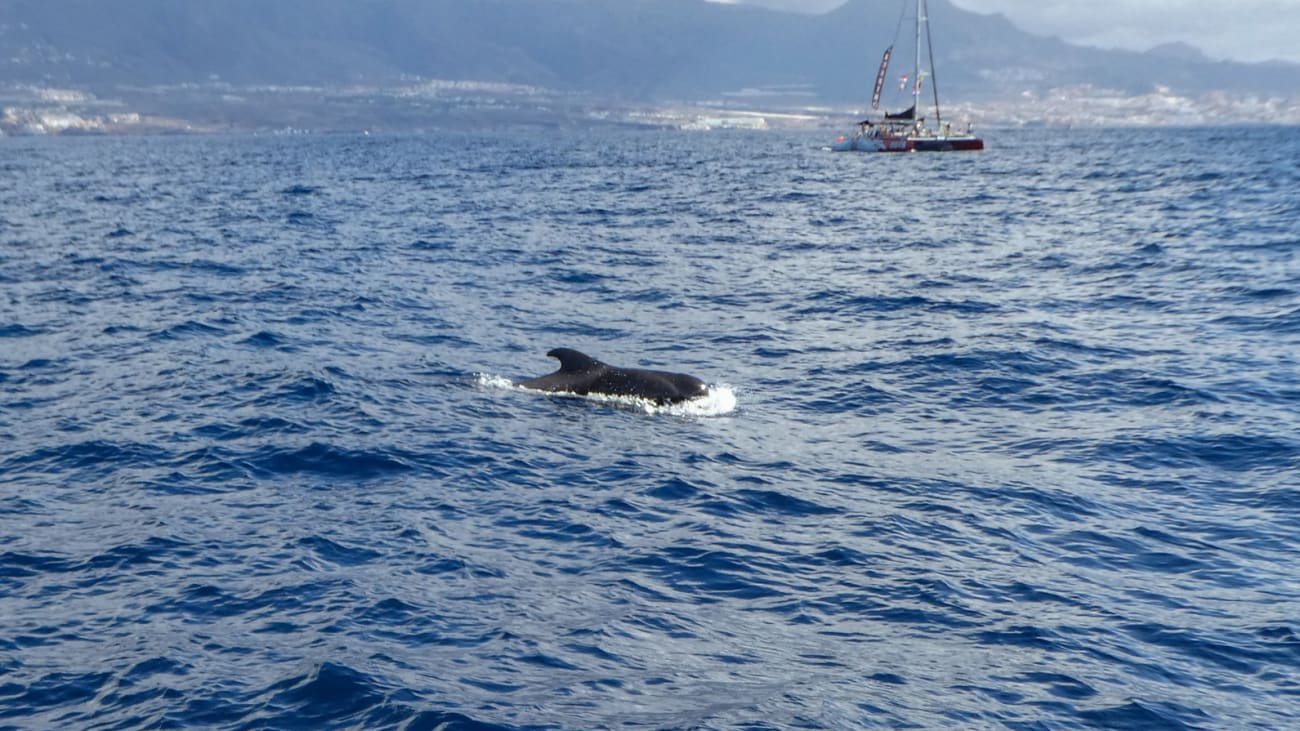 Going on a whale watching cruise in Tenerife is one of the most fun experiences you can have during a vacation on the island. But how much do these activities cost?
In this post you will find very useful information about the price of the tickets to join this excursion, don't miss it!
1. How much does a whale watching cruise in Tenerife cost?
There are several options at your disposal from 30 euros to choose a cruise to see whales and dolphins in Tenerife
depending on your interests, the time you have and your pocket.
If your dream is to see wild whales and dolphins, the island of Tenerife is one of the best places in the world to do it. As I said, to see whales in Tenerife there are multiple alternatives but when booking your place on one of these cruises you should first compare duration and availability of excursions, schedules or rates to choose the one that best suits you.
If you have a limited budget and little time
In case you travel to the island with a tight budget and limited time you can find cruises from 30 € with which you can sail a couple of hours in the Atlantic to contemplate these beautiful creatures and learn about them with a professional guide.
If money or time is not an impediment
However, if you have more free time and resources to invest in this plan during your trip to Tenerife, I advise you to opt for a longer cruise that in addition to seeing cetaceans in freedom allows you to snorkel to explore the seabed and includes something to snack on board the boat to recover energy after the swim.
This way you can do two of the most popular activities of the island in one sitting and even save some money. You can find options from 45 euros.
2. Cruise tickets are flying! Book them online and in advance
Book your tickets as soon as possible to go on a cruise where you can see wild cetaceans in freedom in the middle of the Atlantic.
These are very popular activities on the island (especially in high tourist season), so I recommend you to buy them online so you don't run out of them on the date you want to do the excursion. It's easy, fast and convenient!
In addition, in the event of any unforeseen circumstances, you can cancel the excursion free of charge at least 24 hours before the start date of the activity.
3. The cheapest option for whale watching, a 2 hour cruise in the waters of Tenerife
From approximately30 € you can join a 2-hour cruise through the waters of the island to see whales and dolphins from a beautiful schooner. Although you will sail with a large group, it is the ideal excursion if you do not want to miss this natural spectacle but your budget is tight and you do not have much time on the island.
You will depart from Puerto de los Cristianos, in the south of Tenerife, from where you will have a privileged view of Teide to take pictures. Then you will enter the Atlantic in search of dolphins, pilot whales, fin whales, turtles and all kinds of sea creatures that come your way.
So that you do not miss any detail during the cruise, the group will be accompanied by a professional guide who will help you to identify the animals that you will see and will tell you many curiosities about them so that you know them a little better.
Facts about this excursion
Duration 2 hours
Affordable price
Professional guide
Large group
Collaborate with Sea Shepherd, an ocean protection organization.
4. The intermediate option, a 3 hours cruise to see and hear whales in Tenerife
From approximately45 € you can join this 3-hour cruise to see cetaceans in the wild aboard a luxury catamaran. You will depart from Puerto Colon with a relatively small group and you will sail along the
Adeje Coast of Tenerife, in search of whales and dolphins with an expert guide who will tell you all about these amazing creatures.
Unlike other cruises, on this one you will not only be able to see the animals from the boat but also hear them communicating with a hydrophone - a fascinating experience!
This catamaran cruise is perfect for those who love the sea and have a little more free time to enjoy it in all its aspects: getting to know the marine fauna, having some snacks and sunbathing on the deck of the boat or taking a dip to practice snorkeling. There is time for everything and you will do several activities in one!
Facts about this excursion
Duration 3 hours
Reasonable price
Professional guide and hydrophone
Relatively small group
Lunch included
5. The premium option, a boat safari with marine biologists to see and hear whales
From 55 € approximately you can live an authentic adventure of 2 hours on the Costa Adeje in Tenerife with marine biologists aboard a motorboat to see cetaceans in their natural habitat.
The advantage of this
boat safari compared to other cruises is that it is a more intimate experience (for a maximum of 10 participants) which, by taking place on this type of boat, allows you to move quickly towards a group of cetaceans to see them up close and listen to them with the hydrophone that the boat has.
If you are especially interested in marine fauna and the conservation of the planet, this is your option because, although it costs a little more, it is conceived from a more didactic point of view. You will visit the area of the
Teno-Rasca Marine Reserve and you will learn a lot about marine ecosystems and their fauna from the biologists who will accompany you.
Facts about this excursion
Duration 2 hours
Reasonable price
Marine biologists and hydrophone
Small group
6. Is it possible to take a whale watching cruise for free or with discounts?
As for discounts or promotions on whale watching cruises in Tenerife, they do not exist as such but there are reduced rates on some tours for certain groups such as children or retirees.
Regarding babies, in some of these tours they can participate for free and you can go with strollers.
However, if you plan to do this plan with your family, before buying your tickets I advise you to look carefully at the details of the activity to avoid unexpected surprises in this regard after booking.
In summary, we compare the options
Below you will find a table where we compare at a glance all the above options. However, to learn more about how to enjoy this beautiful experience, I recommend you to read the post Whale and dolphin watching in Tenerife.
Economical whale watching cruise
Duration: 2 hours
Price: 30 euros approx.
Professional guide
No stop for snorkeling or lunch
Free cancellation
Catamaran cruise to see and listen to cetaceans
Duration: 3 hours
Price: 45 euros approx.
Professional guide
Snorkel stop and lunch
Relatively small group
Free cancellation
Sailing boat cruise
Duration: 3 hours
Price: 55 euros approx.
Professional guide
Snorkel stop and lunch
Small group
Free cancellation
Boat safari with marine biologists
Duration: 2 hours
Price: 55 euros approx.
Visit with marine biologists
No stop for snorkeling or lunch
Small group of maximum 10 people
Free cancellation