How to Get Around in Paris
Is your trip to Paris just around the corner? Surely you are already finalizing details and tours, so do not miss my tips to get around the city comfortably.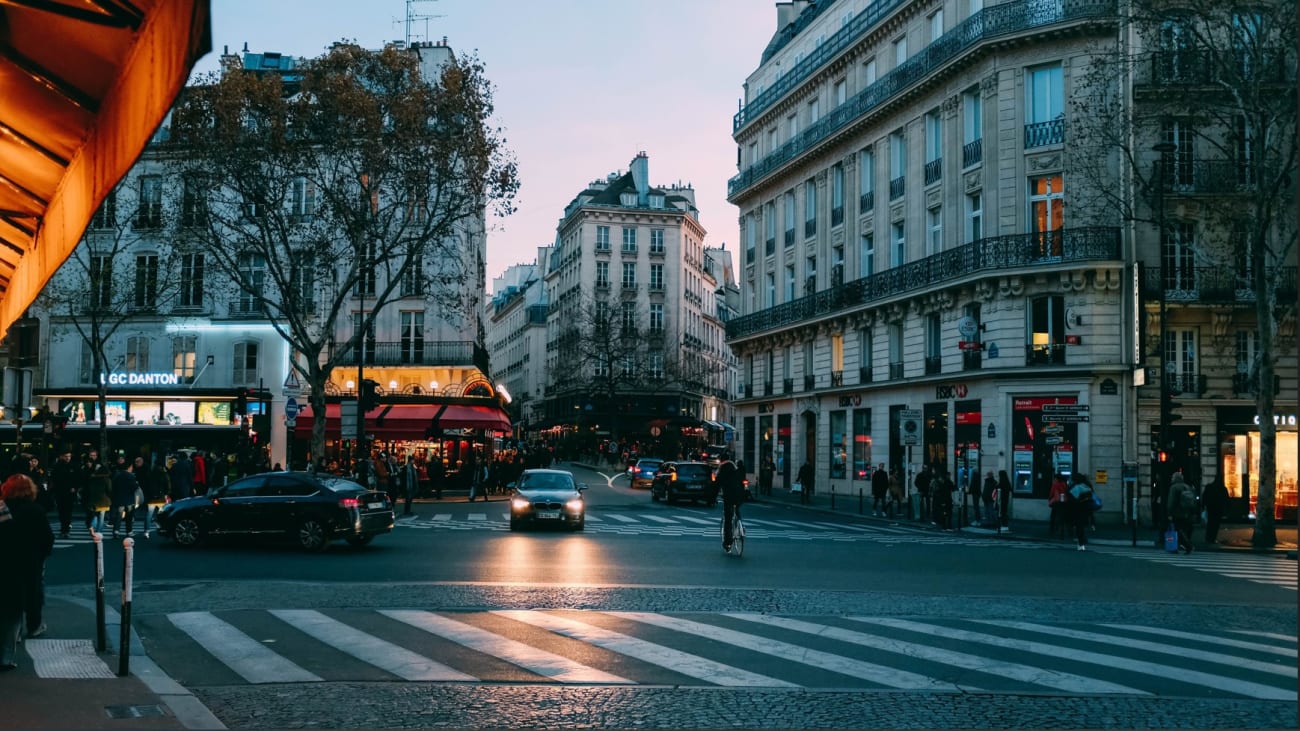 Paris is a city with many places to see and great things to do. Touring the whole city can be almost impossible, unless you find the right way to do it. Organized tours, customized tours, metro, bus... There are many alternatives and, before arriving in Paris, you will want to have considered them all.
As soon as you set foot on the ground in the French capital you will realize that there are metro stops, different buses, cabs and even alternative means of transport such as bicycles. Depending on how you want to get around Paris, the time you have or what you want to visit, I would like to recommend you one or another option, what do you think?
Touring Paris on an organized tour, the most comfortable and safest way to visit Paris
I'm not going to fool you, because I'm sure you already know this, but Paris is a huge city and getting around it can sometimes be complicated if you don't know which route is best or which is the best way to get from one point to another. That's why I always opt for an organized tour of Paris that organizes everything for me, so I can forget about maps, routes and directions and just have to be aware of seeing the city without fear of getting lost or being late to a place I want to enter.
Another advantage is that the tours usually include entrance fees to Paris landmarks, so you'll be able to secure your access at the specified time. In the end, there is nothing more annoying than arriving at a site after going halfway across the city only to be left without an entrance ticket or to have one and not arrive on time because you got lost.
In short, if you do not want to go crazy, rely on professional guides who, in addition to explaining everything you see, will make getting around Paris seem simple. In addition, depending on what you want to see or even what means of transport you want to use, you can book one type of tour or another.
Touring Paris on a walking tour
It is clear that walking is the best way to see more things, since you can make stops or get closer to the best museums in Paris or to the monuments of Paris that catch your attention. Of course, among so many streets and avenues you will probably end up getting lost, although if you have a specialized guide that will no longer be a problem.
Forget about taking detours and ending up exhausted before time because you have the wrong address, something very common in Paris, and book a personalized walking tour, so you can see exactly what you want to see and stop where you want to stop, without having to wait for a large group of people, which undoubtedly also hinders and delays any movement through Paris.
The truth is that touring Paris at your own pace, but with the confidence that a guide has designed the route especially for you, is a luxury, believe me. Just make sure that before you book you make a list of the places you want to go so that the guide can include them in the tour or tell you if the entrance fee is included or not.
Touring Paris with a guide on a bike
If you like to cycle to places, you have to try to see Paris on two wheels. Be careful, the traffic and the streets of Paris can be a bit chaotic, so my recommendation is that if you are going to tour Paris by bike you do it in the company of a guide and on an organized tour with a larger group of people. This way it is easier for other vehicles to see you and you will also have clearer maneuvers, turns, signs ... Better not to risk hesitation at a crossroads because you do not know where to go, don't you think?
Although it may seem dangerous, the bicycle is a good means of transport to move around Paris faster and get in less time to some places a little further from the center. If you are still worried about safety, you shouldn't be, because with an organized tour you will have a bike and a helmet in perfect condition and a guide who will be marking the route, so you just have to follow him without having to stop in the middle of the route to consult the map.
If you want to see as much of Paris as possible in one day, I highly recommend the bike tour, because it actually reaches more places than a walking tour. However, keep in mind that when you go by bike you don't make as many stops, so choose this tour if you want to make a general visit of Paris.
Get around Paris on a Segway
Want to go even faster from one place to another in Paris? You're in luck, because there are organized tours that go around the city on Segway, a fast means of transport and in which you do not have to make any effort beyond controlling the handlebars and follow the guide. No fatigue will be able to get the better of you and you will be able to contemplate Paris with your eyes wide open.
If you have never ridden a Segway before, you might be a bit apprehensive about doing it for the first time in Paris, especially if you don't know where you are allowed to ride, the speeds or even how to park. Don't worry about that, because on the tour there will be a responsible person who will answer your questions and guide you through the city on your Segway tour.
If you travel to Paris with little time, maybe staying only one day, the Segway tour is a good alternative, because you can move around the most important places of the French capital in a very short time, taking advantage of every minute to the maximum.
Tour Paris on a sightseeing bus
An option to move around Paris that I always consider is the Paris tourist bus. These vehicles travel practically all over Paris and you can hop on and off at the stops that interest you the most. It's a great way to make sure you visit everything but only spend time at the places that catch your attention.
If you are going to be in Paris for a couple of days, consider this option, because the ticket will be valid for both dates and you can use it as public transportation, moving around Paris only on this bus that makes stops at places like Notre Dame, the Eiffel Tower or the Moulin Rouge. When you get off, you can combine this bus tour with a walking tour.
In addition, the good thing about opting for this type of bus instead of a normal one is that they are prepared to see the city while you move around it, so they have two floors and one of them with an open roof, so you can see Paris with perspective.
Getting around Paris by subway and suburban train: the fastest way
In total there are 16 lines in the Paris metro that connect hundreds of points of the city, so you can imagine that this will always be a fast, comfortable and accessible alternative to move around Paris, as there are many stops and the frequency of passage is approximately 5 minutes. In addition, many of the metro stations are connected or also have RER (Parisian suburban train) stops, with which you can reach more distant places like Versailles.
When you start touring Paris you will realize that there are many metro stops and that they are open from 5:30 in the morning until 1:00 (on Saturdays and holidays until 2:00), so you can always take a metro to move around the city. Of course, to buy the ticket you must take into account the areas where you are going to move.
Paris is divided into 5 zones, being the first 3 the most central and economic ones and the ones you can easily reach by subway (approximately 2€ for a single ticket and 23€ for a voucher of 10). In these zones the RER behaves like a subway, so it is included in the ticket.
On the other hand zones 4 and 5 are further away and to go to them you need to take the RER suburban train, which is not included in the single ticket but is included in the île-de-France ticket. The price varies according to the distance you have to travel, but you can check it on the official website. Note that the RER opens at the same time as the metro (at 5:30 am) but closes at 00:00 am, so keep an eye on the hours if you need to go back to the center by RER.
If you are going to be in Paris for a week or more and you are going to move around by metro or train, my advice is to get a Navigo transport pass, which allows you to move around all the areas you choose freely, without having to be aware that you have run out of single tickets. If you are not going to stay so long, you always have the option of getting a Paris Visite Card, which is designed especially for tourists who want to travel by metro in Paris during the days they visit the city.
These passes are good alternatives, but I would also like to recommend Paris Pass, a card that not only allows you to take public transport in Paris, but also includes priority access to many tourist attractions in the city.
Getting around Paris by bus
Although the metro is faster, the bus is more charming, as you can see the outside of Paris while moving around the city. In fact, this means of transport is also one of the most common for Parisians, as it has 59 routes and its price is quite cheap (2 € approximately). However, don't forget that buses are not so punctual, they run every 15-20 minutes more or less and are available for less time (from 7:30 am to 8:30 pm).
The lines you will use the most if you want to move around the center of Paris are the ones that go from 20 to 99, since the later ones circulate around the periphery. In any case, you can check the available routes on the official map.
Buying the ticket is very easy in the vending machines of any station or point of sale, although you can also take it when you get on the bus. However, if you do it this way it will be a bit more expensive and will not allow you to transfer to other means such as the metro or train. To save more money you can always buy a pass like the Navigo or the Paris Visite.
Even if during the day you prefer not to use the bus, if you want to enjoy the nightlife of Paris and move around the city at night you will need to take one of the 42 Noctilien buses (identified with an N) that run in Paris from 00:30h to 5:30h and in which you can use the same ticket.
Getting around Paris by cab
I'm not going to fool you, the Parisian cab is not the cheapest means of transport to move around the city (approximately 1,06€ per kilometer), but it is still a good option, especially if you don't want to worry about finding the metro or bus stops or you prefer a professional driver to pick you up and drop you off exactly where you want. It is also a very safe option, especially if you have to move around at night, although the fare is a bit higher.
If you have just arrived at one of the Paris airports and you want to go to the center, it is easy to recognize an official cab because they are the ones that are at the specific cab rank. If you are already in the city center, only trust the ones with the luminous sign.
Getting around Paris by bike: a sustainable option
What could be more idyllic than cycling around places like the Eiffel Tower or the Place Vendome? I don't think so, that's why when I go to Paris I always rent a bike some of the days. It's a quick way to see the city without missing anything. Plus, it doesn't contribute to Parisian pollution and it's quite economical, as the city itself has bikes for rent (the famous Vélib) for about 5€ every 24 hours.
Beyond the sustainability of the bicycle, it is a very accessible means of transport, as there are many stations to park them (you can check the official ones here) and also many bike lanes, so you will have the security of being able to get to all the places you want without having to mix too much with cars.
Getting around Paris by car: the more expensive alternative
If you want to tour Paris by car, you should know that traffic can be overwhelming, especially if you are not used to driving in big cities. Central areas such as the Arc de Triomphe, where the traffic circle seems impossible, but if you are going to take advantage of your trip to Paris to make an excursion to the surroundings of Paris and you have rented a car, you can also use it in the center to always have a vehicle available to your needs.
If you are an EU citizen, your national driver's license is enough to rent and drive a car in Paris or anywhere else in France. However, don't forget to take a look at the official regulations so you don't come back from your trip with a fine. In general, the rules are the same as in other European countries (driving on the right, wearing a seat belt and respecting the rules and road signs).
Beyond the traffic jams and traffic in Paris, the tricky part of getting around by car is parking, because it is always expensive. For example, parking on the street is only possible for 2 hours maximum and costs between 2,40€ and 4€ approximately (every day from 9:00h to 20:00h except on holidays and Sundays in some streets).
If you want to opt for a safer option, there are always the subway parking lots, open and guarded 24 hours a day. Of course, the rates vary from neighborhood to neighborhood and cost around 2.50€ per hour. If you know that you are going to move around Paris by car and you will need parking, you can get a pass for several days.
Other fun ways to get to know the city
But in addition to the usual transportation that I have been telling you about in this article, there are other tour options that allow you to see Paris without giving up the fun. With the classic car tour with driver you can tour the main Parisian streets in an authentic French classic car. For the more lively, there is also the option with wine tasting.
Rediscover Paris from a different perspective with the private sidecar tour of Paris and its wide range of tours. Or maybe you feel like something a little quieter and eco-friendly like the tuk tuk rides around Paris
Walking around Paris: only if you are going to move around a single neighborhood
Walking while seeing some of the most famous and special places in the world is a pleasure, I will not deny it, but you have to understand that Paris is a city with many neighborhoods and tourist centers. To move around it walking is a fun, cheap and charming alternative, yes, but you will lose a lot of time going from one point to another. What you can do is to move to a specific neighborhood and, once there, move around it to visit the most emblematic.
Isn't it advisable to walk around Paris? Quite the opposite! It is a very close way to get to know the city, but my advice is to go to a specific neighborhood quickly and, once there, move around on foot. For example, going from the Eiffel Tower to Montmartre will take you more than an hour and when you arrive you will be exhausted and without energy to walk through its streets full of artists. It is much better to get to Montmartre by metro and walk there.
Have you already decided how to get around Paris? As you can see, there are several options and some of them can be combined with each other, so I have no doubt that you will be able to see everything you want on your trip.