Things to Do in Montmartre
If you go to Paris, you must take the time to visit Montmartre, the bohemian district. You will breathe art in every corner.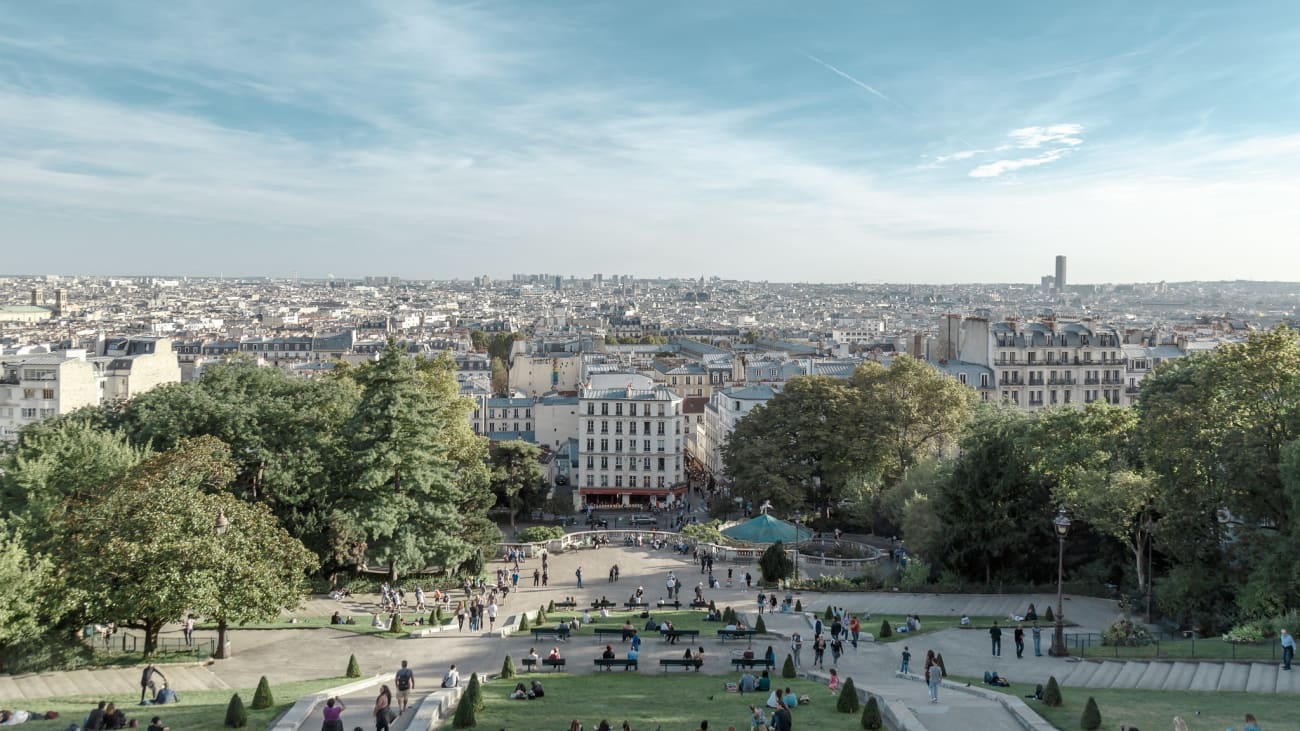 Visiting this neighborhood is one of the best things to do on your trip to Paris. It still maintains its traditional charm since the 19th century, which makes it authentic and unique. The cradle of Parisian art makes you breathe life and joy in every corner.
Montmartre is not a very big place, but it has many activities and emblematic sites to see in just one day. In this article you will learn everything you need to see and visit to know Montmartre to the fullest.
1. Moulin Rouge
One of the icons par excellence of Montmartre. The most famous Parisian cabaret was built in 1889. A mythical place to spend the Parisian night. You will find it on the outskirts of Montmartre, in the Red Light district (Pigalle).
I advise you to dedicate an evening to see their incredible Moulin Rouge show of about two hours, watching the famous Doriss Girls in a display of the best original music and their incredible costumes of feathers and sequins. You will see the authentic cancan!
If you plan to go to the Moulin Rouge you should know that you can go just to see the show or you have the option of dinner plus show. In addition, I recommend that you book in advance, because despite having two daily passes (at 21h and 23h, the latter only on Fridays and Saturdays until the end of March), tickets are sold out very quickly to be a place so busy and well known.
Please note that this show contains partial nudity of the body in several moments of the show, so it is not recommended for all audiences. As for the price of the Moulin Rouge Tickets: how to buy and pricesThe price to enter just to see the show, the price is around 100 euros approximately. If you also want to go to dinner, it will be around 200 € (with several menus to choose from. The menu consists of 3 courses).
2. Café des Deux Moulins
Possibly the name does not ring a bell, but this is the well-known cafe that appears in the movie Amèlie, where the protagonist works. A café so well known that it is now an almost obligatory stop for all visitors to Montmartre.
You will find it between Rue Lepic and Rue Cauchois. It takes the name of Café des Deux Moulins, as it is located between the two most emblematic mills of Paris: the Moulin Rouge and the Moulin de la Galette. Visit its official website here
Upon arrival, you will already be surprised by the colors on the exterior facade, all passion red. Besides indicating from the outside all the advertising that mentions the movie Amèlie. Once inside, you will be able to recognize all the scenery with photos of the protagonist, very present in the decoration of the place.
In this bar you can only have a drink, as well as taste the most traditional bistro dishes of Paris. It is open from Monday to Sunday (Monday to Thursday from 7 am to 2 pm. Friday, Saturday and Sunday from 9am to 2 pm).
3. Bateau-Lavoir
As you know, Montmartre was and still is the Parisian cradle of artists, the neighborhood where many well-known painters lived, among others. Bateau-Lavoir is known for having been the meeting place and residence of many of these artists, including Picasso.
You will find it located in the Place Emile Goudeau. Although you have the option of hiring a guided tour, I do not recommend it, as there is not so much to see. All the useful information about the place, you will find it in the showcase.
As a curiosity, you should know that this place burned down in a fire and years later was rebuilt.It is still considered a historical monument in Paris and, although it is not a place to spend much time in your visit to Montmartre, if you are an admirer of Picasso or Van Gogh, you can go to admire the facade and the store that inhabits inside.
4. Place du Tertre
Known as the painters' square, it is one of the busiest places in Montmartre. You will find it within walking distance of the Sacre Coeur. This square is full of painters and artists selling their works. In addition, you can get a portrait right there, if you wish, as there are plenty of artists ready to draw you at any time.
This square is also surrounded by Parisian cafes and creperies, so you can stop for a snack at any time of the day. In addition, Souvenirs abound and you should know that it is the cheapest place in Paris, if you want to take a souvenir of your trip.
In this square you will find, no more and no less than about 300 artists exhibiting their works daily, that makes it a place with a lot of influx of people, but I recommend you go, as it is a place declared as a historic district. Do not miss it!
5. Sacré Coeur (Sacré Coeur Basilica)
The Sacré Coeur Basilica is one of the most representative monuments of Paris. Located at the top of Montmartre at 130 meters of altitudofferspanoramic views from the heights of the French capital. Built in the 19th century, this place of worship is dedicated to the heart of Christ.
You can access it on foot, up the stairs of Square Louise Michel or by funicular from the Place Saint Pierre. The basilica offers the possibility to climb up to the dome to discover the best views of the capital. Also if you wish, for a supplement you can enter to see the crypt.
You can enter the Sacré Coeur basilica for free. You only have to pay to go up to the dome or down to the crypt. The price is around 7€. And you can go every day of the week from 6:00 am to 22:30 pm.
6. Saint Pierre de Montmartre Church
This medieval church, unlike the Sacre Coeur, is a haven of peace without tourist crowds. It is one of the oldest churches in Paris. You will find it on Rue du Mont-Cenis. It is considered a UNESCO world heritage site because of its great history.
Built in the 12th century no less, and although it is the least known, it was the prestigious church of the abbey of Montmartre. It was totally destroyed during the French Revolution and was not restored until the 14th century. It is a monument worth seeing, because of all the history it comprises. Its interior and exterior beauty, does not leave indifferent.
You will find it open to visit from Tuesday to Sunday from 9 to 12h and from 15h to 18h. If you are interested in knowing all the Parisian history, I recommend you to go, you will not be disappointed!
7. Café Le Consulat
You can also stop for lunch at the Café Le Consulat. A well-known café in Montmartre that also includes a lot of history. In this cafe, during the 19th century, artists such as Van Gogh, Picasso or Monet among others, sat down to eat in this delicious bar-restaurant.
You will find it located just around the corner from the Sacre Coeur basilica. Located on Rue Norvins and open for decades, it is a well known place in the neighborhood due to the history that precedes it. Despite all the changes made in the district, this cafe has remained open during all its changes, making it a must-visit place in Montmartre.
This place is also characteristic for maintaining its essence so well since its opening, thus keeping its charm. Sit down to eat their delicious omelettes, meats or just drink a delicious coffee while looking at the surrounding views.
8. Mur des Je t'aime (I love you wall)
The Mur des Je t'aime is a monument dedicated to love. You will find it in the place des Abbesses. This work by Frédéric Baron and Claire Kito, is another monument that you have to see during your visit to Montmartre. You can't miss a visit to the "I love you" wall in the city of love!
This wall is built on 40 square meters covering no more and no less than 600 tiles on which are written 311 "I love you" in 250 languages. Amazing, isn't it?
You can stroll through the park where it is located and walk around or just sit and look at the mural. You'll need time to find the language you're looking for... but it's fun!
Access to the park and the Mur des Je t'aime is free and free of charge. You can go whenever you want and spend as much time there as you want.
9. Montmartre Museum
Although few tourists are encouraged to visit it, I think it is a must if you go to Montmartre. This museum collects the tradition and culture of the neighborhood, but it is also located next to the beauty of the beautiful Renoir gardens.
This museum was founded in 1960 and is spread over two buildings: the Hotel Dêmarne and the Bel Air House. At the time, this museum was the home of many internationally renowned artists such as Renoir. It remained closed for many years, but in 2011 it reopened its doors to the public again.
In the Montmartre museum there are numerous paintings, drawings or posters of many of the artists who passed through Montmartre, such as Lautrec, Modigliani or Utrillo, with whom we know most of the history of the neighborhood. In this museum, there is also an exclusive room dedicated to the explanation and dedication of the world of the can-can.
In addition to the permanent exhibition of the museum, you will usually find a temporary exhibition that deals with the cultural life of the neighborhood, to further deepen the culture and knowledge of the area. I also recommend that you get the Paris Pass to access numerous museums and the best attractions in Paris.
Renoir Gardens
The museum is surrounded by the divine Renoir Gardens, one of the most beautiful and romantic corners of Paris, where the only remaining vineyards in the city are located and can be seen: the vineyards of Clos Montmartre.
Be sure to visit this museum. Although Paris has much larger and historical museums, this museum is very little frequented by tourists and is one of the most beautiful in the capital, it will not take you too long and you will also take a beautiful walk through the gardens.
You will find it open from Monday to Sunday from 10 am to 6 pm (in high season from 10 am to 7 pm). The entrance fee is around 10 € for adults and children under 10 years enter for free.
10. Visit the Dali Paris
This museum of Dalí, represents a permanent exhibition of the best works of this master of surrealism. You will be able to contemplate more than 300 works of the artist, highlighting some three-dimensional sculptures of the author's most famous images, which speak of the painter's philosophy and deep-rooted beliefs. You will find some limited and authentic pieces. More than 600 meters dedicated to the artist. You will find the museum at 11 Rue Poulbot.
In addition, you will find workshops for the youngest members of the family, always related to the content of the exhibition. During the tour, you can admire all the facets of the artist, where you could see the scientific, literary, philosophical, theological and artistic influences.
Although the museum is for all audiences and both adults and children will be engrossed with his works, it is possible that not all of them will please everyone. If you are an admirer of Salvador Dalí's work or simply want to learn more about his history, don't miss this museum - you won't be disappointed!
You can visit the museum every day of the week from 10 am to 6 pm. The entrance fee is around 13€ for adults and children under 8 years old can enter for free.
Discover Montmartre on the Petit train of Montmartre
Maybe you feel like visiting all the places mentioned during the post on foot, but maybe you feel like a different experience and, if you wish, you have the option to visit Montmartre by taking a route on the Petit train de Montmartre.
In this train you will immerse yourself in the history and culture of this famous neighborhood on a guided tour. You will discover the best legends of the most bohemian and artistic district of the city.
This train departs from two different squares and the tour takes place in two stages: The first one from Place Blanche to Place du Tertre (15 minutes) and the next one, the other way around from Place du Tertre to Place Blanche (30 minutes). You can choose from which one you want to leave first and take your time to catch the next one, as you can come back at any time you wish.
You will see emblematic sites such as the Moulin Rouge, the Saint Vincent cemetery, the Sacre Coeur basilica, the Saint Pierre market, Montmartre Museum... among others.
Departure times are:
January: Saturdays and Sundays from 10 am to 6 pm with departures every 30 minutes.
February: Monday to Sunday from 10h to 18h with departures every 30 minutes.
March: Monday to Friday from 10h to 18h with departures every hour and Saturdays and Sundays from 10h to 18h with departures every 30 minutes.
April to September: From 10h to 19h every 30 minutes. July and August from 10h to 22h.
From October to December: From 10h to 17h. Monday to Friday departures every hour, weekends departures every 30 minutes.
The price of the Petit train de Montmartre is about 6€ per person, approximately.
Take a walking tour of Montmartre
If you feel like visiting Montmartre, but you prefer to be taken on a fixed shot, you can always choose a guided tour from Paris. A programmed tour in which you can forget about everything and you will be taken to the best places of Montmartre. Places not to be missed. A tour of about two hours with a local guide with a lot of experience that will make you feel like you know everything.
I hope this guide has helped you to decide which are the places you should not miss on your visit to Montmartre, enjoy the bohemian neighborhood!