12 Best Things To Do in Prague
Are you ready to take a real trip back in time? The capital of beauty awaits you and here are the tips and must-see places you can't miss during your visit to Prague.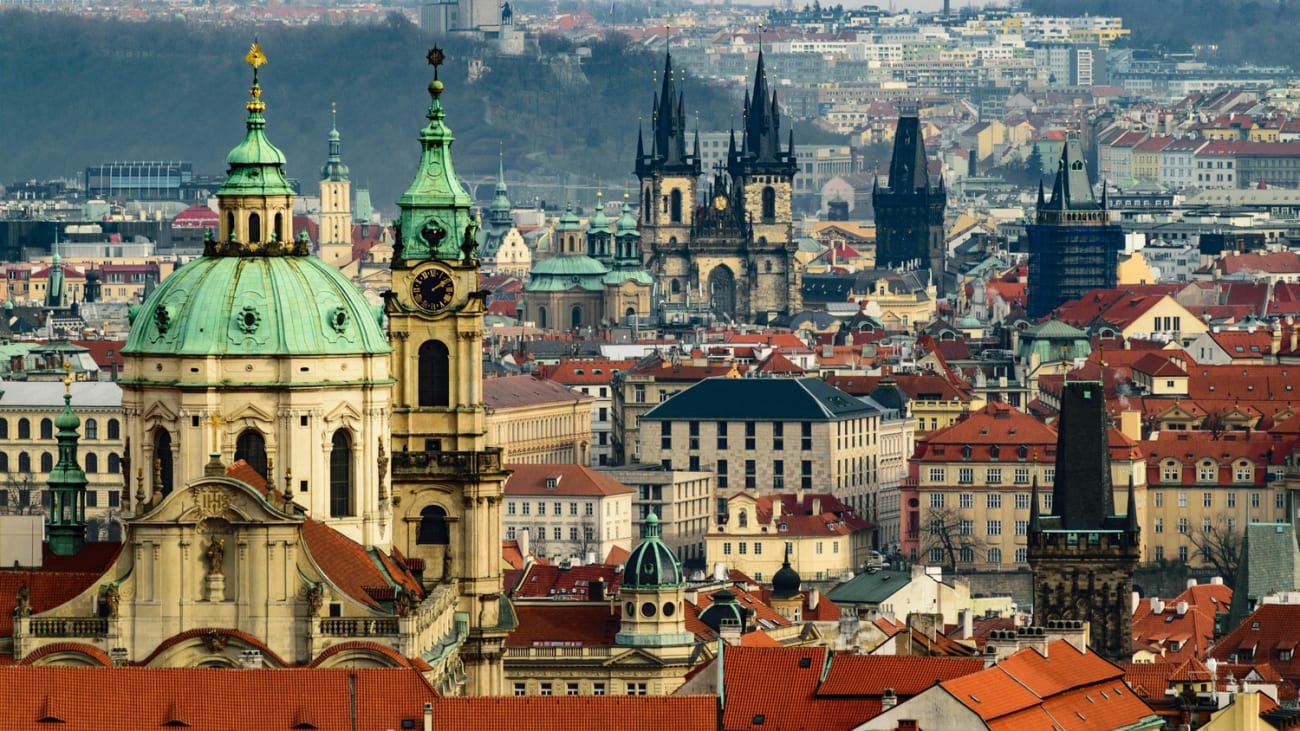 Prague is one of the most spectacular cities in Europe, and in my opinion its beauty deserves to be visited at least once in a lifetime. Its aesthetics will transport you to medieval times, its impressive buildings will leave you with your mouth open and its gastronomy will make your mouth water with flavors of the Old Continent. Here are 10 things to see and do on your trip to Prague.
1. Stroll through the Old Square, home of the astronomical clock
Prague's central square is an architectural gem, and it's so well-preserved that it's even surprising to learn that it survived World War II with only a few flaws.
You will always find it full of tourists, especially during the high tourist season and the Christmas season in Prague, and although its astronomical clock is a slightly overrated tourist attraction, be sure to take a stroll through this wonderful square and its surroundings.
2. Enter the Prague Castle, a monument to the passage of time
Prague Castle is definitely worth buying tickets for. This is one of the largest in the world, and undoubtedly the main point of interest of the city. Located on top of a hill overlooking the Vltava River, the castle encloses behind its walls an impressive collection of buildings that have been built over time. My recommendation is to visit Prague Castle with a guided tour, because the experience is never the same as when someone gives you all the historical details of the monument. If you go to Prague with children, be sure that this will be a plan that they will love.
Its two-towered church, St. Vitus Cathedral, is a marvel; the Golden Alley is a small alley with lots of charm; and the Royal Palace is a time machine made into a building. There is much to see around Prague Castle. The park surrounding the castle is a very beautiful landscape and one of the best places to take a stroll on a sunny day in Prague. Oh, and the sunset from the top of the castle is amazing. Also near the Prague Castle you have some interesting places to eat after your visit.
As for your visit, here I leave both the schedules of the castle complex and the prices of tickets to Prague Castle. Finally, here you have all the information about how to get to Prague Castle.
3. Marvel at the view of the Vltava River from the Letná Park
Petrin Hill is one of the most beautiful parks in Prague, hands down. Petřín Hill is the highest hill in Prague, from there you will have one of the best views of Prague, but climbing it can be quite a hike so make sure you go with comfortable shoes. In case you don't feel like walking, you can take the funicular by purchasing a general public transport ticket.
4. Visit the spa town of Karlovy Vary
Unique architecture, thermal spas and a very peaceful atmosphere. If these three things sound good to you, you'll love visiting Karlovy Vary. About a two-hour drive from Prague, the best way to get to Karlovy Vary is to book an excursion to Karlovy Vary from Prague. This is one of the most popular excursions from the Czech capital and its main tourist attraction are its thermal waters with healing properties and the clean air you can breathe walking through its charming streets. Take note of everything you have to see if you go to Karlovy Vary and enjoy your visit.
5. Cross the Charles Bridge, a Gothic wonderland
Whether it's for its views of the Vltava River, the breathtaking sky from the bridge, or the beautiful walk across the Charles Bridge, it's a must-see experience for any first-time visitor to Prague.
In fact, you're sure to cross its gigantic bridge more than once during your visit to the Czech city, as it connects the Old Town with Malá Strana and is one of the central points from which to reach Prague's main sights.
6. Kutná Hora, home of the Sedlec Ossuary
One of the most popular excursions from Prague is a visit to the famous Sedlec Ossuary, located in the town of Kutná Hora. It is a chapel decorated from top to bottom with human bones, a Gothic wonder and certainly an attraction for people who love curiosities.
Kutná Hora is located 80 km from the capital of the Czech Republic and I recommend that you do not miss its historic center during your visit, as it has been declared a World Heritage Site for its architectural interest.
7. Take a cruise on the Vltava, an alternative tour of the city
To see the city from a different point of view, I recommend a cruise on the Vltava River. You have several options, from a sightseeing cruise that takes you along the river and the canals of the city with an aperitif, to a romantic evening cruise with gourmet dinner on the Vltava River which is one of the many things to do in Prague at night.
8. The Jewish Quarter, one of the best preserved in Europe
The Jewish Quarter of Prague, also known as Josefov, is one of the most popular tourist attractions in the city, and one of the tours of Prague that I recommend you do without forgetting to visit the Jewish cemetery in Prague.
It is located between the Old Town Square and the Vltava River, and its architecture is beautiful and historically interesting in equal parts. In the 13th century, the Jewish communities were expelled from the city and forced to live in this neighborhood, and over the centuries it welcomed more and more Jewish people. It would not be until the 18th century when Emperor Josef II would open the ghetto and allow Jewish people to reside in any neighborhood of Prague.
9. Terezín concentration camp, a stain on history
Taking an excursion to the Terezín concentration camp from Prague will allow you to get to Tezerín from Prague without worrying about transportation or schedules, but the best thing is that many excursions include a tour of the Tezerín concentration camp in English. In this visit you can tour the interiors of this 18th century fortress converted into prisons and barracks for the Jewish population of Germany. You can visit the museum that exists today, the crematorium, and the cemetery and see firsthand the living conditions that the Jewish people had in this place.
10. Visit Konopiste Castle, a medieval Bohemian fortress
Konopiste Castle is a popular excursion for people traveling to Prague for its historical interest, as its last owner was Archduke Franz Ferdinand of Austria, whose famous assassination was the trigger for the First World War.
Today, Konopiste Castle is a protected monument of the Czech Republic whose galleries house impressive collections of weaponry, tapestries and works of art.
The best part is that the castle is just over 40 minutes from Prague on a road trip, and on the way you can admire the beautiful views of the Bohemian region. Once at Konopiste Castle, you can tour the fortress inside and out and admire its wonderful gardens.
11. Take a trip to nearby towns
You've probably already heard about the Prague-Vienna-Budapest circuit. These three European cities are so close that visiting them in a single trip is a very popular option. Prague is an ideal place to start this circuit, but if you don't want to do it all in one trip, don't worry; you can get to Budapest from Prague without passing through Vienna and you can also go to Vienna from Prague without including Budapest in your route.
Of course, these are not the only excursions you can do from Prague. Another popular one is a visit to Dresden from Prague and if you explore about excursions around Prague you will find even more options.
12. Taste Czech gastronomy
Leaving a city without trying its most typical dishes should be a crime. If you have been wondering what to eat in Prague, Czech gastronomy not only has a lot to offer, but also has more than affordable prices. Get a list of the best places to eat in Prague and don't forget (of course) the beer. Some of the best breweries in Prague are also among the best in Europe.
Extra information to plan your trip to Prague
Last but not least, I will leave you some tips for planning your trip to Prague. The most important, from my point of view, is to choose the right time to visit the Czech capital because in Prague in winter the cold can be an impediment that prevents you from enjoying your trip to the fullest. In any case, both in winter and summer in Prague you will have things to discover in this city.
Prague in the most visited months of the year
The beauty of Prague means that you will find tourists in the city all year round. Also, being a big city, most months of the year you have many activities to choose from besides the typical sightseeing tours. Here are articles about the best months to travel to Prague that will tell you what you can do in each one:
How long to stay in Prague
Time is something very valuable when you are on a trip and that's why you have to make the most of it. In my opinion, the minimum number of days you need to see Prague is 3, but if you are going to stay less days you can save travel time by planning your itinerary in detail and organizing the transfers from the airport to the center of Prague in an optimal way. In any case, here are some itineraries by days: