Vltava River Cruises in Prague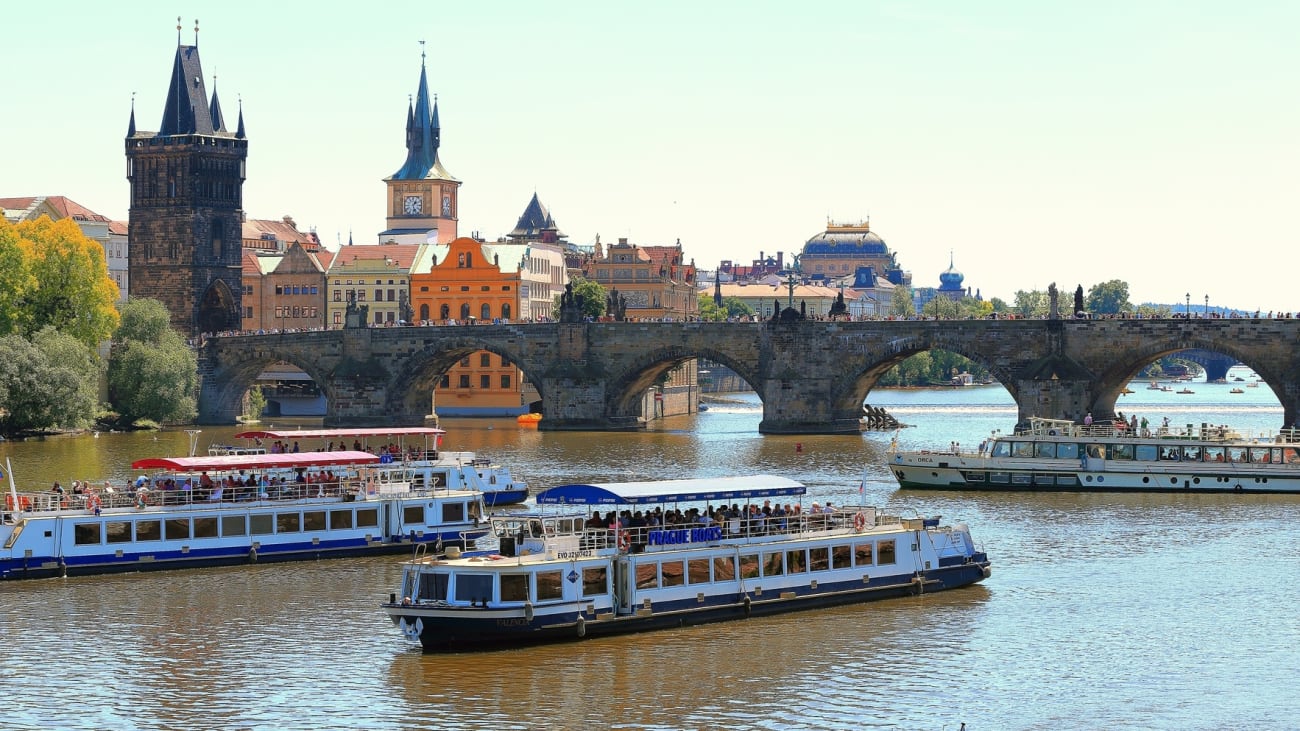 Prague is probably one of the most beautiful cities in Europe. This is due, in large part, to the Vltava River that runs through it and over which stands the famous Charles Bridge. Taking a boat ride on the river and canals is one of the delights this city has in store.
1. The best boat trips in Prague
:
You can take a boat tour in Prague during the day or at night, choose a tour more focused on the tourist experience or on the gastronomic experience. Here are the ones that for me, are the best:
2. Tour of Prague and river cruise with buffet
This is the most popular tour as it is the most complete experience, including a walking tour of Prague's highlights followed by a boat tour on the Vltava|element=pr-39217::::, from where you will see the city from a different angle while enjoying a buffet.
Duration**: 2 hours 30 minutes
Recommended**: If you usually look for all-inclusive experiences in your travels.
What you will see
Old Town Square
Wenceslas Square
Paris Street
State Theater
Vyšehrad Castle
National Theater of Prague
Charles Bridge
3. Half day tour of Prague and river cruise
:
This half-day Prague tour and river cruise: goes deeper into the city tour and offers a more extensive boat ride, in exchange for not including lunch. In addition to the Old Town surroundings, you will tour Prague Castle and see almost all the sights of Prague's historic center.
Duration**: 4 hours
Recommended**: If you want to do an extensive tour of Prague combined with a boat trip.
What you will see
Prague Castle
Vltava River
Jewish Quarter
Old Town Square
Astronomical Clock
4. Prague canal cruise with aperitif
This is a Prague canal cruise with snack: that focuses on exploring the areas adjacent to the Vltava River and the various canals that enter from the river into the city, discovering nooks and crannies you might not otherwise access. You'll see pastel-colored houses, minuscule bridgess, and of course, you'll cruise along Prague's great river with views of some of its main sights.
Duration: 45 minutes
Recommended**: If you already know Prague and want to take an alternative and less touristic tour of the city.
What you will see
Charles Bridge
Judith Bridge
Devil's Channel
Prague Castle
Prague Beach
Charles Bridge Museum
5. Prague tour and dinner cruise on the river
On this boat trip on the Vltava River with dinner included: you will have the most romantic views of Prague as you make your way through the city. Upon boarding, you are given an aperitif after which you can head to the deck and see the main sights of the city before dinner, consisting of traditional Czech specialties and international dishes.
Duration: 3 hours 30 minutes
Recommended: If you have already done a tour of Prague during the day and want to do a sightseeing activity in the evening that does not require a lot of effort.
What you will see
Charles Bridge
Prague Castle
Vysehrad National Cultural Monument
Powder Tower
St. Agnes of Bohemia Convent
National Theater
Rudolfinum
6. Gourmet dinner cruise on the river
:
This :cruise with gourmet dinner: focuses more on the gastronomic aspect of taking a cruise on the Vltava, with views of Prague's main buildings lit up at night. Includes a welcome drink on boarding, a 3-course a la carte dinner with drink, coffee and tea and live piano music.
Duration: 3 hours
Recommended**: If you want to enjoy a different and more intimate dining experience than a typical tourist cruise.
What you will see
Charles Bridge
National Theater
Prague Castle
7. Interesting facts about boat tours in Prague
:
Cruises are a different way to enjoy the city and see it from a different point of view, so it is the best way to complete your visit to Prague and relax after touring its streets. I would say that the great advantage of doing a Prague tour by boat is that you are spared the big crowds of traditional tours meeting other groups of visitors. It is a more relaxed experience perfect to put the finishing touch to your trip.
Extra services
Most sightseeing cruises include some kind of commentary in English about the sights of Prague that you will see along the way, but you should keep in mind that these experiences are always complementary to a walking tour of the city where you will learn first-hand about the buildings and areas of the city.
Tickets
Many of the operators of these tours do not clarify whether it is necessary to print or not the confirmation email that you will receive after booking your boat tour. My recommendation is that you take it printed, as sometimes there is no way to know if it is necessary or not and you will save yourself possible inconveniences.
Prague boat tours tour
Most boat tours have a similar route, departing from the piers of the Old Town and taking you to points on the Vltava River from where you will have panoramic views of the Charles Bridge or Prague Castle.
8. Organize your boat trip in Prague
To make your experience as comfortable as possible, here are the answers to some questions you might have before taking a boat ride in Prague.
How to get to the pier
First of all, you should check the exact address of the meeting point of your boat ride. Most depart from the Old City piers, which you can easily reach on foot from the Old City Square. Some tours set the meeting point directly under the Astronomical Clock or in one of its adjacent squares, and will guide you to the pier so you won't get lost.
Departure days and times
Almost all Prague boat tours are available every day of the week, with departure times mainly at sunset (around 18:00) for sightseeing cruises and sunset (around 20:00) for gastronomic cruises.
Where to dine after the Prague boat tour
In case you opt for a sightseeing boat tour that does not include lunch, you will most likely finish the experience around 21:00, just in time for dinner. Therefore, I leave you some recommendations for dinner in the area of the piers of the Old City:
Kmotra**: the oldest pizza restaurant in the city is very close to the river where pizza is made in the traditional way, in a stone oven, with homemade tomato and mozzarella. Pizza is always a good idea, and even more so at the end of a long day of sightseeing.
Krčma**: one of the jewels of Prague that is just a five-minute walk from the Old Town Square. Here you will find traditional Czech food at a reasonable price, far from the tourist restaurants with exorbitant prices. Its atmosphere is a bit gloomy as it is in a basement, but after the first impression it turns out to be quite a cozy tavern.
Café Savoy**: With a menu of traditional Czech dishes and French cuisine and an elegant wood-paneled interior, this is your choice if you're looking for a classy restaurant. The stars of the menu are the veal tartare and roast duck, as well as chef Michal Mlejnek's five-course menu. The desserts are out of this world and all the pastries are made in-house, which is why you can also come to Café Savoy for breakfast. As it is located on the other side of the bridge, you can take a stroll from the pier and work up an appetite.
9. Last tips
How to dress
Despite what it may seem, taking a boat ride in Prague is just another tourist experience and therefore you don't need to dress too fancy. That said, try to avoid wearing sports clothes and especially don't wear flip-flops, as the boat deck can be a bit slippery and it can get a bit chilly at night.
Photographs
Seeing Prague at night is very worthwhile and from the boat you will have very nice views of the Charles Bridge and the Castle illuminated, so remember to take some pictures so you don't forget the magic of the city after the sunset. You will have the opportunity to do it from the boat, so prepare your cell phone or put your camera on night mode to enjoy every shot.
Guided tours of the city
As you already know, taking a boat tour is a complement to a city tour, where you will see Prague's sights up close and in detail. To help you choose the best Prague tour for you, I have written a guide about Best Tours and Day Trips from Prague: and all the options you have to do it.
Meet the Prague Castle
Surely you will want to explore the Prague Castle after the boat ride, and the truth is that taking a tour of the area is the experience that I highly recommend on your trip to Prague. If you want to know the best way to visit it, you can read my article about Prague Castle: Prague Castle Tickets and Tours.