Karlovy Vary Day Trips from Prague
Karlovy Vary's thermal springs and the beauty of its streets make it a favorite excursion for tourists and locals alike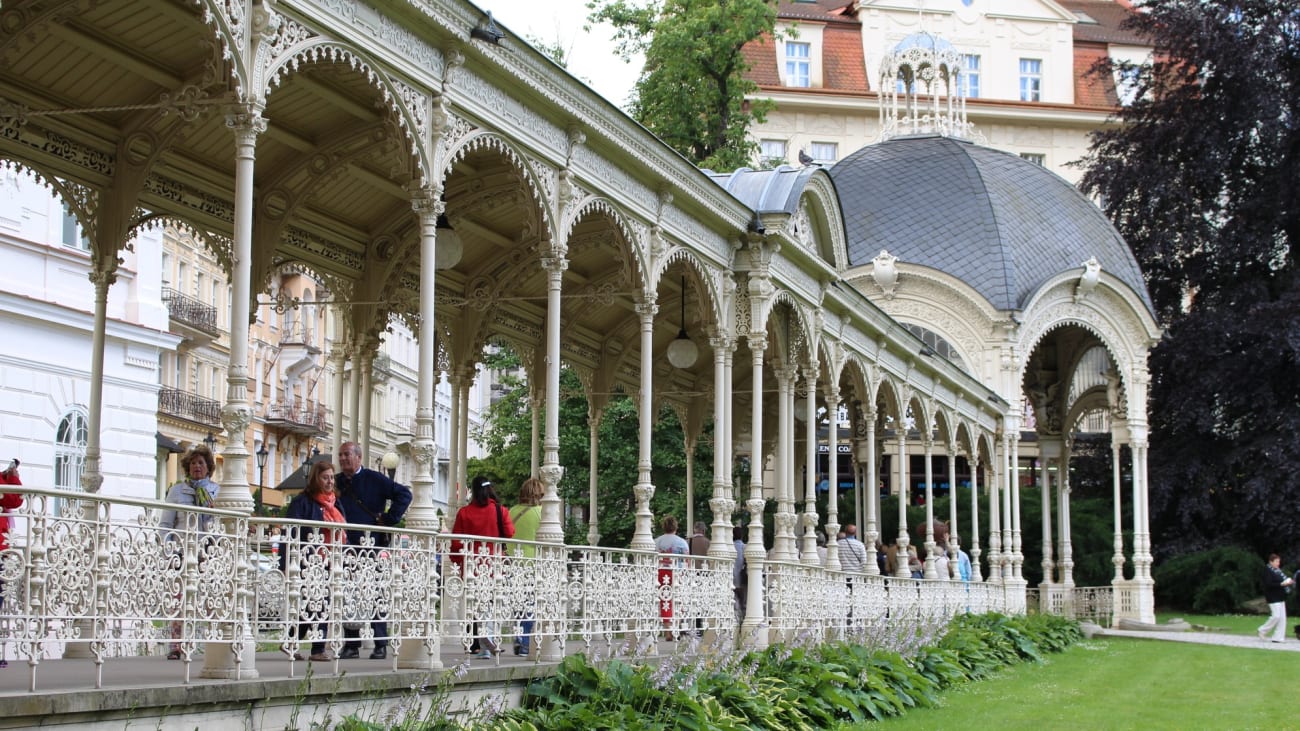 Karlovy Vary (or Karlsbad, in German) is famous for its hot springs and spas. Also known for being the place where Becherovka, an alcoholic drink you'll see all over the Czech Republic, was invented, and the hotel where the James Bond movie 'Casino Royale' was filmed.
1. The best day trips to Karlovy Vary
On a day trip to Karlovy Vary from Prague, you can tour the entire city, see the spas, stop at hot springs and breathe in the clean air of this city so popular with Czech Republic travelers.
2. Karlovy Vary Day Trip from Prague
This is the most comprehensive group excursion to Karlovy Vary, spending a full day touring the streets with a local guide who will take you to see the city's monuments and to its mineral springs, where you can taste the water with the typical little glasses while learning about the healing qualities of Karlovy Vary water and why it attracts visitors from all over the world.
Also, the advantage of this tour over visiting Karlovy Vary on your own is that you have transportation included that will pick you up and drop you off at your hotel upon your return from the tour, so you don't have to worry about how to get from Prague to your tour destination.
Useful information
Duration: 9 hours 30 minutes
Recommended: If you want to visit Karlovy Vary extensively and don't mind going in a large group with other visitors.
What you will see
Colonnade of the mill
Thermal colonnade
Church of St. Mary Magdalene
Dvorak Park
Tepla River
Sadová Colonnade
Monument to the deer jumping
3. Day trip to Karlovy Vary and Marianske Lazne spas from Prague
Another popular option is this excursion to Karlovy Vary and Marianske Lazne, a city also known for its spas. You may know it by its German name, Marienbad, and it is quite similar to Karlovy Vary in terms of the layout of the town: a central colonnaded gallery in the middle of a forested area where the main mineral water springs are located. Around it, the rest of the town is organized in a stately style.
In one trip you will visit two cities, although, in my opinion, it is not something entirely necessary since in reality Marianske Lazne is quite similar to Karlovy Vary. On the other hand, Karlovy Vary is not that big and you might not have enough to see as there are not so many things to see to spend extra time on it, so it all depends on how you want to approach your excursion. If it helps you to get an idea, this tour usually spends around 5 hours in Karlovy Vary and 2 in Marianske Lazne.
Another plus point of this tour is that it includes lunch in Karlovy Vary before visiting Marianske Lazne, something that also makes this tour more complete than other options. Of course, it also includes pick-up from your hotel and return transportation.
Useful information
Duration: 10 hours
Recommended: If you want to squeeze the most time out of your day tour and also prefer all-inclusive experiences.
What you will see
Colonnade of the mill
Thermal colonnade
Dvorak Park
Tepla River
Moser glass factory
Marianske Lazne Fountain
Spa colonnade
Boheminium Park
4. Private day trip to Karlovy Vary from Prague
If you don't like to hang out with other tourists (for whatever reason, hey, I hear you) but still want to enjoy the benefits of taking an organized tour like having a local guide explaining the historical context of everything you see, transportation to and from your hotel to Karlovy Vary and the best recommendations when you're there, you have the option of taking a private excursion to the Czech Republic's spa town.
The tour and inclusions are mostly the same as the day trip to Karlovy Vary (in which the group can be up to 90 people, so maybe this encourages you to go for the private option). Lunch is not included but you will have free time to choose a restaurant and wander around at your own leisure if you feel like it.
Useful information
Duration: 8 hours
Recommended: If you want to take an organized tour to Karlovy Vary but go a bit more on your own without depending on a group.
What you will see
Colonnade of the mill
Thermal colonnade
Church of St. Mary Magdalene
Dvorak Park
Tepla River
Sadová Colonnade
Monument to the deer jumping
Moser Glass Factory
5. What to see in Karlovy Vary in one day
You already know what you're going to see on the Karlovy Vary tour, but you're probably missing details about why these sites are important, or why you should visit them. Don't worry, here I am to tell you everything you need to know about the spa town:
Mill Colonnade
This is a neo-Renaissance style columned hall where you can find six of the typical fountains of thermal water of the city, from which you can drink using a small porcelain cup that you can find in the surrounding stalls. The legend says that these waters have healing properties, and it seems to be so when they are the reason why thousands of tourists visit Karlovy Vary every year.
Intended as a place of relaxation, at the Mill Colonnade you can enjoy open-air concerts and impromptu music if you are lucky, while appreciating the pediment sculptures representing the twelve months of the year.
Thermal Colonnade
The Thermal Colonnade, known to locals as Vřídlo, is built on top of a hot spring of Karlovy Vary inside a glassed-in building. In fact, this is the point in the city where the water comes out the hottest, and you can see a geyser of up to 12 meters high water at 161 ºF temperature.
Church of Santa Maria Magdalena
One of the best examples of baroque architecture in the Czech Republic is in Karlovy Vary. In addition to its majestic exterior, inside you can see a collection of 18th-century artwork and explore a subway section and a crypt with an ossuary, a vault built from human bones.
If you're lucky, you might even visit the church during a religious celebration, when you can enjoy its impressive organ concerts. Whenever it is, I recommend you stop by, as the building is also very close to the hot springs area.
Dvorak Park
A beautiful park in Karlovy Vary that is part of the tourist route of the city. You'll definitely pass by and it's a good place to take a break from walking on a shady bench or take a stroll along the Sadová Colonnade.
Sadová Colonnade
A gallery of columns like the ones you can find in the rest of the city, but located in a Parisian-style park. Impossible not to see it on your walk through Dvorak Park, and you'll be grateful for its shade if you make the trip to Karlovy Vary in summer.
Tepla River
The Tepla River crosses the city of Karlovy Vary and you will most likely pass over it by crossing one of the bridges located between the main buildings in the center. Do not expect a big river like the Vltava, it is more typical of a small city like the one you are going to visit, but it gives that European touch to the surrounding buildings.
Monument to the Stag
The story goes that King Charles IV was hunting in the forest when he found a deer, and chased him until he cornered him on a rock ledge. The deer, in order not to be hunted, jumped into the void, but the king never found the body of the animal at the end of the cliff, but found a spring of mineral water.
For this reason, he decided to found the city of Karlovy Vary (the king's spa) and that rock ledge from where the deer jumped is today a lookout with a statue commemorating this story. To get there, you'll have to climb uphill for a while, but in return, you'll have a very nice view of the city, a perfect activity to do in your free time.
Moser glass factory
Some excursions to Karlovy Vary pass by the Moser glass factory, another of the city's attractions. This is where the classic Bohemian crystal, coveted by leaders and personalities for more than a century, is made.
You can visit part of the factory where the smells of the furnaces and manufactured glass surround you as you discover the art of glass blowing and molding, a complicated process that results in a very hard glass on which virtually anything can be engraved.
Alex's Traveller Tip

To drink from the hot springs, you will need a small cup sold at many stalls in Karlovy Vary. Drinking "on the sly" is frowned upon by the locals.
6. Plan your excursion to Karlovy Vary
Before choosing an excursion to Karlovy Vary, you should know that on the group tour you can go in a group of up to 90 people. For many people, this is not a problem, but if you don't like the hustle and bustle and can't stand the slightest crowds, I recommend you choose the private tour.
Distance from Prague
Another thing to take into account is that Karlovy Vary is about 2 hours from Prague, so within the time of the excursion, you have to take into account that at least 4 hours are for transportation.
Duration of the excursions
However, a single day is more than enough to visit the city, in fact, you will have enough to see the main sights. For this reason, there are excursions that combine a visit to Karlovy Vary with a stroll through Marianske Lazne, the other spa town in the Czech Republic.
Traveling with children
Luckily, if you are traveling to Prague with children and you plan to do this excursion, I will tell you that it is a perfect destination for them: it is not too big, you have to walk but without getting tired, and it is a quiet place where they can enjoy without stress.
7. Best day to make an excursion to Karlovy Vary
My recommendation is to go to Karlovy Vary during the week if you can. Actually, almost any day will do, going on a Tuesday or Wednesday you will avoid the crowds of tourists visiting the city from Prague and you won't have any problem finding a table in a restaurant. However, avoid going on Sunday: the amount of tourists is really a problem and also the tours do not stop at the Moser glass factory, because it closes that day.
8. Best time of the year to make an excursion to Karlovy Vary
Summer
It is worth visiting Karlovy Vary in the months of June to August when you will find a warm and pleasant climate to enjoy the outdoor activities the city has to offer. However, summer is the peak season and the one in which you will find the largest amount of tourists.
Autumn
In autumn Karlovy Vary is filled with the typical colors of the season and is probably the perfect time for photography lovers, as you can capture spectacular hues of orange, red, and yellow among the streets of this town.
Winter
In winter the mountains are covered in snow and the temperature plummets, a time when you will find most of the locals on the streets and perhaps enjoy a more genuine atmosphere.
9. Where to eat in Karlovy Vary
Pizzeria Palermo
There are both visitors and locals who say that it is the best restaurant in town, and the truth is that their pizzas made in stone oven do not disappoint. Personally, I like to try the local cuisine on my trips, but if you've already tried all the Czech dishes in Prague and are looking for a familiar flavor, this pizzeria is your best option.
Charleston
If on the other hand, you can't get enough of Central European food, go to the Charleston pub, whose menu is composed entirely of Czech and German dishes. Sausages, knuckle, roast duck...if you love meat, your mouth will be watering.
Promenade
The expensive but fine option. They serve wines from local wineries that accompany sophisticated versions of traditional Czech dishes, with a very good presentation. I only recommend this option if you have more than an hour to eat, as you will slowly want to savor the food here.
10. What should I take to Karlovy Vary?
If you are going to visit the city in summer, no matter how hot it is you may be caught by surprise by the rain so take a poncho or umbrella with you. As I have already mentioned, it is always a good idea to take a camera to capture this city full of symmetries in its galleries of columns, but especially if you go in autumn as the colors are really amazing.
11. Last tips
The best way to get around Karlovy Vary is on foot. Don't worry about buying a public transport pass, which some kiosks will try to sell you if they know you're visiting.
Opening hours
Stores usually close around 6 pm, and on Sunday much earlier or not open at all. If you want to buy some souvenirs or take a bottle of Becherovka, the city's proud root liquor, keep this in mind. Also, keep in mind that this particular drink is very strong and tastes similar to cloves, if you're into that kind of thing.
Shopping
Another thing to keep in mind is that customs in the Czech Republic are a bit strict about what can be exported or not, so be careful when buying antiques and inquire in the stores about whether what you are buying is allowed beyond the borders of the country.
12. Other excursions that may interest you
If you've been itching to discover what lies beyond Prague, I completely understand: the Czech Republic is much more than just the capital. To help you organize other excursions from Prague, I have written a guide on Excursions from Prague that will orient you on what is worth visiting. You can consult it here: Best Tours and Day Trips from Prague.
And in case you are especially interested in the history of these places, take a look at my article about the excursion to the Terezin Concentration Camp, an experience that can be very worthwhile if you know everything about WWII. This is the guide I wrote about it: Terezin Concentration Camp Day Trips from Prague.