Best Tours and Day Trips from Prague
If you want to complete your trip to Prague with an excursion to its surroundings, here are the ones you can't miss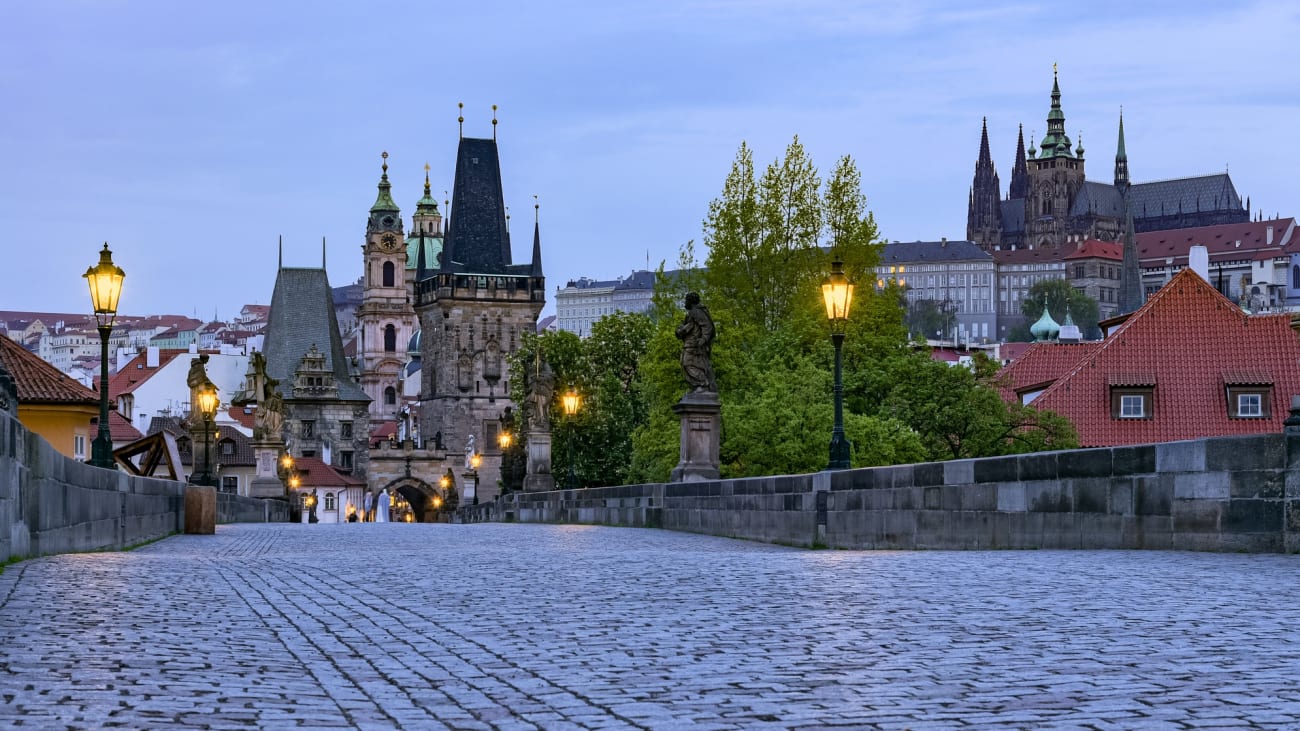 Strolling through Prague is a delight. Its cobblestone streets and picturesque rooftops, its Gothic beauty and its intimate atmosphere make this city captivate you. But don't forget that it is also an ideal starting point for a number of excursions, being in the heart of Eastern Europe. Here are the best tours and excursions in Prague:
1. Prague Castle Tour
On this tour you will discover the most impressive thing in Prague: its castle. It is a citadel at the highest point of the city within whose walls you will find unique buildings in the city and you can enjoy wonderful views of the city, especially the Malá Strana district.
This tour includes a full guided tour of the castle and you will also visit Malá Strana and admire its Renaissance palaces and the Baroque church of St. Nicholas.
Information
Duration: 3 hours
Recommended: If you prefer to see Prague on your own and want to see the Castle in detail accompanied by the historical context of a professional guide.
What you will see
Jan Palach Square
Vltava River
St. Nicholas Church
Hradcany Square
Schwarzenberg Palace
St. Vitus Cathedral
Golden Alley
Prague Castle
Charles Bridge
2. Prague night tour
If you are bored with traditional tours and love ghost stories and urban legends surrounding ancient cities, this night tour of Prague's Old Town is perfect for you. The big advantage over other tours: no doubt, less crowds of tourists and a closer experience in a small group with an expert art guide.
What you will see
Kinsky Palace
Convent of St. Agnes of Bohemia
Old Jewish Cemetery
3. Tour of Prague and the Jewish Quarter
If you know you won't be able to wait to take a tour to see the city and you're going to start exploring Prague from the moment you get there, this tour will show you parts you probably haven't seen before by focusing a little more on the visit through the Jewish Quarter.
Information
Duration: 2 hours 30 minutes
Recommended: If you feel like seeing Prague on your own and complete your visit with an in-depth tour of one of the least explored areas of the city.
What you will see
Old Town Square
Wenceslas Square
Jewish Quarter
Prague Spanish Synagogue
Jewish Cemetery
4. Prague Beer Tour
A very important part of your visit to Prague is to discover its gastronomy and its beer and liquor culture. On this tasting tour you can visit several typical establishments of the city where you can try three different Czech beers and taste home-made liqueurs. In addition to strolling around the Old Town Square, you will understand the importance of beer in the Czech Republic and learn how to toast.
Information
Duration: 4 hours
Recommended: If you love beer and like to get to know other cultures through gastronomy.
5. Complete tour of Prague by electric bike
Visiting a new city is always an exciting experience, but sometimes conventional tours can fall short if you've been halfway around the world. That's why it's great to visit Prague in an alternative way by riding an electric bike, which has the advantage that you can see almost the whole city without getting too tired and make the most of your time.
Information
Duration: Between 1 hour 30 minutes and 3 hours.
Recommended: If you get tired of walking easily or you are going to be in Prague for a short time and want to see the whole city.
What you will see
Charles Bridge
John Lennon Wall
Malá Strana
St. Nicholas Church
Letna Park
Petrin Park
Strahov Monastery
Prague Castle
Prague Metronome
St. Agnes of Bohemia Convent
Old Town Square
Astronomical Clock
Wenceslas Square
Prague National Theater
6. Day trip to Kutná Hora from Prague
Kutna Hora is one of the most popular destinations for visitors from Prague who want to discover a little bit more, and indeed this city has a collection of very interesting historical buildings and monuments.
During the excursion to Kutná Hora from Prague you can visit the Sedlec Ossuary, an impressive chapel composed of human bones that is the ultimate expression of Central European Gothic, the historic center of Kutná Hora and the magnificent Church of St. Barbara among other places of interest.
Kutná Hora is the perfect complement to your visit to Prague, as they are two cities with similar environments but with unique places that I recommend you to discover. To help you organize your visit, Kutná Hora is about an hour and a half from Prague if you go by road, and the size of your group during this tour is a maximum of 40 people.
What you will see
Sedlec Monastery
Sedlec Ossuary
Historic center of Kutna Hora
Church of St. Barbara
Hrádek Palace
Royal Mint
Plague Column
Information
practice
Duration: 7 hours
Recommended: If your trip to Prague is four days or more and you are passionate about religious architecture.
7. Excursion to Bohemia with a visit to a glass factory and a brewery
This tour to Bohemia brings together the two most traditional manufactures of the Czech Republic: glass and beer. You will visit Pilsen, the birthplace of the typical Czech beer Pilsner Urquell, and learn about the entire brewing process and even taste several beers and buy souvenirs of the brand.
Afterwards, you will head to Nizbor, where the old Bohemian glass brewery is still active, and just like the brewery tour you can watch the glass brewing process from the ground up. To give you an idea, Pilsen is about an hour from Prague and Nizbor about 45 minutes, and your group during this experience will be a maximum of 15 people.
Information
practice
Duration: 8 hours
Recommended: If you have visited Prague before and are looking for new experiences.
8. Day trip to Cesky Krumlov from Prague
About three hours from Prague, the town of Cesky Krumlov looks like something out of a fairy tale. Through it, like Prague, the Vltava River flows and at the highest point of the city is its famous castle.
Cesky Krumlov is one of the most popular tourist destinations in the Czech Republic and a very nice place to visit, thanks to its maze of narrow streets typical of a medieval town and its castle, built in the thirteenth century and remodeled during the Renaissance and Baroque.
In addition, the city was the home of the artist Egon Schiele, so you can find places dedicated to his art including the Egon Schiele Art Center. This tour to Cesky Krumlov takes about 10 hours, but at least 6 of those hours are round-trip transportation from Prague. Your group will be a maximum of 30 people.
What you will see
Cesky Krumlov Castle
Vltava River
St. Vitus Church
Šumava National Park
Information
practice
Duration: 10 hours
Recommended: If you want to explore a city quieter than Prague and with well-preserved Renaissance and Baroque architecture.
9. Day trip to Dresden from Prague
Dresden, on the banks of the Elbe River and about two hours from Prague, is famous for its splendid Baroque architecture where you will find a number of things to see. There, you can discover the Zwinger Palace and the Frauenkirche Church, rebuilt after its complete destruction during World War II and whose ruins can be explored in the subway section.
The city offers an artistic and picturesque atmosphere and walking around it is a delight, so I recommend this tour if you want to enjoy a city a little different from Prague to complete your trip and also make it international.
Please note that on this tour to Dresden you will be approximately 1 hour 40 minutes from Prague by bus, and your group during this tour will be a maximum of 25 minutes.
What you will see
Zwinger Palace
Dresden Art Galleries
Theater Square
Semper Opera House
Stallhof
Princes' Parade
Neumarkt
Frauenkirche
Royal Palace
Information
practice
Duration: 10 hours
Recommended: If you want to visit Germany during your trip to Prague.
10. Mozart Tour of Prague
The city of Prague is inevitably linked to Mozart's life: the State Theater is where the composer's master opera 'Don Giovanni' premiered, St. Nicholas Church in Malá Strana, where Mozart played during his stays in Prague and where a mass was celebrated for him after his death. On this Mozart tour of Prague you will see both places and discover the historical center with a professional guide.
Information
Duration: 3 hours
Recommended: If you are passionate about music history and want to do an alternative tour of Prague.
What you will see
St. Nicholas Church
Malá Strana
Old Town Square
Prague Castle District
State Theater
Music Museum
11. Tour of the historical center of Prague and Prague Castle
This tour combines a visit of Prague's Old Town and the Castle, the two main sights of the city, including streetcar transportation between the two. Although it does not cover the whole city, this tour gives you the interesting possibility to see a number of areas of Prague in about three hours, giving you the opportunity to discover the rest on your own afterwards.
Information
Duration: 3 hours
Recommended: If you want to do the most general tour of Prague.
What you will see
Astronomical Clock
Old Town Square
Prague Bridge
Prague Castle
11. Half day excursion to Konopiste Castle from Prague
Visiting Konopiste Castle is the perfect excursion for history buffs as its last owner was Archduke Franz Ferdinand of Austria, whose famous assassination set the wheels of World War I in motion.
Today, Konopiste Castle is a protected monument of the Czech Republic whose galleries house impressive collections of armaments, tapestries and works of art. During your visit, you can tour the castle inside and out and admire its wonderful gardens.
About 40 minutes from Prague by road, another reason this tour is worth taking is the breathtaking views of the Bohemian region you will have both on the way there and back from the bus, which you will share with a maximum of 18 other travelers.
What you will see
Konopiste Castle
Konopiste Castle Gardens
Information
practice
Duration: 4 hours
Recommended: If you like the history of World War I or just want to take a half-day excursion from Prague.
12. Half-day excursion to Nizbor glass factory from Prague
If you have always wanted to discover how the famous Bohemian crystal is made, you can do so on this excursion to the town of Nizbor where you will visit an authentic factory that still creates all kinds of glass pieces today.
In the workshops, you will learn the manufacturing process from sand casting to decorating and engraving all kinds of motifs on this durable glass. In addition, you will be able to buy glass pieces as souvenirs at factory prices. Nizbor is about 45 minutes from Prague, so please note that at least one and a half hours of the excursion will be by bus to cover the 45-minute round trip with your group.
Information
practical
Duration: 4 hours
Recommended: If you are particularly interested in the crystal manufacturing process or want to buy specifically Bohemian crystal pieces.
Plan your tour from Prague
For several reasons, taking an organized tour from Prague is a good idea: you won't have to worry about transportation and since you have limited time at the tour destination you can make the most of it thanks to the fact that you will be accompanied by a professional guide, who will prevent you from getting lost and will explain everything you see.
Duration
That said, keep in mind that transportation is included in the total duration of each excursion. All the experiences I have mentioned are perfectly feasible for a day trip, and transportation can vary between 1 hour 30 minutes and up to 6 hours depending on which one you choose.
Meals
Something you should also know before taking an organized tour from Prague is that none of them include meals, but your guide will take you to a restaurant at the destination. Taking into account that the itineraries of these tours are quite rigid to allow time for everything, you will most likely not be able to choose where to eat so if you do not trust too much or do not want to spend, take the food in your backpack from Prague.
Traveling with children
And if you are traveling to Prague with children, the truth is that any of these excursions can be interesting for them, although my personal recommendation would be to go to Konopiste Castle, because of the impressive views and the place itself and its short duration.
Best day of the week for an excursion
As there are a good number of options to do an excursion from Prague, there is no one day that is better than another as it varies depending on the destination.
One thing you should keep in mind is that glass and beer breweries are usually closed on Sundays, Konopiste Castle is not open to the public on Mondays and weekends are usually the busiest days for tourists, especially in Cesky Krumlov and Dresden as they are popular weekend destinations for both tourists and locals.
My recommendation is that if possible try to do your excursion on a weekday to avoid crowds of tourists. Another tip is to arrive at the destination as early as possible in the morning or around sunset, which is why most tours leave quite early from Prague.
Best time of the year to take an excursion from Prague
If you are visiting Prague in May, June or September, you have chosen well, because these are the times when the weather is more pleasant without all the concentration of tourists in the summer. For this reason, these months are the best to make an excursion from Prague.
However, there are exceptions: Cesky Krumlov is a blast in autumn, because of the stunning oranges and reds of the town's trees, and actually to visit Konopiste Castle you don't care a bit about the season since most of the tour is inside its walls.
What to take on an excursion from Prague
What to take on a tour is always up to you, but I always include a number of essentials on the list.
First, comfortable shoes, since you're going to be walking all day and you don't want to leave your feet dragging for the rest of your trip. Next, a bottle of water and in case you don't want to eat in a restaurant, food in your backpack. Sunscreen if you are going to do the tour in summer, and a camera to immortalize the places that catch your attention.
Plan your Prague tours
Meeting point
Once you book your tour, you will receive a confirmation email. You can print this email or simply show it to the guide on your cell phone when you join the tour at the meeting point. Most tours of Prague depart from Old Town Square or the surrounding area, but be sure to check the exact address of the meeting point in the tour information.
Best time and day of the week for a Prague tour
As a general rule, it is usually best to take a Prague tour as early in the day as possible before the less early bird tourists (the majority) start their itinerary. In Prague, sunset is one of the busiest times to, for example, visit the Castle, so the earlier you start your tour, the more you will enjoy the tranquility of walking around such a beautiful city without having to dodge people.
If you visit Prague in May, July or August, I am sorry to say that it is difficult to avoid the tourist crowds. Try to book the tour on a Wednesday or Thursday, as you can avoid many tourists coming to the city for the weekend.
Duration
Most Prague tours last around 3 hours and are usually walking, with the exception of the electric bike tour and the tours that combine part of the city and the Castle, since in the latter case you usually take the funicular to climb to the top of the city.
Luckily, Prague is a city that invites you to walk as its historic center is quite collected and it is possible to reach almost any of its points in half an hour walk from the Old Town Square. In any case, if you find that you get too far from the center, the Prague metro works very well and you also have the streetcar, in which riding can be an experience in itself.
Visit the Jewish Quarter
Whatever tour you take, I recommend that you visit Josefov (the Jewish Quarter) on your own and dedicate at least an afternoon to it as it is worth exploring in depth. If you can, I recommend that you enter the six synagogues in the neighborhood, for which, by the way, there is a pass that includes all of them. You can buy it at the entrance to any of them.
Beware of tourist traps
Be a little careful when passing through the Charles Bridge, especially in the afternoon, as it is one of the places in the city where scammers concentrate trying to sell all kinds of things to tourists, or take advantage of an oversight to do magic tricks with wallets. Apart from this, you will find a number of very touristy stalls where you can buy a souvenir.
About the Astronomical Clock
One thing that many Prague tours and guidebooks insist on is that you watch the cuckoo peek out of the Astronomical Clock in the Old Town Square, which is scheduled to go off once every hour. To be honest, it's not that interesting, so don't worry too much about seeing this "spectacle" as it's something that appeals mainly to the more typical tourist. That said, if you're in the area just before the clock strikes the hour, there's no harm in checking it out.
Get out of the tourist core
If you've been left wanting more after touring Prague's center, don't make the beginner's mistake and stay there alone! Most tourists hang around the Old Town without thinking that the lesser-known areas of Prague are just as amazing.
On my last trip to Prague, I most enjoyed wandering around the area around Jiřího z Poděbrad square, which is quite quiet, with authentic bars and cool local stores.
Card payments
Something I didn't know when I visited this beautiful city is that most stores and restaurants already accept credit card for even the smallest transactions. For some reason I thought that almost all establishments would prefer to charge in kroner, but it turns out they don't, so keep this in mind before exchanging currency.
Don't miss the Castle
If you have booked one of the tours where the visit to the Castle is not included, you can always book tickets or take a guided tour separately. I leave you here my article about it for you to choose which is the best way to visit it: Prague Castle Tickets and Tours: how to buy and prices.
Where to eat after the tour of Prague
As the Prague tours are of medium duration, they do not include lunch. If you do the tour in the morning following my advice you should finish around 12 or 13 hours, when you start to get a little bit hungry. Here are my top three restaurants in Prague:
Hanavský Pavilion: A beautiful building for which words fall short that houses one of the best restaurants in the city. Its menu is a mix of traditional and international dishes and it is really worth booking a table if you visit Prague in summer, as from the terrace you will have a beautiful view of the Vltava river.
Bistro 8: Inspired by Czech cuisine but bringing it up to the present day with fresh and seasonal produce, this small café will delight minimalists looking for something light but tasty to eat before resuming the adventure of discovering Prague.
Pivovar Marina: Located by the river, this rustic restaurant with its rustic décor and wooden roof is one of the city's institutions, thanks in large part to its salmon fillet with couscous and chicken schnitzel with mashed potatoes.