Prague Castle Tickets and Tours: how to buy and prices
Visiting the inside of Prague Castle is a journey back in time: here's how to get tickets or join a guided tour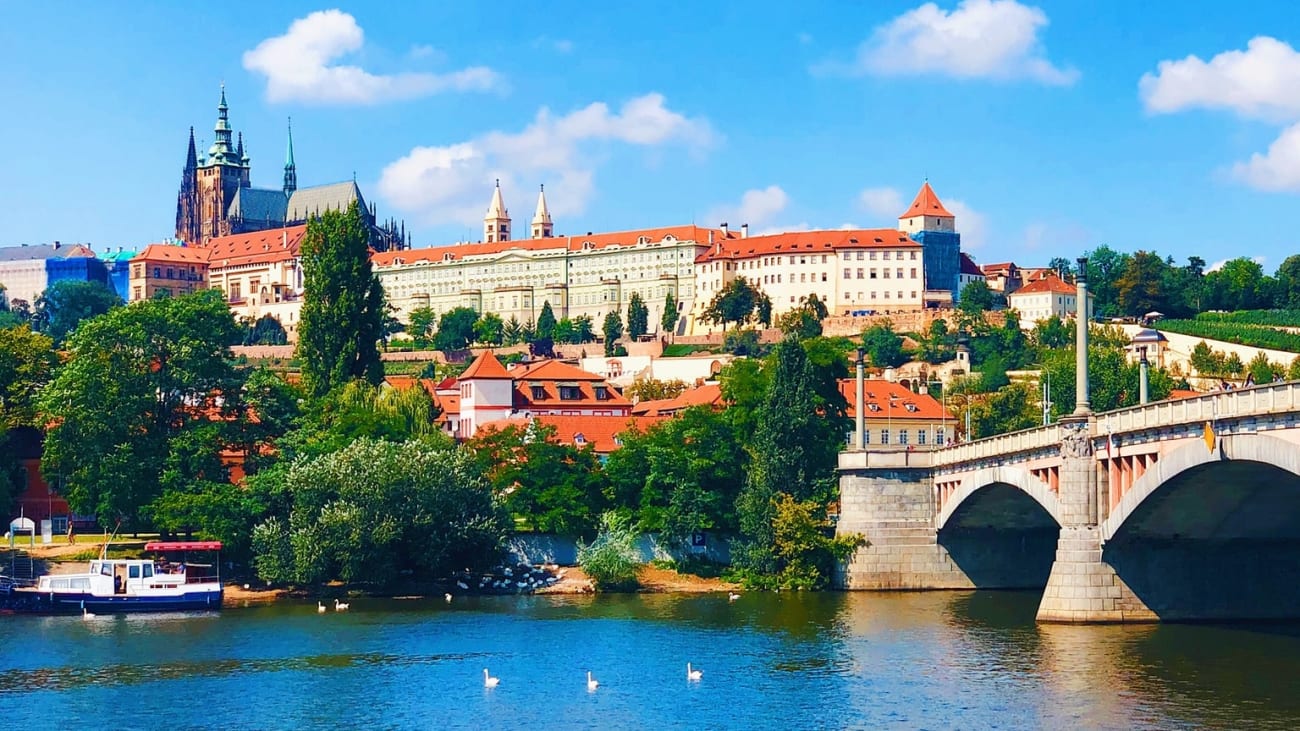 Prague Castle, more than a medieval fortress, is a citadel that houses the most beautiful corners of the city, besides having the best views. It is a place full of history, with the great St. Vitus Cathedral, the Old Royal Palace, the Basilica and the Convent of St. George.
How to visit Prague Castle
To visit the Prague Castle, you have several options and routes, whatever your budget or the duration of your trip. I summarize them all so you can choose the one that best suits you:
How to get tickets to Prague Castle
Taking into account that it is one of the most visited monuments in Prague, if not the most, guaranteeing you the entrance by skipping the queues is the best option to not miss the imposing Prague Castle.
That is why Hellotickets offers you these tickets so that you can easily have reserved access to what is considered the oldest castle in the world and also a UNESCO World Heritage Site.
You will walk on your own around the perimeter of the construction of the year 880 and you can choose between two circuits to enjoy at your own pace this great castle complex.
Guided tour of Prague Castle in English with transfer from the city center
In a visit of 2 hours and 30 minutes with entrance included you will tour the entire citadel behind the walls of Prague Castle while listening to anecdotes and discovering how life has been changing in Prague since the last century while the castle remained intact as a time capsule.
What you will see
Charles Bridge
Lesser Town
St. Vitus Cathedral
St. George's Basilica
Old Royal Palace
Golden Lane
Prague Castle tickets with transfer from the center of Prague
Another option is to buy tickets for the Prague Castle with transfer from the city center, especially practical if you take into account that the Castle is somewhat remote and at the highest point of the city.
The disadvantage of this option is that you will miss the guided tour and you will have to inform yourself about the different sites you can visit inside the Prague Castle, although it is true that the person in charge of taking you to the castle by minivan will give you a small introduction with practical tips when you get there to facilitate your visit.
Guided tour of Prague Castle with city tour and river cruise
A very complete way to see the city is to combine a tour of Prague with a visit to Prague Castle. This experience combines a bus tour, a walking tour, a cruise on the Vltava River with drinks and also includes lunch and pick-up from your hotel.
This is probably the best option if you want to take a tour as soon as you arrive in Prague or if you are only going to be in the city for a few days, as you will visit the most important sights in just one day.
What you will see
Powder Tower
National Theatre
Wenceslas Square
Prague Castle
Valdstejn Palace
Malá Strana Quarter
Kampa Island
Charles Bridge
Jan Palach Square
Jewish Quarter
Old Town Hall
Astronomical Clock of Prague
Visit Prague Castle on your own
In addition to advance on the Hellotickets website, you also have the option to buy tickets at several points of sale: the information booths of the Prague Castle in the second and third courtyard, at the ticket offices of the Foundry Courtyard, in the Castle Picture Gallery, in the Old Royal Palace and in the two ticket offices of the Golden Alley. Of course, you will have to wait in line.
Buy tickets at the ticket office
My recommendation is that you secure your tickets in advance and this is something I apply to every trip I make because in my opinion, the advantages outweigh the cons. You won't have to search for the place to get your tickets, wait in line, pay in the local currency, and you can compare different offers and customize your experience.
Also, buying tickets to Prague Castle can be a bit confusing because there are several types of tickets corresponding to different circuits, which give you access to some buildings or others. If you buy tickets in advance, don't worry, most of them are Circuit A tickets, which will allow you to visit the entire Prague Castle.
Buy tickets online
If you decide to buy your tickets online, you will receive confirmation as soon as you make your reservation and you can show the confirmation email from your smartphone at the Prague Castle access points or to your guide if you have chosen the guided tour. You can print the confirmation email if you prefer, but it is not necessary.
In case you buy the ticket on your own, remember to choose Circuit A which includes the Old Royal Palace, Prague Castle History Exhibition, St. George's Basilica, Golden Alley, Powder Tower, St. Vitus Cathedral, and Rosenberg Palace.
Why Prague Castle is worth a visit
Prague Castle was built in the 9th century by order of the princes of the Premyslid monarchy and thanks to its strategic position it became their permanent residence and thus a place to cultivate culture, religion and recreation.
Since then and until our times, Prague Castle has been evolving behind its walls with the successive reigns, so it is a historical testimony of the evolution of Prague and the Czech Republic. Today Prague Castle is the residence of the President of the Czech Republic, so it continues its tradition as a center of power in the country.
Both for its political and historical status as well as its architectural appeal, it is a must-see on your visit to Prague, which you will enjoy whether you are passionate about history or just want to enjoy a nice walk.
Opening hours, duration and best time to visit it
Opening days and hours of Prague Castle
During the winter season (November 1 to March 31), the Prague Castle grounds are open from 6:00 to 22:00, and its buildings are open from 9:00 to 16:00.
During the winter season, the Lány Palace Park is closed and St. Vitus Cathedral is open from 9:00 to 16:00 from Monday to Saturday and from 12:00 to 16:00 on Sundays. The last entrance to the Cathedral is always at 15:40.
In the summer season (April 1 to October 31), the grounds are open in the same time interval, from 6:00 to 22:00, but the buildings remain open one hour longer, from 9:00 to 17:00. During the summer you can enjoy the Lány Palace Park and it is open from 14:00 to 18:00 on Wednesdays and Thursdays and from 10:00 to 18:00 on Saturdays, Sundays and holidays.
St. Vitus Cathedral is open from 9:00 to 17:00 Monday to Saturday and from 12:00 to 17:00 on Sundays, with the last entrance always at 16:40.
Duration of your visit to Prague Castle
Most tours last between 45 minutes and 1 hour, but my recommendation is that you stay a little longer and take the opportunity to discover all that this jewel of the city of Prague has to offer. If you visit in summer, you will want to explore the Lány Palace Park so this will extend the time of your visit. Also, if you go up after lunch, you will surely be left admiring the sunset over Prague and the views of the Malá Strana district.
Best time to visit
My first recommendation is to visit Prague Castle early in the morning. If you arrive a little before 9 a.m. you'll be spared the crowds and can enjoy the quiet visit the place deserves.
Try to avoid weekend days for your visit. On weekdays you will find much less people and you will enjoy a more pleasant tour and less queues to enter the main buildings of the Prague Castle.
Plan your visit to Prague Castle
To make your visit as comfortable as possible, I have done all the work for you and here are the answers to all the questions that will arise when you want to go to the Castle.
How to get to Prague Castle
If you choose the Prague Castle tickets with transfer from the center, you won't have to worry about how to get there, but in any other case it is best to take streetcar 22 or 23 in the direction of Pražský hrad or Pohorelec and get off at the Pohorelec stop.
Another option is to walk up from the old Castle steps (Staré zámecké schody) that start near the Malostranská metro station and lead to the beginning of Jiřská, also known as St. George Street and one of the entrances to the Castle.
In any case, my recommendation is to go by streetcar to Pohorelec and at the end of your visit walk down back to the center of Prague, as on the way down you will be enjoying the best views of the city.
St. Vitus Cathedral
Speaking of St. Vitus Cathedral, it is best that you visit it first as it is what is usually filled before tourists. With your batteries full you will enjoy it much more than at the end of your visit when your feet start to hurt and you are thinking about lunch or dinner.
What to bring
Be sure to wear comfortable shoes as visiting the Prague Castle requires a lot of walking and also take a coat if you visit in winter or go with light clothing if you go to the Castle in summer.
Where to eat at Prague Castle
In the Prague Castle you will find a restaurant and a cafe, usually crowded with tourists. I do not recommend them, especially considering that near the castle you can find some restaurants that, although not spectacular, have a very authentic atmosphere and serve good traditional food:
U Černého Vola: a bar where the smell of smoke and beer intoxicates you as soon as you walk in, and this is usually a good sign in a pub. It's the perfect place to have a pint and some typical dishes like fried cheese and Velkopopovice goat.

Baracnicka Rychta: in this restaurant somewhat away from the tourist area they serve typical Czech dishes like pork or duck goulash, and one of the best beers in Prague, Svijanský máz, and all this for a pretty good price (two people can eat for between 10 and 13 euros each).

Nebozízek: this restaurant has a terrace overlooking Malá Strana and Prague Castle, and food that stands out for its duck and venison specialties. A premium option for dining after your visit to the castle while enjoying the sunset.
Other things to do in Prague
If you have fallen in love with the Castle, I invite you to consider taking a tour of the city. It will give you an overview of its size, its history, its anecdotes.... In addition, my recommendation is to do it at the beginning of your trip to get a good orientation before you start exploring it on your own. I tell you all about the best ones here: Best Tours and Day Trips from Prague.