12 Things to Do in New York in October
October in the Big Apple is a very special month whose agenda is marked by Halloween. I'll tell you everything you need to know... to have a great time!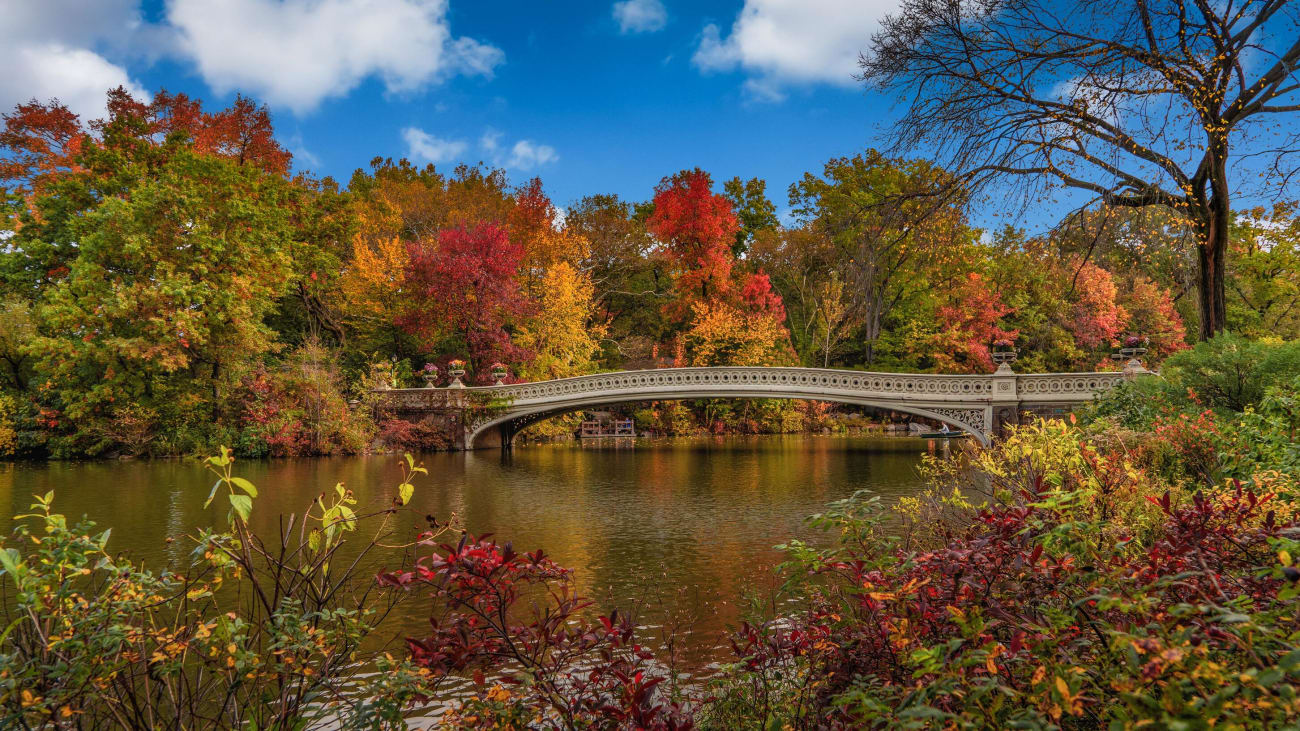 October in New York is one of the most magical times of the year. The thousands of orange and reddish leaves in Central Park, spooky Halloween pumpkins and children trick-or-treating turn the Big Apple into an enchanted city at this time of year. Sounds great, right?
On the other hand, with the beginning of autumn in New York, temperatures drop, the low season of tourism begins and the city is not crowded with visitors, which is appreciated. In this article I tell you the 10 best things to do in the city of skyscrapers in October. Don't miss any of them!
1. Enjoy the start of the NBA season
What basketball fan hasn't dreamed of seeing their idols live? It's the American dream come true. Whether you're a fan of the sport or not, you can't miss the passion for the sport in the U.S. The show is guaranteed!
October is a key month because the official season starts, so you can experience the madness and the atmosphere of living a live game after the summer break. The players are back with more enthusiasm than ever!
In addition, in New York you have a double chance to enjoy a game, as the Nets play there at the Barclays Center, the Brooklyn Nets Stadium, and the New York Knicks at Madison Square Garden.
How to buy NBA tickets
The demand to go to an NBA game is extremely high and tickets sell out months in advance. So that you don't get caught by the bull, I recommend that you buy your tickets as soon as possible. However, all tickets are digital and can only be purchased online.
Useful information about NBA tickets
Price: from 50 € (the average price for good seats in high demand games is usually around 150 €).
Dates: the regular season runs from mid-October to early April.
Recommended if... you want to live a unique experience and a lot of adrenaline.
To learn more: visit the article How to buy NBA tickets in New York.
2. Stroll through Central Park and marvel at its autumn colors
Admiring nature and the changing seasons is one of my favorite activities anywhere in the world, but especially in Central Park, the green lung of New York. In October, the leaves begin to fall and the landscape is more beautiful than ever: it is tinged with reds, oranges, browns... If you like photography, you will get your boots on!
If you are also traveling with children to New York, at this time in Central Park usually offer different tours ideal for a family day out, such as the turtle tour, where you will visit a pond that houses five types of this species. In addition, you only pay a symbolic price of 4.50 euros per family (which includes two adults and two children). It's worth it!
But, have you ever thought about renting a bike in Central Park to tour it comfortably and completely? Well, it is one of my favorite ways to get to know the environment. This way you won't get exhausted, you'll have enough strength to continue your route and you'll make sure you have time to see it all.
3. Live a scary day... in a haunted house!
If as a kid you enjoyed riding the witch's train at fairs or diving into the Mansion of Terror where they gave you a little scare, now you'll get them in a big way! The haunted houses of New York are a classic and will make you live the eve of Halloween with fear and ... the hair on end!
There are for all tastes: gothic, with ghosts, with light show, those that keep dark stories behind and in which there were murders ... But real! They all have their own legend and during the month of October they open their doors to surprise both New Yorkers and strange visitors.
By the way, did you know that there are also cemetery tours at night for Halloween and a night tour of Manhattan during this month in New York?
Discover the best horror mansions in New York City
Merchant's House Museum: besides being a historic and beautiful place, in October this museum usually organizes tours to discover the ghosts past and present, in which they explain the paranormal events (real) that have occurred in this strange place.
Blood Manor: this mansion of terror is located on Broadway. Here you will be immersed in a terrifying journey through a maze of rooms where the actors attack you when you least expect it.
The haunted farm at Queens County Farm: in this large house with more than 300 years of history in the middle of the countryside, a lighter Halloween is organized for the whole family. There are also activities to learn about the process of cider making and pumpkin planting.
4. Explore the Botanical Garden and its curious scarecrows.
Until October 31, visitors can enjoy the New York Botanical Garden in the Bronx, which changes its decor and gets into the Halloween spirit. There you will discover a garden decorated with pumpkins, scarecrows, friendly skeletons and other traditional characters.
There is also an autumn puppet show, a workshop to create your own scarecrows and one weekend in October there is an exhibition with some of the largest pumpkins in the world. In addition, you can take the opportunity to contemplate its ancient forest, the Bronx River and its spectacular gardens.
One of the attractions that surprised me the most was the free little train that makes a tour of the park and with which you can stop at the points of interest you want to know in depth. Very convenient!
What you will see in the Botanical Garden
Enid A. Haupt Conservatory: a greenhouse that houses tropical plants and cacti, as well as some very interesting temporary exhibits.
Mertz Library: one of the largest botanical libraries in the world.
Leon Levy Visitor Center: a center where you can find seeds, plants and decorative accessories for your home.
Ponds: full of water lilies, water lilies and lotuses.
5. See the incredible Niagara Falls
Although summer is undoubtedly the best time to see Niagara Falls because of the good weather and because all the attractions are open to the public, as you can imagine, the bad thing about those dates is that they are full of people. Therefore, take advantage of your trip to New York in October is a good time to enjoy this wonder without crowds.
Besides that, in October hotel rooms are cheaper and still not too cold, so you will enjoy them comfortably. Ah! And it is the most romantic month of the year, so the surrounding environment will be charming.
It is very common to take advantage of the visit to New York to see Niagara Falls and the most comfortable way to do it is by hiring a tour. There are one-day, two-day and even four-day tours. So it's up to you.
6. Be American for a day watching the New York Rangers
Ice hockey is one of the most popular sports in the United States, so going to see a game is a great way to get a taste of American culture and be an insider.
The ice hockey season starts in October, so it's perfect. Besides, the New York Rangers are one of the most important and well known teams in the country. You can go to see them, as they play at Madison Square Garden in NY. Are you in?
Of course, I recommend you to book your tickets to the New York Rangers in advance because they sell out very quickly.
7. Hang yourself in impossible buildings
For one weekend in October, more than 300 of New York's most iconic buildings open their doors for free as part of the Open House New York event. These are institutions that are normally closed to the public, but for some of them you will have to book your ticket in advance.
The event offers a unique opportunity to discover the best examples of New York's architecture, design, engineering and cultural heritage. I was fascinated! You can enjoy live music in the bookstores, free talks, guided tours and enter a host of curious buildings, such as the Museum of China in America, the Islamic Cultural Center or contemplate how the borough of Brooklyn has transformed the Gowanus Canal, one of the most polluted spots in the U.S., into Sponge Park.
8. Be dazzled by the pumpkin festival in the Hudson Valley
As you've seen, New York's October programming is undoubtedly focused on the scariest event of the year: Halloween. One of the traditions that caught my attention was decorating New York homes with pumpkins. But I was in for a bigger surprise... The Jack O'Lantern Festival!
The town of Croton-on-Hudson hosts every year at this time the Jack O'Lantern Festival, which recreates an 18th century landscape and exhibits more than 7,000 pumpkins designed and hand-carved by a team of artisans. All of them are illuminated!
Did you know that with these pumpkins they recreate all kinds of figures and scenarios such as the famous Statue of Liberty, a dragon or the stars of a planetarium? You will never have seen anything like it!
Nuria's Traveller Tip

The exhibit is usually open between 5pm and 9pm, it is best to visit when it is completely dark. Book your tickets as soon as possible because they are usually sold out!
9. Watch the migratory birds... They travel to New York too!
Wouldn't you have guessed that dozens of birds migrate to New York every year? The city of skyscrapers is home to a large number of bird species, and they too live the American dream in Bryant Park! Then again, normal, I'd love to reside here too.
If you are traveling in October, you are in luck! Because this park hosts a free (yes, free!) bird watching tour in September and October. On it, you will discover the amazing diversity of species that live in Bryant Park during the migratory season.
The guided tour takes place on Mondays and Thursdays with an environmental educator and no pre-registration is required. Did you know that more than 130 different species of birds have passed through this enclave? Oh, New York, New York... What will you have.
Useful information about the bird watching tour:
Date: from September 6 to October 14, 2021.
Hours: Mondays, 8 am to 9 am, and Thursdays, 5 pm to 6 pm.
Meeting point: Heiskell Plaza, near the corner of 6th Avenue and 42nd Street.
10. And while you're at it... Learn to juggle in Bryant Park!
If in summer Byrant Park hosts music festivals and brings the books to the street so that everyone can enjoy them, in October, in addition to bird watching, there are outdoor juggling classes taking advantage of the good weather. If you don't want to learn, you can also attend the shows they organize.
In addition, throughout the year (weather permitting) there are free walking tours of Bryant Park led by park staff. Tours take place every other Wednesday and last approximately 45 minutes.
On this guided tour you will discover some of the secrets of this iconic park, which is considered one of the oldest in New York. You will know that for some years it became the epicenter of crime and drugs in Manhattan or that in winter it is filled with igloos in which to have a cup of chocolate or a good cider, making it one of the best parks in New York.
Nuria's Traveller Tip

At the end of October, the open-air market is open to artisans from New York and around the world. If you can, come along, because there are some really cute little things!
11. Enjoy the stars of Hollywood at the New York Film Festival
Can you imagine traveling to New York and seeing the likes of Denzel Washington, Penelope Cruz and Pedro Almodovar? In October it's possible thanks to the New York Film Festival, which takes place between the end of September and the beginning of this month.
If you are a lover of the seventh art, you will love this event because it hosts some of the most anticipated world premieres, a red carpet full of Hollywood stars, talks and free film presentations.
In 2021, for example, it surprised with the world premiere of 'The Tragedy of Macbeth', a black and white film by Joel Cohen starring Denzel Washington, Frances McDormand and Corey Hawkin, based on the tragedy of the same name by William Shakespeare. So, put on your best clothes and come see the actors!
12. Dine and drink, life is short (and more so in New York!)
Hello, foodies! In October also takes place in the Big Apple the New York City Wine and Food Festival, the largest food and wine festival in the city, where you can do tastings, attend evenings with TV chefs (the Arguiñanos of America), attend parties, hands-on cooking classes and wine tastings. Who gives more?
On the other hand, if you are a caffeine lover, you have a very special date with coffee at the New York Coffee Festival, a shot that will give you the energy you need to travel and make a thousand plans in the Big Apple.
Nuria's Traveller Tip

Enjoy one of the best sunsets on the Staten Island boat that connects the southern tip of Manhattan with Staten Island. The best part? It's free!
---
October temperatures in New York
As the saying goes "crazy October weather, it pours a little bit of everything". Therefore, I recommend you to be prepared for what may come - better too much than too little! The average temperature this month in New York is between 10 degrees minimum and 18 degrees maximum. The good thing? Normally, according to statistics it only rains 6 days a month, so you won't need an umbrella, but you will need a good coat.
Ideally, you should bring warm clothes, sweaters and long pants, I always pack a scarf in my suitcase! And some comfortable sneakers or boots because even if you do not realize you will end up doing a good number of kilometers. And now, let's enjoy!