10 Best Jazz Concerts in New York
If there's one thing we love about New York, it's its wonderful jazz culture. In the Big Apple this tradition is so deeply rooted that it is not difficult to find good concerts.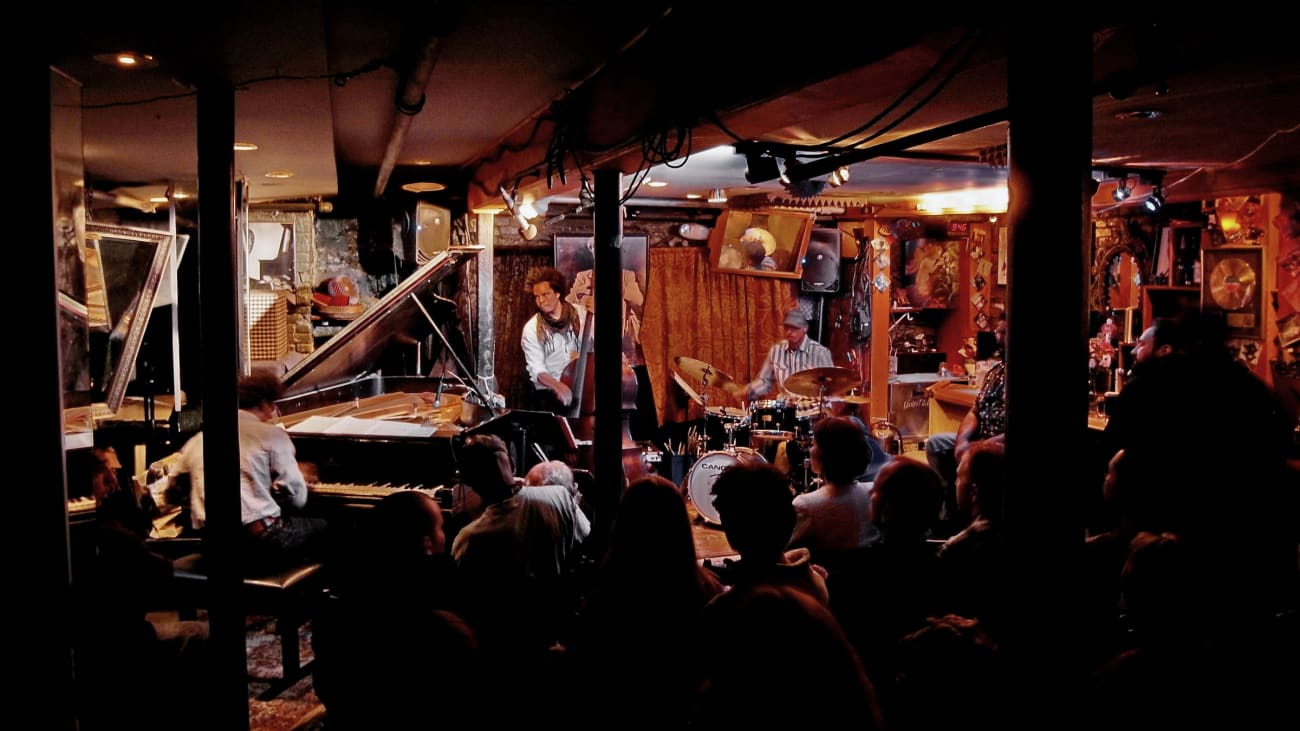 Since the 30's New York has taken over the jazz culture and since then it hasn't stopped offering good musicians and above all good shows. If you are looking for interesting things to fill your list of things to do in New York at night, this has to be one of them.
One advantage New York has for jazz lovers is that you don't have to wait for a great concert to enjoy this music live. Every night in the confines of the city, top-notch artists perform in bars that have become popular for presenting good music. I'll tell you where to see the best shows.
1. Make yourself at home at the Smoke Jazz Club & Supper Club
This is a rather peculiar place because you won't feel like you're in a club, but rather in a lounge because the place has thick curtains and sofa instead of tables. With this atmosphere, this is one of the best places to enjoy jazz in the city, besides being one of the mandatory places among the 20 things to do and see in Manhattan.
This place is located in the Upper West Side in Manhattan, which is one of the wealthiest areas of New York. Very close to this place is Columbia University, one of the most important universities in the United States.
To go to the shows that are presented in this place you will have to make a reservation in advance because not only does it offer shows every night, but there are also special shows for which you have to pay a little more money to get in.
Details of interest
Price: Depending on the show that is presented in the place, you can find tickets from 35 euros per person.
Location: Located at 2752 Broadway Avenue.
Hours: Wednesday to Sunday from 4:00 p.m. to midnight.
2. Go down to the jazz basement at 55 Bar
Since 1919 this bar that was once a speakeasy, maintains that vibe that has characterized it since the beginning of its history. The thing about this place is that it is located in a New York basement, so it is a small place but with an atmosphere worth enjoying.
If you want to listen to good jazz, you can visit 55 Bar, which offers concerts throughout the week. However, this place has a disadvantage and that is that they do not offer meals, nor do they offer snacks to buy during the time you are enjoying jazz at the place. You only have the opportunity to buy drinks inside the place.
Although the menu that only includes cocktails and drinks can be a disadvantage in many cases, you have to know that this is a tradition in many jazz bars with history in New York.
Many of them since the beginning of their operations functioned only as music bars, and no food was offered to their visitors, so they maintain the tradition to this day. Despite this, it is certainly an experience not to be missed.
Details of interest
Price: Admission is free, but you have to consume two drinks during the show. When there are special shows, the entrance can cost from 15 euros.
Location: Located on Christopher St. in the heart of Greenwich Village.
Hours: The bar opens from 5:00 pm.
3. Travel back in time by going to the Village Vanguard
Here you can experience the authentic New York experience of the 1930's. In fact, the bar was opened at that time and was a speakeasy back then. Even today, top artists from the world of jazz and blues perform here, so if you make a reservation to visit this place, you may be lucky enough to see a show with the greats of the genre.
The atmosphere in the place is one of the things to highlight because not only do you have the opportunity to listen to good music, but you can also enjoy a special atmosphere for dinner with friends or with your partner. As it still retains its special clandestine atmosphere, it is one of those secret places and original plans that you can not miss in New York.
A tip that will surely come in handy is that you have to arrive at least 30 minutes before the concert starts, otherwise you may be left without a table to enjoy the show. Also, another thing you can do is to make a reservation well in advance.
Details of interest
Price: When there are special shows the ticket can cost from 30 euros, with the possibility of making a reservation in advance. But as a general rule the entrance fee is approximately 25 euros per person.
Location: Located at 178 7th Avenue St. in New York.
Hours: You can enter to get your seats for the show from 19:00. But the shows start at 20:00.
4. Listen to great artists at Blue Note
If there is a world famous place to listen to a good jazz show, it is the Blue Note in New York. Here you can enjoy the most special jazz evenings, at the same time that you have the opportunity to taste some of New York's gastronomy.
It is an international jazz venue whose main venue is in New York but other venues are located in the most important capitals of the world such as Tokyo, Milan and Seoul. You can enjoy these performances every night from 8:00 pm. You are going to see a guaranteed jazz show because this place even has its own record label.
You have to wait at least an hour before seeing the show, but the wait is definitely worth it. In order to get into the venue you have to make a reservation beforehand to avoid being left without your seat at the show.
Details of interest
Price: It is necessary to make a reservation in advance and depending on the show, you can pay a ticket from 30 euros per person.
Location: It is located at 131 of 3rd in New York.
Hours: For shows starting at 20:00 the entrance is at 18:00. While the shows that start at 22:30, the entrance is at 22:00.
5. Meet Birdland, the Actors Club
One of the most wonderful things about this place is that you can bring children because they accept people of all ages. So if you want a good night spot to entertain teenagers, Birdland is a good place. As for jazz shows, this is one of the best places in New York to enjoy good concerts.
Since 2018 they opened a lower level where you can enjoy plays, while the ground level is still the right place for the best jazz shows. If you're lucky you may run into one or the other artist enjoying the jazz shows that are presented every night.
You can liven up your evening while enjoying a good jazz concert with southern food with Cajun touches. If you go to the theater downstairs, you can enjoy a completely different menu.
Details of interest
Price: To enter the Birdland you don't need to pay but you do have to make a minimum consumption of 20 euros per person.
Location: Located at 315 West 44th Street in New York.
Hours: The schedule for jazz performances are at 19:00 and 21:30. It is recommended that you make a reservation before going to the bar.
6. Experience a speakeasy bar at Bill's Place
Bill's Place is one of the most historic speakeasies in the United States. It survived the speakeasy era and today is an icon of jazz culture in the city. In the heart of Harlem, in this place you can enjoy the most authentic jazz shows in the city, being one of the places you have to visit to learn about the history of jazz in Harlem.
Currently the presentations are really amazing, even one of the most sought after shows is Bill Saxton, which you can enjoy along with the Harlem Star on Friday and Saturday nights.
One of the best stories that this bar has to tell is that within its walls was discovered and was singing for a long time, one of the best female voices of jazz, Billie Holliday, who in his time was an insistent fighter for the social rights of African Americans.
Another thing you will love about listening to jazz at this place is that you can bring your own bottle to celebrate and drink while enjoying jazz. The best part is that the atmosphere of this place is completely authentic, just like the prohibition era and speakeasies in the United States in the 1930s.
Details of interest
Price: Tickets for this place usually cost from 30 euros per person.
Location: Located between 7th Avenue and Lenox at 148 133rd St.
Hours: Shows are at 7:00 p.m. and 9:00 p.m. every Friday and Saturday night.
7. Discover where Louis Armstrong used to play, Minton's
Minton's is also a good place to listen to jazz and see good jazz shows. In fact, one of the best things about this place is that one of the best jazz performers, Louis Armstrong, played there and it was one of the places that saw him become a star.
The history of this place makes that besides wanting to spend a good time listening to good concerts, you want to take many pictures inside the iconic music establishment. A spectacle if you are a lover of blues and jazz.
One of the best things about this place is that not only can you enjoy jazz, but unlike other places of this style, you do have the option to eat something while watching the music show. The food options are varied and you can find dishes for all tastes.
Interesting details
Price: Admission is free but you must eat inside if you want to stay for the shows.
Location: Located at 206 West Manhattan at 118th Street.
Hours: Thursday to Saturday between 6:00 pm and 11:30 pm.
8. Stay close to the stage at Iridium
Iridium has something special to offer its visitors during jazz shows and that is that they offer tables very close to the stage, so you can see the jazz singers and performers from up close. Reservations are mandatory because the place is not open when there are no shows.
At Iridium you will not only see jazz shows, but also other musical genres, such as blues. It is one of the most emblematic places and you can not fail to include among the activities to do in the city, regardless of the best time you choose to visit New York, because you can also consume special cocktails and good food while enjoying the show.
Something special about this place is that you can attend public shows and also private shows. In the first case, the entrance is completely free, but in the second case, I recommend you to make reservations well before the time of the performance, to ensure your place in the show.
Although you can feel the authentic speakeasy atmosphere that was seen in New York in the 1930s, this bar only opened its doors in 1994. The musical offerings vary month to month and in plenty of time they post on their website all the artists that will be taking the stage during the month.
Details of interest
Price: Tickets to the shows are going to depend on the artist performing, but generally ticket prices range from 30 euros.
Location: It is located at 1650 Broadway in New York, at the 51st corner of Broadway.
Hours: The entrance time depends on the show you are going to attend, so to know the time you have to keep an eye on the official website of the Iridium bar.
9. Enjoy the good blues at Terra Blues
This place is different from others of its kind because of the large number of bands that play there. In addition, you have the option to enjoy different options of drinks and food while enjoying the show.
Not only will you be able to enjoy jazz, but also other musical rhythms such as blues. Among the advantages of this place is that in its many decades of history it has seen the birth and development of many legends of jazz music.
To go see a good show of this musical genre, I recommend you visit the official website of this place and see the events that will be held at the time you visit the city. There are shows every day in the evenings.
In this place play entire jazz bands and also certain artists such as guitarists and saxophonists with enough fame and recognition. This is listed as one of the best places to see jazz in New York because it emulates the old days of New York jazz.
Details of interest
Price: Ticket prices depend on the type of show performed at the venue.
Location: Located at 149 Bleecker Street in New York City.
Hours: Shows start at 6:30 pm for some performances while other performances start at 9:30 pm and 10:00 pm.
10. Don't miss the jazz performances at Lincoln Center
Lincoln Center is a good place to see some of the best jazz concerts in New York. Different shows are held here throughout the year, but when it comes to jazz culture, this is definitely one of the best places to see the best artists of the genre.
The best thing about this place to see concerts is that there is a concert season every year, so the shows are always fully dedicated. The venue is big enough to receive a large number of people who come to see the jazz shows and other musical rhythms.
Usually the jazz events at Lincoln Center occur in the summer season, when the weather in New York allows you to enjoy the city much more. So this is an excellent activity to include among the things to see and do in New York in summer.
Details of interest
Price: Depending on the performances at Lincoln Center, you will have to pay more or less money. The price of each show can be found on the official website. Although sometimes the performances are open to the public, so you should check the shows online before attending.
Location: It is located in Lincoln Square in New York.
Hours: Generally the shows start from 6:00 pm every night.