7 Best Harry Potter Stores in London
Are you a fan of the Harry Potter universe? In London there are plenty of stores about the saga of the young wizard where you can buy a nice souvenir.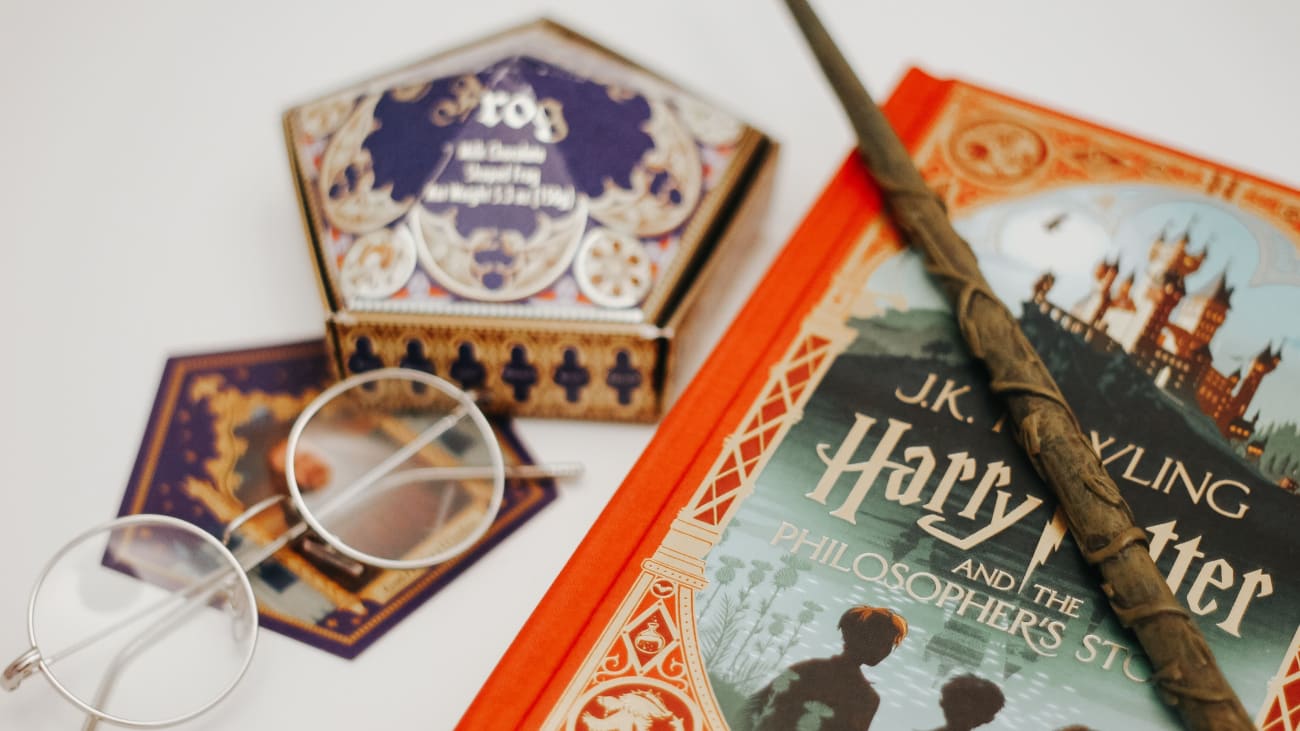 After taking one of the best Harry Potter tours in London, there's no better way to end this magical adventure than by visiting the Harry Potter stores in the city, where you can buy that Harry Potter souvenir you've been dreaming about for so long to add to your collection. Take note because there are plenty of them!
1. Harry Potter Shop at Platform 9 3/4, the store at Kings Cross Station
This Harry Potter store in London is located in an unbeatable location, next to the famous Platform 9 and ¾ at Kings Cross Station, so if you forgot to pack your wand or potions book in your backpack, before catching the Hogwarts Express you can always pop into the Kings Cross store to buy it quickly.
The idea of opening one of the Harry Potter stores in London next to platform 9 and ¾ of Kings Cross station was born from the large number of visitors who came here to see one of the London locations featured in the films.
The Harry Potter trolley belongs to the store and its employees organize the queue so that you can have your photo taken pushing it to enter the platform. They put a Hogwarts scarf on you and throw it in the air to give the moment a more realistic feel. You can then buy that professional style photograph.
The interior design of the Harry Potter store in Kings Cross is inspired by Ollivander's store in the novels. The decor is the best! This store has an exclusive collection created for it that you won't be able to find in any of the other Harry Potter stores in London - all the more reason to come here!
Address: Euston Rd, London N1 9AL, UK
How to get there: By tube, Circle, Nothern, Piccadilly and Victoria lines.
2. House of Minalima, an art gallery with a magical store
In Soho you will find another of the coolest Harry Potter stores in London known as House of Minalima. It is an art gallery specializing in graphic design whose main exhibition focuses on the magical universe of Hogwarts.
The artists Eduardo Lima and Miraphora Mira worked on the films of the saga and were responsible for the design of many of the elements that appeared on the big screen such as the 'Weasley's Sorceries', the covers of the 'Daily Prophet' or chocolate frogs, among others.
I recommend you go to House of Minalima on a weekday to peruse the free exhibition on Harry Potter (on weekends it is usually crowded) and then take advantage of the visit to buy a unique souvenir designed by these artists on the magical universe of the young wizard.
Address: 157 Wardour St, London W1F 8WQ, United Kingdom
How to get there: By tube, Piccadilly Circus station, Bakerloo and Piccadilly lines.
3. House of Spells, the specialist fantasy souvenir store
Also in Soho you can visit another of the most fascinating Harry Potter stores in London: House of Spells.
Its decor and atmosphere is very much in line with the stores that appear in the wizard's movies so entering it seems as if you were in one of the famous Diagon Alley. It's amazing!
As for the products sold in House of Spells you can find all kinds of things related to the Harry Potter universe (wands, magic books, uniforms, figurines of the characters, candy, toys and a long etcetera) but also about other fantasy sagas such as 'Game of Thrones', 'Frozen', 'Star Wars' or 'The Lord of the Rings', among many others.
If you love collecting objects about your favorite books and movies, you should definitely drop by House of Spells, where you will spend hours between one thing and another! You'll find it just a few minutes' walk from Leicester Square tube station.
Address: 69-71 Charing Cross Rd, London WC2H 0NE, UK
How to get there: By tube, Leicester Square station, Northern and Piccadilly lines.
4. The Official Harry Potter Store in London, the cherry on top of a visit to Warner Bros. Studios
One of the most fun experiences you can have in London as a Potterhead is a trip to the Harry Potter Studios Park just outside the city - it's amazing!
During your visit to Warner Bros. Studios you can enter several different stores where you can buy some souvenirs related to the wizarding world:
The Studio Shop: where you will see custom t-shirts, scarves and Hogwarts uniforms, wand replicas, Quidditch flags or stuffed animals, among other things.
The Forbidden Forest Shop: where you can buy products related to this mysterious place in Hogwarts and the creepy creatures that inhabited it.
The Railway Shop: where I advise you to buy some magical treats like chocolate frogs, licorice wands or peppermint toads to eat on the way back to London.
Visiting the official Harry Potter Studios Park stores is part of the experience in itself. They are perfectly set and you can find a lot of very original products that are not available in other stores.
For example, in addition to the typical Harry Potter merchandising, the official Warner Bros. Studios store also sells beautiful artwork and exclusive editions for those collectors looking for a more special and unique souvenir.
In my opinion it is a fabulous store to expand your Harry Potter collection and buy some gifts given the wide variety of pieces they have. However, to access this place it is essential to have a ticket to the Harry Potter Studios Park and if you do not plan the tour well in advance it is not easy to acquire them because the demand is very high and the tickets end up flying like Hedwig.
In the post Harry Potter Studios Park tickets in London I tell you where and how to buy tickets for the park and if they are still sold out, in the post Harry Potter tickets resale in London I explain what you can do to get official tickets to the attraction with all the guarantees.
Address: Studio Tour Dr, Leavesden, Watford WD25 7LR, United Kingdom.
How to get there: By train, Watford Junction station.
5. Harry Potter Primark in London
Although in almost every Primark in the world you will find a small section dedicated to the Harry Potter universe, the one on Oxford Street has become one of the unofficial stores about this saga in the world.
Unlike other shopping centers of the company, the Oxford Street Primark has a huge section full of products about the novels of J.K. Rowling and you can find there almost everything you want. From slippers, plushies and backpacks, to stationery, household products and Hogwarts-inspired clothing.
Primark is probably one of the Harry Potter stores in London where you can buy souvenirs at very cheap prices. The downside is that as it is not an official supplier, some of the product designs are a little rough around the edges, but who cares about that when you can take those cool Gryffindor pajamas home for so little money?
Address: 14-28 Oxford St, London W1D 1AU, United Kingdom
How to get there: By tube, Tottenham Court Road station, Central and Northern lines.
6. Hamleys Toy Shop
This toy store located in Regent's Street is an institution in the city to be one of the oldest with a whopping 250 years old. A multi-storey store where you can admire thousands of toys and an exclusive area dedicated to the Harry Potter saga. Hamleys you will like so much that you will not want to leave there!
I recommend you take a tour of the entire toy store, as there are very curious items, but especially for the section dedicated to the young wizard because on the shelves there are exposed a lot of things that will tempt you.
From the glasses and the wand of the protagonist, the golden snitch, Tom Riddle's diary or the Marauder's map to board games, mugs, stuffed animals or key chains inspired by Hogwarts.
Whether because it is one of the oldest toy stores in the city or because you are a big fan of the Harry Potter saga, the Hamleys store is always worth a visit. Especially if you travel to London with your family because the kids will have a great time in such a big toy store. It will be a plan that they will enjoy a lot!
Address: 188-196 Regent St., London W1B 5BT, United Kingdom
How to get there: By subway, Piccadilly Circus station, Bakerloo and Piccadilly lines
7. The Lego Toy Shop
The Lego Store in Leicester Square, the largest in the world, is a must on a list of Harry Potter stores in London!
Just to admire the Lego constructions in the store is worth the visit, but they also have a large section dedicated to the magical universe created by the writer J.K. Rowling with the brand's own touch.
Besides being able to buy the castle and the Hogwarts Express, Hagrid's hut, Diagon Alley or the Astronomy Tower among other toys that belong to the Harry Potter collection, you can also see replicas of some of the most emblematic tourist attractions in London as the typical red phone booth, Big Ben or a subway car.
You'll be hard pressed to take just one toy away from here because they're pretty cool!
Address: 3 Swiss Ct, London W1D 6AP, United Kingdom
How to get there: By tube, Leicester Square station, Northern and Piccadilly lines.