10 Things to Do in Amsterdam in Spring
Visiting Amsterdam in spring is an unforgettable experience, not only for the colors of its canals, but also for the activities you can do in the Dutch capital at this time of the year.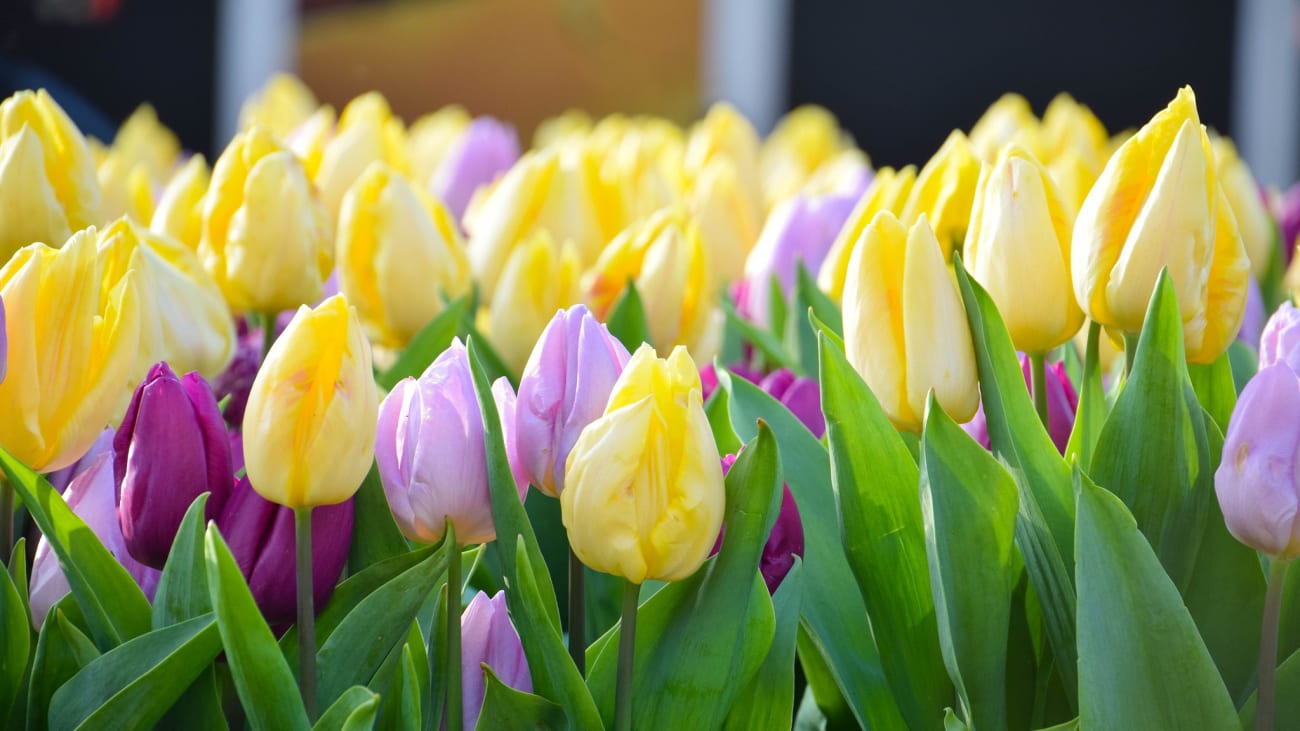 Although many tourists prefer to go to Amsterdam in summer, spring is still the best time to visit the city. It's a season that brings together good weather, flowers, gastronomy and cultural events. After a dreary winter, Amsterdam comes alive with flowers in the parks, sunshine in the skies and cruises along the canals.
All of the city's major events, celebrations and attractions are available in spring. In addition, during this season you will be greeted by an explosion of tulip fields, unique festivals and one of the most famous Dutch celebrations: King's Day.
1. Visit the tulip fields of Lisse
From flower markets to lush city gardens, there are plenty of places to find tulips in Amsterdam. More than 1 million tourists come to Amsterdam in spring with the intention of seeing these tulip fields and enjoying their beauty.
The best way to experience the tulip fields of Lisse is to opt for a bike tour of Amsterdam and ride along the various marked trails, which will take you through vast seas of flowers.
Just west of Lisse is Noordwijkerhout, home of the Dutch Flower Belt (Bollenstreek). I recommend cycling through this vast stretch of tulip fields as you travel between Haarlem and Leidan. However, it is also possible to visit part of the strip if you travel west from Lisse and then south along Leidsevaart.
You also have the option of going by bus, buses leave every hour from Schipol airport to Lisse, it's all a matter of knowing your way around Amsterdam.
2. Take a day trip to see some windmills
Another way to see the tulip fields and the spring atmosphere, while enjoying one of the most touristic villages of the city is to go by train or bus to the Zaanse Schans, the famous windmill village. This presents one of the most admired Dutch landscapes.
There are many ways to get to Zaanse Schans from Amsterdam, including an organized tour. Entrance to Zaanse Schans is free with the I amsterdam City Card, one of Amsterdam's best tourist passes.
However, if you don't have much time and don't want to spend a day outside Amsterdam, don't worry! Amsterdam is home to eight windmills and some of them are very easy to access, such as the windmill at Brouwerij 't IJ.
3. Stroll through Keukenhof
Keukenhof is one of the largest gardens in the world and the main reason people visit Amsterdam in spring. If nature is something you appreciate, you have probably seen photos online of its flower gardens, a unique landscape.
To get there, you can opt for an excursion from Amsterdam to the Keukenhof Gardens, these trips are very frequent in spring. Just remember that the gardens are only open from mid-March to mid-May, so plan your itinerary accordingly. For more information on entrance fees and opening hours I recommend visiting the official Keukenhof website.
Since this is one of the most popular spring attractions, you should get tickets well in advance to make sure you can visit on the day you want. In general, it is best to avoid the afternoons if you want a less crowded experience. Also, I strongly recommend you avoid going during the Easter weekend, as Keukenhof gets too many visitors on those dates.
4. Pedal while the crowds aren't so bad!
It is true that cycling in Amsterdam is a year-round activity; however, if there is a privileged time to enjoy cycling in Amsterdam, it would be in spring. This is because there are fewer tourists than in summer, but it is also a more reliable time of the year for cycling than winter where the slippery ground and cold weather make this activity a health risk.
I recommend bike tours around the city, these are a great way to get to know Amsterdam and avoid traffic jams. Above all, however, I recommend cycling through the parks of Amsterdam.
5. King's Day Celebrations
The people of Amsterdam, along with the rest of the country, take to the streets on April 27 to celebrate Koningsdag (King's Day). Amsterdam residents transform the city into a sea of orange with their orange dresses, hats and wigs, an experience not to be missed if you want to visit Amsterdam in April or in the spring season.
For family activities, Vondelpark is the ideal place. While, if you're looking for a bit of nightlife, the King's Night celebrations (on the eve of King's Day) are for you; these take place in the Jordaan district. You'll see how the whole district is flooded with nightly street parties accompanied by music and celebrations.
6. Celebrate Easter in Amsterdam
Join the locals as they celebrate Easter in Amsterdam, particularly on Easter Sunday and Easter Monday. Sample delicious cakes and cookies from Amsterdam' s bakeries and enjoy traditional Dutch Easter foods at the city's markets.
While the date of Easter varies from year to year, some of it always happens in the spring, so make the most of this holiday to find some of the best chocolate stores in the city. One of the best stores for the occasion is Van Soest in Utrechtsestraat, here you can find the most beautiful and tasty Easter eggs.The most important moment of the Easter celebration in Holland is the rich brunch, a mixture of breakfast and lunch and you can enjoy it in several restaurants and food places in the city.
7. Reflect on the World Press Photo Exhibition and Festival
One of the favorite exhibitions of the year starts in spring, usually from April to June, and takes place in one of Amsterdam's oldest churches, the Nieuwe Kerk. The World Press Photo Exhibit is an exhibition of stunning photos of Amsterdam and chronicles some of the most important events of the year. An incredible way to learn about what happened through photographic art.
Amsterdam is also lucky enough to host the World Press Photo Festival, a related festival that takes place in April. In this one the atmosphere is more sociable and there are many micro-events of a certain fame. Both are not to be missed if you are interested in photography or events in the city.
8. Feeding the baby animals at one of Amsterdam's city farms
One of the most typical spring events in Amsterdam is the feeding of baby animals, an ancient tradition that has become a tourist attraction. Spring is traditionally the time of year when baby animals are born. And you don't need to leave the city to witness this adorable spectacle. Just head to one of Amsterdam's many zoos or pet ting farms to surround yourself with baby goats, lambs, rabbits, piglets and more.The city of Amsterdam has dozens of spaces to care for animals.
Whether you have kids or not, going to see baby farm animals is a beautiful springtime activity and a great way to escape the cityscape for a few hours. I recommend the goat farm at Amsterdamse Bos, and the pet farms at Amstelpark and Westerpark. There is even a small urban farm at De Pijp.
9. Go to a flea market
During springtime in Amsterdam, all the street markets are filled with vendors selling fresh flowers, various types of food and small trinkets. There are several interesting street markets at this time of the year, hence some of them are worth exploring.
The Albert Cuyp market and the Westerstraat market are the most atmospheric; however, the Bloemenmarkt is a must-see in spring. This historic flower market is the best place to buy tulip bulbs in Amsterdam or buy garden-themed souvenirs.If on the other hand you're looking for variety, the Saturday markets on Kinkerstraat, Noordermarkt and Lindengracht are the choice.
While it is true that the daily market in Albert Cuyp is the top, in spring it is usually too crowded, so do not focus all the visit on this one.
10. Experience Remembrance and Liberation Day in Amsterdam
If you travel to Amsterdam in the month of May, tattoo the date May 5, as on this day Amsterdam and the Netherlands pause to celebrate the liberation of the country from German troops. To celebrate the country's social freedoms, the city comes alive with a selection of festivals, concerts and special events, including public banquets known as Freedom Festivals and a large floating concert on the Amstel River, attended by the King and Queen.
Not only that, but it is also one of the best days to visit Amsterdam's Jewish Quarter, as it is very atmospheric and in tune with the celebrations.For more information on Remembrance and Liberation Day in Amsterdam visit this website.
Spring weather in Amsterdam
During the spring months, the weather in Amsterdam undergoes a remarkable change. While winter is filled with rainy days that are cold and somewhat miserable, the spring months bring cool weather and bright skies.
From mid-March to the end of May, Amsterdam is filled with clear blue skies, sunshine and mild temperatures. Daytime temperatures range from a low of 10° to around 20° on a good day.
You may have a few rainy days in spring; however, this only makes the grass look greener and the flowers bloom more.
Springtime tourist crowds in Amsterdam
Spring is one of the most beautiful seasons to enjoy the city; however, it is also the second most visited season in Amsterdam. The curious thing is that the tourist influx in spring follows an increasing linear trend, with March being the least crowded spring month and May the most crowded. Therefore, if the influx of tourists is a detail that worries you a lot, I recommend visiting the city in mid-March, since, despite the abundant rainfall, if you can see some glimpses of spring.
The best month to visit Amsterdam in spring
Although spring lasts a few months and each month is a whole world, if I have to stay with only one, that would be the month of April without any doubt. April in Amsterdam is when the tulips are in their best bloom, and it is also the month with the most events, and the number of visitors is much lower than in the peak summer months or in May. To be frank, though, it will depend a bit on what you want to see, so I recommend knowing what's special in each of the spring months (March, April and May) to get a much better idea.