10 Things to Do in Amsterdam in April
April brings good weather and very special celebrations to Amsterdam, do you want to know which ones?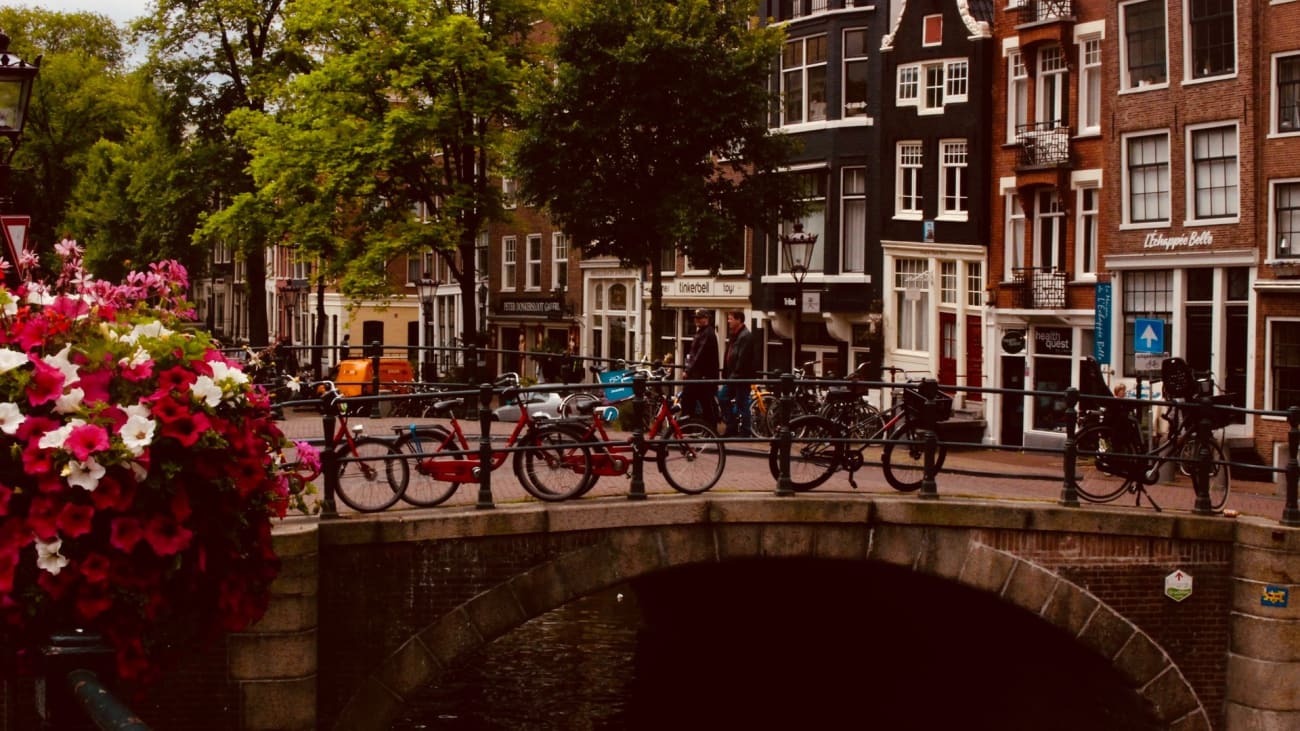 There is always something to do or see in Amsterdam. It's no secret that this European capital lacks neither the energy nor the culture to make for an unforgettable trip. In April, however, it's arguably even better. Why? Because spring has already set in with its mild temperatures.
You may have heard that Amsterdam is the city of canals, tulips or the color orange. Well, during April you will be able to see all these emblems in their full splendor. If that already sounds good, wait until you see the rest of the activities that await you in Amsterdam in April.
1. Celebrate King's Day like a fellow Dutchman
Do you know what Koningsdag is? Well, if you travel to Amsterdam in April, specifically on the 27th, it won't take you long to find out. This day is King's Day (formerly Queen's Day) and the streets of the city are filled with orange (the color of the Dutch monarchy), as well as music and events to celebrate their monarchy. Most of the activities are outdoors and free, such as flea markets and concerts, so be prepared to have a good time.
Why April 27? The date depends on the King's birthday at the time, although in recent years it has always been in April as the previous Queen also celebrated her day in this very spring-like month.
My advice is not to forget to pack some orange clothes in your suitcase, you don't want to be out of place! Of course, there is plenty to do, so get out the diary and start planning.
Party on the canals
Declared a World Heritage Site, Amsterdam's canals clearly take center stage on King's Day. Why? Because thousands of decorated boats take to them, play music and the water becomes one big party. If you're lucky you can get on one of them, but if not you can also dance from the shore and bridges.
2. Enjoy the best of the tulip season
Even before you go, you probably already know that the most typical flower of Amsterdam (and Holland) is the tulip. The good thing about traveling in April is that you will be able to see them like never before, as it is the middle of the season. In the middle of the month is when the whole country is filled with a huge blanket of tulips in a wide variety of colors.
Although you can always see them at the Amsterdam flower market, one of my favorite places to see the bloom is Keukenhof Gardens, the largest tulip park in the world. Millions of bulbs open here, creating a beautiful landscape that you can reach by an organized tour from Amsterdam in just half an hour. If you don't want to go that far, you can always take a bike tour to the outskirts of Amsterdam, where you can already see tulips.
3. Dance to electronic music at the Awakenings Easter Music Festival
Music comes to Amsterdam in April, thanks to the Awakenings Easter. This electronic music festival is usually held in the Gashouder, an industrial building that serves as the perfect stage for the most famous international bands and DJs. Tickets can be purchased from the website of the event, although I warn you that you have to be quick because they usually sell out (about two hundred thousand people go every year).
Currently they have a camping area to make the festival experience even better, but you can always stay in the city and go every day to the concerts, as the site is close to the center (about half an hour) and it is easy to move around Amsterdam.
If you are really interested in this kind of music, I also recommend the electronic music museum Our House, where you can immerse yourself in an immersive experience where you can even create electronic beats yourself.
4. Go to the Amsterdam Flower Parade
Can you imagine a 42-kilometer parade where all you can see are flowers? Your eyesight won't be able to see the many cars decorated with tulips, daffodils or jasmines that travel along the road for kilometers. This is what happens at the Bloemencorso Bollenstreek, an event you can enjoy if you go to Amsterdam in April.
It is now so well known for its beauty that it attracts thousands of people every year, both visitors and locals. The tour starts in Noordwijk, the flower region, and ends in the town of Haarlem. However, it goes through many other places, including the Keukenhof garden, which is only half an hour away from Amsterdam. As it is free, you have no excuse to book a tour from Amsterdam to several of these villages and enjoy the flowers and spring.
My advice is that, wherever you are, do not miss the opportunity to see this parade live. If in the photos it is already magical, being there, with the sweet and natural smell it gives off is spectacular. Not to mention the sculptures; true works of art made with flowers.
5. Taste the best Dutch beer at Meibockfestival
If you love beer, you're going to be thankful you're in Amsterdam at the end of April, because that's when the Meibockfestival takes place. This is the spring beer event. Every year, in the canal area, a number of craft brewers come together. The entrance fee is about 7€ and, although it includes an official glass, you will have to pay for each beer separately (from 1.5€ each).
The good thing about this festival is that all the stalls are in the center of the city, in Posthoornkerk, so it will be easy to do a tasting of all the varieties. My advice is to try a bit of everything, from the most traditional to the most experimental, with fruitier or more intense flavors.
Although Dutch beer is the main one, artisans from other parts of the world also come. What they all have in common is that they are spring beers, which have a special tone and in which herbs are not used. And if you want more, you can always go to the Heineken Experience, where you can visit the museum and learn about the history of this important brand, as well as enjoy a cruise through the canals and beers of the brand.
6. Visit Amsterdam's museums in April during National Museum Week
Fancy visiting Amsterdam's best museums at a reduced price? If you're traveling there in April I have good news: that's when National Museum Week is celebrated. What does this mean? That for seven days they will have special events and discounts (or even free). It's your chance to see collections of well-known museums but also some that are not so well known but are still worth it.
To avoid missing anything, it's best to buy your ticket in advance because, as you can imagine, there is usually a lot of demand and crowds. If you want to know what my recommendations are, let me tell you.
Anne Frank House-Museum
I'm not going to lie, it's a tough visit, since this house is where Anne Frank and her family hid during the Nazi invasion. Walking through each of the rooms you can read fragments of her famous diary. In any case, I think it is essential to understand what happened there, as in so many other places.
Of course, there are usually long lines to enter, so get your tickets for the Anne Frank House Museum before you go to plan the tour well.
Van Gogh Museum
Another classic that you can not miss if you go to Amsterdam, especially if it is April and you can access with discount during Museum Week. There you can see more than two hundred works by the painter, including The Sunflowers or his famous self-portrait, as well as drawings, sketches and letters. The tour is an artistic journey through the life of Vincent Van Gogh.
The truth is that, although there are usually many people, it is quite impressive to see almost all his creations. For this reason, I recommend that you get your tickets to the Van Gogh Museum early.
Nemo Science Museum
I didn't want to forget to mention the Amsterdam Science Museum, especially if you are traveling with your family. All its rooms are very entertaining and interactive, making you have a good time no matter how old you are and you will leave having learned many new things. On the other hand, I can not miss its architecture; the building is very modern and is shaped like a boat, which fascinates the little ones and provides a beautiful perspective of the city.
Rijksmuseum
The Rijksmuseum is a world reference for its large collection of paintings from the Dutch Golden Age. This includes paintings by Rembrandt, Vermeer or Hals. If you like art, you have to visit the Rijksmuseum, it is the most recognized in the country for a reason!
Of course, it is quite big, so I recommend you to go with a guide or an organized tour; it is much more enjoyable to understand all the art you are seeing.
7. Make the most of April afternoons in Amsterdam with a canal cruise
With the good weather in April, everyone wants to be in the streets of Amsterdam, or rather, in its canals. Declared a World Heritage Site, this city's ring of canals is not only a famous tourist attraction, but also home to more than two thousand houseboats. You may not want to stay on one of them, but you should take a river cruise through Amsterdam to get to know this area of the city.
In total there are about 75 kilometers and, although you will not go through all of them, a boat ride will give you the opportunity to admire the city of Amsterdam from its waters, including the luxurious mansions. The good thing about April is that the days are longer and the light that falls at sunset makes everything look even more beautiful.
The best thing about this activity is that it usually has a guide (or failing that, an audio guide) so that, as you navigate, you can listen to explanations about the history of the canals and the city.
8. Discover the Easter traditions of Amsterdam
What are Easter vacations in Amsterdam like? In some respects they are similar to those of any other city (chocolate, Easter eggs, days off work...) but there are other events and celebrations that are unique. Which ones? Mainly in the decorative motifs and the food.
Easter in Amsterdam is generally a family celebration, although there are a few activities that take place around the city.
Easter tree
Decorations are very important elements during Easter in Amsterdam. You will be surprised to see on the street (or even for sale in supermarkets) what look like Christmas trees. They are actually Easter trees and are not fir trees, but willow branches from which hang painted eggshells and figures of rabbits, butterflies and babies.
Typical Easter foods
As is typical all over the world, chocolate is the king food during the Easter vacations. However, if you are in Amsterdam on Easter Sunday you can go to a bakery or restaurant and enjoy a breakfast(Paasontbijt) or brunch(Paasbrunch).
What is special about them is that they will include Paasbrood, a sweet bread filled with raisins, almond cream, cinnamon and, unlike the Kerstbrood (Christmas bread), covered with orange peel.
9. Have fun with the whole family at the Bredeweg Festival.
Are you traveling with children to Amsterdam? There are always plans to do with the little ones, but in April in particular you can go to the Bredeweg Festival, a free event full of activities for the whole family, from crafts to concerts and plays. Sounds good right? The whole celebration is in the street, at the end of April, so the weather is usually very nice.
Although this festival lasts several days and has a wide cultural offer, the highlight comes on the night of the street opera. Don't think your children will be bored, because children's stories such as Cinderella are usually performed. Music and dance to liven up a beautiful night!
10. Attend the opening of World Press Photo in Amsterdam in April
Have you heard of the World Press Photo? I'm sure you have, as it is a traveling exhibition that showcases the best photojournalism of the year. Although it actually travels to several cities throughout the year, its opening takes place every April in Amsterdam. It does so in particular in De Nieuwe Kerk (New Church), a perfect setting to discover which are the photos that have best captured everything that has happened in the last twelve months. Be careful, getting tickets is not always easy.
Beyond being an exhibition, the World Press Photo is also a contest, as a professional and international jury chooses the winning photo (and other finalists). Which one would you have chosen? You can be one of the people to give your opinion after seeing and reading the stories behind each picture.
What is the weather like in Amsterdam in April?
April is the month of spring in Amsterdam, and that means mild temperatures (between 7ºC and 17ºC approximately) and sunshine almost every day, with a very low chance of rain (around 25%). If you have ever been to Amsterdam in winter, you will understand that being able to visit with clear skies and without a coat or raincoat is a luxury.
As temperatures rise and rainy days are reduced, I recommend that you enjoy the outdoors, just like everyone else. In addition, there will be about 15 hours of daylight a day, which allows you to extend your evenings and not get cold.
Amsterdam's tourist flow in April
The spring months attract many tourists to Amsterdam, especially on days when there are special celebrations. Keep this in mind if you are traveling in April, especially when booking flights and accommodation - don't leave it to the last minute!
Although the weather is even better in the summer months in Amsterdam, with so many important events coinciding in April, such as King's Day, Easter or the opening of the tulips, this month is considered high season. Although this may be a disadvantage, it is also a reason to join the festivities and experience something unique.
Are you already prepared for your trip to Amsterdam in April? You are sure to have a great time with all the plans that are available to introduce you to its traditions.