10 things to do in Rome in August
August is one of the busiest months in the Italian capital. If you plan to go to Rome in August, be sure to read what you can do to make the most of it.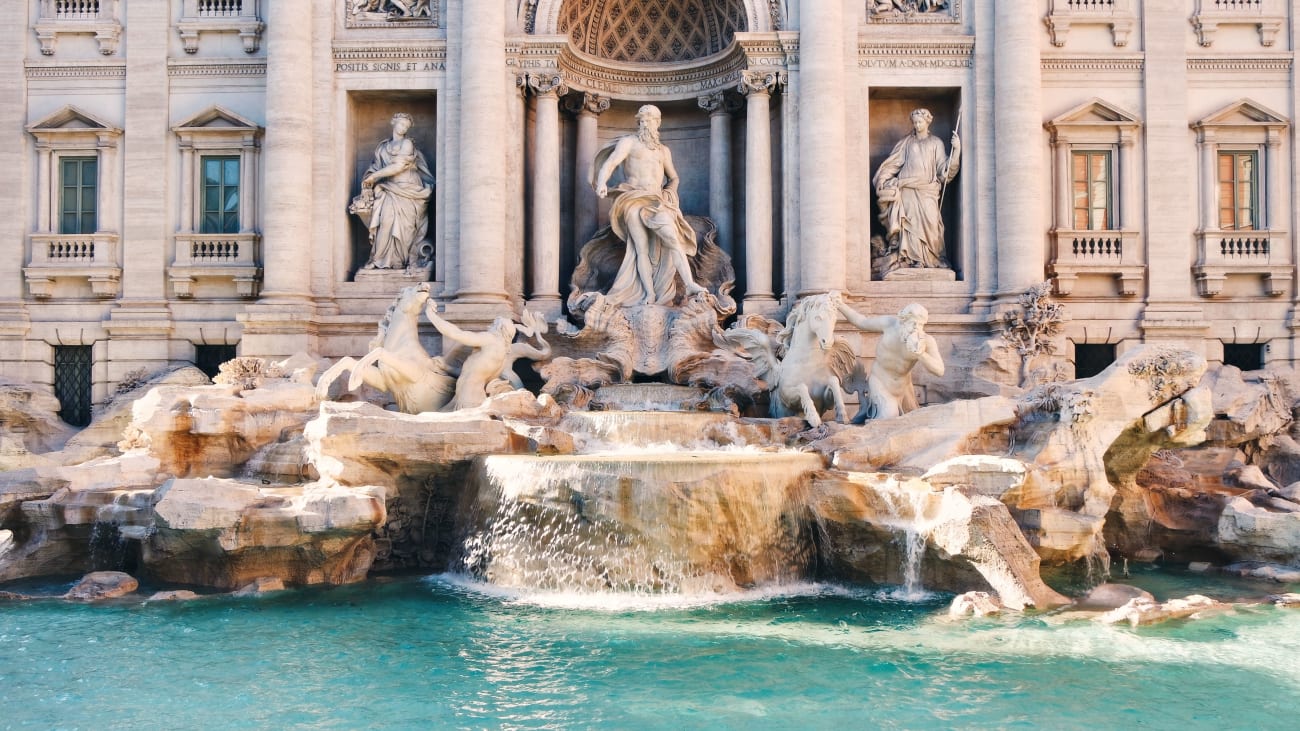 When traveling to Rome in August keep in mind that it is a very hot month, but, even so, don't worry, there are activities you can do to escape the heat.
The best thing about the events taking place this month is that everyone is welcome, including tourists. Although this wonderful city offers many things to see and do all year round. Be sure to read this guide to get the most out of your vacation in Rome during the month of August.
1. Take advantage of the Ferragosto celebrated throughout the country
For years, Ferragosto has caught tourists off guard, as it is a time when Italians make the most of their vacations. It is celebrated from August 15 and in those days, big lunches and parties are planned in various parts of Rome and all over Italy. Normally, citizens prefer to go to the Italian coasts, but there are also celebrations in the capital.
Don't worry if you go for a walk and some stores are closed or there are not many Romans in the streets. During Ferragosto you may come across markets in some squares or large groups of people taking advantage of their summer vacation.
One of the biggest advantages for tourists during Ferragosto is that many famous sites are less crowded. Therefore, you can go and avoid the long lines that would be there on other days in August.
The Gran Ballo is one of the best activities of Ferragosto
Tourists who do not visit the Roman squares or do not pay attention to what is going on in the streets of the city are missing the Gran Ballo di Ferragosto. Its name makes it clear that it is a festival within a festival, it is a way in which Romans celebrate Ferragosto.
The Gran Ballo is made up of different events that take place in different parts of the city, including the best squares of Rome. Places such as Piazza del Popolo host groups performing dance shows of different genres.
2. Enjoy the night tour of Castel Sant'Angelo in August
Castel Sant'Angelo is one of the most famous monuments in Rome and it is possible to visit it all year round. The reason I recommend you to go in August is that during this month night visits are available. In addition to having the opportunity to see its exterior illuminated by lights, it is possible to enter from 7:30 pm to 11 pm. The ticket price is about 12 €.
There are many Roman monuments that allow you to visit their facilities when the sun has already set and the moon is the protagonist in the sky. I recommend that you book your tickets for the Castel de Sant'Angelo. so you do not miss any detail of this fantastic mausoleum.
Inside the castle is common to see the defensive structures and prisons where people who marked the history were locked up. In addition, there are decorated rooms, libraries and more. Visiting this historic building at night is a great option. It is also possible to take a night tour in June, July and September.
3. See every detail of the Vatican Museums in the evenings of August
As with Castel Sant'Angelo, it is also a good plan to book tickets for the Vatican Museums, as they are open in the evenings. These kinds of tours are available every day in August. The evening schedule starts at 7 p.m. and ends at 11 p.m. (the rooms are vacated from 10:30 p.m.) and is valid from mid-April to October.
If you want to go to these Museums in Rome, you should know that during the day there are many people, so it is not possible to detail every decoration inside. However, in the night tours there are not many people, the amount does not reach 100.
With much less visitors in the corridors you have the opportunity to stop and see the paintings on ceilings and walls, and the decorations. In addition, the Sistine Chapel is included in the night tour.
4. Enjoy the snow in the middle of summer next to the Basilica of Santa Maria Maggiore
One of Rome's basilicas is that of Santa Maria Maggiore or Santa Maria Maggiore, also known as Santa Maria della Neve. Every August 5 it celebrates a miracle that the Virgin is said to have performed after appearing in the dream of Pope Liberius. Legend has it that on August 4 and 5, 358 AD the Virgin asked the Pope to erect a church for her and on the morning of August 5 it snowed on the site where the Basilica was later erected.
Because of the above, believers remember the miracle of the snow in August in the square in front of the Basilica. At the celebration, a sound and light show is organized, and attendees see an artificial snowfall, so you don't have to visit Rome in winter to see snow.
5. Celebrate the day of the Assumption of the Virgin Mary
According to Catholic tradition, on August 15 Mary ascended into heaven and therefore this day is celebrated by believers. Because many people in Rome are Catholic and that is where the Vatican is located, celebrations are held all over the city.
One of the best known activities in Rome for the Assumption is the mass that takes place in the same basilica where the miracle of the snow is commemorated. A cardinal sent by the Pope himself comes to the Basilica of Santa Maria Maggiore to make a floral offering and pray.
Because Ferragosto coincides with this religious celebration, it is normal for many Romans to take advantage of the holiday to start their vacation. In case you are religious, you have the opportunity to attend one of the celebrations held in Rome's churches.
6. Attend opera performances in a unique setting
Imagine this: an unparalleled stage and performances by opera and ballet experts. In case you are visiting Rome in August you don't have to settle for just imagining it, because the performances of the Teatro dell'Opera di Roma take place in the Baths of Caracalla at the beginning of August.
During the show it is normal that you will meet other foreign tourists who decide to take part in this activity. In these performances the quality that characterizes the famous Roman theater is guaranteed. The ruins of the thermal baths complement the performances and make your experience unique.
Every day a different artist performs, the performances are announced on the website of the Teatro dell'Opera di Roma. Ticket prices start at 25 € and some exceed 135 €.
Other proposals
But not only in the Terme di Caralla can you enjoy an opera performance, but you can also see an open-air opera show on the Borromini Terrace, a rooftop terrace located in the wonderful setting of Piazza Navona.
Other cheaper options are the opera concert at Palazzo Santa Chiara in Rome or the opera concert at the Valdens Church.
7. Watch an Italian or international movie at the Tiberina Island
Summer is the perfect time to do things outdoors, especially if it's somewhere cool, like near a river. Tiberina Island is in the Tiber River less than 5 kilometers from Rome, every summer a film festival is held there. It features short and feature films from Italy and other countries.
Dozens of screenings are seen at this event, even an Italian short film competition is planned. If you want to enjoy quality cinema with interesting themes, this is something original that you have the opportunity to do in Rome in August. And if you are a lover of the seventh art, keep in mind that you can also book your tickets for Cinecittà World in Rome.
8. Enjoy the music at Villa Ada Rome festival
The origin of this music festival dates back to more than two and a half decades ago, it runs until mid-August. The first two weeks of the month you have the opportunity to attend and listen to musical genres of all kinds, from composition to Italian indie.
Each edition of the festival has a different title that gives you a taste of what you can enjoy. This is a big cultural event that usually features more than 60 concerts, cultural debates and meetings. The program changes every day, so there are options to suit all preferences.
Tickets to the concerts are not the same price every day, they vary depending on the artist performing and range from 10 €. The Villa Ada Rome festival takes place in Via di Ponte Salario, which is located about 5 kilometers from the center of Rome.
9. Combat the heat with a good ice cream and learn how to make it
Rome is the perfect place to enjoy the best ice cream and what's better than doing it in the middle of summer? In the Italian capital there are many ice cream parlors, I recommend you to enjoy your dessert in a park, in this city there are several things to do.
In the summer, the Roman ice cream parlors have flavors prepared with typical fruits of this time of year, such as melon, strawberry and cherry. After you finish your daily run (or at another time of the day) you have the opportunity to delight your palate with an Italian gelato. You can also sign up for a pasta and gelato making class, where you will learn the authentic technique of the exquisite Italian gelato.
10. Don't miss the cultural events all over the city
Estate Romana is a festival that takes place throughout the summer, it was created in order to attract tourists to the city. Because the months of June, July and August are very hot, people prefer to go to the Italian coasts. However, this festival is a great reason to stay in the capital.
Estate Romana includes a wide variety of activities, from theater to readings and museum visits. All the events that take place are free and the programming is extensive, so there are options for children, young people and adults.
If you are in Rome in August, go to the Estate Romana website and see the cultural programming. Activities are also held during June and July.
Summer temperatures in Rome
You have to keep in mind that July in Rome and August in Rome are the hottest months with an average daily temperature that exceeds 30°C. Moreover, in case the humidity level is high, the thermal sensation becomes much higher, to the point of making you feel overwhelmed.
Besides Ferragosto, one of the reasons why some businesses close is the heat. Their owners want to stay cool, so they keep their stores closed until the temperatures start to drop.
Are there many tourists in Rome during August?
Rome is a city that has many things to see and do all year round and therefore there is always tourism. Specifically, July and August are the months in which there is the greatest influx of tourists, so it is normal to see streets full of people and places with long lines. Italians also decide to travel during these dates, they go to the coasts to enjoy the summer.
Just because there are a lot of tourists doesn't mean that there are no things to do, all the activities we mentioned before are available. So are museums and other places you can go to any month of the year.
Are prices in Rome too high in August?
Because Rome is a widely visited city in August, don't be surprised to find a hotel with a higher price than in other seasons, such as spring and autumn. Likewise, some restaurants and stores also decide to increase their prices during this month.
If you go at the end of the month, there is a chance that prices have dropped, but only slightly.
What to pack for a summer visit to Rome
To answer this you need to take into account the season, as it is summer, what I recommend you to bring to your trip is:
Light clothing.
Clothes that protect your head, such as a hat.
Sunglasses.
Sunscreen.
Comfortable shoes, but not too hot for your feet.
Also, don't forget to bring a container of water to have on hand while you do your activities. Hydrate constantly so that the heat does not affect you, also, remember to sit down and rest at certain times. You can do the latter in a park, in a square or near a Roman fountain.
I hope that on your trip to Rome in August you will enjoy some of the above mentioned events. Have a good trip!