Paris in July: a handy guide to discovering the city
Get ready to have a spectacular time in the City of Lights enjoying the long sunny days and fun things to do in the month of July.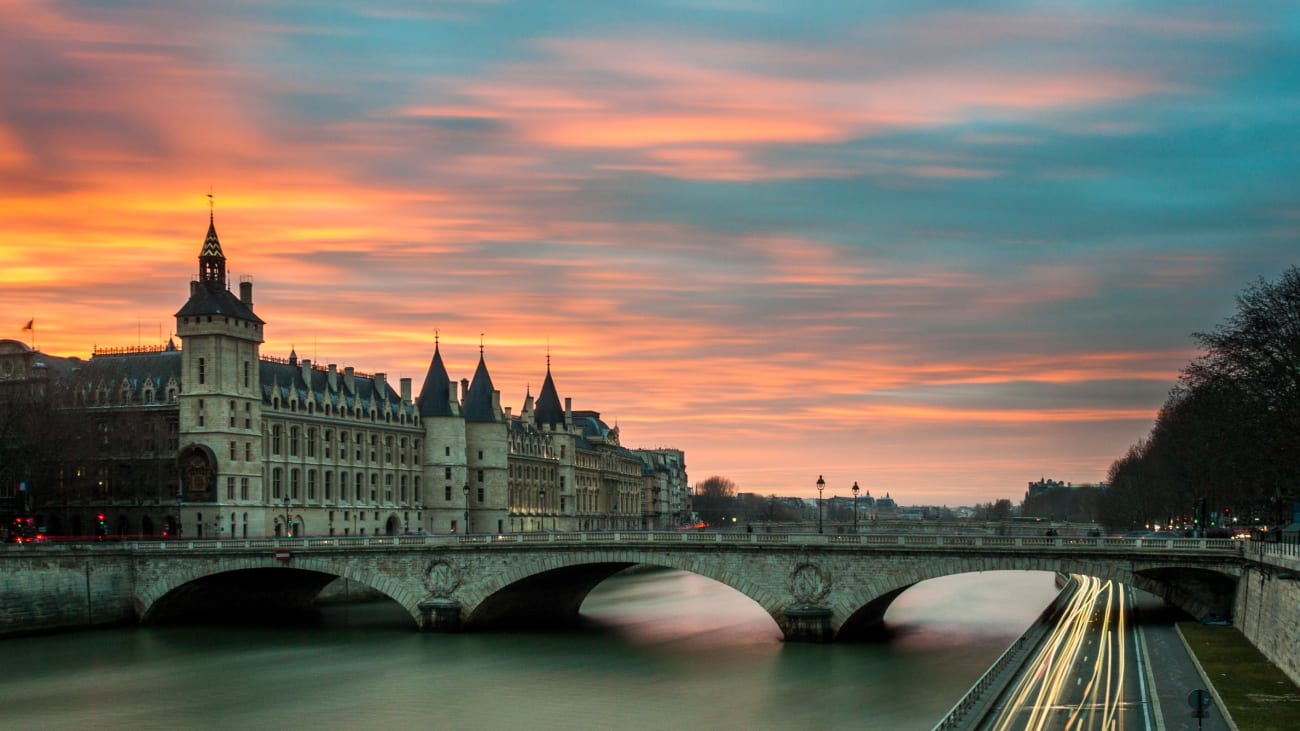 Paris events during July include some of the year's most exciting things to do and see: the Tour de France cycling race, the huge (and free) Fnac Music Festival at the Hotel de Ville, palm trees pop up along the Seine River, and Bastille Day fireworks at the Eiffel Tower light up the night skies.
There will also be a grand parade, firemen's balls, free outdoor film festivals, concerts and art shows. A month to enjoy this amazing city to the fullest!
1. Bastille Day Celebrations and Fireworks
Bastille Day, Paris' biggest summer party and a national celebration throughout France, always takes place on July 14, the anniversary of the storming of the infamous Bastille prison (July 14, 1789) and a turning point in the French Revolution.
The day begins with military ceremonies and a grand military parade down the Champs Elysees from the Arc de Triomphe to the Place de la Concorde, including a flyover by military aircraft that can be seen from most points in the city. Wow, if you had to goto Paris for just one day all year, I would definitely recommend you go on July 14.
Military ceremonies begin at 10 a.m., and the parade starts at 11 a.m.
Also don't forget the fireworks display at the Eiffel Tower, so if you visit the Eiffel Tower at night, you'll see how it's fully illuminated and in tune with Bastille Day. The tower's festival of lights will last about half an hour. There will also be room for an opera under the Tour Eiffel starting at 9:30 p.m.; which, while not quite the same as attending the Opera Garnier, for a free show, is quite a spectacle. You can also take advantage of the location and the fact of going at night to dine in one of the restaurants near the Eiffel Tower.
Special Bastille Day Fireworks Cruises
Perhaps the best place to watch the Bastille Day fireworks is from a cruise on the Seine on July 14.
You can even indulge in a dinner cruise on the Seine as you float past all the landmarks along the Seine and then watch the dazzling fireworks at the top, priceless.
2. Paris l'Été Festival
This annual arts festival features dance, music and theater events in various popular neighborhoods of Paris. Since 1990, the Paris Summer Festival has organized artistic and cultural events throughout the city. The festival lasts from early July to early August.
The arts represented are theater, dance, circus, music and art installations in many of the capital's famous and unusual venues. Most are outdoors and outside the traditional entertainment venues.
For more information feel free to visit the festival's official website - events are free!
3. Visiting Giverny in July
Visiting Giverny is a quick and easy day trip from Paris, and if you're a Monet fan, it's an experience you'll want to put at the top of your bucket list.
Impressionist artist Claude Monet spent the last half of his life in Giverny, a small village in Normandy about 45 miles**(approximately 1 hour and 15 minutes**) outside of Paris, where his famous water lily ponds bloomed during the month of July.
Thanks to a meticulous restoration after Monet's death, you will see his house, gardens and water lily pond as they were when he lived there and painted some of his finest masterpieces. If you are also interested in this artist and creator of impressionism and your stay in Paris is not so short, you can go to the Louvre museum one day and see some of his best works live.
4. Paris Japan Expo
Are you a fan of Japan and its culture? If so, you must attend the Japan Expo, an exclusive July event that includes martial arts, video games, music and more shows.the event takes place in one of the largest exhibition centers in France, which is only one RER stop away from Charles de Gaulle airport so knowing how to get around in Paris will becrucial, especially by Paris metro.
Expo Paris Japan will take place in the first week of July at the Paris Nord Villepinte Exhibition Center. For more information check the official site.
There will be signings, speakers, workshops and master classes where famous artists (animators, illustrators, video game creators, film producers, musicians and composers) will reveal their secrets and tips.
There will also be room for music, from rock, RnB, J-pop, punk, electro, shamisen, koto, sanshin, to traditional genres. There will also be hands-on workshops to teach the basics of drawing, modeling, ikebana, origami and calligraphy.
There can't be a festival of Japanese culture without a trace of video games. Many video games will be available for free where you can try out the latest releases and participate in tournaments. Video game creators will also be there to tell you about their work and expert advice.
There will also be an area dedicated to martial arts where you can learn the basics of Ninjutsu, kendo, judo, aikido and karate.
5. Summer sale on designer fashions
The famous Paris summer sales continue until mid-July. For many "smart" fashion lovers, the part of July marks the optimal point for shopping, when stores proceed to the 2nd and even 3rd reduction, changing the Sale signs in their windows for percentages of 70 or even 80%.
The best places to find bargains? Everywhere! Luxury brands such as Chanel, Valentino and Armani attract large crowds, the same for Galeries Lafayette, BHV, Bon Marché and Au Printemps, but without ignoring smaller boutiques and even global mid-market chains.
6. Outdoor Movies at Parc de la Villette
Free outdoor movies return to Parc de la Villette every summer with the Cinéma en Plein Air (Outdoor Cinema). During the month of July from Wednesday to Sunday you'll see a great mix of classic films and recent hits shown in their original language with French subtitles as soon as it gets dark in Paris.
Bring a blanket to sit on, a picnic dinner and a bottle of wine. Plus the park is one of the most striking in Paris and one of the largest in the city at 55 hectares, surrounded by theaters, cafes, kindergartens and several dining spots. Of course, if the green part is what interests you the most, I recommend you to visit it when you visit Paris in April or visit Paris in May.
7. La Fête Foraine des Tuileries
The Fête Foraine des Tuileries, literally, a fun fair, suddenly appears in the Tuileries Garden in Paris in early July to provide a month of non-stop entertainment.
With a giant Ferris wheel ( bring your camera for great shots of the Sacre Coeur and the Eiffel Tower, carousels, bumper cars, "fun houses," rip-roaring rides for thrill seekers, children's games and much more, the carnival entertains families with kids, teens and everyone else looking for fun for the rest of the summer. A perfect plan if you're going to Paris with kids.
And, of course, massive amounts of food will be on sale: cotton candy, waffles, ice cream, fried dough, barbecue and drinks.
The event will take place in the Jardin des Tuileries between the Louvre Museum and Place de la Concorde. For more information visit the event's website.
8. Fnac Music Festival
Don't miss the free live concerts of up to 30 international artists in front of the Hôtel de Ville (Paris City Hall) from dusk to midnight. This musical event is widely known in Paris, usually lasts about 3 days and usually falls in early July.
The French company Fnac is the one that usually sponsors the concerts and musicals of this event, and up to 100,000 fans attend. The town hall is located very close to the museum area of Paris (between the Louvre Museum and the Carnavalet Museum).
For more information visit the concert website. If you are going to Paris for 3 days in July and you like the festive atmosphere, rejoice because you already have plans!
9. Firemen's Ball
Attend one of the Firemen's Balls (Bals des Pompiers) held on July 13 and/or 14 annually, as the main firehouse in each arrondissement (district) of Paris opens its barracks and courtyards and welcomes the public for an all-night party with music, dancing and drinks. While attendance is free, the food and drink served must be paid for.
The Bals des Pompiers usually begin at 9 pm and end at 4 am. Depending on the firehouse, the event may take place on July 13 or 14, and in some cases, on both dates. For more updates on this event I recommend the following website.
What to wear in Paris in July
Visiting Paris in July will make for some warm afternoons as well as cool evenings. As such, be sure to pack plenty of sunscreen, a hat for the hottest days and lots of light, easy to wear clothing. Sandals and shorts are perfect for this type of weather.
However, it's also important to keep in mind that July is also the summer month with the heaviest rains, so be sure to pack an umbrella just in case, as well as some waterproof and comfortable shoes.
Summer sales at stores throughout the city will make you want to reserve a little space in your suitcase to bring home a couple of souvenirs. Known as "les soldes", the sales in France are regulated by the state and can only be held twice a year; once at the end of July, and once at Christmas time in Paris. For those looking for a bargain while in France, this is the time to shop!
Where to Stay in Paris in July
If you're looking for summer accommodation in the city, then it's worth bearing in mind that prices can be a little higher than usual, as there tends to be a lot of demand.
However, there are still plenty of places to stay in Paris, as well as options for all budgets. That said, the earlier you plan your trip to Paris in July the cheaper it will be!
Paris Weather in July
The summer months bring many long, hot days. As such, July is the perfect weather to enjoy the Parisian cafe culture, where bar seats and striped chairs spill out onto the wide boulevards making the aroma of coffee always waft through the streets.
For the month of July, Paris weather tends to fluctuate between 16 and 25 degrees Celsius, with an average of 20 degrees C, providing the perfect climate for exploring all that the city has to offer. That said, evenings can be a bit cooler, so you'll want to keep a light jacket handy for when you feel like exploring Paris at night.