11 Things to Do in Menorca in October
If you are looking for a getaway before the winter cold arrives, Menorca is the best option to visit in October.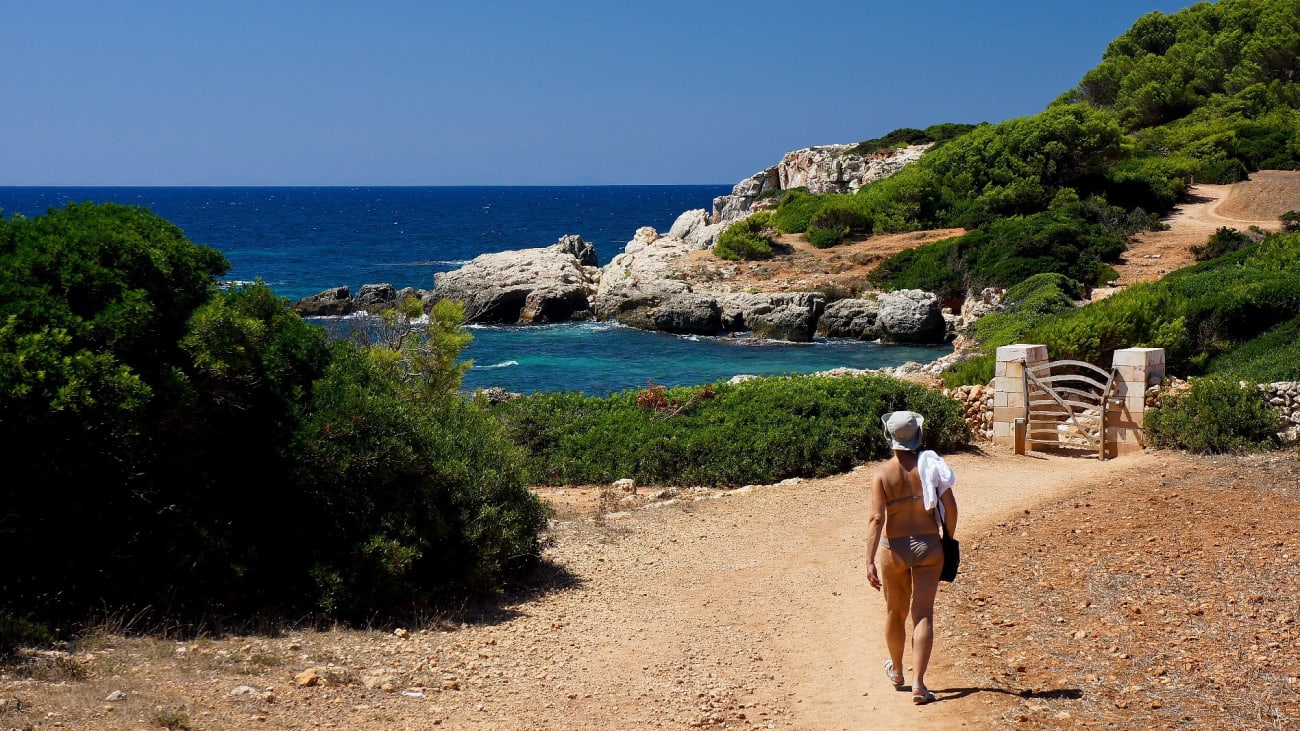 Menorca, neighbor of Palma de Mallorca, is a Mediterranean island full of unusual places, historical sites and gastronomy to enjoy. If you are looking for a getaway before the cold of winter arrives, all there is to see and do in Menorca make it the best option to visit in October.
The temperatures in autumn in Menorca are quite warm and in October you will still find days with more than 20°C. Therefore, you will be able to enjoy nature in comfort. Besides, as it is not high season, you will have the opportunity to visit the island without so much tourist hustle and bustle.
1. Don't miss out on a Kayak tour in Menorca
If you are looking for adventure, movement, and to get closer to the island through its coasts and its caves, the ideal is a kayak tour.
Enjoy kayaking in Menorca is incredible and very affordable, and if something is not missing on the island are excursions and activities with kayak. In addition, one of the advantages of October is that you will not find crowds on the beaches or in the water, so your navigation will be more pleasant.
2. Visit Menorca Talayotic without the crowds
Menorca has prehistoric sites, which are candidates for UNESCO World Heritage Sites. The name Talayotic comes from one of the most famous constructions of the island, the talayots, which are large watchtowers. There are also remains of funerary and religious constructions.
October is ideal for visiting the ruins during the day because of the pleasant weather and the possibility of seeing them practically alone. You can follow one of the suggested routes through which you can visit several of the prehistoric sites, or simply choose one of the archaeological sites and concentrate on it.
If you want to make an excursion with spectacular scenery, I recommend climbing the cliff Assentament Costaner de Cala Morell, from where you can see a village of artificial caves, and appreciate a dreamy sunset. The climb is not easy, but it is worth the view once at the top.
3. Discover Menorca through its autumn gastronomy
Autumn is a good time to relax and savor some of the unique flavors of the island. In Menorca they make a lot of use of seasonal products, something that not only improves the dishes, but also allows you to get to know its culture through its gastronomy.
In October vegetables such as pumpkin, eggplant, peppers or onions take center stage, although the real protagonists of the season are mushrooms.
The most popular, and that you will find in many markets and menus, are the esclatasangs, a very tasty variety.
In addition, you will also be able to do some activities related to gastronomy:
Cheese: October is a great time to visit a farm where the famous "Queso de Mahón" is made. In most of them you will be able to taste it and even learn how to make it in a cheese workshop.
Wine: wine production on the island has grown in recent years and, with it, wine tourism activities. How about booking a visit to a winery?
Gin: although you may not know it, gin is quite a popular product on the island, something that is attributed to the British occupation. If you want to taste the drink and learn about the production process, you can visit the Xoriguer store in the port of Mahón.
4. Spend a magical evening observing the stars
If you are in Menorca in the second week of October you may be able to witness one of the most striking natural spectacles of autumn: the Draconids, the first star shower of the fall.
Moreover, you will find few better places than this island to see it, since it has even achieved a certificate as a Starlight destination, which distinguishes those places that take care of the quality of their dark sky and their commitment to defend it.
In order to contemplate this star shower it is necessary to move to a place where there is no light pollution, something relatively simple in Menorca. Good areas are Son Saura, Macarella cove and the part of the coast between Cavallería and La Vall, where you can even take a stargazing tour.
In some of these points it is planned to install night viewpoints to promote the so-called astro-tourism, as well as several Talayotic villages.
5. Look for a quiet cove to relax in the autumn light
Had you thought that because it was October you were not going to be able to enjoy the beaches of Menorca? Nothing further from the truth, because in addition to the bathing temperature is usually very pleasant, there is no better activity than looking for a quiet cove to relax in with hardly any people.
In the north of the island you can find the Cala Pregonda, where there are beaches with reddish sands and stones of the same color, in addition to the expected crystal clear waters that reflect the blue sky.
In the south of the island is the Cala Mitjana and Mitjaneta, with white sand and great vegetation around the beach. For them you should arrive early, because it is where most tourists go, however, the views are worth it.
Another of the most incredible beaches that I recommend is Cala Galdana, which is basically like a giant pool of sea.
If you don't want to be satisfied with just visiting one of these coves, you can also book one of the boat trips to several of the coves on the island.
6. Take a horseback ride
If you like nature, being in contact with animals or even if you are going to make the trip with children, a horseback ride can be a perfect activity for you. Knowing Menorca on the back of one of these animals is a very different and super fun way of sightseeing. You will be accompanied at all times of a guide giving a quiet ride and touring the Camí de Cavalls, nature trails from the city to an inland route to Cala Mitjana, and you will finish with a fabulous walk along the beach.
7. Take a Jeep safari in Menorca if the weather is not too good
Although the weather in October is usually good, it is not uncommon that some days in October dawn very cloudy or windy. In those cases, when walking down the street can be uncomfortable, you can hire a very original and fun activity: a jeep safari in Menorca.
This excursion is one of the most popular activities for children in Menorca, as they will be able to comfortably contemplate several attractions of the island.
With a local guide and aboard a convertible vehicle, the excursion has stops at some of the lesser known coves of the island, as well as at several spectacular viewpoints.
8. Tour Ciutadella in the tranquility of autumn
Although touring all that Ciutadella has to offer can (and should) be done all year round, in my opinion October is one of the best months to do so. Beyond the good temperature, the best thing is the tranquility of being able to stroll through its streets without finding them full of visitors.
There are tours through the most picturesque streets, with a route of about two hours, and that leads to places like the Llabrés Pharmacy, one of the modern buildings of the island; and the monastery of Santa Clara, which has a considerable historical past.
You can also organize a route on your own, wandering through the picturesque streets of the port and stopping for lunch or a drink in one of the restaurants.
And you can also enjoy the many handicrafts made in Menorca, such as the renowned shoes proudly made on the island.
9. Experience a unique cultural event with the Cranc Festival
Cranc is a small-scale festival that takes place at the end of September. It is usually organized in places like the terrace of Es Claustre, which used to be a convent of the Carmelite Order, and is now a space dedicated to culture.
The Cranc Festival brings a variety of musical styles, both Spanish and international, and is an excellent opportunity to enjoy the first autumn nights of the season, full of freshness and vitality.
If festivals, even on a small scale, are not to your liking, still keep an eye out, as all year round different DJs and singers perform at Es Claustre, just check the official website to find out what events there will be when you're there. Don't forget to book in advance.
Practical info
Where: Pati del Claustre del Carme, 50
Price: from 20 €.
Schedule: varies depending on the performances
10. Go shopping at Capllonch Night Market
The month of October marks the end of several of the activities that take place during the summer in Menorca. For that reason, it is the moment to take advantage and visit, for example, the Capllonch Craft Market, in Ciutadella, which closes its doors at the end of that month.
A great plan would be to visit during the day all the attractions of Ciutadella and wait until 7 in the evening, which is when this night market usually opens. In it, you will find several stalls, most of them dedicated to the sale of handicrafts. Of course, there are also some that offer typical food of the area and that you can use for dinner afterwards in one of the best restaurants in Menorca.
Practical information
Where: Carrer del Pere Capllonch, Ciutadella
Price: free
Opening hours: Monday to Thursday: 19:00 to 0:00 / Friday to Sunday: 17:00 to 1:00
11. Sign up for the Volta Cicloturista or take a bike tour on your own
If there is a place and a time when you want to take a bike and ride through some incredible landscapes, that is Menorca in October. Precisely that month takes place on the island an event that celebrates this type of active tourism: the Volta Cicloturista Internacional a Menorca.
If you are interested, you can sign up for three cycling stages of between 28 and 100km per day in the middle of the nature of the island. Of course, these are routes that require you to be in good shape.
In case you are not so used to cycling kilometers, the island also has different routes that you can do without any problems. Many companies rent bicycles all year round, including electric bicycles.
It is worth mentioning that all sports activities in Menorca are carried out in a sustainable way and promote respect for nature and the environment.
Practical information
Where: Registration is done online
Price: About 70 €.
When: Around the 20th of October
Weather in Menorca in October
The weather in Menorca during the month of October is, in general, very pleasant. The average maximum temperature is 23º, while the average minimum temperature is 16º.
In addition, most of the days are sunny, although from time to time there may be a storm or the wind blows with some strength.