Boat tours in Menorca
You haven't been to Menorca if you haven't discovered its secret coves by boat and enjoyed its fine white sand and crystal clear waters: don't miss this essential experience!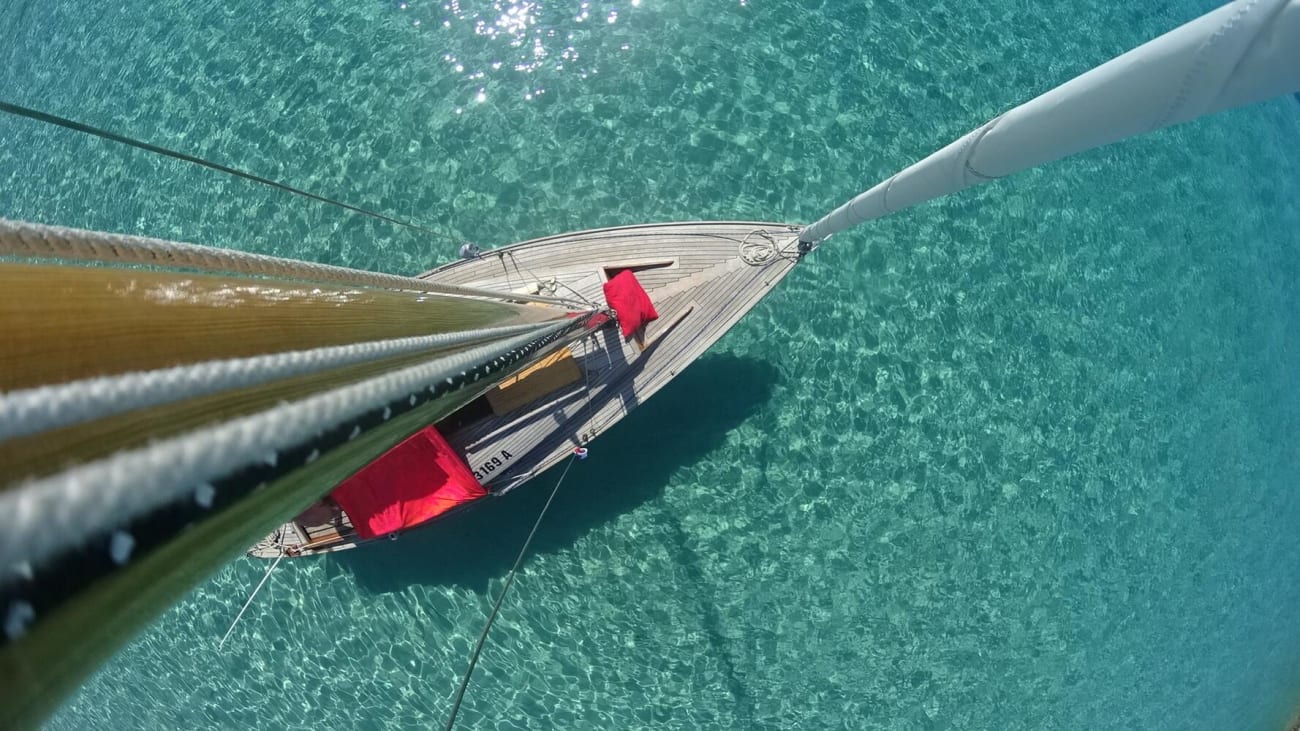 Menorca is one of the jewels of the Mediterranean Sea: its beautiful beaches will bring you peace and touring its towns and villages will give you a certain joy that can only be found on vacations.
But this vacation will not be complete without enjoying the most beautiful and unique view of Menorca. Seeing the island from a boat in the middle of the sea is a marvel, and while you're at it, take a stroll around the island and discover its coves and swim among the fish. Do you want to know how to take a cruise around Menorca? Keep reading!
My favorite
While taking a boat trip on your trip to Menorca seems to me an essential experience to discover the best kept secrets of this beautiful island, spending a whole day at sea is a luxury that I encourage you to give yourself if you have enough time.
This excursion lasts 7 hours: and will take you to discover its most famous coves. You will leave around 10 am from Ciudadela and head for the southern beaches. You will pass by Cala Macarelleta, Son Saura, Es Talaier and Cala'n Turqueta, among others.
You will have enough time to make several stops in the middle of the sea and some of the coves, where you can swim among fish and see the seabed. It also includes lunch, a typical dish of paella and drinks so you don't have to worry about anything but enjoying your vacation.
Why I like this option: As I said, it seems to me without a doubt the best value for money option. It is the longest tour, includes food and drinks and you will stop for swimming and snorkeling at the best spots along the coast.
Recommended if... you have enough time and feel like spending a whole day at sea without breaking your travel budget. If you are traveling with children, this is also a very good option, as you will be sailing in a medium sized and quite stable boat.
---
The most premium
Half-Day Catamaran Trip in Menorca
Discover the crystal clear waters of Menorca aboard a luxury boat
This option is perfect if you prefer smaller group excursions and you feel like spending a relaxing day on a luxury catamaran with a maximum of 10 people on board. There are also stops for swimming and snorkeling
Duration: 3 hours 30 minutes
From $ 80 at Hellotickets
This excursion will allow you to explore the crystal clear waters of Menorca aboard a luxury catamaran with very few tourists on board. It lasts :3 hours 30 minutes: and its itinerary is somewhat of a surprise: the route is decided according to wind direction and sea conditions.
This is the most authentic boat experience you can have in Menorca, and depending on the weather and the tides, you will visit Cala Pregonda in the west or Cala Mongofre in the east of the island. The catamaran always leaves from Fornells. Throughout the tour you can enjoy drinks and a typical snack to enjoy on board the catamaran.
You can enjoy this special trip around Menorca by catamaran early in the morning or at sunset, so it is flexible within your plans. The sunset ride has some special colors or more and is a magical experience, but if you prefer to enjoy a swim, better take the morning option to see the turquoise waters of Menorca at its best. You will be able to stop for a swim and you will be provided with the necessary equipment for snorkeling.
Why I like this option: this tour offers you a more authentic and relaxing experience, sailing and following the wind direction. In addition, it also offers the possibility of swimming and snorkeling, which completes this activity perfectly.
Recommended if... budget is not a problem for you and you feel like living a more exclusive experience, without large groups in a luxury boat.
---
The most economical
This boat trip along the south coast of Menorca departs from Cala'n Bosch and takes you to see spectacular coves that are only accessible on foot or from the sea, such as Cala Turqueta, Cala Macarella, Cala Mitjana and Cala Trebaluger.
Also, as part of the experience, the boat will dock at one of the coves for you to swim on the beach, snorkel or observe the marine life through the glass floor. You can also order a drink at the boat's bar or sit and listen to an audio guide who will tell you all the details about the coves. The boat has slides, which will make the swim stop more fun.
The schedule of this activity is quite flexible, as you can choose to do it in the morning at 10:00 or in the afternoon, leaving at 14:00 (if you choose the afternoon option, there is an extra stop in Cala Galdana for embarkation and disembarkation of some passengers, which makes the excursion last about thirty minutes longer). In any case, you will enjoy a calm and uncrowded sea, since as I mentioned, these coves are inaccessible by car.
Why I like this option: this half-day trip will take you to discover the best coves of the island, which are inaccessible by car. During the day, you can swim, snorkel and even enjoy a few drinks on the deck of the boat. And all this at the lowest price on the island.
Recommended if... you are short of time and can only dedicate half a day to this activity or if you simply want to discover which are the best coves to dedicate more time to your favorites during your trip.
---
For groups
Half Day Boat Rental in Menorca
A private boat with skipper for you and your companions for half a day
If you travel to Menorca in a group, it is very likely that it is worth booking this private option: the boat can accommodate up to 12 people, which would mean a cost per person of 50€. You will be able to customize the itinerary and the stops for swimming
Duration: 3 hours 30 minutes
From $ 733 at Hellotickets
Perfect for groups, this boat trip lets you and your friends, or family, or partner decide the route and the places to visit by boat. With drinks and snacks included, and the possibility of using a paddle surf board to explore the waters of Menorca at your leisure, plus a snorkeling experience included, this customizable Menorca boat tour is the best if you are looking for a private tour to spend the day as you decide.
The boat departs from Cala Galdana and from there, you choose the itinerary. The captain has a suggested route, but you can ask him to take you wherever you want, being able to make as many stops as you want for the year. In addition, the boat has the necessary equipment for you to snorkel and paddle surf in the sea. There is also a bathroom on board and you will have drinks and snacks during the day.
Why I like this option: Although it may seem overpriced, large groups often end up paying more if they decide to join a large organized group. If it makes up the bills for you, this tour is much more premium, private and customizable. You will spend a day aboard a luxury vessel sailing at your leisure.
Recommended if... you are traveling in a group and prefer to enjoy a private experience with your companions.
---
In summary, we compare all options
---
What you should know about boat trips in Menorca.
All the activities I have told you about take place only if the weather is good. In case it is very cloudy, rainy or snowy, the boat ride will be cancelled and you will be offered to reschedule the experience or receive a full refund.
Bring swimwear, sunglasses, a towel, a bottle of water and sunscreen: all the experiences have a stop at a beach and you will enjoy lying in the sun by the sea.
If you are looking for a more intimate experience, I recommend the catamaran ride or the private tour, as the other experiences sometimes have larger groups.
When you confirm your reservation, you will receive an email with all the information you have provided. Check that everything is correct and save it to show to the boat captain on the day of the experience.
Other experiences that may interest you
Besides taking a boat trip in Menorca, there are many more things to do on the island to enjoy an unforgettable trip. If you want to read what else you can't miss on your vacation, keep reading here: Boat tours in Menorca.
Is your favorite time of the day the sunset? Then you're planning the right vacation. Here's a guide on where to enjoy the last light of day in Menorca: Best sunset spots in Menorca.
And if after the boat ride you're left wanting more maritime adventure, don't worry Menorca has plenty more to do - why not take a kayak race? Read how here: Kayak activities in Menorca.