10 Best Activities in Minorca
Go hunting for the most incredible places in Menorca while enjoying experiences that will make your trip unforgettable. Here are the best plans for your vacation.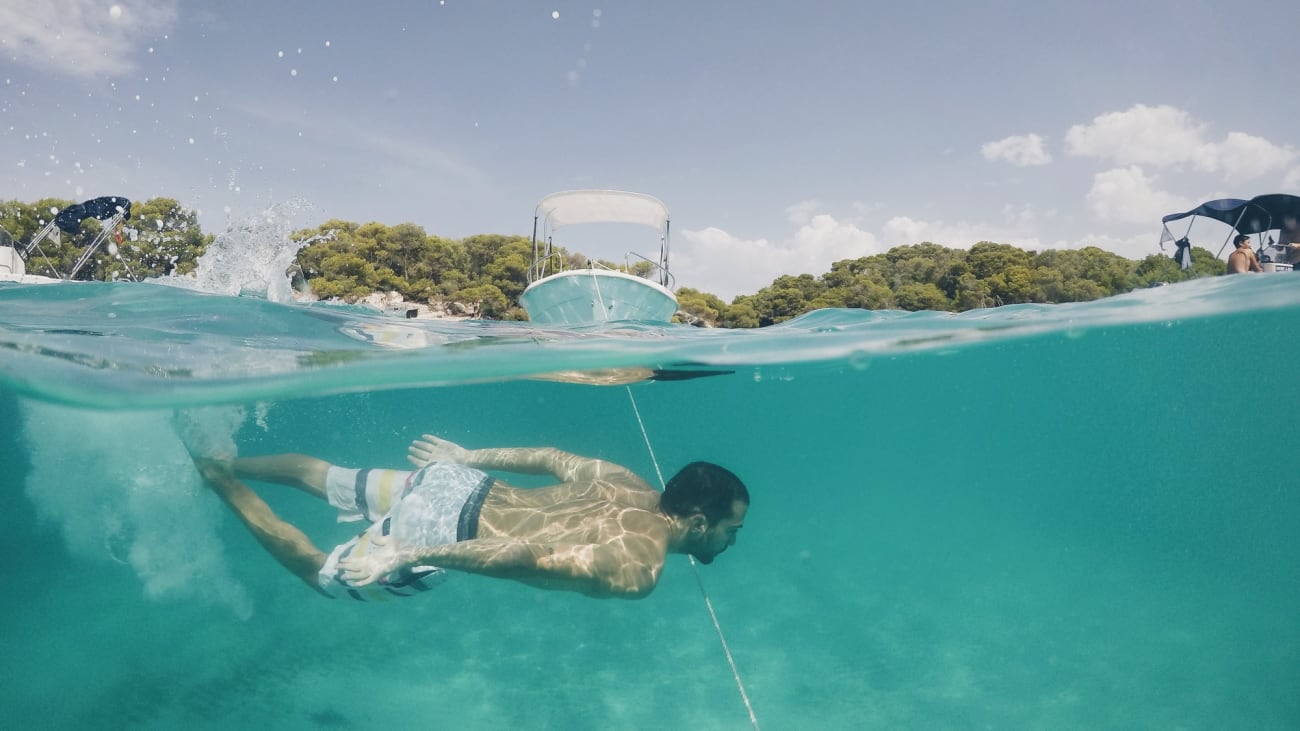 If you are preparing a trip to Menorca and the only plan you have prepared is to go from the hotel to the beach, let me tell you that this article is perfect for you. There are a lot of interesting things to do on a vacation in this wonderful island and, luckily, I have put them together in a practical guide with everything you need to know.
From boat trips and snorkeling and paddle surfing experiences to visits to dream villages: Here are 10 great things to do on your vacations in Menorca so you will never forget this trip.
1. Sign up for a boat trip
Doing a boat trip along the south coast of Menorca will make you have a great time visiting some of the most beautiful coves of the island, such as Cala Turqueta, Cala Macarella, Cala Mitjana and Cala Trebaluger among other places that can only be reached by boat.
You will drop anchor at one of the beaches visited during the experience and you can choose how to spend your time: swimming, sunbathing, snorkeling to discover the marine life in motion or just staying on the boat watching the seabed through the glass floor while you have a drink. In this article about the best boat trips in Menorca I tell you which are the best options.
2. Take a catamaran ride at sunset.
Sailing on a catamaran is, without a doubt, one of the most exclusive and relaxing experiences you can book if you are thinking of taking a boat trip around the island.
Menorca offers a spectacular view from the sea: coves with crystal clear water, rock bridges set in the sea and cliffs where the waves break. You can admire the beauty of the island in its purest form and end the day in the best possible way: watching the sunset over the waves.
During the route, you will pass by Pont D'en Gil, a natural rock bridge, and the Cap d'Artrutx lighthouse of which you will be able to take some very nice pictures tinged with the orange light of the sunset. Read more information to enjoy these catamaran trips in Menorca.
3. Kayak in the sea and snorkel in the best coves.
This is a half day kayak excursion through the coves of Menorca, in which you will also discover sea caves and see what hides between the cliffs that are impossible to reach in any other way.
This is an experience that will put you in contact with nature, with a bit of adrenaline but also relaxing listening to the sound of the waves and smelling the sea breeze while sailing in the kayak. At the end of the route, you will stop at a beach to rest with a drink and snack included in the price.
Sounds good, doesn't it? If you are already convinced that a kayak tour in the waters of Menorca will be one of the best moments of your vacations, you can check more information here: tours en kayak en Menorca.
4. Tour the coves in the north of Menorca on a jet ski
Set course for Cala Tosqueta and the cliffs of La Mola in this experiencia en moto acuática full of adrenaline and speed. Passing by Punta Pentinat, a rocky tongue northwest of Fornells from where you can observe the sea, you will stop at Macar de Sa Llosa, a wonderful natural environment by the sea to rest and have a refreshment.
On your way back to Fornells you will pass by sea caves and inaccessible coves where you can marvel for a few seconds if the speed of the bike allows you to do so.
5. Reach the hidden beaches and caves by paddle surfing and snorkeling.
If kayaking to a secret cove, riding a paddle surf board and discovering the life on the sea surface while snorkeling sounds good to you, this will make you enjoy an unforgettable time on your trip to Menorca.
Perfect for nature lovers and if you especially like experiences that respect the environment and allow you to do some physical activity during your vacation, you will also enjoy a little rest on a beach with a soft drink or water.
This experience is perfect if you are going to be in Menorca for a short time or if you are going with your family with teenagers.
6. Discover Menorca by Jeep
This experience combines a excursion by Jeep in Menorca with a visit to a private ranch in the north of the island, in Cabo de Caballería, where you can see animals and have an aperitif with a drink while enjoying the sunset.
At the cape you will be able to see the Faro de Caballería in the middle of nature, from where you will have incredible views of the sunset and the sea stretching to the horizon.
For me, the most interesting thing about doing one of these jeep tours in Menorca is to discover some of the wonderful environments that you can find in the interior of the island, and it seems to me an essential activity to combine with a boat trip to discover the true beauty of the jewel of the Balearic Islands.
7. Discover what life was like in rural Menorca in Binissuès
This historical tour of Binissuès starts with a visit to the Ethnological Museum of Binissuès, where you will see archaeological remains and objects such as utensils and tools, as well as elements of Menorcan rural life that have been preserved over the centuries. You will also see a typical peasant house and a 19th century manor house, to see with your own eyes what life was like in Menorca more than two hundred years ago.
You will also visit the Museum of Natural Sciences of Menorca where you will find both native species and those from the rest of the world, with specimens of butterflies, spiders, reptiles and surprisingly large and rare insects (if you panic about bugs, it's time to get over your fear!).
And finally, as the most interesting point of this experience, you will visit a farm where you will learn how to make the typical products of Menorca, such as Mahon cheese, as well as baking bread, milking cows and growing wheat. A very nice and interesting activity to do with the family.
8. Stroll around Ciutadella at sunset
Strolling through this historic port city will take you through streets of gothic and baroque architecture, passing through narrow streets with staircases, hidden viewpoints and a number of points of interest.
Discovering the historic center is a good starting point to visit the Cathedral of Santa Maria de Ciutadella, the Plaça des Born, the Pedreres de S'Hostal, quarries converted into landscaped labyrinths, the Castell de Sant Nicolau, and the beautiful church of San Francisco de Asís. To end the day, find a terrace in the old port of the city and enjoy the sunset.
9. Relax with a drink at Cova d'en Xoroi
One of the most fashionable places in Menorca is Cova d'en Xoroi. It is a series of caves on a beautiful cliff by the sea, where you will find several terraces and viewpoints where you can enjoy breathtaking views during the day, at sunset or at night.
During the summer, Cova d'en Xoroi is a very lively place with parties, live music and open-air bar. A great plan is to spend the afternoon in Cala en Porter, near the caves, and then go to finish the day in the caves.
To go to Cova d'en Xoroi, I recommend you to book a table on the terrace on their official website to ensure the perfect place from which to see the last light of day over the sea.
10. Break Instagram with a photo in Binibèquer, a village of little white houses.
If there is a village that shines with its own light in Menorca, that is Binibèquer: located in the south of this Balearic jewel, its white-walled houses are a canvas on which the sun paints a varied palette of colors throughout the day.
It is truly a very special place in which to get lost and record in your head images that seem to come out of a postcard. This beautiful village is the quintessence of a village on the shores of the Mediterranean, where you can breathe a tranquility that smells of sea breeze and the views of the coast have a captivating charm.
If you are going to stay in Mahón, or visit it, I recommend you to reserve some time to stop by Binibèquer as it is only 10 kilometers away from the capital of Menorca. You can also plan a full day trip to the village, as following the roads that leave from it you can reach some very nice coves and beaches such as Biniparratx, Binisafuller or Binidalí.