Cala Turqueta in Menorca
One of the jewels of the south coast of Menorca is Cala Turqueta, the favorite of many Menorcans. I tell you how to make the most of this wonderful postcard beach.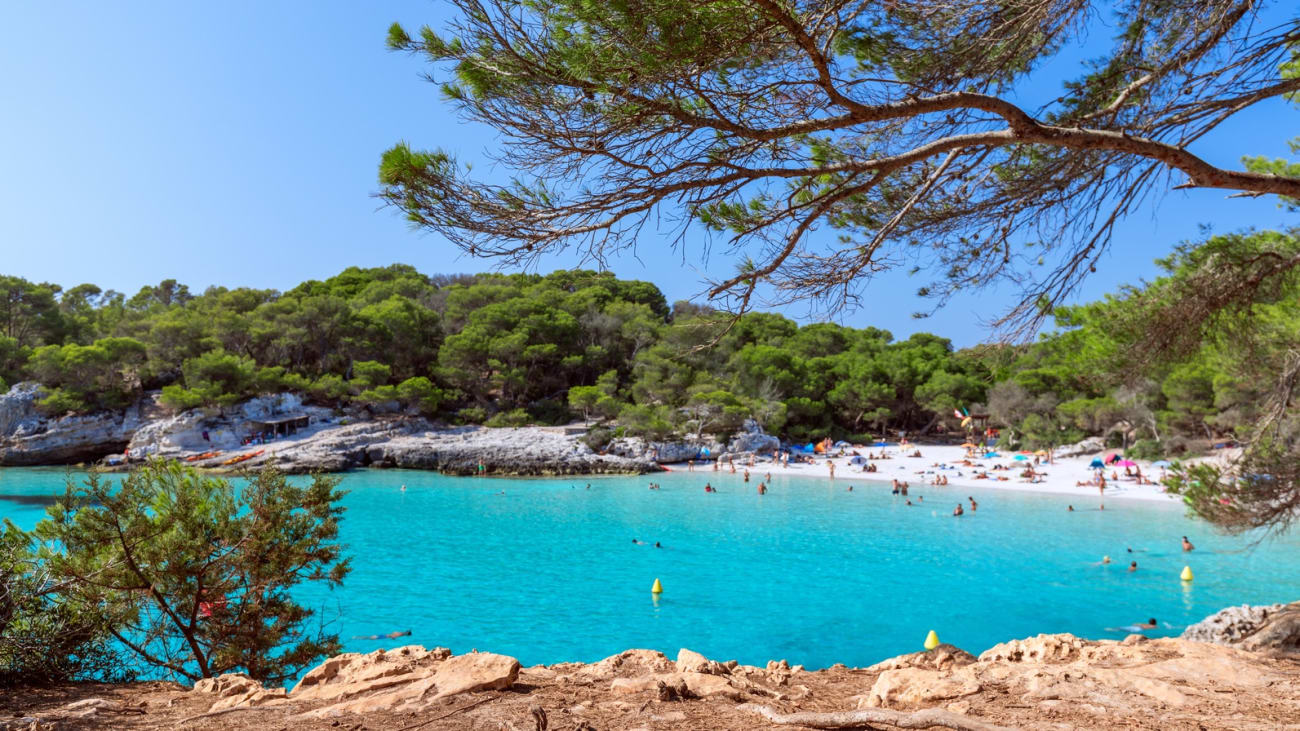 Its name does not deceive. Cala Turqueta stands out for the turquoise blue of its waters, but also for its fine sand and its secluded beach that, surrounded by pine trees and vegetation seems to be taken from the Caribbean. You can reach it by car and taking a short walk, as it is quite accessible on foot or you can enjoy it from the sea with a boat trip through the coves of southern Menorca. Take note:
How to get to Cala Turqueta
Getting to Cala Turqueta is quite easy and it is definitely worth it. You will have to get up early to get a place, but you can get there comfortably. I tell you how.
By car
The best thing about the access to Cala Turqueta is that it has its own parking, so parking will not be a problem. From Ciudadela, for example, you can get there very quickly (along the Camí de Sant Joan de Missa road) and from the parking lot to the sandy beach it only takes ten minutes.
Walking
Walking to paradise will not be a problem. The parking lot of Cala Turqueta makes the way to the beach very short, you only have to walk about ten minutes and everything is very well signposted, you can't miss it!
By bus
The line 68 of the urban bus of Menorca passes through Ciudadela and stops at Cala Turqueta. This is undoubtedly the most sustainable (and simple) option to get to the beach, as you will not have to go in your own car or get up early to get a parking space. Take it into account!
Visit Cala Turqueta on a boat excursion
But if there is one option that, par excellence, allows you to make the most of your visit to Cala Turqueta, it is to get there by boat. And the best of all is that you can do it without having to invest a lot of money. From Ciudadela and Cala Galdana there are daily boat trips that take you to enjoy the best coves of Menorca.
If you want to enjoy Turqueta you will have to choose the itinerary of the Calas del Sur and you will also discover other wonderful paradises such as Cala Mitjana or Cala Macarella.
What to do in Cala Turqueta
Let yourself go and enjoy the sun, the fine sand and turquoise waters. It won't cost you much, believe me. Of course, if you have been foresighted and have snorkeling goggles, don't hesitate to dive into the water to discover the marine species that inhabit these crystal clear waters. The lack of waves, the purity of the sea and its rocky surroundings make Turqueta a perfect place to dive in search of colorful fish.
The best time to visit Cala Turqueta
It is best to arrive early in the morning. Keep in mind that it is an easily accessible beach and is very popular among locals and tourists. So if you want to get there and park without any hassles or long waits in the parking lot, you will have to get up early. But the reward is worth it.
The sun usually sets quite early on this beach so if you feel like enjoying a swim or sunbathing, keep in mind that it is not the best location to arrive late in the afternoon.
What services Cala Turqueta has
Cala Turqueta is a practically virgin beach but since a few years ago it has a lifeguard and public bathrooms nearby, which makes it much more comfortable to spend the day.
Where to eat in Cala Turqueta
There are no beach bars, bars or restaurants in the cove itself, so if you want to make the most of your stay there, my recommendation is to bring something to eat and some refreshments in your backpack. If not, you can always go to other nearby coves to eat, such as Cala Galdana, where you will find many more services. Of course, you will have to lose your precious parking space if you have gone there by car.
Visit Cala Turqueta with children
Cala Turqueta enchants children and adults, so do not hesitate to spend the day there with the whole family. Go well equipped with shade and sunscreen, because on the beach you will not find sunbeds or umbrellas if you do not bring it. The water is not very deep on the shore and if they wear goggles, floats or a mat, they will have a great time.
Snorkeling in Cala Turqueta
Cala Turqueta is one of the paradises for snorkeling in Menorca. If you feel like strapping on a mask and snorkel, here you will have a very good visibility of the seabed. If you feel like exploring the snorkeling option, some boat trips include stops at caves and cliffs for snorkeling and the kayak trips also have stops for it.