Cala Galdana Beach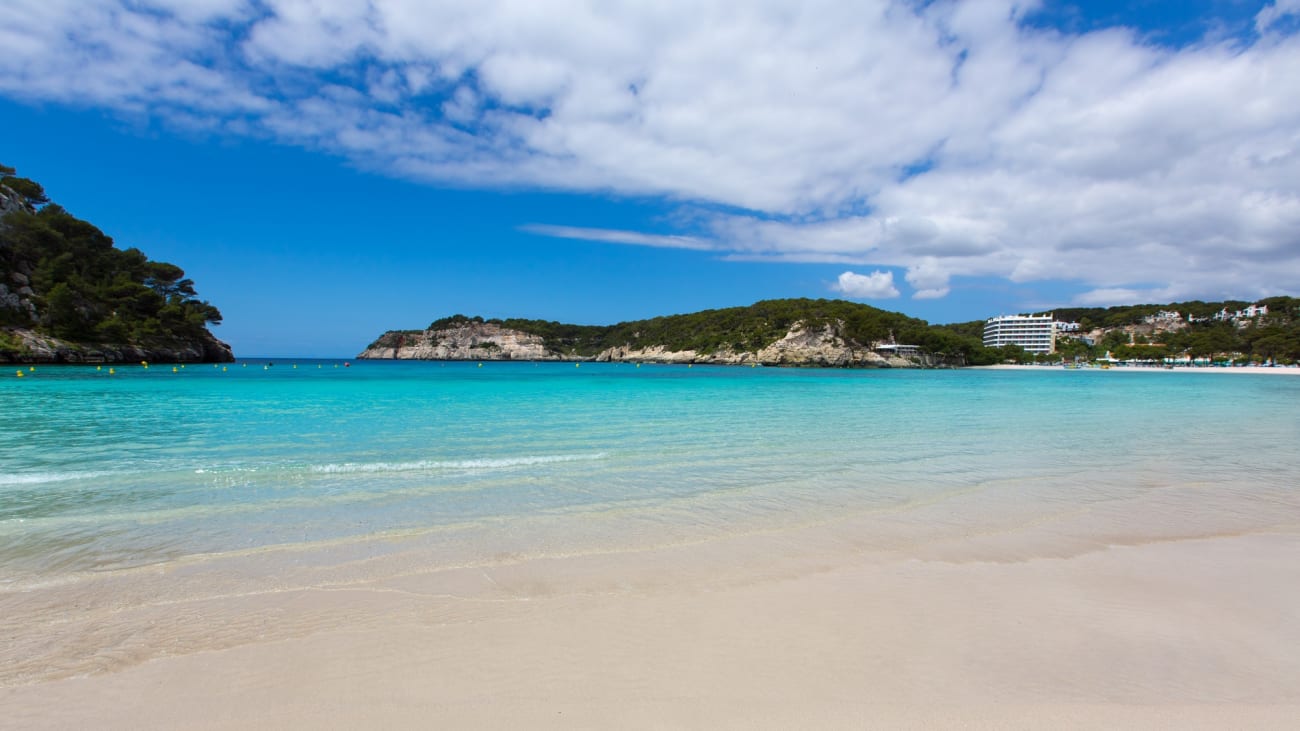 Cala Galdana is the cove on the south coast most prepared to receive visitors. There you will find two of the big hotels of the island, several restaurants, bars, supermarkets and even places to buy take-away food and spend a day at the beach.
It is not the most beautiful cove precisely because of all the infrastructure it has, but also some of the most popular Menorca boat trips, so everything you can imagine you need on your vacation, you will find it in Cala Galdana.
How to get to Cala Galdana
:
Getting to Cala Galdana is very easy. The road is very well prepared and well signposted so you can access from anywhere on the island.
Where it is: It is located on the south coast of Menorca, near Ciudadela - see in Google Maps:
By car
Cala Galdana is only 20 minutes drive from Ciudadela and 34 minutes drive from Mahon. This strategic location makes it a key center to offer all kinds of tourist services on the island. The roads are in perfect condition, comfortable and well signposted.
The parking of Cala Galdana
To park in Cala Galdana you have several options. If you are staying in the area, your hotel or apartment may have private parking, but if not, you will find several parking lots where you can park without difficulty. In addition, the surrounding streets and urbanizations also have plenty of parking space. If you arrive in the middle of the day it may be more difficult to find a space, but with a little patience you won't have any problems.
How to get to Cala Galdana on foot
Cala Galdana can be reached by car and public transport without any problem, so you won't need to walk unless you are staying very close to the area. However, from Cala Galdana there are several trails to the virgin coves in the south that are inaccessible by car. This is the case of Macarella:, Cala Mitjana: or Turqueta:.
How to get to Cala Galdana by bus
Getting to Cala Galdana will be very easy from almost any town on the island. Several bus lines stop in Cala Galdana or even start their route here. The best thing to do is to consult Menorca's public transport page: to check timetables and routes.
Visit Cala Galdana on a boat excursion
image|url=https://res.cloudinary.com/hello-tickets/image/upload/v1617018753/post_images/minorca-210/paseo-catamaran/alix-greenman-vuKPlHx_0lc-unsplash_Cropped.jpg|caption=Menorca boat trip :: © Alix Greenman:::
Any excuse is a good one to go on a excursion around the coves of Menorca: by boat. Perhaps Cala Galdana is not the most visually attractive (although beware, its crystal clear waters make bathing here a delight) but thanks to its strategic location, from Cala Galdana there are boat trips: that take you in a few minutes to the inaccessible virgin coves of the south.
What to do in Cala Galdana
In Cala Galdana you can do practically everything. You will find some companies at the pier that will rent you equipment for paddle surfing, snorkeling or diving. You can take a walk to some of the virgin coves of the south coast and you can enjoy lunch or dinner in any of its restaurants or hotels.
As I mentioned before, you can also take advantage of your visit to Cala Galdana to go on one of the boat trips along the coast of Menorca to discover the best coves of Menorca :.
The best time to visit Cala Galdana
image|url=https://res.cloudinary.com/hello-tickets/image/upload/v1624363350/post_images/minorca-210/Calas/matthew-valentino-sjZsSnJWlcA-unsplash.jpg|caption=Turquoise waters in Menorca :: ©Matthew Valentino:::
If you plan to arrive by car, it is best to arrive early in the morning, but if you arrive by bus or are staying close enough to get there by car, any time is good to get to Cala Galdana. On the beach there are sunbeds and umbrellas, which you can hire at any time. In addition, the beach is very well prepared for both adults and children, so if you have a space to spare at any time of the day, Cala Galdana is a good choice.
What services does Cala Galdana have?
Mor Shani:::
Cala Galdana has everything: great hotels like Melià Cala Galdana or Artiem Cala Galdana:, restaurants, supermarkets, parking, places to rent snorkeling, diving or paddle surf equipment, playground... In short, all kinds of services to spend a complete vacation.
Its beach has lifeguard service, bathrooms, sunbeds and umbrellas for rent, which makes it very attractive for families with children.
What can you eat in Cala Galdana?
In Cala Galdana you have many options, depending on your budget, time and appetite. Near the beach you will find Chiringuito Toni, Restaurant La Cala or Restaurante Trevi, where you can choose between Mediterranean food, tapas, sandwiches and mixed dishes.
On the other hand, you can always go to eat at the Melià or Artiem restaurants, which have very good views of the beach and offer all kinds of national and international dishes.