Boat Trips from Cala Galdana
Cala Galdana is probably one of the most frequented coves by visitors to the island. Next to Cala Macarella and Turqueta, it is the perfect place to embark on an excursion along the south coast of Menorca.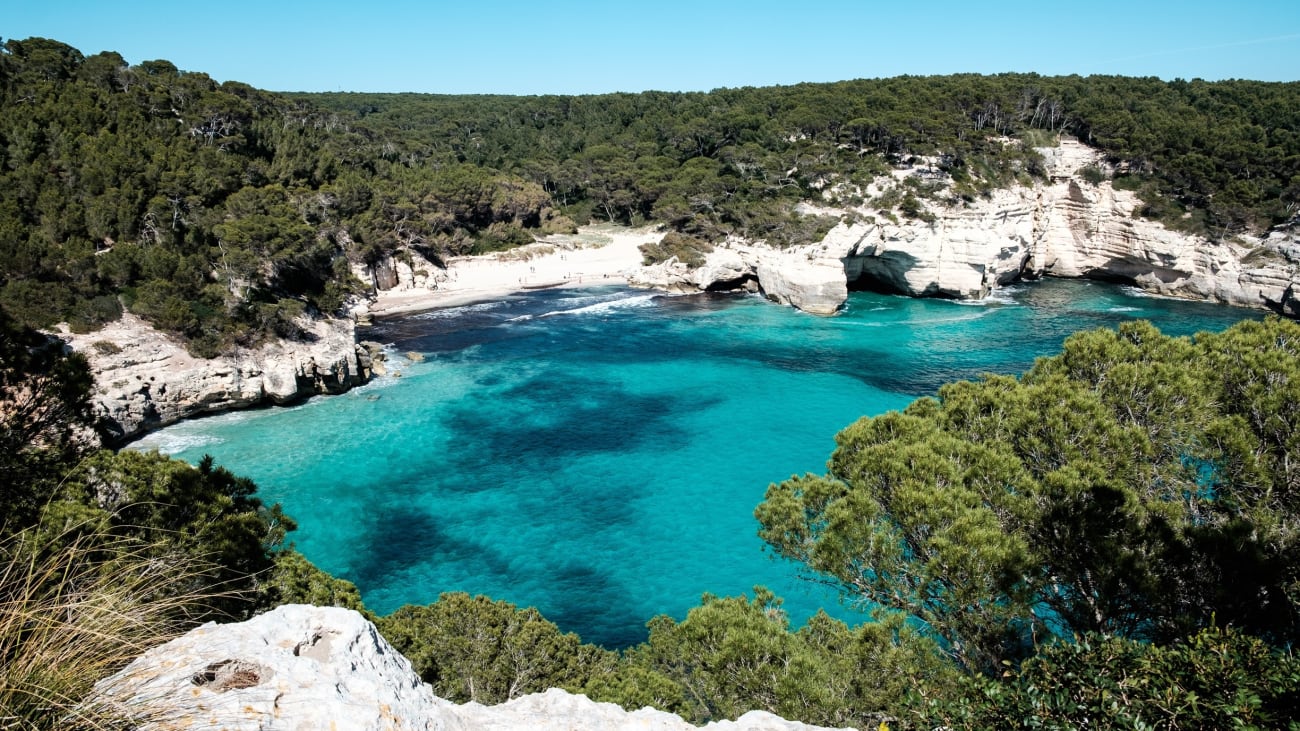 Surrounded by the most paradisiacal coves of the south coast of Menorca, Cala Galdana is the nerve center of tourism on the island. There you will find two of the largest hotels, a beach prepared with sun beds and umbrellas and large groups of tourists and families. Maybe you are not seduced by the idea of spending the day on the most crowded beach, but keep it in mind for a boat trip to the southern coves.
The well-known coves Macarella, Turqueta and Mitjana are very close to Cala Galdana, and although they require a long walk or long queues in the parking lots if you go by car, a good way to visit them is to join one of the many boat trips that Menorca offers. I'll tell you all the details:
Our favorite
Discover the coves of the south, at the best price from Cala Galdana
If you want to spend an afternoon aboard a boat discovering the paradisiacal turquoise beaches of southern Menorca, this is the most economical option departing from Cala Galdana.
Prepare swimsuit, towel and sunscreen. This is all you will need to spend half a day in paradise. This tour originally departs from Cala en Bosch, very close to Ciudadela, but on its afternoon departure it makes a stop in Cala Galdana for embarking and disembarking passengers.
This three and a half hour excursion will take you to discover, among others, Cala Turqueta, Macarella, Macarelleta, Cala Mitjana and Cala Trebalúger. During the tour you will have time to swim, snorkel (the boat will provide you with the necessary equipment) and have a cool drink on board, as the boat has a bar service.
If you want, you can do this same excursion in the morning, although you will have to go to Cala en Bosch. If you are determined to embark and disembark from Cala Galdana, keep in mind that parking in the area is usually not easy and you will have to count on a little extra time to make sure you arrive on time to your date with paradise.
Why choose this tour: this is the most economical excursion you will find to tour the south of Menorca.
Recommended if... you don't have much time or budget to participate in a boat trip but you don't want to give up sailing in paradise.
---
How much does a boat trip from Cala Galdana cost?
You are in luck, because from Cala Galdana departs one of the cheapest boat trips in Menorca: for 29 € you can embark on a tour that will take you to discover Macarella, Trebalúguer, Turqueta and Cala Mitjana, among many others. If you prefer, you can choose this same option but enjoying a full day of sailing for 50 €, but you will have to travel to Ciudadela.
So that you can compare it with other excursions or boat trips that are offered on the island, the price of a full day boat trip is usually around 50 € if you sail aboard a large boat and about 120 € if you decide to spend the whole day sailing on a sailboat with only 10 more passengers.
An intermediate budget option is to sail in a catamaran for half a day, which can cost you around 65 €. As you can see, in Menorca there are options for all tastes and all budgets.
If you are traveling with your family, by the way, be sure to check if there are special rates for the little ones, because they usually have reduced prices for children.
How to book the excursion
The most important thing to keep in mind is that you should book as far in advance as possible, especially if you are traveling in high season (mid-June to mid-September). To do this, the best thing to do is to consult the internet. In Hellotickets, for example, you can compare itineraries, prices, dates and capacity of each boat.
Although there is a wide variety of offer, the demand is very high and if you want to ensure a place in the schedule and the boat that suits you best, you must book it in advance. When making the reservation, also take a good look at what is included in each excursion: the vast majority offer snorkeling or paddle surfing equipment, food, snacks and drinks on board, etc. Look ahead of time to choose what suits you best!
Timetable of boat trips from Cala Galdana
One of the great advantages of sailing the coves of southern Menorca is that the existing offer is very wide, so you can choose the time and duration of the tour: from sailing early in the morning to late in the afternoon, choosing between half-day or full-day routes.
How long are the boat trips from Cala Galdana?
If you are joining a boat excursion, you should know that you can choose between half-day excursions and full-day excursions. In the case of choosing a full day excursion, embarkation is usually around 10 am and you will return to port between 17:00 and 18:00 hours. If you feel like doing a shorter tour, they usually last between three and four hours and you can choose between doing it in the morning or in the afternoon.
The basis of the itinerary will be the same regardless of its duration and the captain will make sure you visit the most important coves. Of course, with a full day excursion you will have more time to enjoy the dips, the snorkeling and above all, to relax on board with an aperitif and a good paella.
Itinerary of the boat trips
All boat trips departing or passing through Cala Galdana will take you to Cala Macarella and its little sister Macarelleta. You will also pass by Cala Trebalúguer, Cala Mitjana and Cala Turqueta. Their fine white sands, crystal clear waters and the caves that surround them will make the trip an authentic walk through the Spanish Caribbean.
Prepare your camera and don't worry about anything, because the skipper will provide you with goggles and snorkel so you can snorkel and go into the caves to discover the fascinating underwater life of the island. Let yourself be guided by the recommendations of the crew: they will make sure to make the stops for swimming in the best spot depending on the wind and waves of the day.
Boat trips from other coves or towns
If you haven't found an option that fits your needs departing from Cala Galdana, don't worry. Ciudadela, for example, is very close and also offers boat tours with daily departures. If what you want is to discover the north of the island, you can embark in Fornells and from the capital, Mahón, you can choose which itinerary you want to follow. I'll tell you all about it:
From Ciudadela
Ciudadela looks like something out of a fairy tale. Before or after embarking on a boat tour from Ciudadela, you will have to stroll through its cobbled streets and enjoy its exquisite gastronomy. But returning to what we are interested in, the excursions by boat, you should know that from Ciudadela the most successful excursion of the coasts of Menorca departs. This day trip to the coves of southern Menorca will take you to discover the most popular coves of the island for only 50 € and best of all, you can eat on board a traditional paella served on the boat.
From Fornells
Fornells is another key point from where you can embark on a boat trip. The bay is beautiful: its village of white houses is surrounded by crystal clear waters and a few minutes from there, the landscape becomes unspoiled and rugged. There you will find it hard to think of anything else but the waves, the sea and the wind. You can sail aboard a romantic sailboat or a luxurious catamaran and bathe in broad daylight or go out at sunset to watch the best sunset on the island. The north has a lot to offer so keep it in mind for a boat trip from Fornells.
From Mahón
Mahon is the capital of Menorca and boasting its title of main city of the island, the offer you will find in its port is huge. Once there you will see that the large ferries arriving from the mainland embark and disembark in its beautiful harbor. The best thing about its location is that it is at a similar distance from both the northern and southern beaches. Therefore, taking a boat trip from Mahón will allow you to choose itinerary and route without any problem, which is a great advantage.
By the way, don't miss its picturesque streets before or after a boat trip, you won't regret it!
Other interesting activities in Menorca
Without leaving the water, you can continue enjoying the crystal clear sea that bathes Menorca in a kayak excursion that will add a point of adventure to your vacation. The bay of Fornells will be the perfect setting to join an expert instructor who will take you either through the virgin coves of the north or through the steep Caves of Los Ingleses. The choice is yours. Don't stay on land and check here all the details to join a kayak tour in Menorca.
It is clear that the sea is one of the great attractions of the island, but Menorca is much more than sun and beach. Therefore, you should be encouraged to discover the interior of the island and explore its hidden corners.
A local company of Menorcan experts has organized an exclusive sunset safari to take you to discover the steepest cliffs, a traditional farm where you will taste the local Menorcan delicacies and the best sunset of the island. I prefer not to tell you the rest, because the tour is worth discovering in person. If you are up for it, I'll tell you here all the details about how to participate in this Jeep safari in Menorca.