Other Day Trips from Madrid
If you want to get to know Madrid's surroundings, here are the best excursions you can do from the capital of Spain.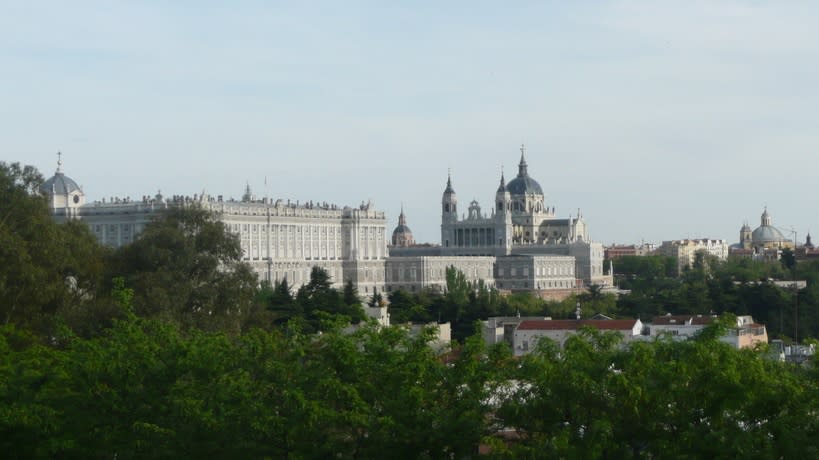 In Madrid it is difficult to get bored, because when you want to take a break from the hustle and bustle of the capital you have many places and experiences to discover. Maybe you are passing through the capital or maybe you live there and feel like a getaway.
1. One-day visit to Avila and Salamanca from Madrid
The scenery you will see walking through the streets of Madrid is totally different from that of these medieval cities; visiting them will seem like entering another world and you can do it in just one day with this organized tour of Avila and Salamanca that includes:
Round trip transfer in a comfortable air-conditioned vehicle.
Tour of both cities (available in English and Spanish) with an expert guide
Tickets for the Cathedral of Avila and for the Cathedral of Salamanca
What this tour consists of
From Madrid to Salamanca is about two and a half hours by road and in the middle of both cities is located Avila; the total duration of the tour is about 11 hours. Will you have time to see both cities in this time? Yes, since you will be accompanied by an expert guide who will lead you through both cities.
You will also have some free time in both cities to wander around at your leisure, but the length of this time will depend on the pace of the tour. The route of this guided tour can change order depending on the day (maybe you will see Avila first or maybe you will go to Salamanca first).
Itinerary
In addition to the historic center of the two cities, some of the main monuments you will see in them are:
The Main Square of Salamanca
The New Cathedral of Salamanca
The University of Salamanca
The Basilica of San Vicente in Avila
The Walls of Avila
The Cathedral of Avila
Please note that
Depending on the schedule, you will have free time in one or both cities. Lunch is not included in the tour and neither is the pick up at your hotel in Madrid; once you book online your place for the excursion you will be informed of the meeting point in Madrid (it will always be a central location) and how to get there from your hotel.
Why I like this tour
The best thing about this tour is the comfort when visiting both cities and the fact of having a guide at your disposal during the whole tour to tell you all the secrets of Avila and Salamanca (which are many).
2. Day trip to Segovia, Toledo and Avila from Madrid
This tour is one of the most complete and ambitious that you can do from Madrid. Seeing three cities in one day can be tiring; you may feel like going back to one of them to visit it more calmly, but the feeling you will have when you arrive in Madrid at the end of the day will be that you have seen wonderful places and that you have been immersed in a journey through time that will have been worth it.
With this tour to Segovia, Avila and Toledo you will leave early from Madrid (you will meet the tour guide at a meeting point when you make your reservation) and you will be out for about 12 hours.
What this tour includes
The transfer in a comfortable, air-conditioned vehicle
A picnic lunch
A tasting of homemade marzipan
Entrance to the Toledo Cathedral
The services of a professional guide for the entire day
Guided tours in each of the cities
What you will see on this tour
Historic center of Segovia
Aqueduct of Segovia
Alcazar of Segovia
Historic center of Avila
Wall of Avila
Historic center of Toledo
Primate Cathedral of Toledo
Why I like this tour
The best thing about this tour is the value for money: visiting the three cities on your own with guided tours, lunch, etc. would be much more expensive and very difficult to do in one day.
3. One day visit to Toledo and Aranjuez Palace from Madrid
Surely you have heard of the city of Toledo. It is one of the closest cities to Madrid and also one of the most visited, especially for its impressive Cathedral and the charm of its historic center. With this excursion to Toledo you will have time to get to know it in depth and you will also visit the Palace of Aranjuez (near Madrid) declared a UNESCO heritage site and with fabulous gardens full of exotic flowers.
What you will see on this tour
The historic center of Toledo
The San Juan de los Reyes Monastery
The Synagogue of Santa María la Blanca
The Church of Santo Tome and its famous painting by El Greco
The Cathedral of Toledo
The Royal Palace of Aranjuez
It includes the transfer from the meeting point in Madrid at the time of booking, a guide in English and Spanish and entrance fees to some of the points of interest included in the tour. You will have to bring your own food or money to eat at one of the restaurants you will find during the tour.
Why I like this tour
The best thing about this option is that many of the entrance fees to monuments are included and you will have enough time to see Toledo and the Aranjuez Palace in detail and without rushing.
4. Excursion to the Monastery of El Escorial and the Valley of the Fallen
You don't have to go far from Madrid to go sightseeing in the surrounding area. Many of the towns surrounding the capital have important points of interest for tourists and locals. A good example is El Escorial, from where you can take a seven-hour tour of the Escorial Monastery and the Valley of the Fallen with a professional guide included.
What you will see on this tour
The Monastery of San Lorenzo del Escorial, declared a World Heritage Site by UNESCO and, in addition to learning about the Renaissance era in which it was built, during the visit you can tour its fabulous gardens and have free time to stroll around the area. If you are interested in the history of the Spanish Civil War, you will enjoy the explanations of the guide next to the monument of the Valley of the Fallen, which commemorates the victors of the war.
Why I like this tour
The best thing about this tour to the Escorial Monastery and the Valley of the Fallen is that, without being an exhausting excursion, you will learn much more about the history of Madrid and its surroundings thanks to the advice of a specialized guide.
5. Guided shopping tour of Las Rozas Village shopping mall
Not everything is going to be tourism. In Madrid there are large shopping centers where you can shop in luxury boutiques and one of them is Las Rozas Villages; a shopping center with outdoor spaces and set as if it were a village. In Las Rozas Village shopping experience you can enjoy a day of shopping with the advice of an expert including transfer to and from Madrid.
What this tour consists of
The final price of this excursion will depend on the extras you add. A host will pick you up in the center of Madrid (meeting point to be arranged after online booking) and accompany you to Las Rozas Village in a comfortable air-conditioned vehicle. You will spend approximately five hours at this shopping mall and then return to Madrid.
What is included in the superior option
A 50 euro gift card to spend at Las Rozas Village stores
A VIP discount card to shop at elite and designer brands
A two-course lunch and coffee at one of the luxurious restaurants in the area
Why I like this tour
The best thing about this tour is that if you have never lived an experience like this you will like it very much because all the details are taken care of. In Las Rozas Village you can not only buy clothes from more than 100 boutiques and top brands, but also gifts and decorative items from top designers.
6. Wine tour of three wineries in the vicinity of Madrid
Wine is a tradition in Spain and the Community of Madrid in particular has a wine classified as Denomination of Origin. In the outskirts of Madrid there are prestigious wineries and with this organized tour with tasting and departure from the center of Madrid you can visit them, taste the wine and learn more about this tradition.
What this tour consists of
This tour is not only for wine lovers, although they will enjoy it more than anyone else; in the tour that passes through three different wineries in the outskirts of the capital you will also see fabulous vineyard landscapes that will make you disconnect from the rush and stress of the center of Madrid.
The group size of this tour is between 8 and 19 people; this way the expert guide can clearly explain all the ins and outs of the wine tradition in Spain.
Why I like this tour
The best thing about this tour is how complete is the approach to the wine culture; from the production to the maturation and distribution through the tasting. All told by professional experts in a context of total disconnection.
7. Wine tour through the Ribera del Duero with a stop in Segovia
This wine tour goes a little further away from Madrid to visit the Ribera del Duero area, where some of the best wines in the country are made. An expert guide will take you to different wineries to taste wine and learn more about this tradition. Lunch is on your own.
Itinerary
Ribera del Duero
Aranda del Duero
Sotillo de la Ribera
Roa
Curiel de Duero
Segovia
Why I like this tour
The best thing about this tour is that you can enjoy wonderful landscapes along the way and that it is designed to avoid crowds and rest from the hustle and bustle of Madrid. In addition, in areas such as Segovia you will also have free time to enjoy the city.
8. Sightseeing tour of Madrid with entrance to the Royal Palace
You read right, one of the plans I propose is to make a day trip to Madrid. What is the point of this? Simple: Madrid is a city that envelops you in its routines and many of those who live in it do not know it at a tourist level. Doing this excursion means rediscovering the corners of the capital and its stories highlighting the visit to the Royal Palace. '
Itinerary
Oriente Square
Paseo del Prado
Toledo Gate
Almudena Cathedral
Puerta del Sol
Plaza Mayor
Gran Vía
Prado Museum
Cibeles
Puerta de Alcalá
Las Ventas Bullring
Santiago Bernabeu Stadium
Paseo de la Castellana
Main Street
Why I like this tour
The best thing is that you will rediscover the city and for a while you will look at it with different eyes. When I did the tour the feeling I got was that I had left Madrid and precisely what I had been doing was just to get to know it better; if you live or work in the city you have to do an excursion like this sometime.
9. Other trips you can do on your own from Madrid
If these options are not enough for you, you also have the possibility to visit other towns near Madrid on your own. Many of them are small, relatively unknown and very authentic villages. Of course, it is best to rent a car for this type of excursions as it will be the most practical and will allow you to visit several nearby villages in one day:
Excursions you can do on your own
Alcalá de Henares: birthplace of Cervantes and World Heritage Site. You can get there by train.
Buitrago de Lozoya: a medieval village on the outskirts of Madrid with a spectacular wall.
La Granja de San Ildefonso: a palace with large French gardens dotted with fountains and natural labyrinths.
Chinchón: a small town with cobbled streets and a charming square. Ideal for cheap and quality food.
Manzanares el Real: one of the most beautiful areas of the Sierra de Guadarrama where the Mendoza Castle is located.
Rascafría: ideal option to spend a day in the mountains surrounded by nature. On the way you can visit the monastery in the area, one of the most beautiful in the Spanish geography.
Find out more about organized excursions
If you want to know more about the excursions to Toledo and Segovia, I have written a practical guide with all the details about each of them: Segovia Day Trips from Madrid y Toledo Day Trips from Madrid.
Frequently asked questions
What other places near Madrid should I visit?

The Ribera del Duero is a perfect excursion from Madrid as you can tour its wineries and enjoy some of the best food Spain has to offer. Salamanca is also an interesting option as it is a lively city with architecture similar to Madrid.

What can I see in Aranjuez?

The Royal Palace of Aranjuez is a good example of monumental architecture, as well as its gardens and ponds next to the Tagus River as it passes through the city. Its casino is also well known in the area if you feel like a night out.

Where is the Costa del Sol?

The Costa del Sol is located in the south of Spain, and extends along the province of Malaga. It is known for its high temperatures and warm water, with beaches such as Maro Beach, Nerja and Artola Beach.