How to Get to Toledo from Madrid
If you are on vacation in Madrid you can not miss one of the mandatory excursions: a visit to Toledo. There are many ways to go and I'm going to tell you all about them so that you can consider the options and come to know the most popular walled city in Spain.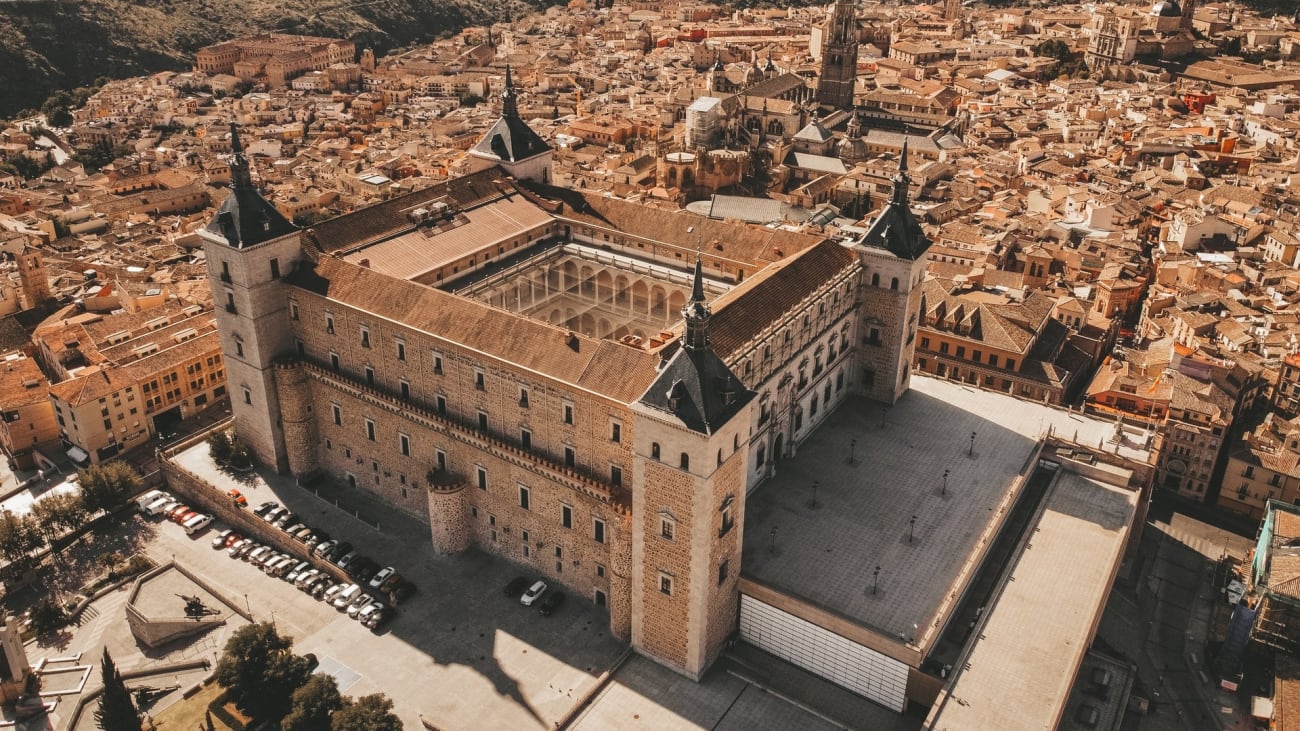 Toledo is a city that has managed to remain in history for its enormous legacy. Only 80 kilometers from the capital, this ancient medieval city keeps in its interior the most genuine mixture of the three cultures of the peninsula: Christian, Muslim and Jewish. Over the centuries, it was named Imperial Capital and today it perfectly preserves its past.
If you have come to spend a few days in the capital, you should know that Madrid has a lot to see and do and one of its essential excursions is to visit Toledo during the whole day. The stretch that separates both places is quite affordable to go and return in the same day and that's why I'm going to make a detailed summary of all the ways you have to get there. Let's start!
1. Organized excursion to Toledo with guided tour
There are many tourists who are usually interested in getting to know the city of Toledo, and it is not for less. Many local people from Madrid go from time to time to spend the day just to enjoy a nice walk and a special meal. However, if you are coming to Madrid for the first time and do not know the area, the best option is to hire an organized day trip that will take you there and pick you up.
This way, you will not have to worry about schedules, places or money, since this type of excursions usually have a fixed price between 25€ and 50€ and ensures you can go and come back in one day and, in addition, guides you through the main attractions, having some of them included in the price the entrance to places of interest such as the Cathedral of Toledo, the Church of Santo Tomé or the Synagogue of Santa María la Blanca.
Depending on what you are looking for, there are different types of excursion offers: those that cover the whole day and stop to know Toledo in depth: those of only half a day to make an express visit, or those combined with other interesting destinations such as Segovia, a city with several transportation options from Madrid.
There are also some excursions that offer a total experience inside Toledo, including in the price a complete gastronomic evening. This city of three cultures boasts a rich and abundant cuisine based on suckling pig, roasted meat, good wine and desserts that has been made for centuries.
Practical information
Price: between 25 € and 50 €, although if you include food or other destinations can go up to 80 €.
Time: the tour can last between 6 to 12 hours but the trip to Toledo is less than 2 hours.
Recommended if... it is the first time you are going to Toledo and you want to be guided, see the most popular sights and not worry about transfers.
2. Save time going by train
If you want to manage your visit to Toledo on your own and arrive by your own means, one of the fastest options is to take the train. You may think that a car might be more expeditious, but the truth is that in Spain the train goes like lightning, literally. The country has a special type of train called AVE (Alta Velocidad) that can reach 200 kilometers per hour.
This way, in just 30 minutes you will have reached the beautiful city of Toledo without even realizing it and you will have the whole day ahead of you to get to know the history and legacy of this place. In addition, if you book your train tickets in advance, they can be really cheap, considering the conditions and speed offered.
To take a train from Madrid to Toledo you must go to Atocha Station, at the metro stop Estación del Arte, near the Reina Sofia Museum ( here you have information to visit this essential place). When you arrive in Toledo, the station is a 20-minute walk from the old town.
Other type of train
If you don't manage to book your AVE ticket in time or it is too expensive, you also have the option of taking a conventional train. It may not go at 200 kilometers per hour but it is also quite fast and a bit cheaper, reaching Toledo in just one hour.
To take this type of train you will also have to arrive at Atocha station. The medium distance trains, as in this case, are called Avant and are much easier to get on the go than the AVE.
Practical information
Price: the round trip price per person in AVE is usually around 30€, although everything depends on how far in advance the reservation is made. The price of a normal train is approximately 20€.
Companies: the company that carries the AVE and normal trains is Renfe.
Time: in AVE the journey time is half an hour and in a normal train is about 1 hour.
Recommended if... you want to make the most of Toledo and save time on transfers.
3. The most economical option, the bus
Getting to know Toledo is quite an experience, but if it is the first time you come to Madrid, it may not have been an option until a few days before your visit. Don't worry, Toledo is so popular in the community that there are many ways to get there and adjusted to all budgets and schedules.
If you have been bitten by the bug to get to know Toledo and want to do it in a cheap and improvised way, your best option is to take a bus at the Plaza Elíptica interchange, which can be reached by metro on line 11.
For about 5 euros (10 euros round trip) you can buy on the fly and without having to book a single ticket that will take you in about two hours to the walled city.
Of course, you should keep in mind that if it is a weekend the buses may be very full but, even so, they usually leave every half hour so, even if you have to wait, you can always count on a seat to go and return.
Practical information
Price: about 10€ round trip.
Companies: the main company is Alsa.
Time: approximately 2 hours,
Recommended if... you are looking for an economical option that allows you to improvise the times.
4. Travel comfortably by cab or private car
If you are looking to get to Toledo in a fast and exclusive way, one of the best options is to hire a private transportation, either a cab, an Uber or a private car. One of the advantages of this type of transportation is that it is much more intimate in case you are traveling with family or a group of friends.
In addition, unlike by bus, you will not have to stop at different stops and you will be able to get there much faster and more comfortably.
However, this is one of the most expensive options since, despite being able to share the expenses with the rest of the people who are going to visit Toledo, the total one-way price does not usually go below 100€.
Practical information
Price: round trip approximately 200€ in total.
Companies: it can be the Madrid cab system, companies like Uber or Cabify or private transfers like Chofix.
Time: about 1 hour and a half each way.
Recommended if... you want an exclusive and private transfer.
5. Make your trip more flexible by renting a car
It is clear that during your stay you will be able to choose from a lot of tours around Madrid, but you may want to get off the tourist routes and go a little on your own. If that is the case and you have a driver's license, one of the options that I recommend is to rent a car for hours with which you can get to Toledo and visit it at your own pace.
Some of the advantages that you can have with this type of transportation are to choose the time that best suits you to make the transfers, park near the center thanks to all the parking system that Toledo has and, in addition, to travel privately and personally.
The price is a little more expensive than public transport but much less than a private driver, costing an average of 50€ per day.
The only drawback is that you will have to be attentive to the route and parking lots but, if you do not mind having to drive during your vacation, it can be an interesting option to consider.
Practical information
Price: around 50€ for a full day rental for a standard car.
Companies: the most important car rental companies in Spain are Europcar, Avis and Hertz.
Time: approximately 1 hour and a half.
Recommended if... you want to travel in a flexible and personalized way.
Best time to visit Toledo from Madrid
Toledo is one of the cities that receives more tourism in Castilla-La Mancha, so you will find people wherever you go.
Even so, if you have come to spend 5 days in Madrid and you can choose the day of the week, I recommend you to go between Monday and Thursday, avoiding the weekend when it gets more crowded. You will find the roads with much less traffic jams and the tourist attractions without long queues.
As for the weather, the best thing to do in the case of Toledo is to avoid extremes, since, being a medieval city, it is built on top of a hill and is exposed to both cold and heat. In winter the snow usually reaches the streets and in summer the 40 degrees so my recommendation is to go in spring and autumn, when temperatures are mild and the rains are infrequent.
Comparison of transportation to Toledo
In order to give you a general idea of all the means of transport that can take you easily and quickly to Toledo I leave you a comparative table with which you can choose the way that best suits your needs:
Organized tour
Duration: 2 hours
Price round trip: between 25€ and 80€.
Highlight: ideal for sightseeing and sightseeing in Toledo.
By train
Duration: half an hour
Price round trip: 30€.
Highlight: fast and comfortable
By bus
Duration: 2 hours
Price round trip: 10€.
Highlight: economical and flexible
By private car
Duration: 1 hour and a half
Price round trip: 200€.
Highlight: exclusive and intimate
Rental car
Duration: 1 hour and a half
Price round trip: 50€.
Highlight: flexible and personalized
Toledo is full of charm, history and cultural richness. Walking through its Cathedral and its narrow streets will make you feel transported to another era where Jews, Muslims and Christians shared the city and achieved one of the greatest cultural legacies of the country.
Whichever way you choose to move to this World Heritage City, I guarantee it will be worth it.