Madrid Hop on Hop off Bus Tours
The tourist bus will be your best ally to discover Madrid without getting too tired and without falling prey to the sweltering summer heat. Get your tickets for the tourist bus here and read some essential tips.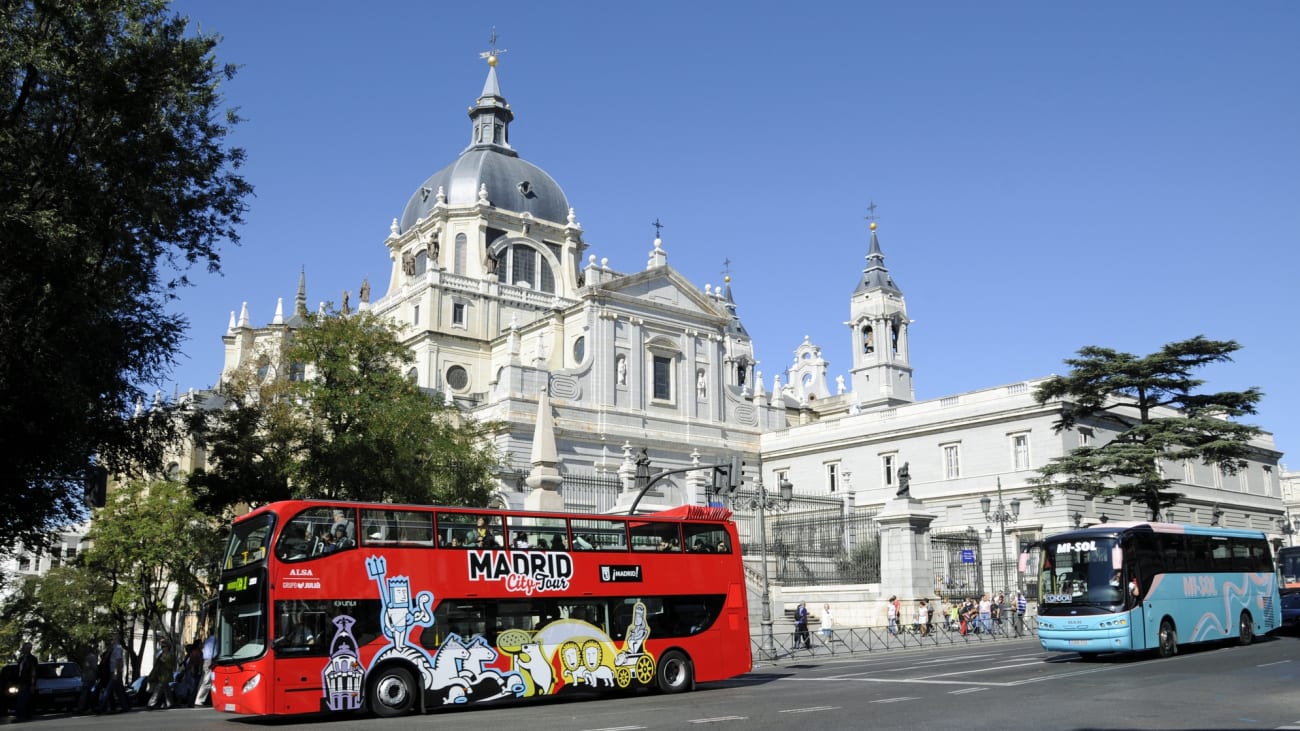 Walking around Madrid is a delight, but walking certain distances can be tiring (and in summer, the heat must be added to the fatigue). Fortunately, there are tricks to get around Madrid and one of them is the tourist bus.
1. The best tourist buses in Madrid
Many companies offer guided bus tours to comfortably tour the capital while they explain things about its main points of interest. Here are the best ones.
2. Sightseeing bus with free stops in Madrid
It is the official tourist bus of the city of Madrid and also the most economical option. It follows the methodology that you will have seen in many other cities: you buy a ticket for a day or two and during that time you can ride the bus as many times as you want and get off and on at any of its stops.
All of these buses are double-decker and air-conditioned as they are prepared for increased use during the summer. In addition to the ticket that will allow you access to the bus, you will be given a discount booklet that you will have available in different places in the capital that you can go during your visit (from museum tickets to restaurants or stores).
How it works
You can use this bus to move around the city as if it were a subway or a bus line with the difference that the stops of the two routes that make up its route are designed for those who are getting to know the city as a tourist.
However, if you are going to buy a ticket for one or two days to use the tourist bus I recommend that you do the entire route (or routes) at least once because I guarantee that it can be quite a pleasant ride during which, in addition, you will have available an audio guide in 12 languages. If you have the possibility to do it also at night, go ahead; it is worth seeing the city illuminated and the atmosphere of its streets at night.
Itinerary
In Madrid, the tourist bus has 37 stops distributed along two different and circular routes connected to each other. During these tours (lasting one hour and one hour and twenty minutes at the end) you will cover almost all the points of interest of the Spanish capital:
Stops on Route 1
Prado Museum
Botanical Garden
Puerta de Alcalá
Salamanca neighborhood
Colón Square
Cibeles
Gran Vía
Plaza de España
Debod Temple
Royal Theater
Royal Palace
Toledo Gate
San Francisco el Grande
Almudena Cathedral
Plaza Mayor
Puerta del Sol
Fine Arts Circle
Thyssen Museum
Reina Sofia Museum
Route 2 Stops
Neptune Fountain
Cibeles
Colón Square
Public Art Museum
Museum of Natural Sciences
Nuevos Ministerios
Santiago Bernabéu
CSIC
Lázaro Galdiano Museum
Serrano Street
Archaeological Museum
Puerta de Alcalá
Puerta del Sol
Plaza de las Cortes
Ana's Traveller Tip

The two routes intersect at Cibeles and Puerta del Sol, so you can use those stops to change routes and see both parts of Madrid.
3. Three-hour bus tour of Madrid with a local guide
This option does not include free stops, but is a tour of Madrid aboard a bus with panoramic views and air conditioning with a local guide. If you are passing through Madrid and you have little time I recommend it as it is a more complete tour (3 hours) and the explanations come from a local guide. This tour is combined with stops for short walks through the main points of interest.
When you make your reservation online, you can choose between the morning or afternoon schedule for your tour (regardless of which you choose, food and drink are on your own) and if you prefer to do it in Spanish or English.
Itinerary
Plaza de España
Barrio de la Morería
Toledo Gate
Royal Palace
Madrid River
King's Bridge
Segovia Bridge
Plaza Mayor
Puerta del Sol
Plaza de la Villa
Cibeles
Puerta de Alcalá
Gran Vía
Paseo de la Castellana
Salamanca Neighborhood
Santiago Bernabéu Stadium
National Library
Las Ventas Bullring
4. Bus Tour of Madrid and Visit to the Royal Palace
If you are thinking of seeing the Royal Palace of Madrid without waiting in line and on a guided tour, this package combines the bus tour of Madrid with a tour of the Royal Palace (something highly recommended to give context to everything you will find inside). The duration is approximately four hours, it is available in English and Spanish and throughout the tour you will be accompanied by an expert guide who will tell you the secrets of the city.
The Royal Palace of Madrid, in Italian Baroque style, was the former home of the Spanish royal family. Today it is one of the most visited in Europe and also one of the best preserved; in addition to its collection of clocks, weapons, tapestries and other objects, inside there are works by Goya and Velázquez. If you want to know more about the Royal Palace you can read this other article: Madrid Royal Palace Tours.
Itinerary from the bus
Oriente Square
Paseo del Prado
Toledo Gate
Almudena Cathedral
Plaza Mayor
Puerta del Sol
Gran Vía
Prado Museum
Cibeles
Puerta de Alcalá
Las Ventas Bullring
Santiago Bernabeu Stadium
Main Street
Royal Palace
5. Bus Tour of Madrid and Excursion to Toledo
In addition to combining the bus tour of Madrid with a sightseeing tour, it can also be combined with an excursion outside the capital. One of the most visited cities by those traveling to Madrid is Toledo, both for its historical importance and its proximity to Madrid.
This bus tour of Madrid and Toledo lasts a full day (about 8 hours) and during the tour, you will always be accompanied by a local guide who will put into context all the points of interest you visit in both Madrid and Toledo. In the morning you will see Madrid and in the afternoon Toledo. Food and drinks are not included, so it is best to bring some snacks in your backpack.
In Toledo you will enter places like the church of Santo Tomé or the synagogue of Santa María la Blanca. If you don't know the city and it is one of your priorities during your trip, I recommend that you dedicate a minimum of one full day to it; in this article on Toledo Day Trips from Madrid you can see options for excursions to Toledo.
Itinerary
Debod Temple
Main Square
Puerta del Sol
Carrera de San Jerónimo
Plaza de las Cortes
Neptuno Fountain
Paseo del Prado
Atocha Station
Botanical Garden
Cibeles
Puerta de Alcalá
Las Ventas Bullring
Santiago Bernabeu Stadium
Plaza Colón
Gran Vía
Plaza de España
Plaza de Oriente
6. Organize your visit of Madrid by bus
A bus tour of Madrid gives you the chance to explore more areas and less time than you would if you visited the city exclusively on foot. In Madrid there are many places that deserve an exclusive visit to enjoy them, such as the Royal Palace, the Prado Museum, Puerta del Sol and Plaza Mayor...
They are places that either you have to enter to visit them or have a special atmosphere that forces you to stroll through its streets and stop in its corners. However, in Madrid there are monuments like Cibeles or the fountain of Neptune that you can see comfortably from the bus (they are in the middle of Paseo de la Castellana, a great avenue).
Madrid has many neighborhoods, each with a different atmosphere; if you are going to spend a short time in the city it will be difficult to visit them all, but not to visit them all by bus. In short, seeing Madrid from the tourist bus does not mean not experiencing the city, but getting an overview of it that would otherwise require more time and effort.
Some areas, better on foot
If you are going to hire the one or two-day hop on hop off bus pass with free stops, I recommend alternating the tour with walks through certain areas of the capital. For example, Plaza Mayor, Puerta del Sol and Gran Via are relatively close so you can visit them more closely on foot and then use the bus to reach more distant areas.
Any of the sightseeing bus tours usually have departures almost daily, so you can book them at the time that suits you best. If you are traveling with children, it is an ideal option for them as not only will they not get tired, but they will also enjoy the panoramic views.
7. Guided tours to complement the tour bus route
During the bus tour you will get a lot of information about the city of Madrid as the routes are commented either by audio guide or local guide. It is up to you to decide which stories you want to delve into, but my recommendation is that you complement this information with those that you will be given in the guided tours of:
The Royal Palace
One of the bus tour options includes this visit, but you can also do it on your own. The Royal Palace is along with the Almudena Cathedral (the latter is free access) one of the most imposing buildings in Madrid. Visiting it individually is worth it, but taking a guided tour of the Museum is well worth it. Consult this article on Madrid Royal Palace Tours to organize your visit.
The Prado Museum
What is one of the largest art collections in Europe collects works of art by the great Spanish painters from the 16th to the 19th centuries. The Garden of Earthly Delights by Bosch, Las Meninas by Velazquez, Las Majas by Goya, The Three Graces by Rubens, Adam and Eve by Dürer... Whether you are interested in art or not, visiting the Prado Museum is almost mandatory if you visit Madrid. See how in my guide on Madrid Prado Tickets.
Reina Sofia Museum
Picasso, Dalí or Juan Gris flood this museum with their avant-garde works including, of course, the Guernica. You have probably heard about the history of this painting, but you are wrong if you think it is the only famous one in the Reina Sofia. If you are interested in learning more about visiting this museum, I recommend my article on Museum Madrid Reina Sofia Tickets.
The center of Madrid
Sometimes we pay less attention to those works or monuments that are outdoors and yet many times the places have more history behind them than the most famous painting of a great painter. The Puerta del Sol, the Temple of Debod, the Plaza Mayor, the Barrio de las Letras .... All these areas have been the scene of revolts, conflicts, achievements and even ghost stories.
The real history of Madrid is hidden in its squares and statues and there is a way to discover it: through a guided walking tour of the city center or some of its neighborhoods. You have a multitude of options, from the Madrid of the Austrias to the medieval Madrid through the Golden Age, but with a walking tour you will continue to delve into all those corners that have already captured your attention from the rooftop of a bus.
Frequently asked questions
What iconic places in Madrid will I see on a bus tour?

You will be able to enjoy places of interest such as the Royal Palace, the Almudena Cathedral, the Prado Museum, Gran Vía, the Santiago Bernabéu, the Paseo de la Castellana and the Salamanca neighborhood.

How long does a bus tour last?

A complete tour lasts about one hour, in case you stay for the whole itinerary.

What routes can I choose on a bus tour?

You can choose between a tour of the old part of the city, where you will visit the historic buildings of Madrid's Belle Epoque, or you can focus on the modern part of the city and visit the skyscrapers and modern buildings of the Paseo de la Castellana.