10 Things to Do in Lisbon in March
You have made a very good decision: traveling to Lisbon in March is the best way to celebrate the beginning of Spring. The Portuguese city will blossom during your visit with many cultural and natural events. Are you going to miss them?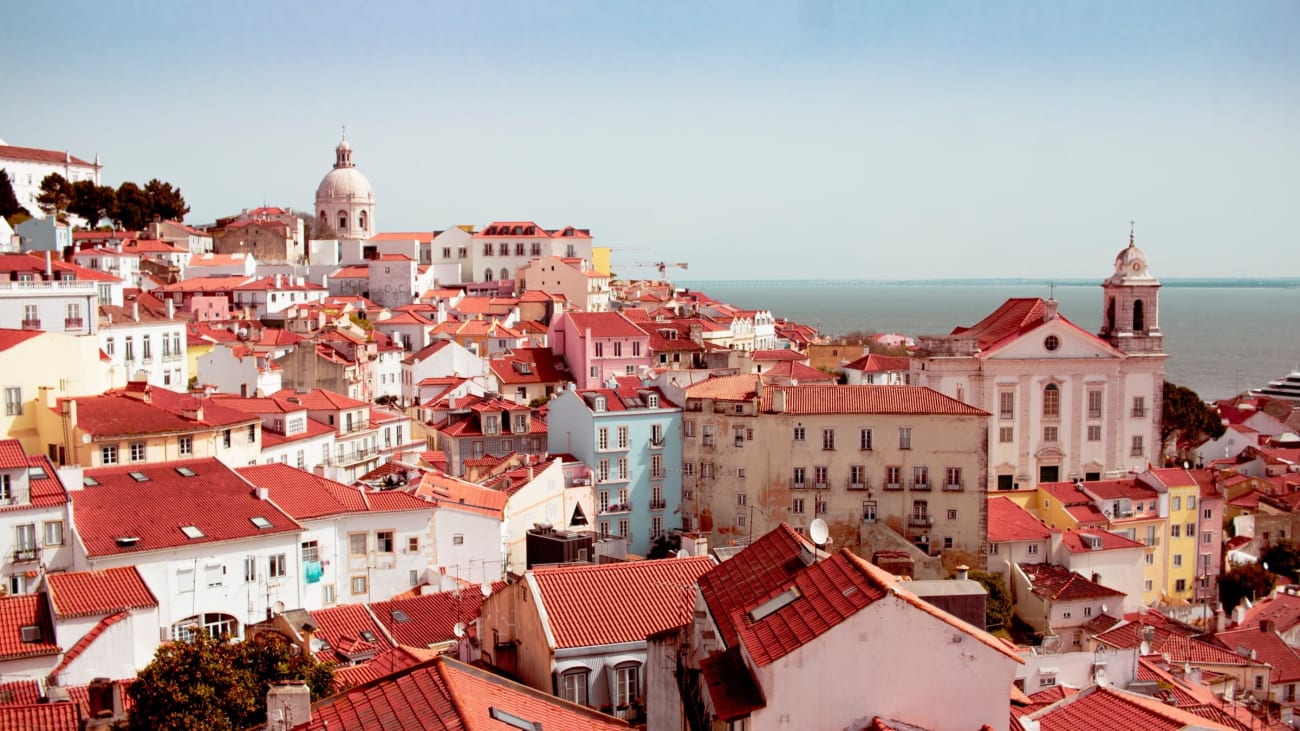 If you have decided to travel to Lisbon in March you probably already know that it is a great month to welcome spring, which in the Portuguese capital even comes a little early, being able to enjoy the rising temperatures from the beginning of the month. Beyond the good weather, March is a month where culture also flourishes in Lisbon.
Although the weather invites you to be outside and enjoy the streets of Lisbon, something I encourage you to do, there are many other activities that are waiting for you in Lisbon during the month of March. I have compiled the ones that most catch my attention, so that you can combine the spring nature of the city with its more cultural and modern side.
1. Let your imagination run wild at the Lisbon Animation Film Festival
There is an event you can't miss if you go to Lisbon in March: the Monstra or, in other words, its animation film festival. Since 2000, this film event has been highlighting animation through premieres, workshops and lectures, and is a national reference!
With more than 20 editions behind it, the Monstra Festival is a celebration of art and, specifically, of animation. Through films, master classes, conferences... The organizers have managed year after year to highlight the power that this cinema has to convey emotions.
If you are traveling with children to Lisbon, you should know that they will enjoy this festival. Not all the films are suitable for them, but in general it is always very interesting for them to see the advances in digital animation, attend the exhibitions or try to find out which films will win in the different categories of the contest they organize.
2. Open borders at the LGTBI Film Series
When you arrive in Lisbon you will realize that it has become a modern, inclusive and young city. In fact, in March there is the LGTBI Film Festival. I highly recommend you to attend, as it will allow you to open your eyes and mind even more. Since its first edition in 2004, this festival has tried to make visible the realities of the people of the collective. If you are interested in knowing them better, I highly recommend you to attend.
The festival was born with the aim of opening debates, and that is something they do after the screening of each film. The truth is that it is a fantastic opportunity to return from your trip to Lisbon with many ideas and having met other points of view.
In addition, the films are often directed by fairly young Portuguese artists, so you have no excuse to learn more about the most current culture of Lisbon while opening your horizons and helping to give voice to their realities.
3. Meet new festivals at the Lisbon International Music Festivals Forum
Do you like festivals? I'm sure you'd like to go to one, but I propose something much more interesting and unique: going to a festival about festivals. Because yes, this is what the International Music Festivals Forum in Lisbon is all about, which every March brings together experts in the field, organizes film sessions and puts lovers of this world in contact with each other. Are you going to miss it?
Lisbon is a city where music is important and, in fact, when summer arrives in Lisbon there are several festivals around the city. Perhaps for this reason there is no better place to organize the Talkfest, where you can learn a lot about them, from the scientific part (although it sounds strange) to the most creative.
The truth is that it is a luxury to get to know better how a festival works from the inside by listening to professionals in the sector, attending exhibitions and even watching a documentary. Of course, there will be more than one concert and you will also have the opportunity to meet the best festivals, since during the forum the most outstanding ones are awarded in different categories.
4. Welcome spring in the parks of Lisbon
What happens on March 20? If, like me, you don't like the cold too much, I'm sure you know the answer: spring begins! And with it come the flowers and lushness in Lisbon's gardens and parks. How can you miss them? If you travel to the Portuguese capital at the end of March, get ready to see its green spaces in full splendor.
Having a spring picnic is one of my favorite plans wherever I am, but if the setting is also one of Lisbon's parks, I have it even more clear. Like you, you will see that many families and groups of friends have been encouraged to organize a picnic or simply to visit one of the gardens. I'll tell you which are my favorites!
Eduardo VII Park
There will be no one who will not recommend you to go to Edward VII Park. I particularly like it for its immensity; it seems that the green grass never ends. In addition, there you will find the Cold Stove, a greenhouse of more than one hectare that does not use any modern system for air conditioning, just a wooden framework. Inside you will be able to closely observe plants from tropical climates such as mangoes and camellias.
On the other hand, in this park is also located one of the best viewpoints over Lisbon. From there you can see the Arrábida mountain range in the distance if the day is clear. In any case, you will have incredible panoramic views of the hills of the city and the gardens.
Near Graça
When spring arrives on this esplanade, green floods everything. In addition, 180 trees have been planted here in recent years, so if you are looking for shade on a sunny day in March, you will find it here.
In the historic center of Lisbon, this park has a large picnic area. I encourage you to take some food and go there one afternoon to rest after a day of walking around Lisbon.
Monsanto Forest Park
The largest in the city and so impressive that it is a protected forest. That means it is the ideal place to understand the importance of ecology and the environment around us. I recommend spending at least an entire afternoon touring its ecosystems and, although not all, part of its 900 hectares.
Do not be surprised to see squirrels or rabbits jumping around you, as there are many living species in the park and, like you, as soon as spring arrives, they go out to celebrate it.
5. Celebrate St. Patrick's Day in Lisbon
I know that St. Patrick's Day is an Irish holiday, but did you know that the Portuguese also have Celtic origins? These and the sharing of the Atlantic Ocean (and good diplomatic relations) have caused Lisbon to be full of green and beer during March 17, the day on which St. Patrick's Day is celebrated. Of course, if you're going to be there on that date, be prepared to have a good time and a lot of toasting.
St. Patrick's Day is a special day for Irish people all over the world, so cities like Lisbon also turn green. In fact, in recent years the most important monuments of the city have literally done so, since the institutions have wanted to support this holiday by projecting green light on the Cristo Rei, for example.
Beyond the lights, Lisbon's night, always lively, celebrates St. Patrick's Day with the best pints of beer. If you don't want to wait until it gets dark, you can find out about the activities organized during the day, such as Irish poetry recitals or concerts.
6. Take advantage of an extra hour of the afternoon on a walk along the Tagus River
Every morning of March 28th, as in the rest of Europe, Lisbon and Portugal change their time to adapt to the summer. What does this mean? That on the 28th the day will have an extra hour of daylight that you can take advantage of to extend your boat ride on the Tagus River. Believe me, there is no better plan than being able to enjoy an extra hour watching the sunset over Lisbon.
In addition to watching the sunset while you sail the river, you will visit the most emblematic places of the city. On board the cruise or sailboat you will be able to see the Belém Tower, the 25th of April Bridge or the Cristo Rei. In addition, these tours usually have a reduced capacity, perfect to listen well to the explanations of the guide and have more tranquility.
At other times of the year, when the night arrives earlier, these cruises are not as enjoyable, as it gets dark soon and, when you disembark, it is too dark to do anything else. On the other hand, if you go after the time change, you can take advantage of the last hours of daylight in Lisbon and then immerse yourself in this cruise at sunset.
7. Admire the tiles in Alfama in the best light
One of the great attractions of Lisbon is the art of its tiles. Have you never seen them? When you land in the city you will have no choice but to appreciate them, as they decorate every corner. With their colors, shapes and designs, they tell stories, which is why Lisbon has been recognized as the World Tile City. The spring sun that arrives in March gives a unique light that allows you to contemplate its colors in a very beautiful and romantic way.
The tiles are always there, that is clear, but in March the light is different and makes the city is filled with a different brightness and energy, so it is a time that I love to make a route through the Alfama neighborhood. This area is one of the most traditional and, in my opinion, the one with the most beautiful tiled houses. However, the whole city is full of color on its facades, so take a tour all over it.
8. Take the first swim of the season at the beaches of Sintra
You don't have to wait until summer to take the first swim of the year, don't you think? If you go to Lisbon in March you can also do it in Sintra, a city declared a World Heritage Site. In addition to the Palacio da Pena, its great tourist attraction, Sintra is a place where the good weather that arrives at the end of this month encourages you to take a dip in its natural beaches.
My advice is that if you are going to be more than one day in Lisbon, book an organized excursion to Sintra and escape to Sintra to know it, since it is only half an hour away. You won't regret it, I promise; its natural and architectural beauty have made it a unique holiday destination that can be enjoyed from the moment the temperatures start to rise.
Its beaches
Praia Grande is wild and has big and strong waves, so you may not feel like swimming, but you will want to rent a surfing equipment and practice a bit of surfing. However, there is a more protected and sheltered swimming area. What you might not have imagined is that in its sand there are remains of dinosaur footprints more than 110 million years old.
Much better for bathing, Praia da Adraga surprises with its crystal clear waters and a fine sandy promenade perfect for walking or lying down to soak up the first rays of spring sunshine. The good thing is that, since it is not high season, you will have almost the entire beach to yourself.
Pena Palace
Did you know that the Pena Palace is the most visited place in Portugal? That's right, and no wonder because its history and architecture are well worth a visit. The best thing is that it is on high ground, so from there you can see the coast and the city of Sintra at your feet.
The most impressive thing is the design of the building, which combines romantic, baroque and even Mudejar elements, with other much more traditional Portuguese elements, such as tiles. However, it seems to me that what is really beautiful is its exterior, where in March you can see a flourishing botanical garden.
9. Enjoy the good spring weather in the terraces
With the good weather comes the season of terraces in Lisbon, which until March usually remain collected by the constant winter rains in Lisbon, which do not encourage its inhabitants to have a drink or a tapa outdoors. However, with the arrival of better weather, you can join the Lisbon life and spend the afternoon in one of the many terraces that fill the city and allow you to see it from above.
Do not think that all the terraces in Lisbon are at street level. In fact, you may be surprised that in March they are still a bit empty. It's normal, most people prefer to go to bars whose terraces are on the roofs of buildings. As I'm sure you're already imagining, the views are much better and so is the atmosphere.
Although there is something special about the terraces and rooftops of the traditional neighborhoods, you can also find some more modern and with a more alternative air. My advice is to embark on a gastronomic tour of Lisbon to get to know the most historic locations.
10. Go for a walk along the Lisbon coast
The months of January in Lisbon and February in Lisbon leave a lot of rain, so the hiking tra ils are somewhat relegated among the Lisbon plans. In March, however, the time to go out and explore Lisbon's more natural surroundings, such as Arrábida and the west coast, begins again.
I'm not going to fool you, although it is one of the best routes, the walk along the west coast of Lisbon is not short, especially if you want to know it in depth. I recommend you set aside at least half a day to go, although I promise you it's worth it. The route is fairly easy, as it is mostly flat and runs along the coast of Lisbon.
Beyond the fact that it is not difficult, the best thing about this hiking tour is the beauty of the scenery. You will be able to get close to Lisbon's wild beaches and also observe fossilized remains of the living beings that once inhabited the area. If you like walking and you never miss the opportunity to make a route, Lisbon is your place.
What is the weather like in Lisbon in March?
Spring may arrive on March 20, but in Lisbon the rise in temperatures has been noticeable since the beginning of the month. The thermometer averages 18ºC and the rain forecast is quite good (only 10 rainy days per month), so it is common for more and more Lisboners to enjoy the outdoor areas of the city.
For me March is one of the best months to go to Lisbon because of the good weather and that, little by little, the daylight hours start to increase, so you can take more advantage of the days.
Is there a lot of tourism in Lisbon during the month of March?
As the high season has not yet begun, March is quite quiet. However, with the mild temperatures of the month and the arrival of spring, you will find many more people on the streets.
The lower tourist influx means that flight and accommodation prices have not yet reached the peak that they do from April onwards, when the Easter and then the summer vacations attract many travelers to Lisbon. So if you're looking to save money during your trip but not give up the good weather, March is a highly recommended month to go to Lisbon.
What are your plans for your trip to Lisbon in March? I hope I've given you some ideas, let me know when you get back!