10 Things to Do in Lisbon in November
Who said that Lisbon in November is not as interesting as in other periods of the year? I show you all the options that the city offers you in this month.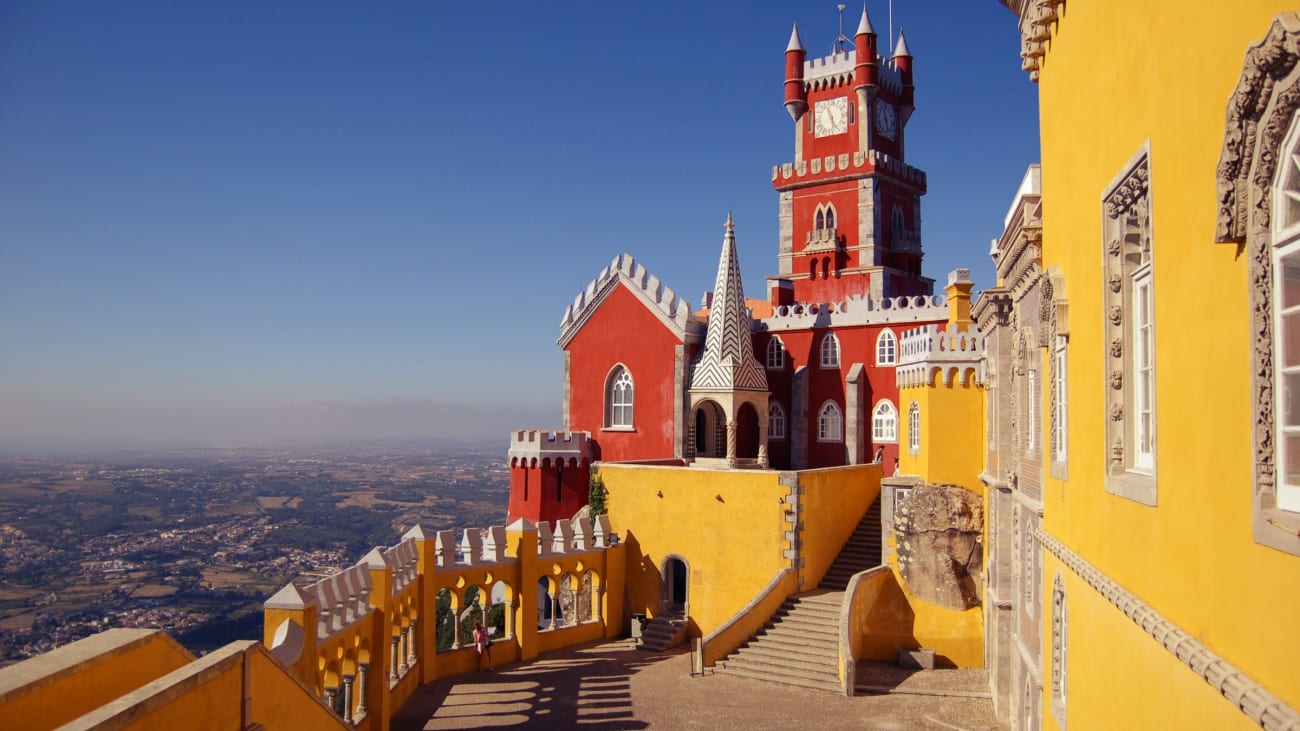 Lisbon receives fewer visitors in November than in summer, but if there is one thing the Portuguese capital stands out for, it is for its off-season charms: there is a lot to see in Lisbon beyond the summer period!
In this article I will show you everything Lisbon has to offer in November. If you find one of the usual cheap flights to Lisbon to travel in November, you're in luck: there is much, much to see and do in Lisbon.
1- Immerse yourself in local products with the start of the Christmas Market
The Lisbon Bullring (also called Parque Pequeno Square) kicks off the Christmas markets on November 29th. It is located on Avenida da República and is a perfect space for an immersion in Portuguese tradition. Especially because it is a market very focused on Portuguese products. There, among its around 100 stalls, you will find:
-Crafts
-Food
-Spectacles
-Handicrafts
-Restaurants
-Cinema
As you can see, it is an ideal plan to spend several hours, since you can, from browsing and shopping, to eating there. Of course, you have to pay an entrance fee, although it is very economical. You can buy it from 1 €.
2- Taste the typical sweets of All Saints' Day
On November 1 takes place this festivity which, as in many other parts of Christian countries, is dedicated to commemorate the ancestors and the deceased. In Lisbon this celebration takes a particularly colorful form, since it is traditional for children to visit homes with a bag in which they can deposit, as a gift, sweets or chestnuts. As you can see, it is not very different from Halloween. This day also has its own gastronomic customs. Among them:
-Cinnamon candy
-Wine and roasted chestnuts.
-Bread of God, typical of All Saints' Day.
I advise you to discover these specialties through the many gastronomic tours that take place in the Portuguese capital. You can discover your options in this article about the best gastronomic tours in Lisbon.
3- Get closer to the popular celebrations with the Feast of Saint Martin
This religious festivity takes place on November 11 and is summarized in the following phrase: "pelo São Martinho, castanhas, pão e vinho" (for St. Martin, chestnuts, bread, bread, chestnuts and wine). That is, "for St. Martin, bread, chestnuts and wine. As you can see, it is very clear what you will be able to enjoy. In fact, there are many events where you can get hold of these products to taste them.
In addition, I advise you to take advantage of St. Martin to explore the rich and prestigious wine tradition of Portugal. In fact, there are numerous wine tastings that will bring you closer to the exquisite Portuguese wines. Here you can discover the options for the best wine tastings in Lisbon.
4- Learn about the latest technology at the Web Summit Lisbon
If you are a geek or you are simply attracted to new technologies, it may be a great idea to take a leap to the Web Summit Lisbon. A more than relevant event, considering the tens of thousands of people who attend it every year.
It usually takes place the first week of November, although it is best to check the official website for the dates scheduled for the time when you plan to visit Lisbon. It brings together from large investors, technology companies to startups and digital entrepreneurs from more than 150 countries. Its program is extensive and includes:
-Thematic congresses
-Hundreds of exhibiting companies
-Dozens of speakers
In short, an exceptional event to learn about new trends and future prospects of new technologies. In fact, it is considered one of the most important European events in this sector. It takes place at the Parque das Nações in Lisbon and you can buy tickets from 9 €.
It is very likely that your motivation to travel to Lisbon in November is precisely to attend this exceptional event. If in the end you do not have much time to visit the charms of Lisbon, I advise you to resort to one of the many tourist buses. In a short time you will be able to get to know what there is to see in Lisbon.
5- Enjoy the seventh art at the Lisbon and Estoril Film Festival
A good plan for lovers of the seventh art. This film festival is held in Estoril, just 20 minutes by car from Lisbon. It is dedicated to all types of audiovisual creations such as fiction, documentaries and animation. The Lisbon and Estoril Film Festival is held in November, often from the second week of the month, although I advise you to check on the official website of the festival the days of each edition, because there may be changes.
This festival is usually accompanied by events, such as conferences and even concerts. There are different types of tickets depending on the event you want to enjoy, although all of them can be purchased from 5 €.
In addition, I recommend that if you go to Estoril, do not miss the opportunity to visit Sintra, just 15 minutes away by car. Although it is not essential that you go to Estoril to get close to Sintra, there are many excursions to Sintra from Lisbon! Or you can also do it by yourself. Here is the information you will need to do it:
6- Visit an exhibition at the Lisbon Architecture Triennale
Also known as the Lisbon Triennial, it is one of the Portuguese city's cultural flagships in terms of culture during the winter. In this case, the object of this event is architectural design.
There are not only exhibitions but also talks and interventions by internationally renowned professionals. This triennial, as its name suggests, takes place every 3 years, so it is highly advisable to check if there will be an edition in the year in which you plan to travel.
The event lasts 3 months, from October to December, so if you travel in November, you will find it at full capacity. Regarding prices, there are events that are free and others for a fee (the latter, very often, conferences). Day or 3-day passes are also available. Regarding the daily passes, pay attention to the prices, as they may vary depending on the month. Basically you will find these types of passes:
Day pass: Available from 30 €.
3-day pass: You can buy it from 90 €.
Regarding the places where it takes place, there are several and they are spread throughout Lisbon. I advise you to check this aspect carefully, as it may change depending on the edition. The venues are usually the following:
7- Dive among books at the Lisbon Picture Book Fair
A perfect event not only for photography lovers but also for bibliophiles in general. The Lisbon Photo Book Fair takes place on November 26, 27 and 28. However, it is best to check this information before you go, in case there are any changes. You will be able to enjoy the following:
-Photobooks
-Exhibitions
-Markets
-Lectures and conferences
-Workshops
-Children's activities
Most activities are free of charge and are located in two main locations:
8- Visit the National Museum of Natural History on Scientific Culture Day
The Scientific Culture Day takes place on November 24 and consists of different events, some of a school and educational nature and others of a public nature. The epicenter of the latter is the National Museum of Natural History and Science. A space that is very worthwhile if you like science, since Portugal has an important scientific background, much of it taken from its colonial period in America, Africa and Asia. In this museum you can enjoy the following:
-Botanical Garden
-Tropical Botanical Garden
-Astronomical Observatory
-Chemical Laboratory
So, there is a lot to see. The Museum is open from 10:00 to 17:00 hours in winter. You can buy a ticket from 5 €.
9- Commemorate the anniversary of the death of Fernando Pessoa
Fernando Pessoa is perhaps one of the most famous Portuguese poets in the world. Considered one of the most important poets of the 20th century, he is an institution in Portugal. Since the poet died on November 30, there are events related to his figure that can be very interesting if you are a lover of Pessoa's work. Lisbon is the city of Pessoa par excellence, so there will be no shortage of places to remember the poet.
Undoubtedly, the most important is the Pessoa's House Museum On its website you can find the planned program. The building is located at 16 Coelho de Rocha Street and is open from 10:00 to 18:00. The entrance can be purchased from 3 €.
10- Enjoy Lisbon at a different pace
If there is one advantage of traveling to Lisbon in November, it is that you will find a much more enjoyable city. Especially because you will not experience the queues and waiting times that characterize the overcrowding of the summer months. Therefore, you will be able to enjoy absolutely everything in a less overwhelming way. I advise you to focus this advantage to visit the museums. I would highlight the following:
Museum of the Orient: More than 1,400 pieces of Asian art product of Portugal's historical colonial relations.
National Museum of Archeology: I recommend it because the building, the Jerónimos Monastery, is already a work of art in itself.
Tile Museum: You can not pass through Lisbon without visiting a museum dedicated to one of the most characteristic and universal Portuguese products: the tile.
This is what Lisbon has to offer in November. Not bad, right? Now you just have to decide which plan best suits you. The rest is easy, you just have to make it happen. By the way, if you want to optimize your stay as much as possible, I also advise you to use the many existing options to move from Lisbon airport to the city. With them, you can save even more time.
How is the weather in Lisbon in November?
The weather in Lisbon in November is characterized by a drop in temperatures. However, they remain on the mild threshold. Average high temperatures reach 17 degrees Celsius, while minimum temperatures reach 11 degrees Celsius.
As you can see, enough to visit Lisbon without freezing to death. However, the proximity to the Tagus estuary provides significant humidity that can cause the thermal sensation to be colder. Also, the weather can be quite cloudy and windy.
The influx of visitors to Lisbon in November
While regions of Portugal, such as the Algarve, are subject to a strong seasonality given their sun and beach charms, this is not the case with Lisbon. Lisbon's main attractions are its streets, art and architecture. Therefore, although visitors drop in November, tourism is maintained. However, if you are worried about overcrowding, you will not find it when traveling in November. It can be a great occasion, in fact, to visit Lisbon at a different pace, saving queues and waiting.
What to pack for my trip to Lisbon in November?
Above all, warm clothes to make your experience as optimal as possible. In any case, temperatures are not excessively low (minimum temperatures are usually around 11 degrees Celsius). Even so, I advise you to take the following with you:
-Warm clothes
-Closed shoes
-A raincoat
This will be more than enough to visit Lisbon in November. Even for the rest of the winter. If finally, you are going to visit the Portuguese capital in December or January, these clothes will serve you well. Although as far as plans are concerned, I advise you to get more information about what to see and do in Lisbon in winter.