10 Things to Do in Lisbon in February
Live the complete experience of getting to know Lisbon in a month without so many tourists but with great festivities that will make you fall in love with the place. You can't miss it!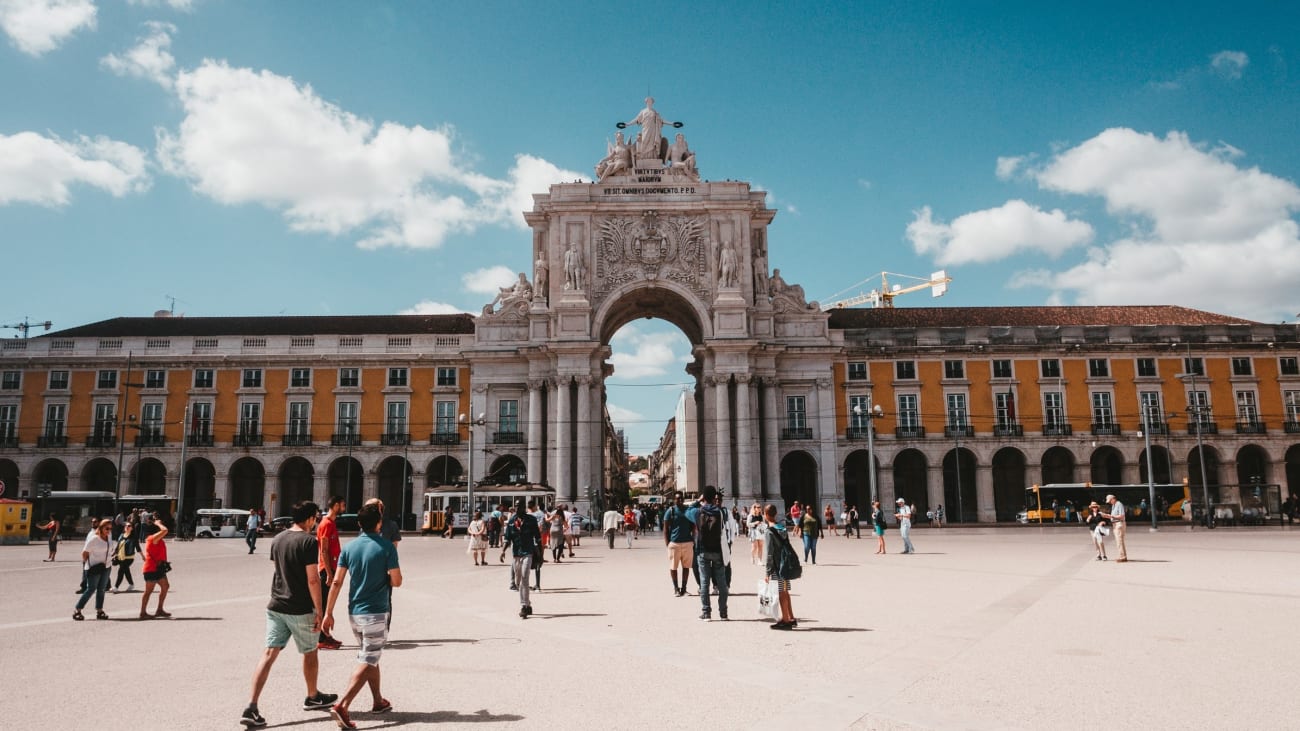 Lisbon in February is full of celebration and love. The arrival of Valentine's Day and Carnival come together with the arrival of slightly warmer temperatures than in December and January.
In addition, being considered a low season month, you will be able to walk at your leisure without so many tourists. You just need to bring a good coat and come and enjoy all there is to do in the bohemian city of Lisbon.
1. Celebrate Valentine's Day in the Portuguese capital
Lisbon has a charm that hypnotizes all its visitors. You can imagine then that, during the day of love, February 14th, there are many panoramas that you can offer to your partner to make her fall in love.
As in much of the world, Valentine's Day is celebrated in the capital of Portugal in style. Many restaurants offer romantic dinners and on every corner they will sell flowers and boxes of sweets.
However, despite the typical, there are three tourist plans that, on this special day, take on an extra meaning in all couples who come to have a date in Lisbon.
Miradouro da Graça
This imposing viewpoint, also called Miradouro Sophia de Mello Breyner Andresen, is one of the best places from where to see the whole city, having a privileged view of the Alfama district. Taking your partner to watch the sunset on Valentine's Day is one of the most romantic plans in Lisbon at night.
Rua Garrett
The famous Garrett street dresses up during Valentine's Day because it has one of the oldest flower shops in the city, Little Garden. This place is ideal to buy your partner a beautiful bouquet of flowers. In addition, during this day they have special bouquets that conquer all lovers.
Boat ride on the Tagus
In Lisbon flows in a spectacular way the Tagus River, which crosses the entire peninsula. This makes it a city with a deep-rooted river tradition and, of course, has some beautiful walks and river cruises that, during February 14, take a much more romantic air. These boat trips on the Tagus have different durations and rates but usually range between 25 € and 60 €.
2.Experience the Lisbon Carnival
During February, Lisbon celebrates like many other cities in the world, the arrival of Carnival, a party full of color and joy in which people celebrate the end of winter and take to the streets to party and have fun.
The Lisbon Carnival is usually held in mid-February between the 10th and 20th and is commonly known as the "Carnival of the Villains". Its main focal point is in the area of the Park of Nations, where parades, concerts and costume contests are organized.
In addition, during that week you will not stop hearing all kinds of rhythms in the streets and you will not miss the special plans and events that are organized around this energizing party. Check the dates and come and enjoy the Lisbon Carnival!
3.Get to know the alternative music of the ID NoLimits Festival
Despite the tourist plans that the city offers, if what you like and are passionate about is music and want to know the new trends in urban and electronic rhythms, you can not miss the ID NoLimits Festival, an event that takes place every year for two days at the end of February and has become a hotbed for the newest and most experimental bands.
Normally, this festival takes place at the Estoril Congress Center, just one hour by public transport from the center of Lisbon. The proposal of this festival is not only about music, but also about a kind of art and a mix of styles.
If you want to live a different experience and discover new trends, this festival is for you.
4.Warm up drinking port wine
Although Lisbon is full of panoramas at any time you go, do not forget that in February, despite being the end of winter, it is still quite cold, so it is never too much to make a stop to know one of its most famous liquors and get a little warm.
Port is a wine that has been in the process of fermentation and has a high alcohol content, so you should drink it in moderation. In Lisbon there are many places where you can order a glass and take refuge from the cold at a fairly cheap price, such as the famous Arcaz Velho bar in Santa Apolonia.
Wine tasting
If for you the port is too strong but you don't want to give up tasting the typical drinks, don't forget that you are in a territory with wine of denomination of origin. It won't be hard for you to find a wine tasting on your trip to Lisbon in February, which will let you taste the essence of these lands and, by the way, make you warm up a little with the joy that wine gives.
5. Experience the opera at the Sao Carlos Theater
The Sao Carlos Theater is an obligatory stop in Lisbon if you are a lover of culture and art as it is considered one of the most beautiful in the city. Throughout the year, they offer a wide range of plays, dance and music.
However, during February there are several opera cycles that you can not miss if you are coming to Lisbon during this month. Whether you come with your partner in the month of love and want to offer a special plan or you want to make a winter tourism more indoors.
This theater opened its doors in 1793, to replace the old theater that was destroyed in the earthquake of Lisbon and, since then, it has not ceased to be a cultural reference for the whole city. You can not miss its curtain fall!
6. Don't miss the Antena 2 Festival
Antena 2 is one of the most famous radio stations in Portugal. It has been transmitting Portuguese popular music for many years and is a reference for its people.
If you come to Lisbon in February, you will have been lucky because it is the month in which the station celebrates an annual festival where live concerts of the best national groups of the year are held. A great way to get a better insight into Portuguese culture and understand the rhythms and customs of the neighboring country.
This festival usually takes place during two or three days in the first week of February and different events are organized in different locations both in Lisbon and in the other big city, Porto. Tickets to the concerts are usually around 5€ per person so, if you are interested in this plan, find out the dates of this year and the concerts that may interest you.
7. Don't leave without witnessing a Fado Show
Fado is the most characteristic folk music of Portuguese culture and whenever you come to Lisbon, you can't miss it. However, in February with the cold and the short days, it is one of the plans par excellence as you can enjoy the various live Fado shows that are made throughout the city while you shelter from the cold and, sometimes, you also have the opportunity to have dinner.
Some of the most beautiful and touristic neighborhoods of Lisbon, such as Chiado, have different places that offer from about 20 € an incredible show in which the Portuguese guitars accompany the wonderful and sad voices of this song that is known worldwide.
8. Visit the museums in low season
February is an ideal month to come to Lisbon because many people do not decide to come thinking that it will be very unpleasant because of the cold. However, temperatures are a bit warmer and more bearable than in previous months.
Precisely because of this idea, the city is usually quite empty and it can be a perfect time to take a tour of the most famous museums without waiting in long lines or having to book well in advance.
Lisbon is a cultural capital within the European panorama and there are many museums that you can not miss if you come in the low season of February. Here is a list of the main ones so you can choose the one that best suits your tastes:
Calouste Gulbenkian Museum: it has a huge collection of pieces and works of all ages and paintings by artists such as Rembrandt, Renoir or Rubens. The entrance fee is approximately 10€.
National Museum of Ancient Art: it gathers paintings and decorative arts, mostly by Portuguese artists from several centuries of history. The entrance fee is around 5€ although on Sundays it is free until 2 pm.
Fado Museum: has a permanent exhibition and several temporary exhibitions on the history and cultural legacy of Fado in the history of Portugal. The entrance fee is approximately 5€.
Berardo Collection Museum: one of the best museums in Lisbon to appreciate contemporary art with works by Portuguese artists and others such as Dali. The entrance fee is approximately 5€ although every Saturday it is free.
9. Take the opportunity to visit Sintra when it is not so crowded
If you have come to spend a few days in Lisbon in February, you can not miss the opportunity to make one of the most popular tours of the city in low season, without crowds of people and seeming that the city is exclusive to you. Sintra is located just 25 kilometers from Lisbon and get to Sintra from Lisbon is much easier than you think.
For less than 5€ you can take a train or a bus that will leave you in a maximum of 40 minutes in this impressive city for you to explore it at your leisure with the tranquility of being one of the few tourists who have taken a few days in February to come and visit it.
Sintra is a place that looks like something out of a fairy tale. It has long been declared a World Heritage Site and just strolling through its streets is worth it. However, its highlight is the Da Pena Palace, which has become a symbol of the city. The entrance to its interior costs less than 15 € but I assure you that seeing this architectural wonder up close will be worth it and even more if you can see it without so many people in high season.
10. Tour Lisbon by tourist bus
If the February cold in Lisbon does not let you continue touring and walking around this beautiful city, you can always choose to book one of the many tourist buses that are around the city of Lisbon and that runs in about two hours some of the main places of Lisbon. That way, you can take shelter from the cold and see at a good pace all the most emblematic places.
In addition, this type of tours are quite cheap and there are several tickets during the day so, either because the weather is not good or because you have little time to visit the city, this can always be a good alternative for sightseeing in Lisbon in February.
Lisbon weather in February
February is a generous month for Portugal and more specifically for Lisbon since, being in a central area of the country, it has quite stable temperatures. Despite being winter, the average daily temperature is usually around 10ºC, with highs of 13ºC and lows of around 9ºC.
Being a river city, the temperature ends up being warmer and more humid. So with a good coat you can be well on the street without having to take shelter.
However, you should keep in mind that at the end of February the rainy season begins and it can be frequent that some of the days dawn a little cloudy or sparkling. In this case, I recommend you to look for indoor plans such as museums, theaters or exhibitions that, in addition, will not have so much flow of tourists.
What can't be missing in your suitcase for Lisbon in February?
Portugal is our neighboring country and has within reach all kinds of basic necessities in supermarkets, stores and pharmacies. I recommend you to travel as light as possible, to have good waterproof shoes in case it rains one day and, above all, comfortable and light clothes to be able to move from one place to another and not regret the temperature changes.
Always carry a folding umbrella in your bag in case it starts to drizzle and do not forget your camera to immortalize this beautiful city.
February is a great month if you want to come to Lisbon. Do not think too much because this city will give you all the facilities to have a great time and have a beautiful experience full of joy, love, culture and gastronomy.