Sintra Day Trips from Lisbon
To complete your trip to Lisbon with an excursion to its surroundings, Sintra and Cascais are probably the best option.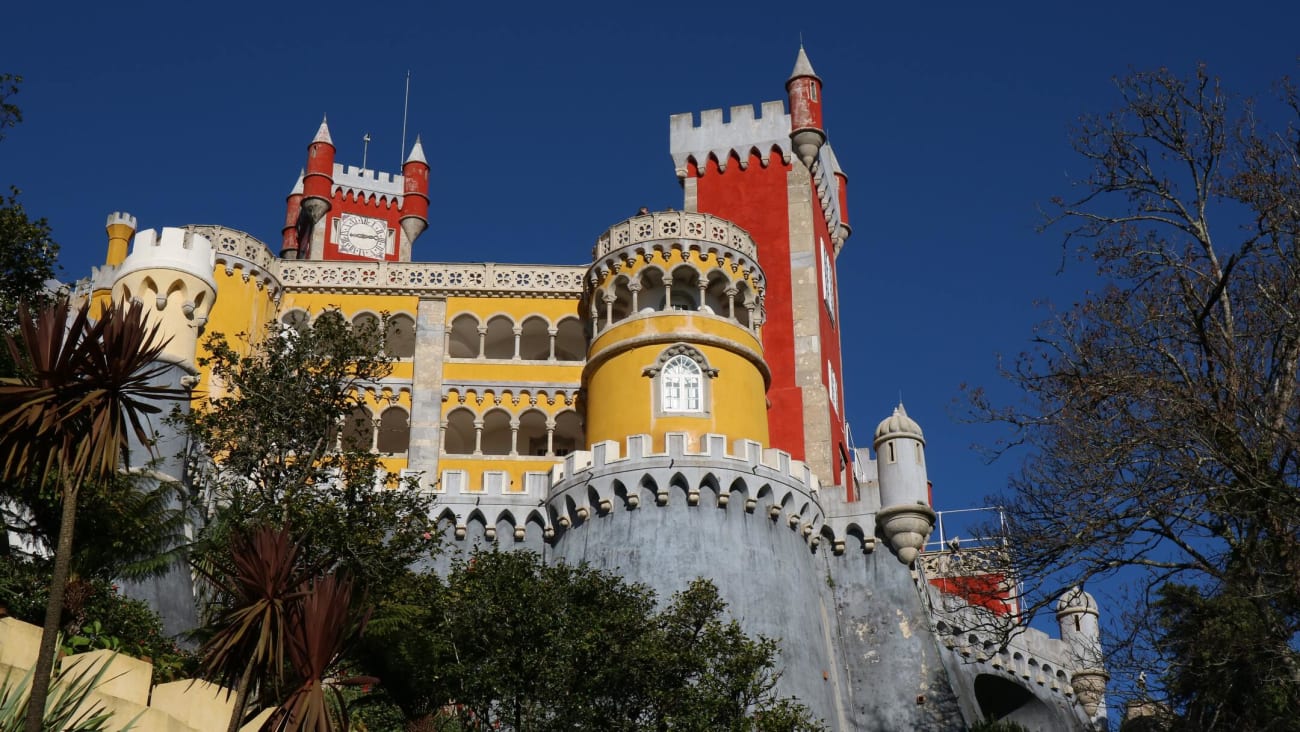 A trip to Sintra is a must. Only half an hour away from Lisbon is this municipality presided by the Pena Palace, one of the most important centers of European romantic architecture.
There are different alternatives to go to Sintra. Choosing one or another will depend on what you want to see or how much time you have. I tell you the best options:
Best value for money
The most popular and complete tour, at the best price
If you want to enjoy the charm of Sintra, Cascais, and Cabo da Roca while seeing the outside of the Pena Palace, this is the most economical option.
Duration: 8 hours
A visit to Sintra during your trip to Lisbon will allow you to know a little more of the neighboring country and enjoy landscapes with a unique charm.
To begin with, in the surroundings of Sintra there are tourist sites that are worth a visit. This is the case of the municipality of Cascais or the impressive Cabo da Roca from where you can contemplate wonderful views of the Atlantic Ocean. This day trip to Sintra, Cabo da Roca, Cascais and Regaleira is designed to enjoy the contrasts of the Portuguese landscape.
And of course, at the top of the Sintra mountain range is the spectacular Pena Palace built in the nineteenth century by a German architect for Ferdinand of Saxe-Coburg-Gotha. On this tour to Sintra you will go hand in hand with an expert guide who will reveal its history.
Why I like this option: The best thing about the tour is that it is the most complete in relation to its price. Moreover, it includes pick up and drop off at your hotel. More comfortable impossible!Recommended if... you are looking for an economical and quality option to spend a different day during your trip to Lisbon, knowing the highlights of the region.
---
More complete option
Tour Sintra, Cascais and Cabo da Roca with an expert guide and entrance to the Pena Palace
If you want to make the most of your excursion and not give up seeing the inside of the charming Pena Palace, this is the best option with entrance to this monument.
Duration: 8 hours
By now you must be convinced that Sintra is an essential visit during your trip to Lisbon, so now you just have to choose the option that best suits you. The main attraction of this beautiful city is undoubtedly the Pena Palace, so in this excursion to Sintra and Cascais from Lisbon you will not want to miss its beautiful rooms, taking advantage of having an expert guide who will tell you all the historical details.
You will start the day in Sintra, where in addition to visiting the historic center, you can see the Town Hall (also known as Queluz Palace) and stop at Casa Piriquita, a legendary bakery where you can taste the typical sweets of the area, the Travesseiros and Queijadas.
You will also visit Cabo da Roca and its spectacular views of the Atlantic, and then approach the famous Palacio da Pena, where you will have an hour and a half to visit it in depth.
Why I like this option: for a slightly higher price than other tours, this one has an expert guide and the entrance to the National Palace da Pena included, which will give you a much more complete experience.Recommended if... you want to enjoy a more premium experience than other tours that do not include the entrance to the monuments along the way.
---
The most convenient option
Enjoy a free train ride with the Lisbon Card
Save time and money with this tourist card that will allow you to tour Lisbon and its attractions, but also allows you to get close to Sintra and Cascais by train.
You can purchase this 24, 48 or 72 hour pass to visit up to 38 attractions in the city. In addition, you can use trains, buses, subways, streetcars and elevators for free. Thanks to this, you can take the train to Sintra and Cascais and visit them on your own.
This tourist card is valid for one year and I recommend that you take a look beforehand at the activities that interest you in case you have to book any in advance.
Why I like this option: because for a more than reasonable price around 22 €, you can choose almost 40 places, monuments and landmarks to visit in Lisbon and that includes Sintra and Cascais.Recommended if... you want to forget about worries and be open to all the options you have for your sightseeing itinerary.
---
In summary, we compare the options
Sintra and Cascais Day Trip from Lisbon
Sintra, Cascais and Cabo de Roca with a guide and entrance to the beautiful Pena Palace
If you want to take advantage of your excursion to Sintra and see its star monument from the inside, take advantage of this tour, which for a little more than the previous one takes you to know its rooms with the explanations of the guide.
Lisboa Card
Enjoy a free train ride with the Lisbon Card
Save time and money with this tourist card that will allow you to tour Lisbon and its attractions, but also allows you to get close to Sintra and Cascais by train.
---
About Sintra
Any guided tour will cover the main points of a visit to Sintra; some will focus more on the historic center, some on the surroundings and some on the scenery. If you are visiting Sintra individually this is the list of sites you need to see (I recommend leaving Lisbon early to see them all).
The Pena Palace
It is the main attraction in Sintra and the greatest architectural exponent of 19th century romanticism in Portugal. It is located on top of a hill and you will distinguish it by its yellow and pink walls. You can find all the information you need to visit it in this other article on how to visit the Pena Palace.
The National Palace of Sintra
In addition to the Pena Palace, Sintra has this other palace with white walls and orange roofs that is well worth a visit both inside and outside. Architecture lovers will delight in analyzing the medieval, Gothic, Romanesque, Manueline and Renaissance elements present on its facade. Although the opening hours change according to the season, you can visit it every day of the year for an approximate price of 10 euros.
Quinta da Regaleira
Palaces are the main attraction of Sintra, but this one is different from the rest. The Quinta da Regaleira palace looks like an enchanted castle full of turrets and sculptures adorning its brick-colored walls. The entrance fee ranges from 8 to 16 euros depending on whether you want to visit with or without a guided tour and the opening hours change according to the season (although you can usually visit every day of the week all year round).
The Moorish Castle
On top of a mountain is located this enclave also known as the Castle of Sintra. To get there you have to climb some stone stairs and from the top you will have stunning views of the Atlantic if the day is clear.
Ana's Traveller Tip

If you like gastronomy, in Sintra you will find the Bristol restaurant of the chef Sergi Arola, but you will have to book well in advance.
When to go to Sintra
Like Lisbon, Sintra receives tourists all year round. In high season (June to August) you will find the town more lively, but there will also be more queues to visit the Pena Palace and the entrance fees to the tourist sites will be higher.
As for the weather, it is good at any time of the year as there are no low temperatures that prevent you from visiting the city and in summer in Sintra will always be less hot than in Lisbon. The ideal month to visit the city is September as the weather will be ideal and you will not find the summer crowds in the tourist spots.
How to get to Sintra from Lisbon on your own
If you are not a fan of guided tours (although it is something I always recommend when it comes to sightseeing and visiting the most emblematic points of a city) you can also get to Sintra on your own easily and quickly.
The train to Sintra departs from Lisbon Rossio station, located in the city center between the botanical garden and the Santa Justa elevator. The trip takes about 40 minutes, trains leave every half hour and cost about five euros (with the Lisbon tourist card you won't pay for the train).
You can also get to Sintra by rental car from Lisbon, but the train works so well that I don't recommend it unless you are going to continue the tour around the capital. Once you arrive in Sintra, you can move around the town on foot or by bus 434 that connects the historic center with the Pena Palace.
Ana's Traveller Tip

Ask for queijadas or travesseiros in Sintra's pastry shops; they are the typical sweets of the region.
If you liked the excursion to Sintra, you will also like
Sintra is not the only attractive place you can visit during your trip to Lisbon without having to travel long distances. The surroundings of the Portuguese capital are exciting and if you have not yet booked your plane ticket what I advise you is to add a couple of extra days to your vacation to be able to visit them all.
The Algarve, Fatima, Sesimbra, Nazaré, Óbidos, Arrábida, Evora... if you haven't heard of these places after visiting Lisbon, you will surely have heard them several times. In this article about Best Tours and Day Trips from Lisbon you will find all the necessary information about what you can see during your trip.