10 Things to Do in Lisbon in January
If you have chosen Lisbon as your first destination of the year, I have prepared for you a list of the best plans to get to know the city and experience a unique start of the year.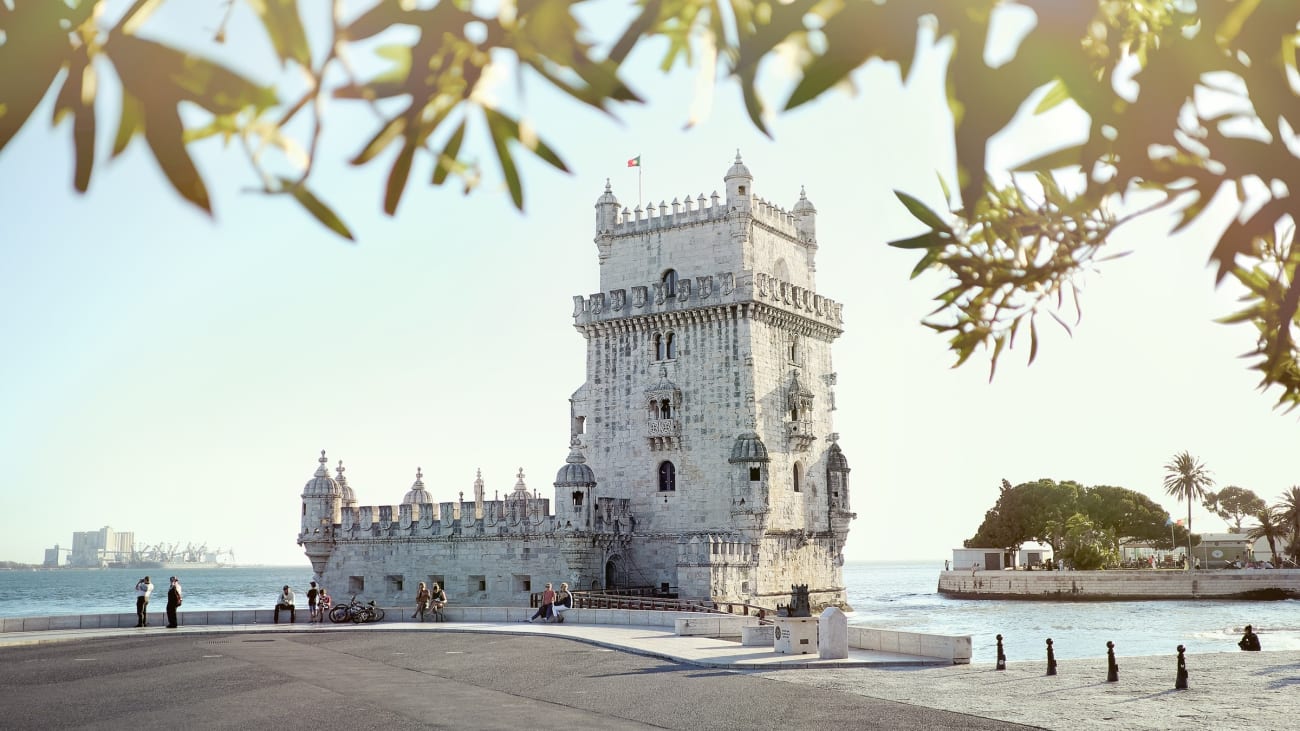 Are you planning the first trip of the year and the chosen city is Lisbon? You are right; the Portuguese capital enjoys mild temperatures throughout the year and, although in January it is a little colder and rainy, it is a month in which to take advantage of the end of Christmas and the arrival of the Three Wise Men.
Undoubtedly, one of the great advantages of going to Lisbon in January is that it is much less crowded, so you can enjoy the museums and the trip in general with more tranquility. You might be a bit cold, but you don't have to worry; I have found many alternatives to get to know Lisbon in the warmth of tradition.
1. Celebrate New Year's Eve in Lisbon
As in any other place, on January 1st it's time to celebrate the New Year in Lisbon. How? At one of the parties that are organized during the early hours of January 1st after toasting with champagne in the Plaza del Comercio and watching the fireworks over the Tagus River. My advice is to prepare your best clothes and go to the various concerts that take place around the city, where you will also find stalls to have a few shots or drinks.
Normally we think that New Year's parties are expensive, but in Lisbon you will be surprised to see that many of the concerts and parties are free. Of course, you might be a bit cold as they are held outdoors. Nevertheless, you can not miss this opportunity to enjoy the Lisbon night and welcome the new year in its streets full of music, dancing and fun.
Once it is already daylight and you have been able to rest a little, remember that it is a family holiday, so Lisboners will be at home celebrating with their loved ones. As there will be many places closed, I recommend you to book a place to eat in advance or take advantage of the tranquility of the city to walk around it.
2. Listen to the Janeiras de la Noche de Reyes (Epiphany's Night Janeiras)
Did you know that in Portugal the Three Wise Men also come on the night of January 5? Although this celebration is becoming more and more homey and there are usually no parades or big events, it is very common for groups to gather to sing janeiras, the traditional Christmas carols. If you are in Lisbon that night, go to one of these concerts to listen to the beautiful melodies accompanied by cavaquinhos, an instrument similar to the ukulele.
In the past, the tradition was more deeply rooted; it was groups formed by professionals of the same trade or neighborhood who went from house to house singing these songs and asking for an aguinaldo during the first days of January.
Nowadays there are fewer and fewer groups left and they no longer go from house to house, but in Lisbon it is very common to organize a concert at the Belem Palace, as they do not want to completely lose the tradition of singing the janeiras, whose lyrics refer specifically to Three Kings Day.
3. Taste the bolo rei of Three Kings Day
When the people of Lisbon wake up on January 6, the first thing they do is open the gifts left by the Three Kings, but then it's time to savor a piece of rich bolo rei, which is similar to the traditional Spanish roscón de reyes. The difference is that the Portuguese cake is harder and not as spongy. If you feel like trying it (how could you not, being in Lisbon that day!) you can buy it in one of the many bakeries in the city.
Although the recipe for bolo rei seems to have originated in France, 1869 is the year in which this dessert first appeared in Lisbon. It is made with raisins and dried fruits, but also with Port, so you will notice a slight (and rich) difference with our roscón de reyes. Which one will you like more?
My recommendation is to book your bolo rei in advance, as on January 6 the bakeries are only open to deliver orders and, in addition, there is usually a lot of demand for these cakes, you don't want to miss one!
4. Do your shopping in the January sales
I'm sure you've heard that Lisbon is a very good city to buy fabrics or towels. I don't know if you will need just that, but if you want to treat yourself to a shopping spree during your visit to Lisbon in January, you have to take advantage of the sales that start with the new year.
Where to do the best shopping? It depends on your tastes and, why not say it, your pocket. In general, the winter sales are quite good and you will find bargains, including on luxury brands. If that's what you're looking for, I recommend going to the center of Lisbon and, in particular, to Avenida da Liberdade, where you'll find brands like Gucci or Chanel.
If your budget is tighter, go to more traditional neighborhoods with smaller stores, such as Chiado. This is a way to support local commerce and also to find a special garment or object that will serve as a souvenir of your trip to Lisbon. Another alternative is to take a trip to the outskirts of the city and go to an outlet.
5. Make the most of the last days of the Christmas markets
Traveling to Lisbon in January? You might be sad to miss the Christmas festivities in Lisbon. If that's the case, don't worry, because in January there are still a few days of lights and Christmas markets. You can take the opportunity to stroll through them or do some shopping and take a nice detail of the trip to the family. In addition, as they are about to close, there may be some discount.
Undoubtedly the Christmas market par excellence in Lisbon is Wonderland, which is more like a full-fledged Christmas village. In January it is still open, at least for the first few days, so don't miss the opportunity to go and see it before it disappears until the following year. In Wonderland you will find many wooden booths where you can buy ornaments, handicrafts, clothes or, of course, sweets and typical Lisbon food.
On the other hand, you will also have the opportunity to skate on the ice rink, something I recommend especially if you travel with children to Lisbon, they love it!
6. Visit Lisbon's museums without crowds
Going to Lisbon in January has a great advantage: being able to visit the museums without so many people. Being low season, you will not find so many tourists trying to enter at the same time as you or standing in front of the work of art you want to see. Lisbon is a very artistic city and for all tastes, so it has different museums according to historical periods or styles. Shall I make my recommendations?
Calouste Gulbenkian Museum
For me, the Calouste Gulbenkian is one of the best museums in Lisbon, and I'm sure you think the same when you enter and contemplate the amount of art and history that is there inside. There are actually two great collections: an older one and a more modern one.
The ancient collection has Egyptian objects but also works by Rembrandt or Rubens. The modern one, however, gathers pieces of current Portuguese artists, so if you want to know the most contemporary culture of the country you should go to this museum.
National Museum of Ancient Art
If you do not have much time, this museum is a good option, as it is small but full of interesting pieces. Its paintings stand out above all, mainly by Portuguese artists but also some international ones.
Other collections that also caught my attention were those of a more decorative nature, such as gold and silver work or textiles.
Fado Museum
Have you never heard Fado? That needs to be changed, but not just by going to a Fado concert but by visiting the museum in Lisbon dedicated to this traditional style of music. Fado is a sad and melancholic song, but listening to it is very beautiful.
7. Warm up with a wine tasting
There will be many remedies for the cold, but one of the best is undoubtedly good wine, don't you think? For those winter days that January brings to Lisbon, when the normally mild temperatures drop a little, my advice is to book a wine tasting in Lisbon or surroundings and get warm quickly. Besides, you will be enjoying this drink in one of its world capitals.
Lisbon, and Portugal in general, is known for being one of the cities with the best wine in the world, so you can not miss the opportunity to do a tasting. I assure you that its intense flavor will surprise you and also its price, since normally the export of these wines brings with it a much higher price than in Portugal.
In addition, wine tastings in Lisbon usually include wines from more familiar and not so industrial wineries, so they are more exclusive and will allow you to better understand the culture (and taste) of this country.
8. Escape the cold with a cup of coffee and a freshly baked belem pastry
No matter the time, having a coffee with Pastéis de Belem is always a good plan if you are in Lisbon. However, January nights make it even more appetizing. Keep in mind that if you travel at this time the evening will get dark around 18h, just at snack time and when fatigue and cold begin to take their toll after a day strolling around Lisbon.
Surely you have heard of the pastas de Belem, so traditional in Lisbon since the 19th century. Made with cream, these pastries have a secret recipe (in fact, confectioners have to sign a confidentiality agreement) and are especially famous in the neighborhood of Belem, on the banks of the Tagus.
The truth is that I can't think of a better plan than letting a freshly baked Belem pastry warm your stomach while watching the Tagus.
9. Take spectacular pictures without people around from the viewpoints
If you like to take pictures, you probably know that advice that you have to get up early to get snapshots of emblematic places without people crossing in front of the lens.
In Lisbon this advice also applies, although if you travel to the Portuguese capital in January you may not need to get up so early. Why? Because there aren't as many tourists and, consequently, the city's best viewpoints are emptier, waiting for you to take pictures.
Known as the city of seven hills, Lisbon is a city of slopes ascending to high points, from where the views (and photos) are magnificent.
Taking advantage of January's low season, I recommend you take your camera to one of its viewpoints, especially those in the Alfama neighborhood, and capture the perspectives. If the day is not very clear, as is common in January, don't worry, a soft mist covering the colorful houses of Lisbon will not look bad in the photos.
My favorites are undoubtedly the Portas do Sol and Santa Luzia viewpoints. From the first one you will have incredible views of Alfama, especially at dawn, and you can also take a picture with the statue of St. Vincent, patron saint of Lisbon. In Santa Luzia the panoramic view is also perfect for a photo, although I also recommend you to stop among the street artists' stalls that gather there.
10. Walk around the city sheltered from the January rains
The forecast indicates that, on average, it rains in Lisbon for half of the month of January. Although for me the city is best experienced by walking through its streets, I understand that in a downpour it can be difficult. Since you are quite likely to find yourself in this situation in January, I recommend booking a seat on the Lisbon tourist bus (or other means of transportation) so that you can move between Lisbon's most important sites without getting soaked to the bone.
It is clear that the bus is always the most affordable option, since for about 20€ you can tour the city and, as an added bonus, listen to the explanations of a guide. However, there are other transportation options in Lisbon such as its historic streetcar, which will keep you covered as you go up and down the hills.
The temperature in Lisbon during the month of January
Lisbon is a city famous for its mild temperatures all year round. January is no less and, in general, you will not experience extreme cold (minimum of about 5ºC). However, you should be aware that temperatures are lower this month than in summer or spring, which is when most people travel to Lisbon.
Beyond the decrease in the thermometer, which is not problematic either, what you should be aware of is that it rains quite a lot, about half of the month. To avoid being surprised by inclement weather, pack a raincoat in your suitcase and some warm clothes.
Lisbon prices in January
If you are going to Lisbon in January and you don't have a big budget, don't worry. This month is low season, just after Christmas and before the good weather arrives, so the prices of accommodation and flights are quite cheap (for about 40€ you can get round-trip tickets).
The good thing is that prices remain affordable throughout the month, even if you look for transportation or hotel at the last minute, something that in other cities means not finding a place or having to pay a lot for it. On the other hand, restaurants and businesses in the city also tend to lower prices at this time, offering more affordable menus.