Best Fado Restaurant in Lisbon
During your stay in Lisbon you can not miss a Fado show, the most typical musical genre of the country. If you combine it with a good dinner, it will be a night you will not easily forget.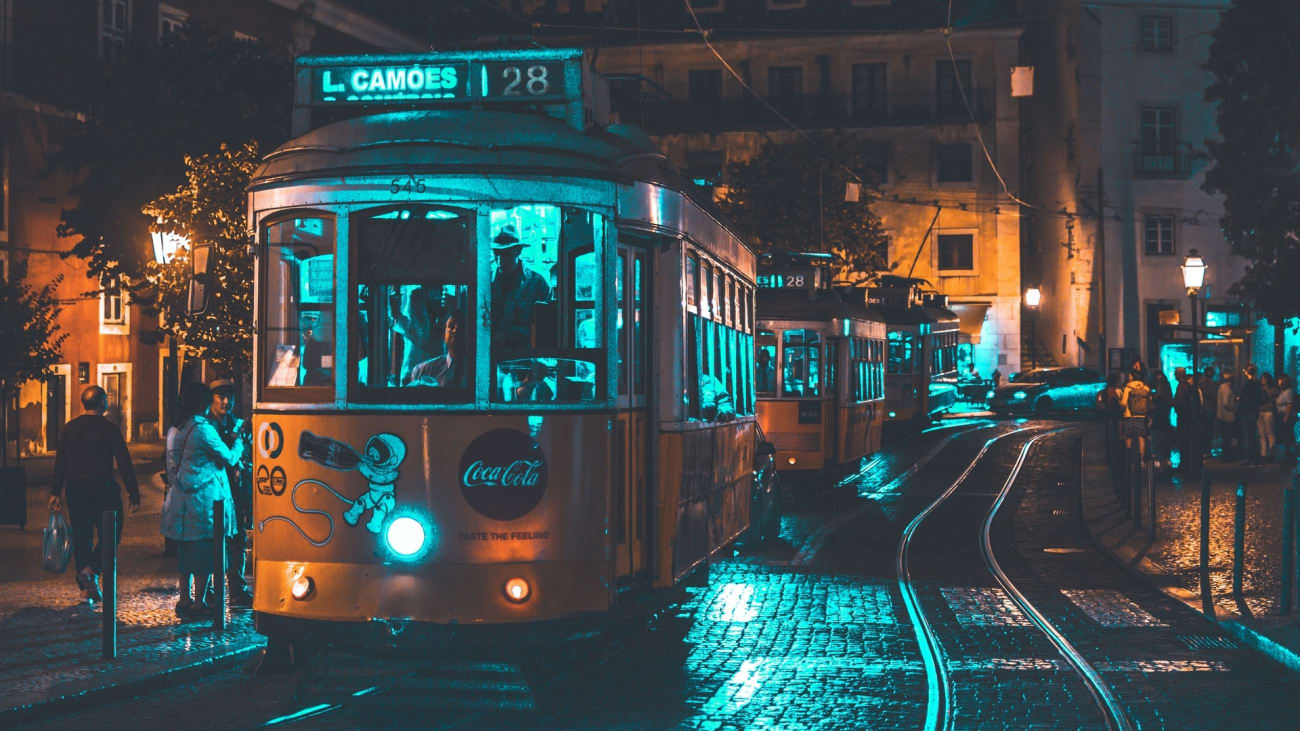 To get to know the essence of a country or a city it is not enough to visit its monuments. We all know how many attractions there are to see in Lisbon, but also that the Portuguese capital exudes a particular aroma of melancholy, romanticism and beauty.
All these characteristics are part of the most famous musical genre in Portugal: fado. Declared a World Heritage Site, this type of music was born in the popular neighborhoods of the country, so it is not strange that it is still present in areas such as Alfama or Barrio Alto, in Lisbon. Many restaurants offer their customers dinners accompanied by the best fado performers in a combination that no one should miss.
1. Tasca do chico, a fado institution in Lisbon
If you have taken the tourist bus to visit Lisbon you will have passed through one of its most bohemian neighborhoods: the Bairro Alto. Right in this area is located one of the most popular places in the city to dine while enjoying the best fados.
Tasca do chico has maintained a very traditional aesthetic typical of this part of Lisbon. However, the place is characterized by giving a chance to new talents of the fado genre and has become a real institution for those who want to listen to these songs.
Admission is free, although you will be obliged to pay for a drink. If you want to have dinner, I recommend the delicious sausages they make and that you accompany them with a glass of red wine.
The popularity of this place means that it is always very busy, especially on Mondays and Wednesdays from 21:00, which is when the performances take place. Don't forget to book or arrive well in advance so as not to run out of room.
Practical info
Address: R. Do Diário de Notícias, 39
Opening hours: Monday to Sunday from 7:00 p.m. to 2:00 a.m.
2. One of the best options in the heart of Alfama: Clube de Fado
The Clube de Fado has positioned itself as one of the most exclusive places in Lisbon to listen to this musical genre. If you have taken a guided tour of Alfama, you may have passed through its door without suspecting that its interior hides a great restaurant and musical performances considered some of the best in the city.
On the gastronomic level, the restaurant will offer you traditional food of the country, among which stand out the varieties of cod and octopus dishes. The setting is also very special, with beautifully decorated walls, an ogival ceiling and a well located in a corner where you can make a wish.
Each night three different singers perform, offering much of the best possible Fado repertoire. The total evening usually lasts about 2.5 hours.
One thing to keep in mind if you decide to go to Clube de Fado is that you may need to make a reservation. It is also a place with higher prices than others in the same area, but the quality of the performances and the food makes up for it.
Practical info
Address: Rua São João da Praça, 94
Hours: daily from 8:00 p.m. to 2:00 a.m.
3. The family atmosphere of Mr. Fado de Alfama
The best thing about Mr. Fado de Alfama, located in the neighborhood that appears in its name, is the almost family atmosphere inside. It is a very small place, which favors customers to get involved in the show but makes it difficult to find a free seat.
When dinner is over, the owners of the restaurant spend a few minutes explaining some of the secrets of Fado and its variants. Then the performances begin, usually consisting of three different artists.
The magic of the place and the quality of the fado artists make Mr. Fado de Alfama one of the best places to enjoy dinner and fado. Almost all customers choose the option of a closed menu for about 45 € which includes three courses plus, obviously, the show.
Practical information
Address: Rua dos Remedios 176 Alfama
Schedule: from 7:30 pm to midnight
4. The great tradition of Parreirinha de Alfama
If you are looking for a restaurant to dine while listening to a good fado, there is little in Lisbon with as much tradition and tradition as the Parreirinha de Alfama. The place is run by one of the most renowned fado singers in the country, Argentina Santos, and usually brings together on stage some of the most important voices of the genre.
During its more than 60 years of history, the restaurant has achieved well-deserved fame for both its food and performances. The restaurant's beautiful décor, especially the tiles on the walls, is not to be missed.
The so-called fado menu costs 45 € per person, although you also have the option of ordering dinner a la carte, which will usually increase the price quite a lot.
Practical information
Address: Beco do Espírito Santo, 1
Hours: Tuesday to Sunday from 8:00 p.m. to 2:00 a.m.
5. The great gastronomic proposal of Adega Machado
The history of this restaurant began in 1937, when the fado singer Maria Lourdes Machado and her husband opened it in Lisbon's Bairro Alto. Today, the place presents a much more modern look, as it was thoroughly restored in 2012.
In addition to the splendid performances it offers, the Adega Machado stands out for its gastronomic offer. There you will be able to try some specialties such as the grilled dried cod loins or the glazed cod slices, two dishes difficult to forget and that makes this visit one of the best activities you can do in Lisbon at night.
Adega Machado also offers the option of booking a package called Fado Inside the Box. This is a series of performances that take place in the evening (around 17:00) with a duration of 45 minutes. Instead of dinner, this option offers a tasting of appetizers and wine.
In the evening you will be able to choose (if you book early and have gone to Lisbon in summer) to sit on the beautiful terrace or inside.
Practical information
Address: Rua do Norte, 91
Hours: Monday to Sunday from 7:30 p.m. to 2:00 a.m.
6. Casa de Linhares: fado and codfish
Casa de Linhares is considered one of the best places in Lisbon to enjoy a Fado dinner. Part of its dishes are starred by one of the star ingredients of Portuguese gastronomy, cod in its multiple presentations.
It is also highly recommended its rice broth, in addition to its cheese boards. Unlike other places of this type, in Casa de Linhares there is no closed menu, but you can choose to order a la carte or tasting menu.
As for the fado performances, during dinner there are usually between 4 and 5 shows and there is no shortage of songs that show different styles of fado than the most classic.
Perhaps the highlight of this restaurant is the atmosphere they manage to create when they lower the intensity of the lights and light the candles to listen to the different artists.
Practical information
Address: Beco Armazéns do Linho 2
Hours: from 8:00 p.m. to 1:00 a.m. daily
7. Restaurant O Faia, a piece of fado history
Founded by the famous Lucilia do Carmo in 1974, O Faia is considered one of the most prestigious restaurants to dine while listening to the best Fado songs. Not only will you experience a special atmosphere, but the food and service are simply fabulous.
The only downside is that it is difficult to find a table, so it is necessary to book well in advance if you want to go to this beautiful restaurant in the Bairro Alto.
The price for dinner plus the show is about 55 euros. During the meal there are performances of about 20 minutes by four different singers.
Practical information
Address: Rua da Barroca, 54-56
Opening hours: Monday to Saturday from 8:00 p.m. to 2:00 a.m.
8. A Severa, a classic of the Lisbon scene
One of the most classic restaurants with Fado performances in the Barrio Alto is A Severa, which opened in 1955. If you decide to go, it is important to keep in mind that its price is higher than other places and requires a minimum consumption of about 30 € per person.
The commitment to high quality gastronomy, with delicious meat and fish dishes, is one of the reasons for the success of this restaurant. Obviously, to this must be added the sensational fado show by candlelight.
Practical information
Address: Rua das Gáveas, 51/61
Hours: Thursday to Tuesday between 8:00 p.m. and 2:00 a.m.
9. A Baiuca: fado in a tavern
If you want to dine while listening to fados, but don't feel like doing it in a formal atmosphere, A Baiuca may be your choice. More than a restaurant, the place retains all the characteristics of a typical Lisbon tavern. Among other things, this means that it does not have too many tables, so you will have to book in advance.
Although it also has a terrace in the square next to the place, to listen to the fado show it is better to book inside. The singers alternate and, at times, there are even spontaneous performers from the neighborhood.
The menu, unlike that of other Fado restaurants, is not closed, and for dinner you can choose from the dishes on the interesting (but not very long) menu. In any case, the portions they serve are plentiful and their cod is excellent.
Practical information
Address: Rua São Miguel, 20
Opening hours: opens at 7:30 p.m. and closes at 11:30 p.m.
10. A new concept of fado at Povo Lisboa
Povo Lisboa tries to maintain the spirit of the traditional Portuguese taverns in order to become a meeting point for the people of Lisbon. Fado, or, as those responsible for the place themselves point out, the "new fado", could not be missing in this attempt.
If you choose this restaurant you will find a great show in an environment not specifically designed for tourism. The restaurant is quite small and the food, although unpretentious, is very correct.
To enjoy their evenings you only have to pay a small entrance fee of 4 € per person, to which you will have to add what you consume inside. The performances are divided into two shifts, one at 20:00 hours and another at 22:00. The singers come out every 20 minutes to perform four songs each time.
Practical information
Address: Rua Nova do Carvalho, 32-36
Opening hours: From Monday to Friday it is open in the morning from 12:00 to 15:00. In the evening, the restaurant is open from 18:00 to 2:00 (Sunday to Wednesday) and from 18:00 to 4:00 (Thursday to Saturday).
Fado in Chiado: if you just want to listen to fado without having dinner
Although the option of dinner with fado show is widespread in the city, if you just want to enjoy the music you will also have options.
The most outstanding is the so-called Fado in Chiado, a show that takes place in a concert hall located in the neighborhood of that name. Each session lasts about 50 minutes, with the participation of 2 singers and 2 guitarists.
What is Fado
Fado goes beyond its mere musical conception. For many, this genre represents an entire country, Portugal, and its songs reflect part of the experiences of its inhabitants. Thus, there is no lack of those who call fado "the soul of Lisbon".
The word fado comes from the Latin "fatum", which means destiny. It is considered that this musical style was born in the poor neighborhoods of the capital and its lyrics usually express feelings such as fatalism, frustration or the well-known saudade (nostalgia or melancholy).
Fado is usually sung by a single person accompanied by a guitar called viola. After a period of certain decline, fado has recovered part of its presence in the Portuguese capital, where it has become a real tourist attraction.